1. Bernville, Pennsylvania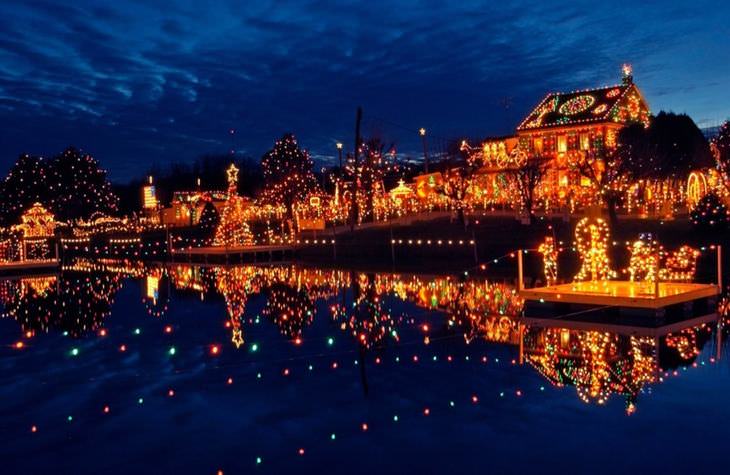 Fly to: Lehigh Valley International Airport
This trip will prove to be a truly authentic experience, with travelers and locals alike reveling in the million twinkle lights illuminating the buildings and the surrounding valleys. If you cannot resist a stunning display of Christmas lights, you must see this.
Tip: For a truly captivating stay, check out the Overlook Mansion Bed & Breakfast.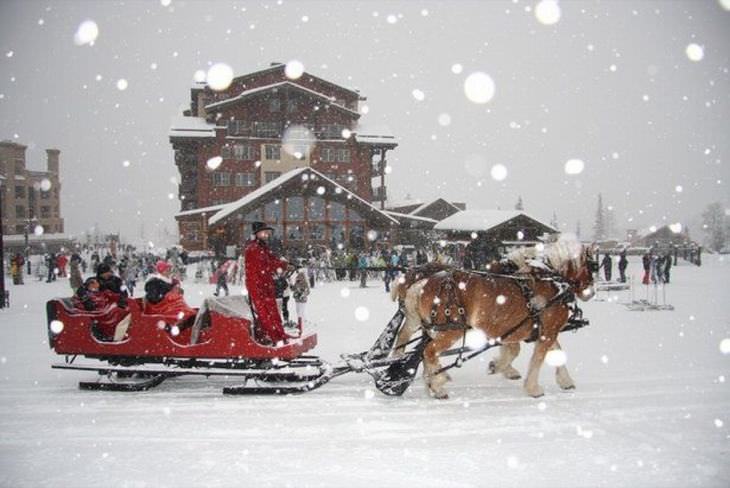 Fly to: Albuquerque International Sunport
Durango will provide a truly idyllic Christmas experience and is home to the Polar Express, a Cascade Canyon excursion that leads travelers on a 26-mile journey through the San Juan National Forest and Animas River in heated coaches. Once you have journeyed through the snow-capped mountains, you can enjoy some Christmas shopping at the shops on Main Ave. or go skiing on the slopes at the Purgatory Resort.
Tip: After your trip continue on with the theme of the wild west by staying at the Starter Hotel in downtown Durango. The hotel offers a saloon-style bar, theater, and steakhouse.
3. Myrtle Beach, South Carolina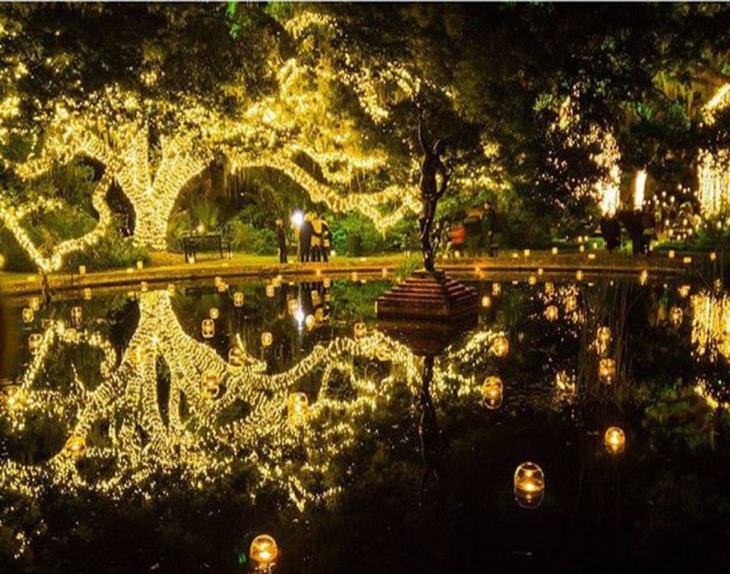 Fly to: Myrtle Beach International Airport
If you'd rather spend Christmas in warmer temperatures, Myrtle Beach in South Carolina is the perfect destination. It offers a variety of Christmas-themed shows, from The South's Grandest Christmas Show at the Alabama Theatre to the Legends in Concert Holiday Show. Without a doubt, it offers something for everyone. Myrtle Beach also offers a large selection of light shows and holiday events such as meals with Santa Claus.
Tip: For a beach-themed Christmas adventure stay at hotel Blue and sip on eggnog from the lazy river or beach which is located right outside of the hotel.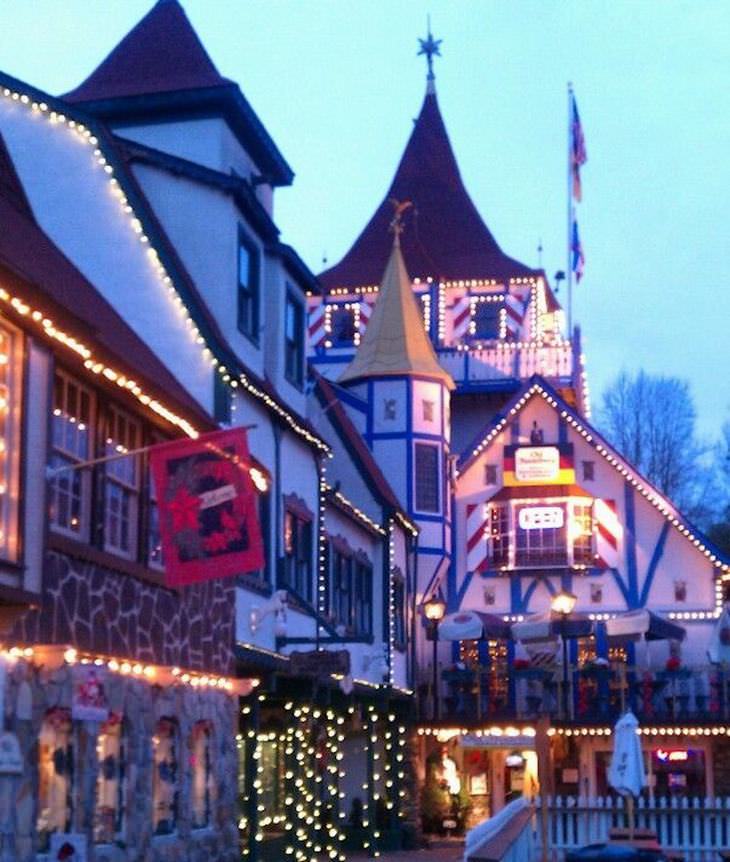 Fly to: Hartsfield-Jackson Atlanta International Airport
Helen, Georgia is known for its charming alpine aesthetic that becomes even more magical during the holiday season. Pay a visit to the Hardman Farm Historic State Site, where reenactments take place every Friday and Saturday night in December. You'll be in for a real treat if you visit Helen on December 8, for the Annual Christmas Parade, which celebrates the town's Bavarian roots, while bringing the typical cheer of the season.
Tip: Curl up with a book and some eggnog after a long day of sightseeing in your own private cabin in the woods.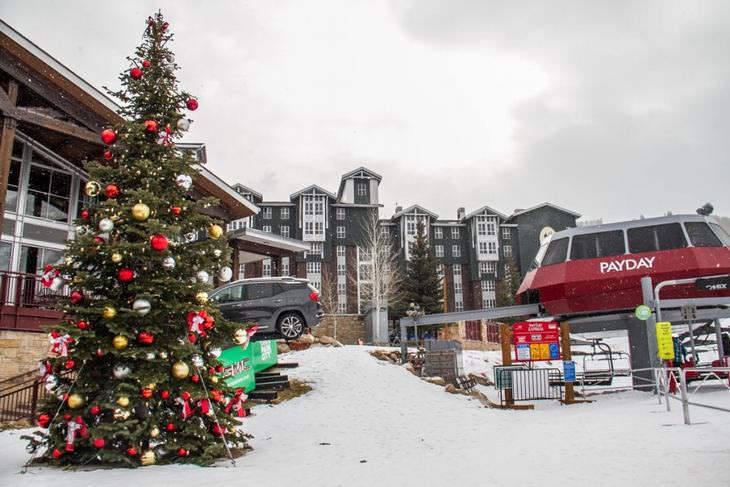 Fly to: Salt Lake City International Airport
If a white Christmas is what you're after head to Park City, Utah. This special, small-town is charming and features a number of restaurants and cultural events - especially during the Christmas season. While there, take a walk down Historic Main Street to indulge in some of the best holiday shopping in the state, surrounded by idyllic scenery. You can also revel in the mountain air and holiday cheer, by putting on a pair of ice skates and gliding around Park City's outdoor rink in Park City Mountain Base Area.
Tip: Book your stay at the Torchlight Inn Bed & Breakfast for a comfortable and classy getaway.
6. Natchitoches, Louisiana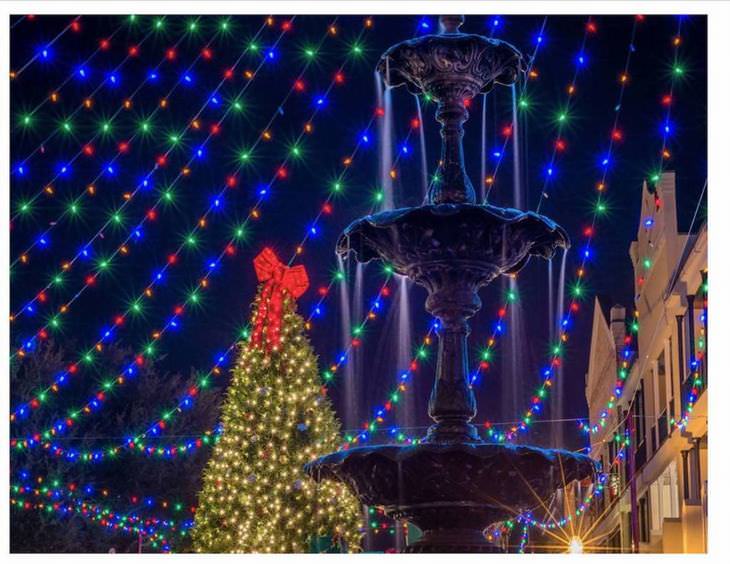 Fly to: Alexandria International Airport
This part of the states houses some of the most breathtaking historic French-Creole townhouses in the country. It is also home to one of the most famous Christmas festivals in the world - the Natchitoches Christmas Festival. This event takes place from November 17th to January 6th. This festival features a number of local charming shops and restaurants and also provides historical Christmas-themed tours, live music and a stunning display of lights.
Tip: Visit the Cane River Creole National Historical Park, which has managed to artfully preserve the plantations that once dominated this city's landscape.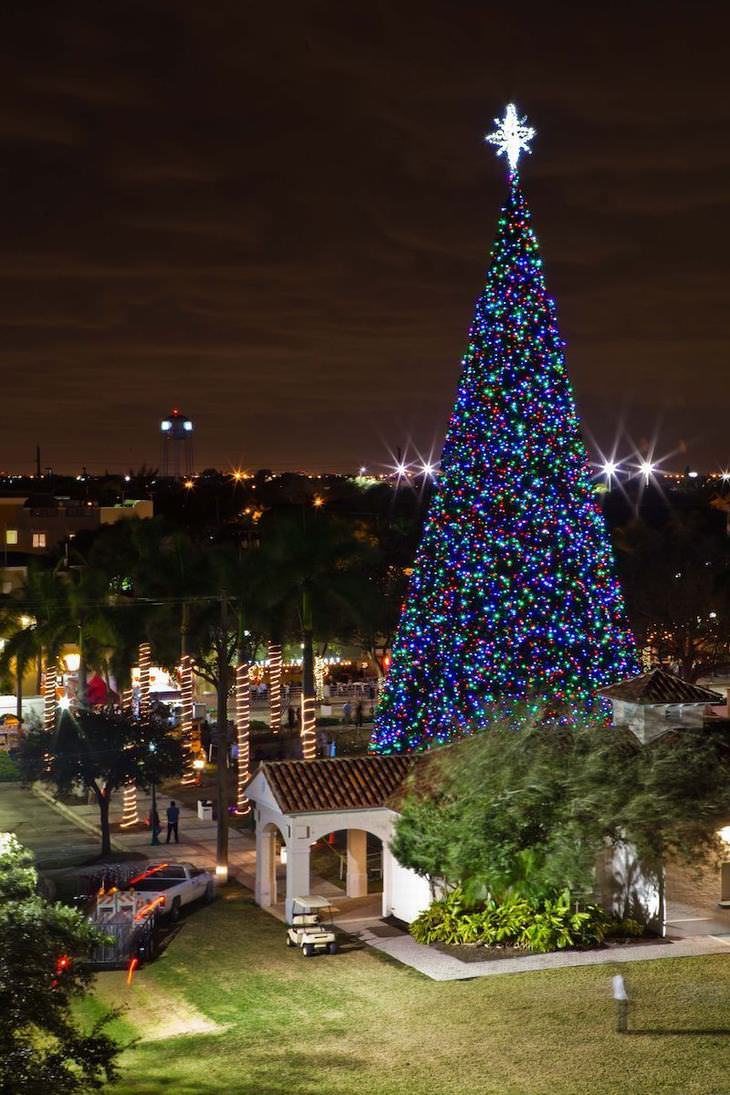 Fly to: Palm Beach International Airport
This beach in Florida can offer you the best of both worlds - a sunny, beach-side escape with plenty of holiday-related activities to occupy those wishing to still celebrate Christmas in all of the traditional ways. Be sure to visit the town's 100-foot-tall Christmas tree displayed proudly in the center of the town. After which you can take a stroll around the downtown area for amazing holiday shopping and beach-themed restaurants.
Tip: If traveling as a couple, stay at Crane's Beach House Boutique Hotel & Luxury Villas which will surely turn up the heat in your relationship - even in the dead of winter.
8. Sierra Madre, California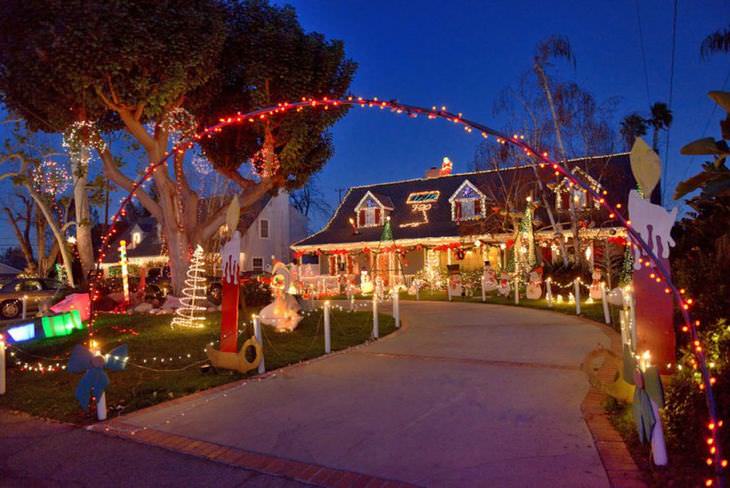 Fly to: Bob Hope Airport
This city, located outside of Pasadena, provides the idyllic backdrop for a truly traditional Christmas experience. Take a walk along Baldwin Avenue which features 100-year-old Craftsman homes and antique shops decked out in bows and lights.
Tip: Sierra Madre provides an outstanding number of recreational trails to choose from all of which showcase the stunning landscapes surrounding the city.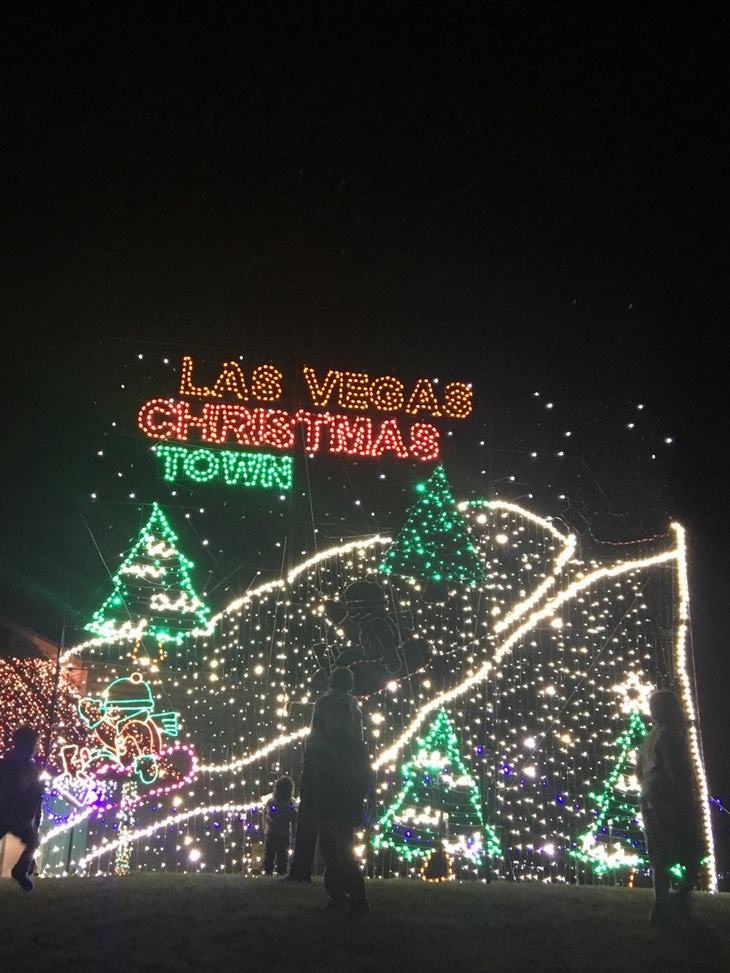 Fly to: McCarren International Airport
Las Vegas may not be the first place your mind goes to when imagining the idyllic Christmas experience. Though the city has always provided a colorful and jolly display of holiday cheer. The most impressive display of this cheer might be encapsulated in the impressive display of lights and holiday music at The Bellagio Fountains. Bonus: it's free to the public. After a trip to the fountains, make the short trek to The Bellagio Conservatory, where the South Garden is decorated every year with thousands of lights, poinsettias and a Christmas tree over 40 feet tall.
Tip: The Treasure Island hotel in downtown Las Vegas features an array of entertainment including live shows, shopping, bars, and restaurants.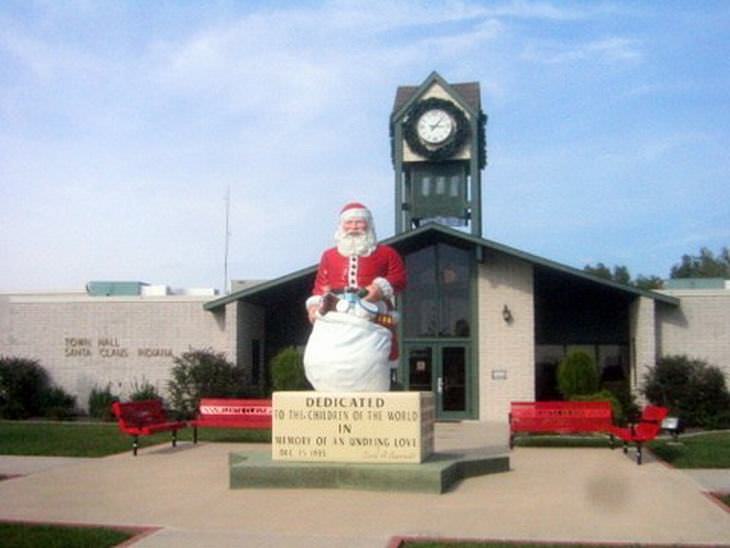 Fly to: Louisville International Airport
This destination has you covered with year-round Christmas-themed entertainment like the Santa Claus Museum & Village and the Santa Claus Christmas Store, teeming with thousands of unique holiday finds. The first three weekends in the month is best to visit - when the Santa Claus Christmas Celebration puts on a fabulous display of lights, holiday-related activities and plenty of milk and cookies.
Tip: Located on West Christmas Boulevard, Santa's Lodge is a great place to rest after a long day of sight-seeing.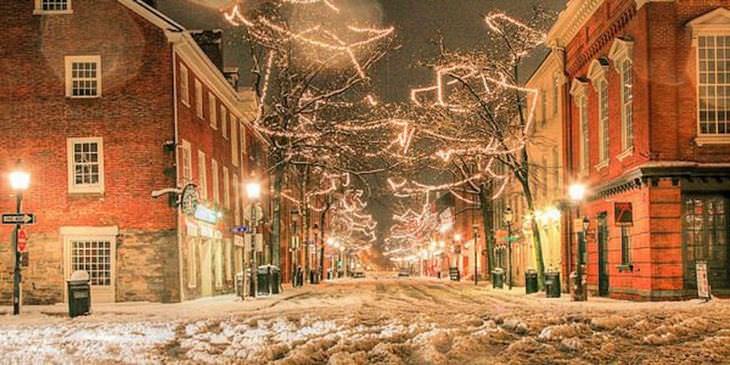 Fly to: Ronald Reagan National Airport
Alexandria is just minutes away from the heart of Washington, D.C. It has become a top destination for Christmas aficionados all across the country. A stroll along King Street, with its canopy of twinkling lights and historical buildings, boasts an impressive ambiance, along with a number of unique restaurants and shops. After this landlocked venture, head over to the water and see the Alexandria Holiday Boat Parade of Lights which is followed by The District's Holiday Boat Parade, in which thousands of lights are employed to create a truly festive collection of lights against the water.
Tip: Taste some of the most authentic Cajun and Creole food in the south at RT's Restaurant in downtown Alexandria.