It is possible to travel the world and see and experience new landscapes in a variety of ways, such as with a rental car, a high-speed train or even a motorcycle, but there's no doubt that nothing beats walking. Only by stepping on the ground itself can one actually feel the place and really take in the landscapes. Of all the hiking trails in the world, there are a few that really stand out, and here is a list of the 12 best sites and places for those who want to travel with their feet.
The Loire Valley in the very heart of France is a showcase for French culture, landscapes, and architecture, with many ancient cities, picturesque villages and castles built many years ago, such as the Château de Chambord, the Château de Chenonceau, Château de Amboise Castle and many more. In 2000, the valley was added to the UNESCO World Heritage List, and the river that passes through it is considered the longest in France.
2. Bryce Canyon National Park, United States
Bryce Canyon National Park is a collection of natural amphitheaters. Locals claim that there's no place like this national park all over the world, and once you see its amazing views with your own eyes, you'll immediately agree with them. Pictures can't fully reflect the uniqueness of the National Park, which has 15 different hiking trails that one must only choose between.
3. Santiago de Compostela, Spain
This is the capital of the autonomous Galicia community in Spain, home to less than 100,000 inhabitants. It has a fascinating path that ends in the city cathedral, which is considered a pilgrimage site for believers of the Christian religion from the Middle Ages to the present day. The city itself was declared a UNESCO World Heritage Site in 1985, and in 2000 it was also the capital of European culture.
4. Margaret Island, Hungary
In the center of Budapest, there is an island surrounded by the Danube, which was an area inhabited by monks between the 12th and 16th centuries. Its length is about 2.5 km and its width is about 500 meters at most, and there are quite a few antiquities that belong to the monasteries on it. Today the island is considered a municipal park that is forbidden to travel by car except for one bus and several service vehicles that drive in it. The island holds a small zoo, a water park, recreation, and sports centers and baths.
5. The Aphrodite and Adonis paths, Cyprus
This two-and-a-half hour walking path provides stunning views from high sea levels and is recommended throughout all season of the year. On route, you will see an impressive view of the Akamas Peninsula, with ancient baths and waterfalls that can't be seen anywhere else.
6. Meteora, Greece
in Meteora, you will be able to see a multitude of monasteries built on steep rock pillars that look as if they are kissing the sky. This phenomenon got Meteora added to UNESCO's list of national heritage sites in 1988, and today it is considered a popular tourist attraction especially in Greece, especially once the trip between the monasteries became more accessible.
7. Hadrian's Wall, England
This wall was a defensive structure established in 122 AD to protect Britain, then under Roman rule, from invaders. Today, this is the most popular tourist attraction in northern England, because, unlike other historical sites, Hadrian's wall can satisfy all kinds of tourist. Whether you're interested in archeology, stunning views, unique wildlife, bustling cities or friendly people - along the wall you'll find them all.
8. Bagan, Myanmar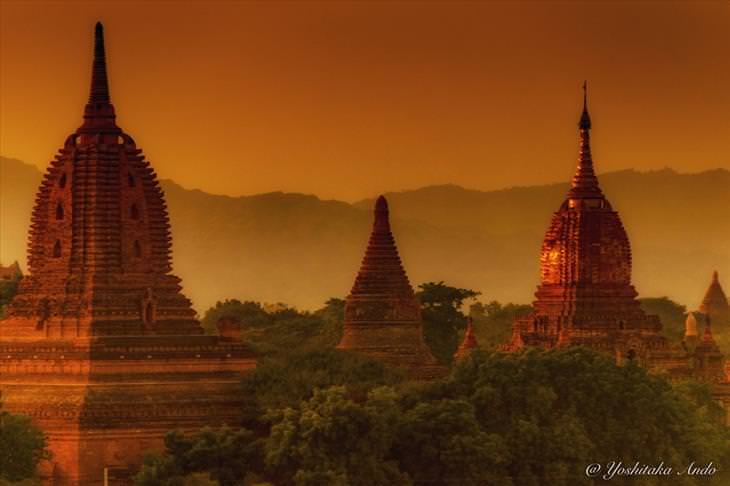 This ancient city is considered to be the most sacred tourist site in the world, due to its huge number of temples - some 3,000 in number. You can stroll the old city on foot or with electric bikes for rent, and you may want to stay there for a few days to see all the wonderful nature and buildings there are to take in. Therefore, the entrance ticket to the site is valid for a week, and there are quite a few hostels in which to stay.
9. Copper Canyon, Mexico
This is a collection of 6 different canyons in the state of Chihuahua in Mexico. You can walk the canyons by foot, on bike or horseback, with the last option being the most recommended for a day where you will be impressed by stunning natural views.
10. The Great Wall of China
There is not one person in the world who hasn't heard of the Great Wall, and you can't live a whole life without visiting this famous place at least once. This is one of the largest engineering achievements in the world, and today it is also one of the most popular tourist destinations in the world, with millions of visitors coming each year to admire and walk on it.
11. The Carpathian Mountains
While Romania's miraculous nature offers quite a few recommended hiking sites, the Carpathians are among the most not to be missed in the country. If you are a hiking enthusiast, it's very worthwhile to travel through one of the many trails that pass through the area, some of which are recommended for experienced backpackers, and some which can be enjoyed as a family with small children.
12. Plaka, Greece
Plaka is the ancient neighborhood of Athens and is also known as the "neighborhood of the gods" due to its proximity to Acropolis. It is visited by hundreds of thousands of tourists a year and has many museums. In these alleys, people who we are historically familiar with such as Alexander the Great, Socrates, Plato and Aristotle, once walked.
image source: Bert Kaufmann, Andrew Sweeney,
Astro Oscar, Globetrotter19, Jean-Christophe BENOIST,
CaptSpaulding, davidnewgas, Yoshitaka Ando,
Al_HikesAZ, Güldem Üstün, Horia Varlan, G Da
Related Articles:
10 Unforgettable Places In the World Full Of Color & Charm
The 12 Least Densely Populated Places on The Planet
14 Amazing Places You've Never Heard Of
24 Beautiful UNESCO World Heritage Sites Found in America