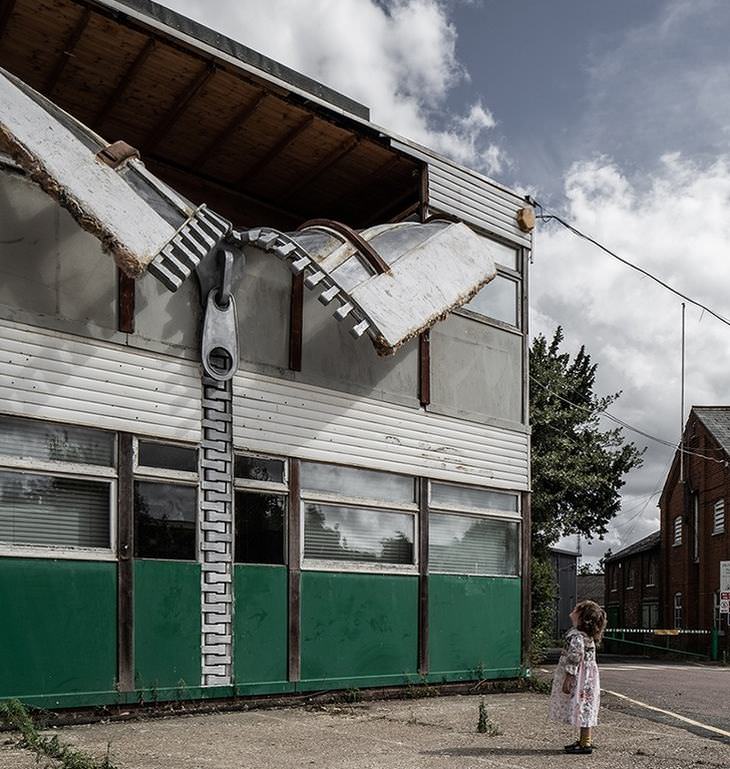 This installation is located in Kent, in the United Kingdom. It consists of an enormous zipper opening the walls of this 1960s-style building and revealing its dilapidated interior. The artwork pays homage to the history of an office building that was once home to a leather and textile manufacturer.
"A bullet from a shooting star"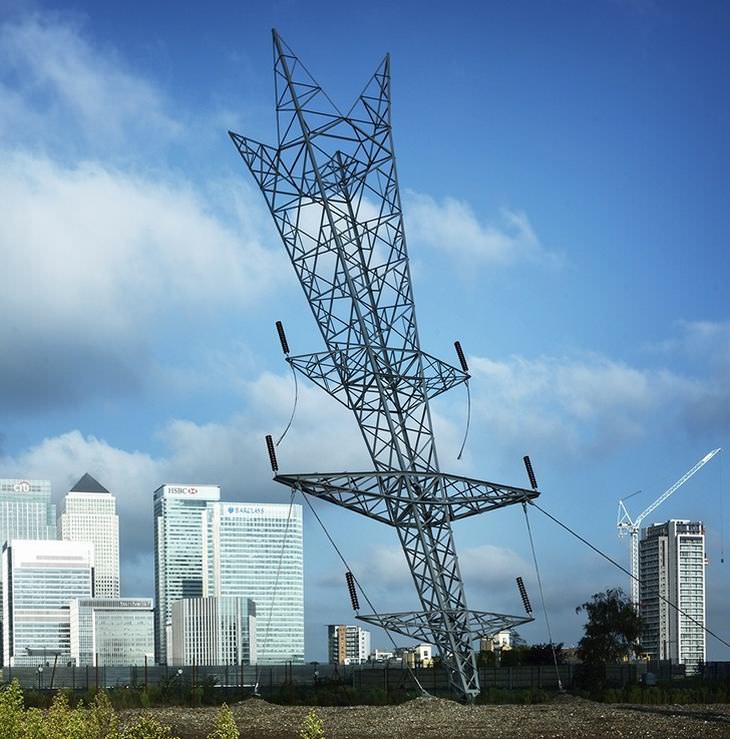 This sculpture is 35 meters tall and is situated on the Greenwich Peninsula in south-east London. The huge structure is reminiscent of an upside-down electricity pylon that leans at an angle making it look like it has been shot down to Earth from a star.
"From the knees of my nose to the belly of my toes"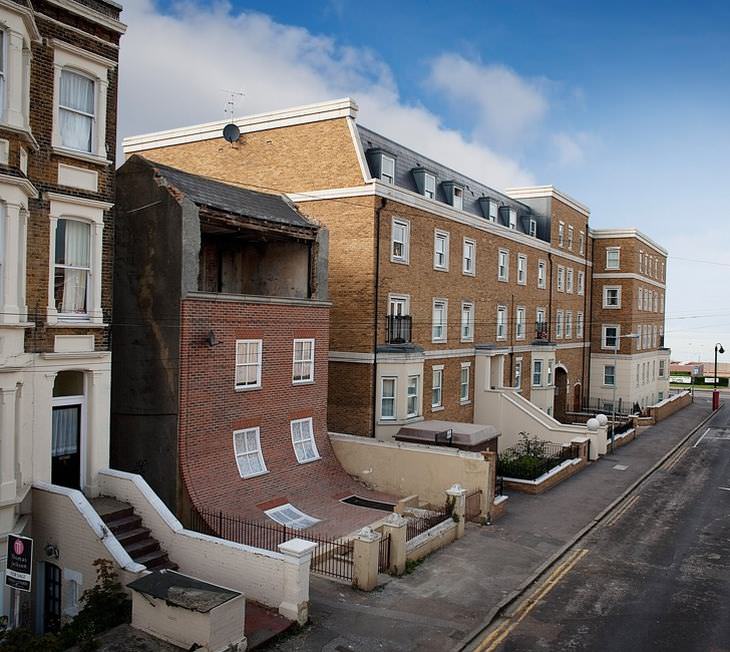 This sliding sculpture and public art installation was made out of a house in Cliftonville, Margate that had been vacant for 11 years. Chinneck replaced the wall of an ordinary 4-story town house. The artist managed to create an illusion that the entire facade of the house just slid right into its front yard.
"Birth, death, and a midlife crisis"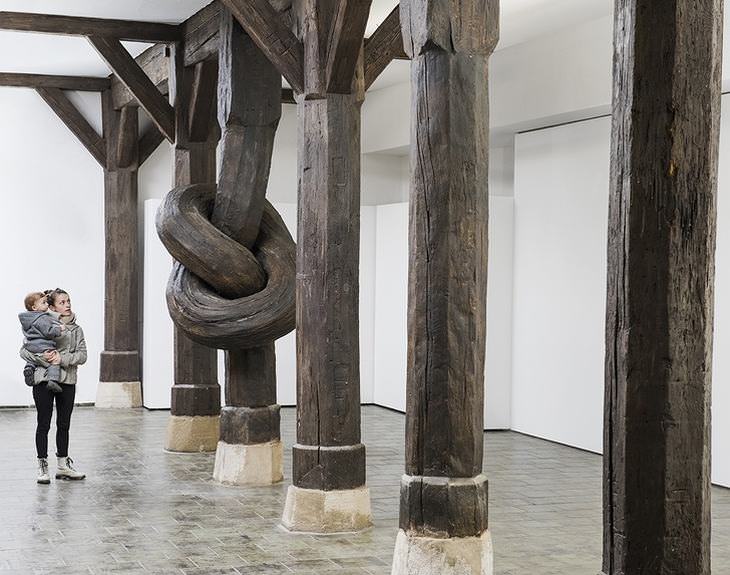 This artwork consists of a knotted wooden column that stands among straight wooden columns displayed at the museum of Kirchheim Unter Teck, Germany. The artist says that these columns are the main features of the 450-year-old museum and this installation was a great opportunity for him to defy the laws of logic and distort history.
"Take my lighting but don't steal my thunder"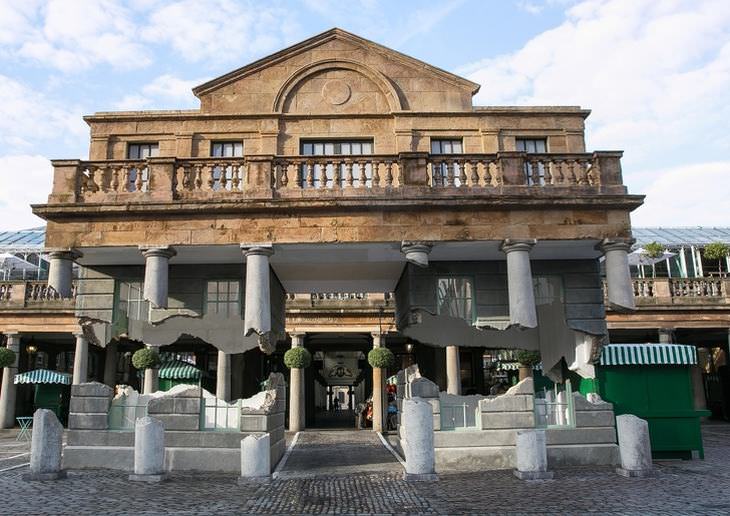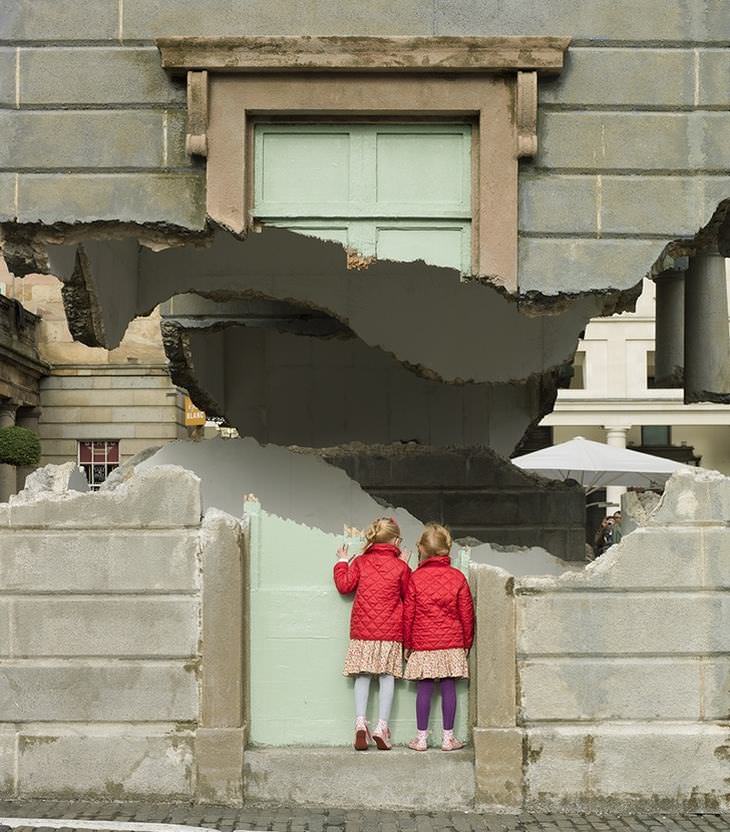 This floating building is a replica of a section of the 184-year-old market building situated in London's Covent Garden. Chinneck's monumental installation consists of two separate sections that symbolize thunder and lightning that are forever together but always apart.
"Telling the truth through false teeth"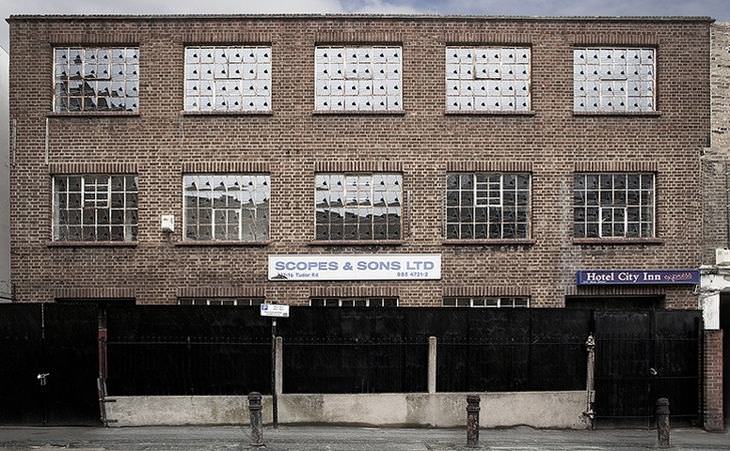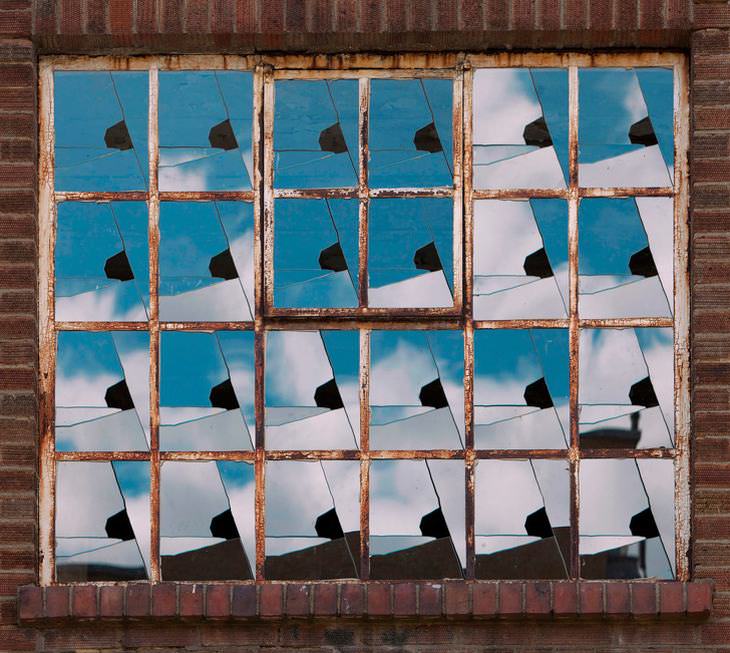 Chinneck located an abandoned factory in Hackney, East London that had been used to grow cannabis in order to perform this project. The artist used 1,248 pieces of glass across its facade creating the illusion that all 312 windows of the building had been identically broken. When doing an installation his intentions were aimed at drawing attention to the issues of economic and social decline in the area.
"A pound of flesh for 50p"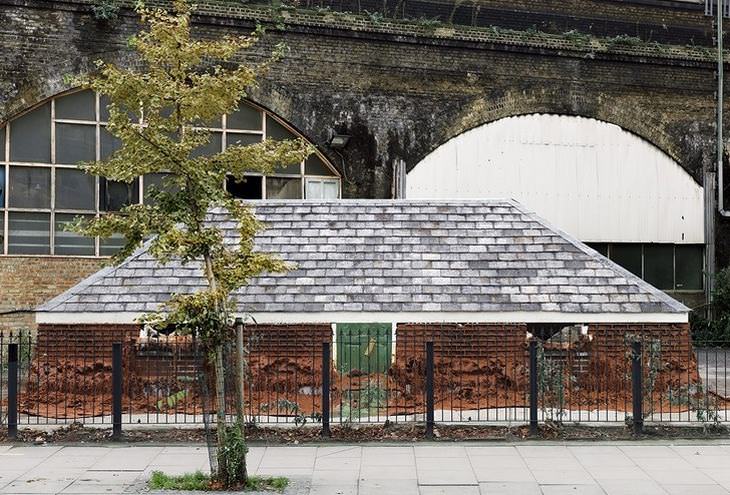 This installation which is known as the Melting House was a temporary outdoor sculpture on the Southwark Street in London. The 2-story house was made from 8,000 paraffin wax bricks that melted a little each day with the help of a heating apparatus until it was completely destroyed.
"Pick yourself up and pull yourself together"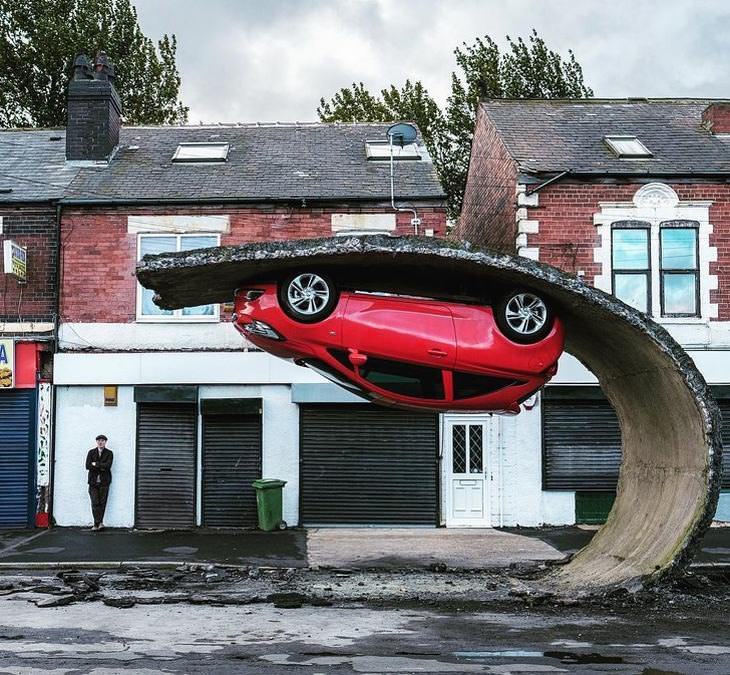 This sculpture defies gravity. It is situated in the Southbank Centre Car Park in London. It features a parking space that has been peeled off the ground and is suspended upside-down with a one-ton Vauxhall Corsa hanging from it.
"Fighting fire with ice cream"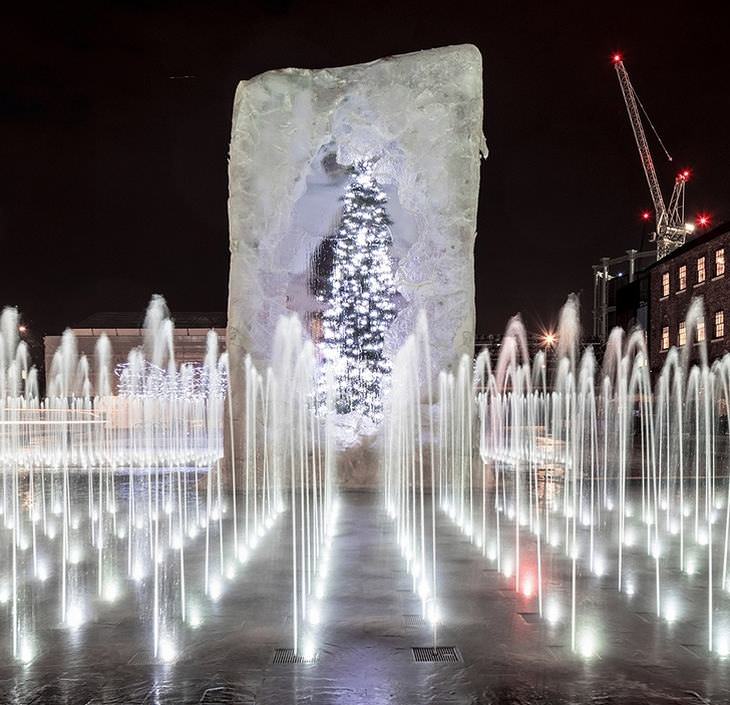 This giant Christmas tree was suspended in a 7-meter cube of ice which was placed in King Cross's Granary Square for New Year's Eve in 2017. The tree which was 17-foot-tall was decorated with 1,200 lights and it looked stunning among the illuminated fountains in the square.
"Under the weather but over the moon"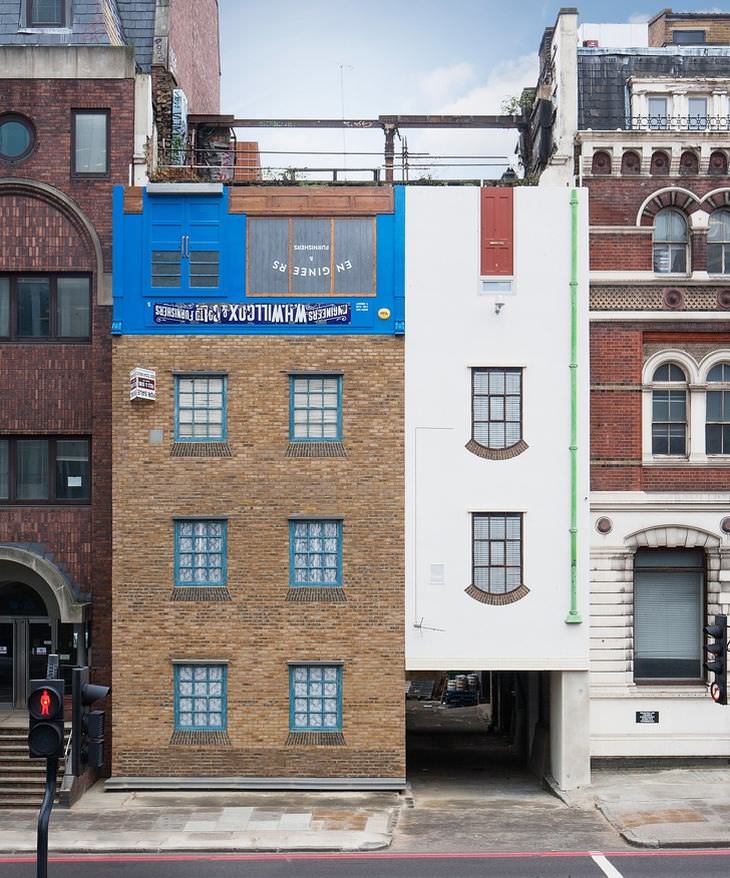 This piece, also known as Upside-Down House, was created as part of the annual Merge Festival in the Bankside area of London. The building which was constructed in the 1780s had previously been a commercial property that was completely inverted and turned into a modern art masterpiece with the help of the artist.