Nowadays, there are many good sites on the web for finding cheap flights, with the likes of Expedia and eDreams being particular favorites, however there are more options to search for flights than the tried-and-true classic websites. Here are 3 websites that you definitely should be looking at before booking your next vacation:
The world's largest search engine continues to expand in a whole multitude of areas, and flights are no exception. Google Flights is the quickest price comparison tool available right now, and works just as well on mobile.

How to use it:
All you need to do is head to the Google Flights website, enter your ideal travel dates and destination, and let Google do the rest. There are various filters for narrowing down your search, such as the number of stops you deem acceptable, what your budget is and even your preferred airline.
If you happen to be in a rush, take note of the price highlighted in green that will be visible under the "Best flights" heading. This is Google's top pick for your desired route and dates.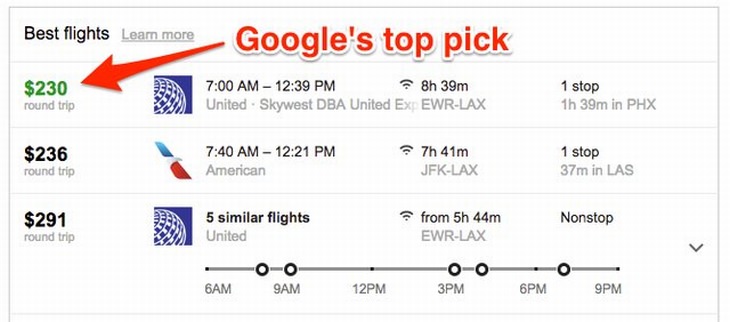 Insider's Tip:
Should you not have fixed dates which you absolutely must travel on, you can save even more money by setting your destination and selecting the "Flexible dates" option. Google will give you a "Date tip", which will show up in green at the top of your search results and suggest money-saving itinerary changes.

2. Kayak
Kayak's best feature is that it searches through a ton of travel sites at once, guaranteeing that you'll find the best flight prices on the web for your route. Another highlight is its ability to find "hacker" fares, which are round-trip options consisting of one-way flights with two different airlines.

How to use it:
Simply enter your travel dates, destination and the class you wish to travel in. When compared to Google Flights, this search engine is a little slower, but it might just give you a couple of options that Google Flights didn't display to you.

Insider's Tip:
Setting up price alerts on Kayak is the best way to find the cheapest flights possible. It's just a question of setting it up first. Enter your place of origin and destination, and the website will track flight prices for you. As soon as there's a movement in prices, you'll instantly be sent an email informing you of the change.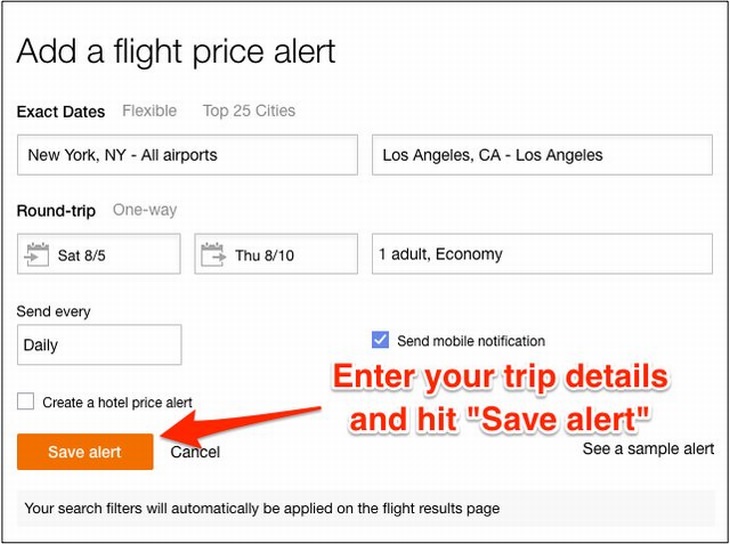 If you're the type to book a trip somewhere spontaneously, then this is definitely the site for you. It's free for the first month, and costs $9.99 per month thereafter, but this subscription fee might be worth paying in the long run.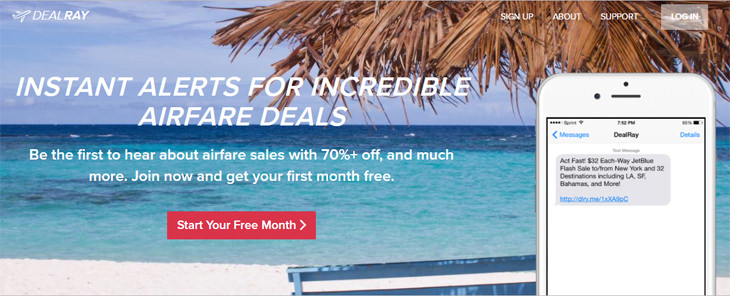 How to use it:
Log on to DealRay and sign up via the Sign Up button at the top of the page, or else click the Start Your Free Month button. You'll be prompted to enter various details, but it's very easy to do. The website will send you SMS alerts about the hottest deals every day or two, but you have to be willing to travel anywhere in the world because it does not track destination-specific flights. DealRay members report saving a massive $428 per deal on average.

Insider's Tip:
If you have an iPhone, be sure to download the DealRay app. That way you'll get push notifications about the best deals straight to the home screen of your phone.