This fiesta quinoa casserole is a family favorite that'll have even the pickiest of eaters coming back for seconds. And since quinoa is a healthy-alternative to more carb-heavy substances such as pasta and rice, you can feel better about coming back for more. Since it has Mexican influences, it certainly doesn't skimp on flavor – there's so much going on that you'll love it. It's like a Mexican party on a plate.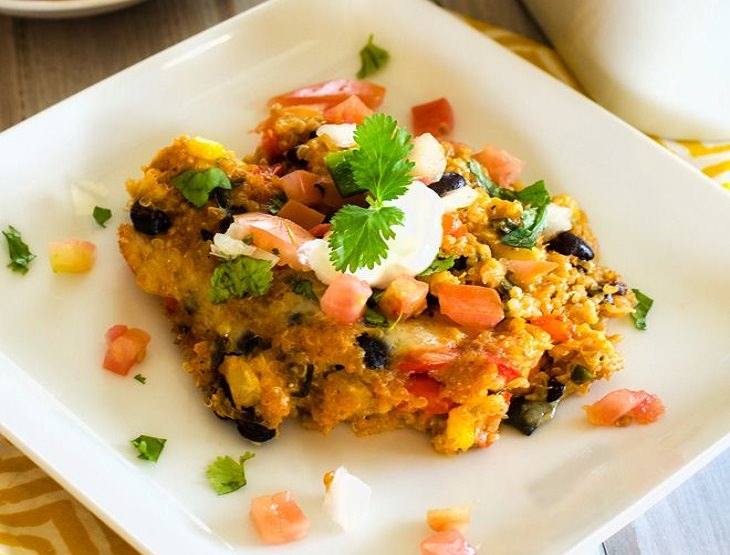 Quinoa Casserole (Serves 8)
Ingredients
• Olive oil spray
• 1 onion, chopped
• 1 poblano chili pepper, seeded and chopped
• 1 red bell pepper, seeded and chopped
• 2 cups frozen corn, thawed
• 3 tablespoons whole wheat OR gluten-free flour
• 1 teaspoon chili powder
• 1 teaspoon smoked paprika
• ¾ teaspoon ground cumin
• ¼ teaspoon chipotle chili powder
• 1 teaspoon sea salt
• 2 cups unsweetened almond milk OR milk of choice
• 8 ounces Montery Jack Cheese
• 3 cups cooked quinoa
• 1 ½ cups black beans
• For serving: Pico de gallo, salsa, avocado, or sour cream
Instructions
1. Preheat the oven to 350 degrees Fahrenheit (177 degrees Celsius). Spray a large baking pan with olive oil.
2. Spray a large skillet with olive oil also, and place over a medium heat. Add the onion, poblano pepper, and red pepper and cook for 8-10 minutes, until tender. Add the corn and cook for 4 more minutes.
3. During these 4 minutes, melt butter or heat olive oil in a medium saucepan. Add the flour, chili powder, paprika, cumin, chipotle chili powder, and salt. Cook for 2-3 minutes. Add in the milk and cook, stirring occasionally, until thick. Add the cheese and cook until melted.
4. Place the quinoa and black beans in a large bowl. Add the vegetable mixture and toss well. Add the cheese mixture and stir until well-combined. Transfer to the prepared baking dish.
5. Bake for 30 minutes. Serve with pico de gala, salsa, sour cream, or avocado if desired.
Source: wendypolisi