1. 1939 Lancia Astura Series 4 Pininfarina Cabriolet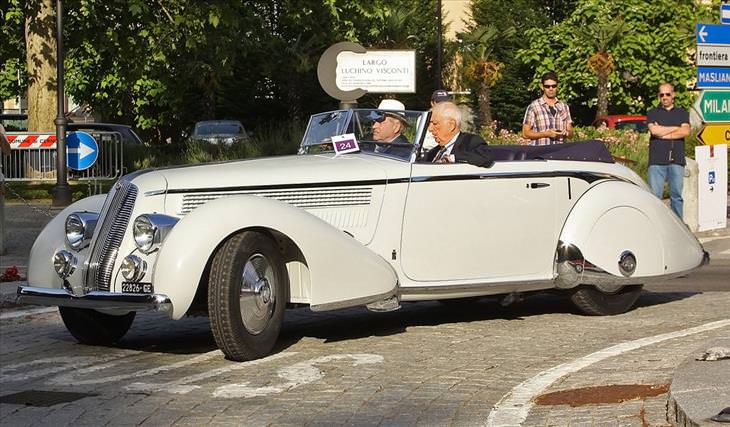 The Astura model, pictured in Pininfarina Cabriolet guise above, was the Lancia marque's signature luxury car in the pre-WWII era. It was named after a site often visited by ancient Roman aristocracy, and received coachwork (custom bodywork) from a range of Italy's finest builders, namely Pininfarina, Boneschi, Castagna, Stabilimenti, and Touring. Famous Italian dictator, Benito Mussolini, used a Touring coupe variant of the car as official government transportation, adding to the model's mystique. Between 1931 and 1939, about 1,900 cars were built.
2. 1938 Bugatti Type 57SC Atlantique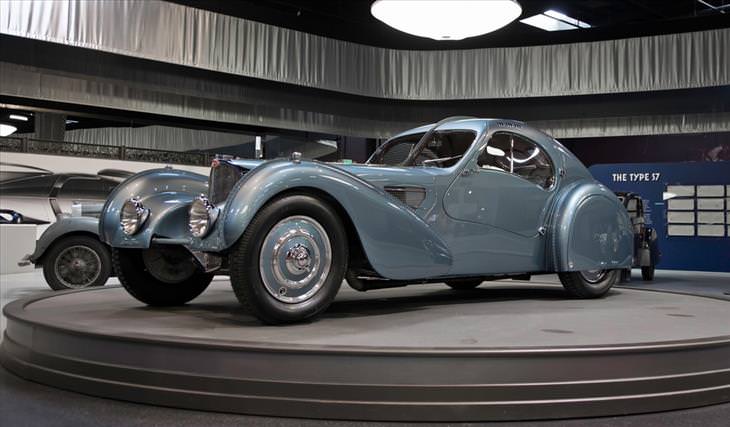 This Bugatti is one of only four Atlantiques ever built, and only three of these remain in existence today. It can now be found in the US' Peterson Auto Museum, and is estimated to be worth over $30 million. This car is also the prototype, meaning that it was the first car produced. The second one ever built disappeared at some point during WWII, and is believed to have been scrapped. The third was involved in an accident and was rebuilt after 1977. It has a different Figoni body compared to the other cars. The last 57SC Atlantique built is owned by fashion designer Ralph Lauren, and is one of the most coveted cars in the world. That incredible vehicle is estimated to be worth $40 million. A few features that make this model special are its stunning lines, supercharged engine and magnesium body panels that were joined together using big, exposed rivets. One of the most special cars ever made? You'd better believe it!
3. 1925 Rolls-Royce Phantom I Aerodynamic Coupe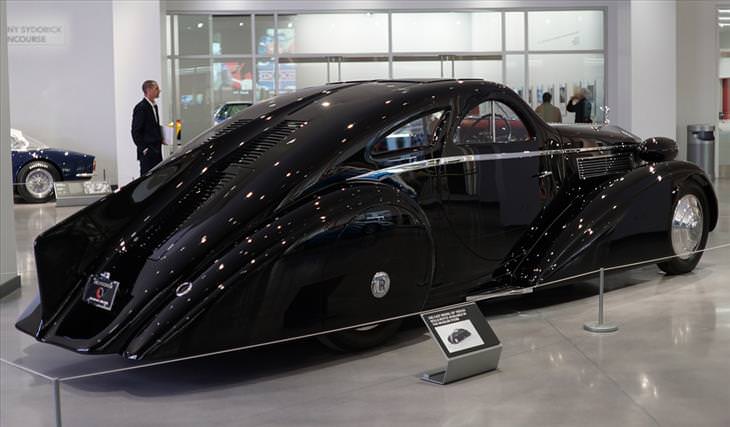 This unique Rolls-Royce has a fascinating and checkered history. It started out as a convertible, but went on to receive the awe-inspiring coachwork that it has today some time during the mid-1930s. It was created by a Belgian builder, Jonckheere. The Aerodynamic Coupe's striking appearance and fastidious attention to detail make it one of the most desirable Rolls-Royces in the world, if not the most desirable. It features circular doors, twin sunroofs, a palatial interior and even a fin protruding from the rear for high-speed stability. Sadly, during the '70s, this car fell into the hands of a man who committed automotive 'sacrilege'. He covered this priceless car in gold dust paint and used it as a traveling sideshow. It disappeared for 20 years before reemerging in the '90s, but thankfully, it has been restored to its original glory and today is once more the impressive vehicle it once was.
4.

1936 Delahaye 135 Competition Court Figoni et Falaschi Cabriolet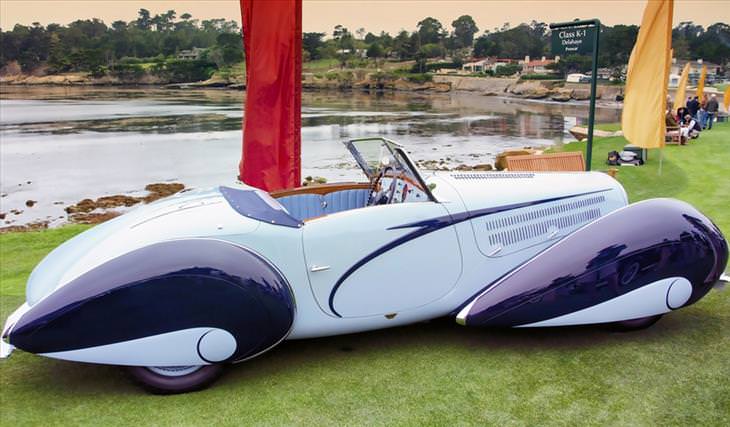 In 1894, a Parisian auto builder, Delahaye, was founded. It had great success selling cars and trucks, making most of its income from the sale of the trucks. However, that all changed following the 135's introduction. Various coachbuilders, such as Chapron and Letourner et Marchand, made bodies for the model, but the Figoni et Falaschi-bodied cars are the ones most coveted.
5.

1939 Rolls-Royce Phantom III Labourdette Vutotal Cabriolet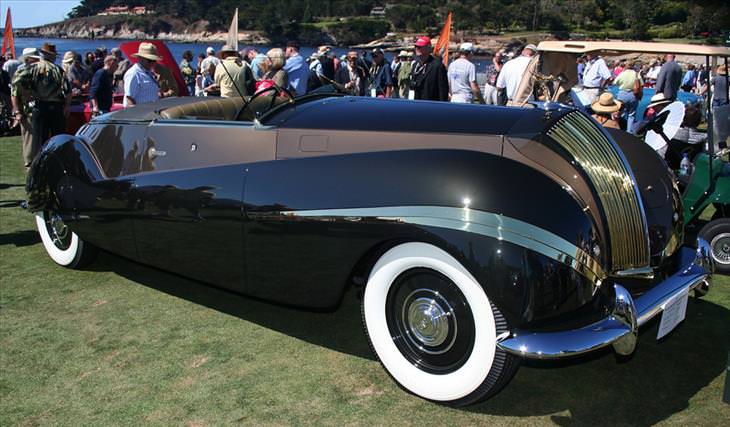 Originally produced in 1939, and the second Rolls-Royce on our list, the Phantom III received its ridiculously opulent bodywork in 1947. It was commissioned by an extremely wealthy eccentric by the name of Louis Ritter, who instructed Parisian coachbuilder, Labourdette, to spare no expense when creating the body. It ended up costing $44,000 - the equivalent of $450,000 today! The Labourdette Vutotal Cabriolet features vacuum-powered windows and brass trimmings everywhere.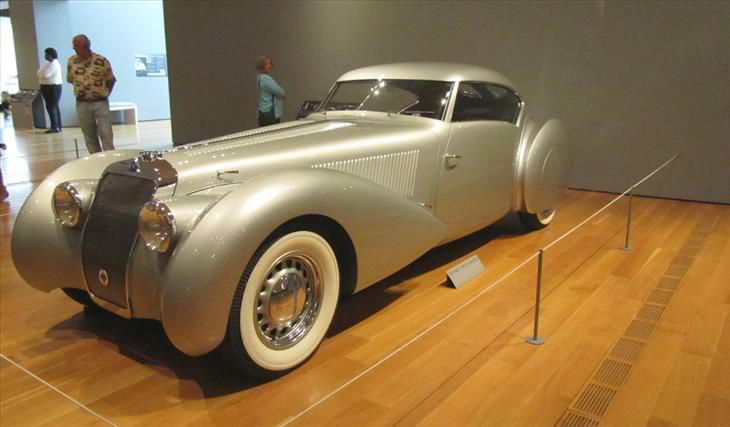 Another French builder from the art deco era created these masterpieces, which were in production from 1929 to 1940, until the German military occupation during WWII brought these cars to the end of their production run. It is unknown exactly how many were built, but several of them are regularly seen on the international classic car show circuit.
7. 1938 Peugeot 402 Darl'mat Roadster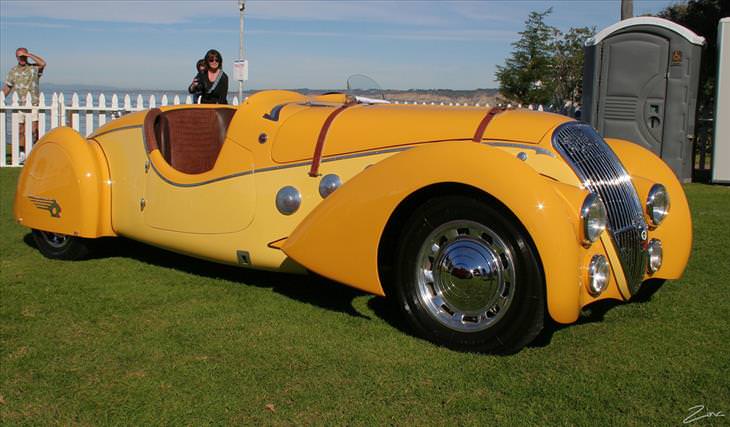 This Peugeot's underpinnings were actually intended for a family car, the 402, but coachbuilder Portout got its hands on a view examples, and created some truly beautiful bodies for these cars. Some 54 Roadsters (pictured above), 32 Cabriolet and 20 Coupe versions were built in total. A Roadster, resplendent in its bright yellow paintwork, can be seen above.
8. 1934 Ford Model 40 Special Speedster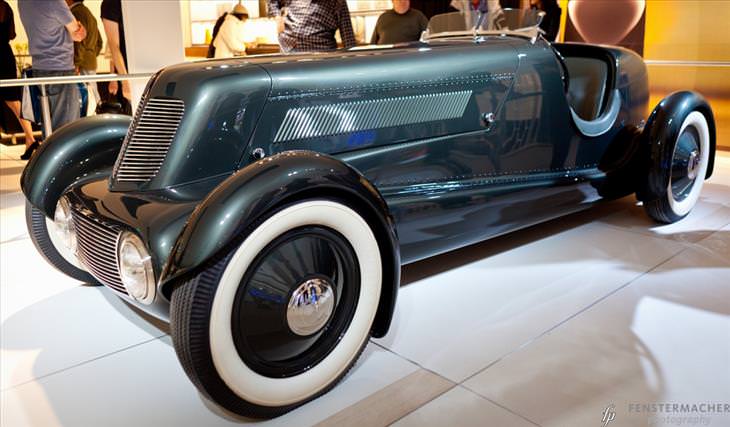 A child of Henry Ford, Edsel Ford, ordered the Ford Motor Company's chief designer at the time to create something special for him after being inspired by the cars he saw on a trip to Europe. This stunning, unique car is the result of those efforts. While it started off as a far less glamorous car than the Bugattis or Rolls-Royces on this list, there's no denying that the end result is jaw-dropping. It is kept under lock and key at the Ford House Museum in California.
9. 1935 LaSalle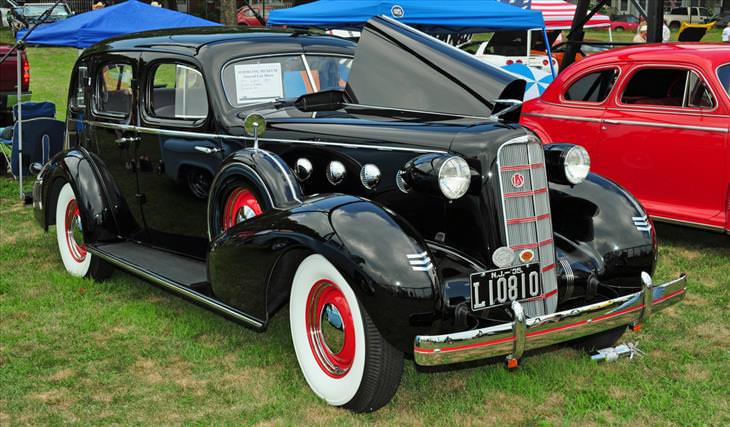 Although this car is something of a commoner when observed in the company of other cars on this list, it's still a beautiful model that was heavily influenced by art deco. LaSalle was a General Motors-owned brand that produced cars between 1927 and 1940. This model is particularly revered because many automotive enthusiasts and historians see it as the starting point for what came to be known as American Automotive Style.
10. 1929 Ruxton Model C Roadster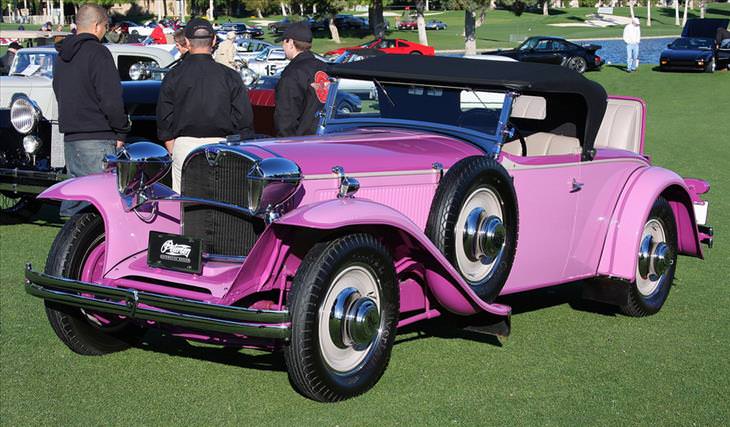 This model was only in production for two years by the New Era Motor Company of New York. It's an early example of the influence of the art deco movement on car design. In addition to its beauty, it's also notable for being front-wheel-drive, as opposed to rear-wheel-drive, which was the more prevalent drive-train being used at the time. Maybe Barbie used to drive this one...
11.

1938 Hispano Suiza H6B Dubonnet Xenia Coupe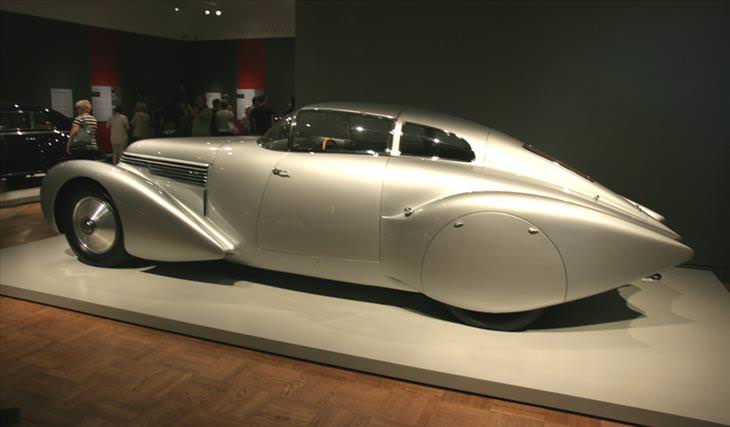 Hispano-Suiza was a Spanish car company that built luxury automobiles and aviation engines during the prewar era. This unique car was commissioned by Andre Dubonnet, a French aperitif baron, amateur racing driver and inventor, who entrusted coachbuilder Saoutchik to turn his vision into reality. It is undoubtedly one of the most futuristic-looking designs to come out of the 1930s.
12.

1938 Talbot-Lago T150-C Speciale Teardrop Coupe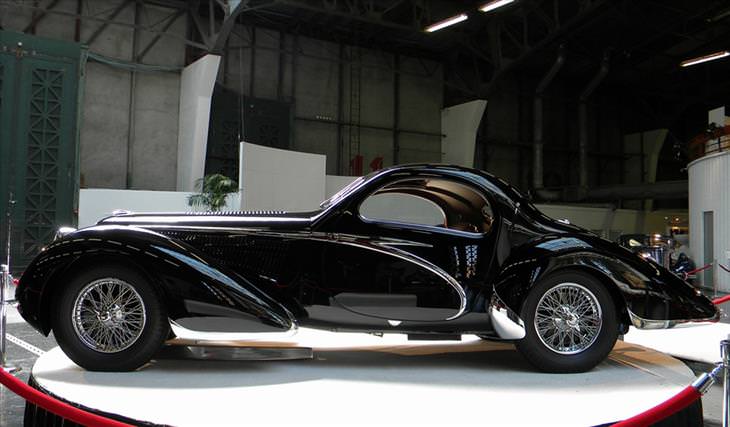 It's quite easy to see why this is known as the Teardrop Coupe - look at its rear end! The cars made by this French manufacturer are highly prized today, and change hands for millions of dollars. The cars were powered by a range of 4 and 6-cylinder engines, and represent the style adored at the height of the art deco era.