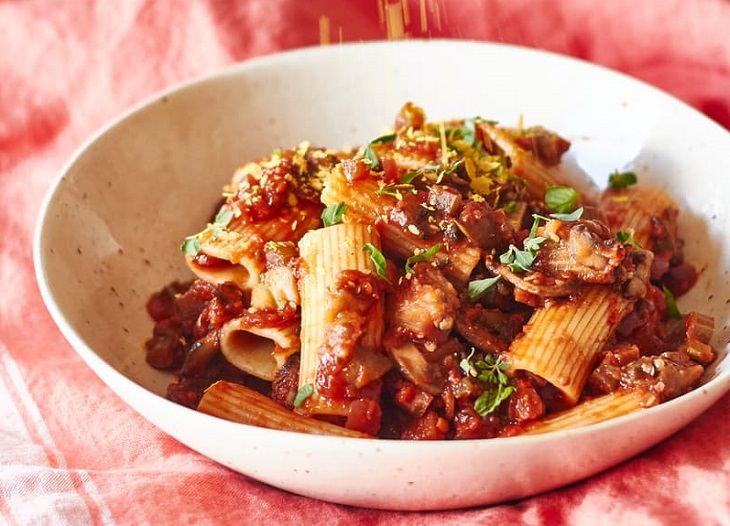 Building a Vegan Bolognese
This vegan variation relies on many of the classic preparations for traditional Bolognese. For example, there's an aromatic soffritto to soften, wine to reduce, and the pasta is even finished in the sauce. However, we use mushrooms and eggplant in place of the meat (this adds flavor and body to the sauce).

Eggplant and Mushrooms for Umami and Texture
Before making the sauce, we bake a whole eggplant in the oven until it is tender. This will take about an hour, but you can prepare the rest of the vegetables while you're waiting. The baked eggplant gives a velvety texture to the sauce, but most importantly, baking concentrates the eggplant's earthy flavor - which gives the sauce it's savory profile.
Mushrooms are a fairly standard substitute for the meat, as they have a natural meaty flavor and a chewy texture. You must sauté them separately from all of the other vegetables. You might be tempted to chuck them in with the rest of the vegetables, but you shouldn't do this - cooking the mushrooms by themselves concentrates their flavor and removes a great deal of their moisture, which prevents them from becoming slimy.
​
Soffritto for a Robust Base of Flavor
A soffritto is a humble mixture of chopped onions, celery and carrots. Softened in a tiny bit of olive oil, soffritto becomes the fragrant base for all long-simmering sauces. This traditional combinations adds flavor and texture to the Bolognese.

Red, Red Wine
Some argue that white wine is a more traditional addition to a Bolognese, but this vegan recipe calls for 2 cups of red wine and this is why: Red wine contains tannins that will add more of a meaty taste to the sauce than white.

Go for a Tubular Pasta
Spaghetti is an iconic pasta for Bolognese, and it can certainly be used here. However, using a short and tubular pasta such as penne or rigatoni is highly recommended. The reason for this is that the tube shape picks up more of the sauce and makes eating the dish more pleasurable.

How to Make Eggplant Bolognese
Makes 4 to 6 servings.

Ingredients
• 1 medium eggplant (about 1 pound)
• 1 pound cremini mushrooms (about 2 pints), stems removed and sliced
• 2 tablespoons olive oil
• 1 medium onion, finely chopped
• 2 stalks celery, finely chopped
• 2 medium carrots, peeled and finely chopped
• 1 teaspoon kosher salt, divided
• 2 cups dry red wine (such as Chianti)
• 3 cloves garlic, minced
• 1 tablespoon finely chopped fresh basil leaves
• 2 teaspoons finely chopped fresh oregano leaves
• 1 teaspoon finely chopped fresh thyme leaves
• 1/4 cup tomato paste
• 1 (28-ounce) can crushed tomatoes
• 8 ounces dry rigatoni or penne pasta
• For garnish: Fresh herbs, nutritional yeast, or Parmesan cheese

Equipment
• Baking sheet
• Chef's knife
• Cutting board
• Measuring cups and spoons
• Large Dutch oven
• Spatula or wooden spoon
• Large frying pan
• Large pasta pot
• Slotted spoon

Method
1. Bake the whole eggplant: Heat the eggplant in the middle of the oven at 350°F. Bake until very tender (1-1 1/2 hours). After it has been cooked, leave it to cool.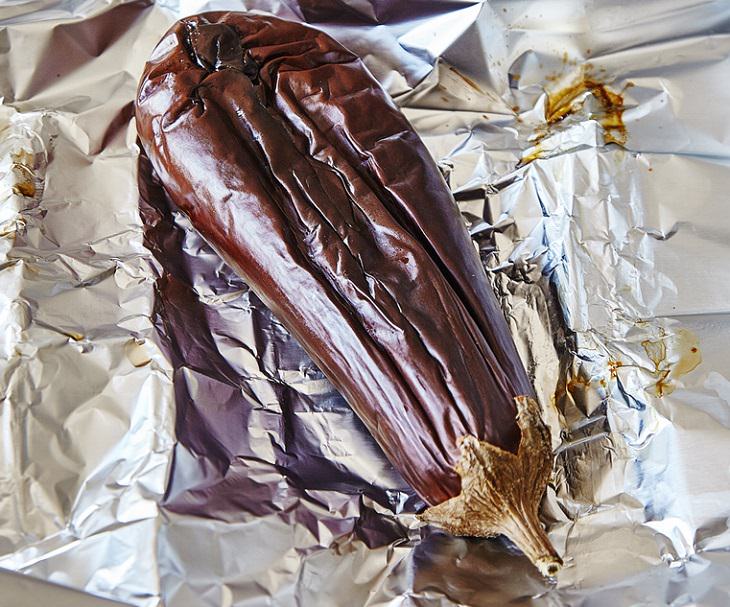 2. Brown the mushrooms: Meanwhile, heat a large frying pan over a medium-high heat until hot. Add 3/4 of the mushrooms and brown (stir occasionally), until they've shrunk by about half. This should take around 8-10 minutes. Once done, set the pan aside.

3. Make the Soffritto: Heat the oil in a large Dutch oven over a medium heat until it is shimmering. Add the onion, carrots and celery, and season with 1/4 teaspoon of salt. Cook, stirring often, until the vegetables are softened. This will take 10-12 minutes.

4. Add the wine: Pour the wine into the Soffritto mixture and mix well. Reduce the wine by half - 5 to 7 minutes.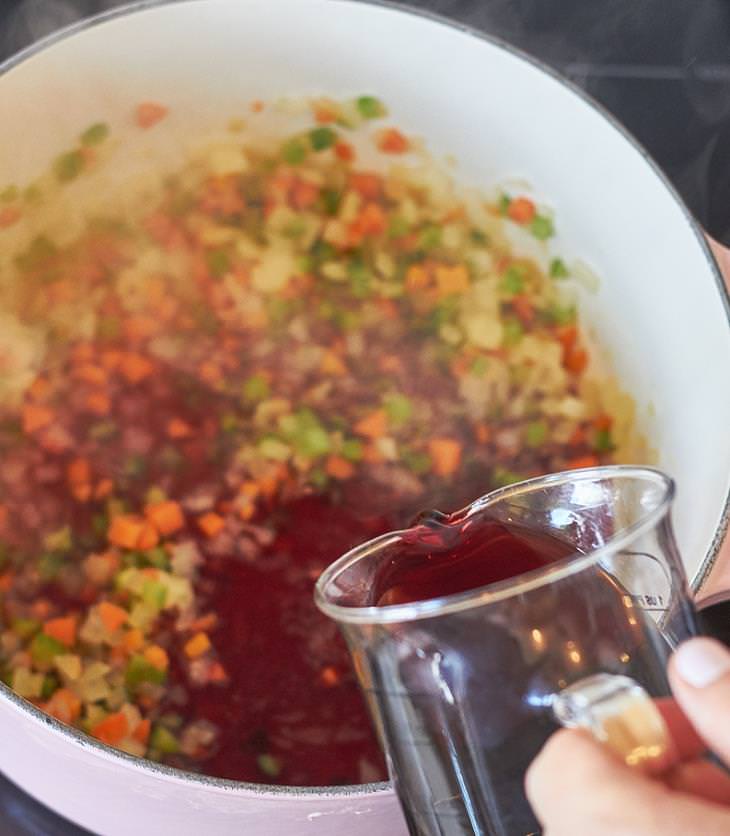 5. Add the aromatics and tomato paste: Add the basil, garlic, oregano, thyme, and tomato paste and cook until the mixture has thickened and becomes fragrant. This should take about 5 minutes.

6. Add the eggplant and tomatoes: Peel and coarsely chop the cooled eggplant. Add the eggplant, the remaining mushrooms, crushed tomatoes, and 1/2 a teaspoon of salt to the mixture and stir until thoroughly combined.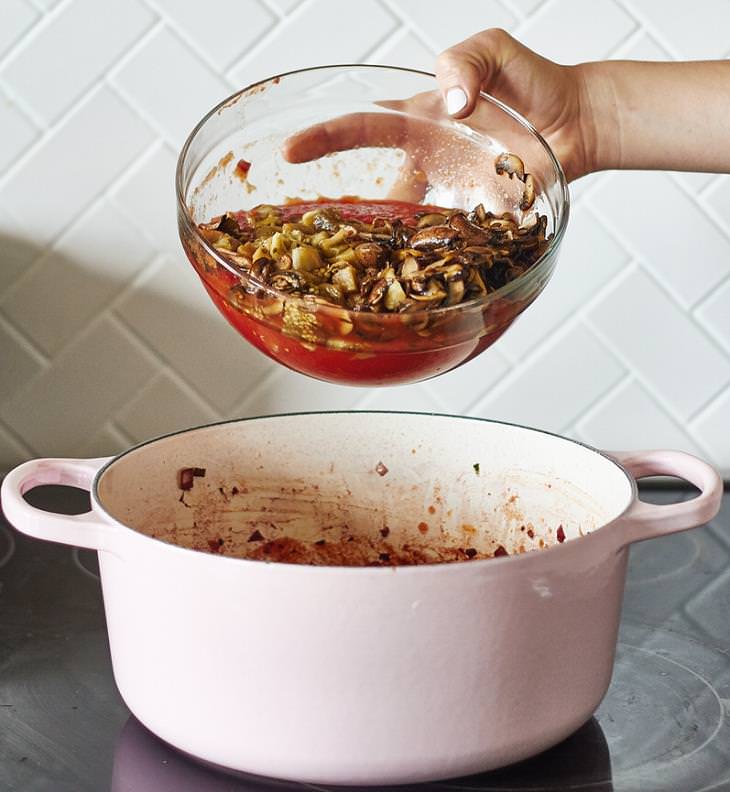 7. Simmer: Reduce the heat to low and cover. Let it simmer for about an hour. Remember to stir occasionally to prevent scorching.

8. Cook the pasta: Bring a large pot of salted water to the boil. Add the pasta and cook until al dente.

9. Finish the pasta in the sauce: Drain the water and add the cooked pasta to the sauce. Let it cook in the sauce for a further 2 minutes.