After a long, hard day, there's nothing better than relaxing on the couch while sinking your teeth into a moist, velvety chocolate brownie... sounds heavenly doesn't it? But what if I told you that there is something better, something more delicious than the traditional, yet all -too-common brownie recipe, and is so simple to make? Believe me - there is, and it is absolutely scrumptious. Get ready to tingle your taste buds with utter delight with this oh so simple Cheesecake Brownie Recipe.
You will need: A 20cm (base measurement) cake dish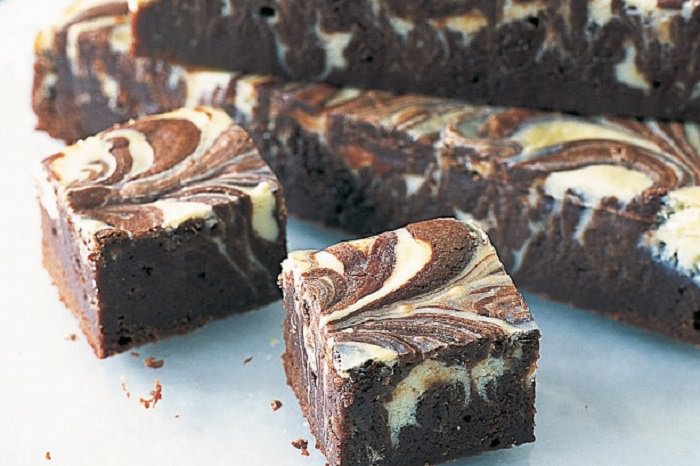 Ingredients
Melted butter, to grease the dish

5 ounces (150g) Butter, chopped in small cubes

10 ounces (300g) good-quality dark cooking chocolate, chopped

3 eggs

7 ounces (215g) caster sugar

8 ounces (225g) plain flour

8 ounces (225g) sour cream

9 ounces (250g) packet cream cheese, at room temperature
Method
1. Preheat the oven to 356°F (185°C). Grease your cake dish with melted butter and line the base and two of the opposite sides with non-stick baking paper (let the sides overhang).
2. In a saucepan, combine the butter and the chocolate. Cook and stir on a low heat for five minutes. The chocolate should be fully melted and the mixture, smooth. Remove the pan from heat and set aside for five minutes to cool.
3. In a small bowl, whisk two eggs. Add the whisked eggs and 140g sugar to the chocolate mixture, stirring, making sure that the ingredients are combined well. Add the flour and the sour cream, stirring until combined well.
4. With an electric beater, beat the cream cheese and remaining sugar in a bowl until smooth. Add the last egg and beat until just combined.
5. Spoon the chocolate and cream cheese mixture alternately, over the base of a pan. Using a skewer, swirl the mixture creating a marble effect. Bake in oven for 30 minutes. Check that the mixture is cooked through by inserting a clean skewer in the center of the cake, ensuring that it comes out clean. Set aside in the pan for one hour, to cool. Cut into squares and serve.
Happy Eating!
Source: taste.com.au