Even without bringing up statistics, it is safe to assume that we all know that His Royal Highness Charles, the Prince of Wales, is the longest-serving heir apparent in British history. After all, he IS the son of Queen Elizabeth II, whose reign is the longest in human history. But did you know that Prince Charles also dabbles in art? What about his musical skills? Let's get those royal facts!
1. He's the first royal baby born at Buckingham Palace... in the 20th century
His mother, then Princess Elizabeth, was 22 when she gave birth less than a week before her first anniversary with her now late husband. Ironically, CBC Radio mentioned that newborn Charles Philip Arthur George wouldn't become king until he is 50 or even 60.
2. He received his title at a very tender age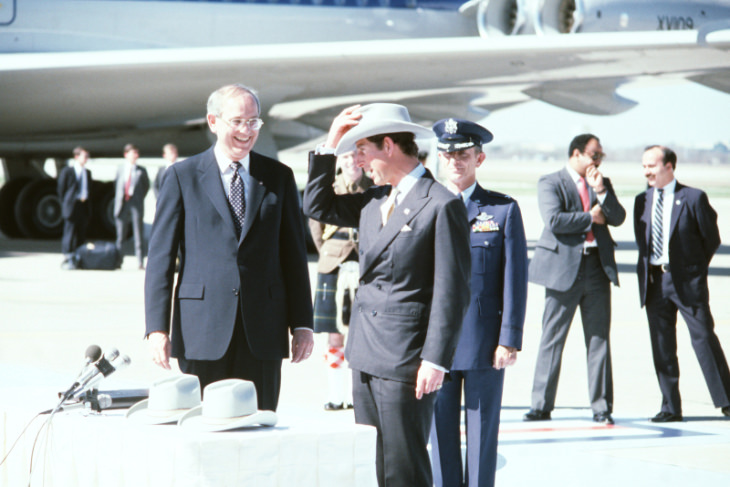 Frank Cooksey, mayor of Austin, Texas, presents Prince Charles of Wales with a cowboy hat
Source
Prince Charles was born third in line for the throne and moved to be second in line with his grandfather's death. The title "Prince of Wales" and its conjoining title, Earl of Chester, were given to the Prince when he was 9 years old, 6 years after his grandfather's death. But this wasn't his first title. One of his earliest titles, for instance, was the Duke of Rothesay, which he received at age 5.
3. He's got some musical talent
His Royal Highness used to play the cello as a young man. As a child, he also learned to play the trumpet and the piano, but the cello was his instrument of choice. He even played at the orchestra of Trinity College, Cambridge: "I loved playing in the orchestra at Trinity – albeit rather badly," says the prince in a conversation with poet Simon Armitage. "I remember playing in Beethoven's Fifth Symphony and trying to practice in my room at Cambridge to an old record[...]," the Prince said in a statement.
4. He had quite a reputation in his 20s
When Charles was a bachelor, he had quite the reputation for turning heads. President Nixon tried to match his daughter Tricia with Charles, sitting them together on every occasion. Before he met Diana, he dated her older sister, Lady Sarah Spencer.
5. His artistic talent isn't limited to music
The Prince of Wales wrote a children's book based on stories he used to tell his younger brothers, Princes Andrew and Edward. It's called The Old Man of Lochnagar, and it was even animated into a short film you can watch above.
His talents don't stop here, either. Prince Charles enjoys painting with watercolors, and some of his works are currently on display at The Garrison Chapel at Chelsea Barracks, in London. This exhibition will go on until February 14 and is free of entrance fees - you can simply show up! The works are mainly landscape paintings. He began painting them back in the 70s as a student in Scotland. His interest in art isn't just a hobby either. He co-founded The Prince's Drawing School and made millions selling prints of his works.
If you'd like to visit the Prince's current art exhibition, you can find more details about it by clicking here.
6. There's an animal species named after him
There's an animal species named after His High Royal Highness, and it's not a Royal Penguin. A new species of the Ecuadorian tree frog was discovered in 2012, and it is named Hyloscirtus princecharles, or the Prince Charles stream treefrog. This was done to honor the Prince's rainforest conservation work. Prince Charles set up the Rainforest Project in 2007 as a charity and awareness campaign, and he also holds The Prince's Foundation, which fosters sustainable living worldwide.
H/T: MentalFloss