1. Pictures from graphic T's
In the depths of our closets there are always a few nostalgic graphic T's from our youth, and with the help of the following method, you can immortalize them in a special way. To do this, use a canvas stretched over a wooden frame and place it on the shirts you want to recycle, as shown in the picture. As you cut around the frame, make sure to leave enough fabric to stretch the t-shirt over it.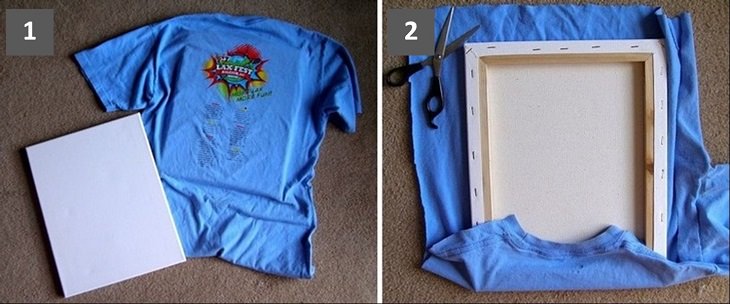 Fasten the edges of your t-shirt with wood glue or a staple gun. Hang your new pictures wherever you want and remember the days gone by.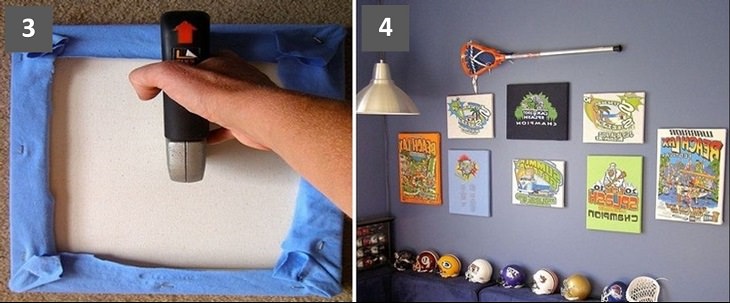 2. Colorful pillows
To decorate the house with colorful decorative pillows you don't have to run to your nearest Home Goods store. You can make special pillows right in your home with an old shirt, a thread, needle, and pillow filler. Turn the shirt inside out, mark the edge of the pillow you want to create, and cut the fabric in precise lines.

Sew three sides of the shirt and three-quarters of the fourth end. Turn the pillow right side out, fill it with filler and finish sewing the fourth side. Cut zigzag edges if you'd like and enjoy another special touch that will add to your already awesome pillow.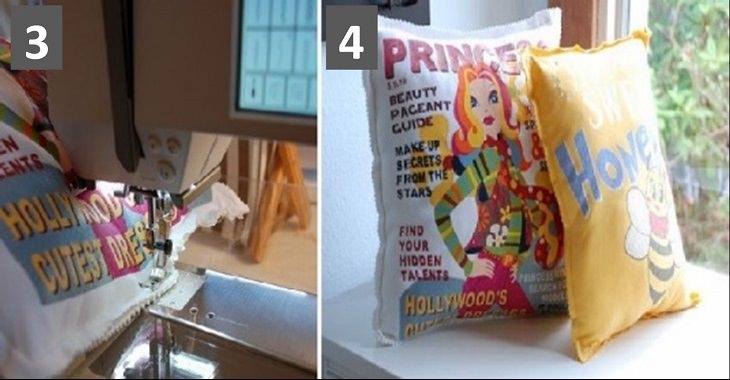 3. An infinity scarf
Scarves are a wonderful fashion accessory that can upgrade any outfit, and now you can easily make one yourself. In order to do this, cut long strips of a shirt that you no longer wear and another strap to secure the edges. Stretch the straps, loop them together, and stretch again, as shown in the image.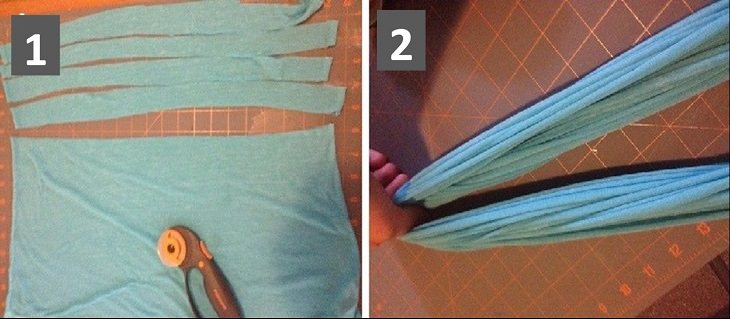 Tie the edges of the scarf, wrap the extra strap around them to create a cloth "hose" and insert its end into the area you wrapped. And there you have it, a brand-new, DIY, infinity scarf.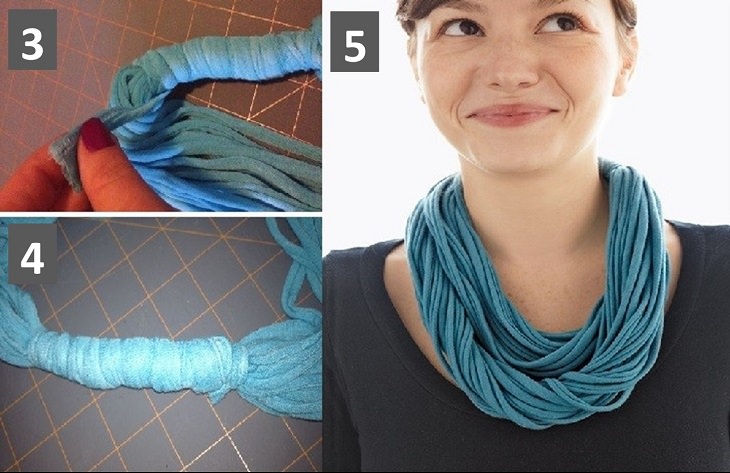 4. Doggy chew-toy
Anyone who has a dog knows how much our four-legged friends like to chew and gnaw on things. That's exactly why there's an abundance of chew toy options at the pet store, but with the following method you can save some money and make your dog something to chew on using an old shirt. To do this, cut thick strips of your shirt, tie their top ends tightly, and start braiding and weaving the rest of the strips.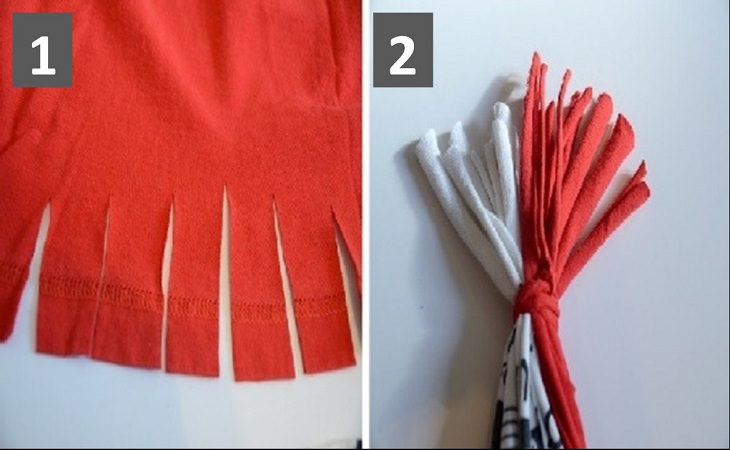 Tie the bottom off tightly and give it to your dog. He will certainly love this unique chew toy and you won't have to worry about your furniture in the future.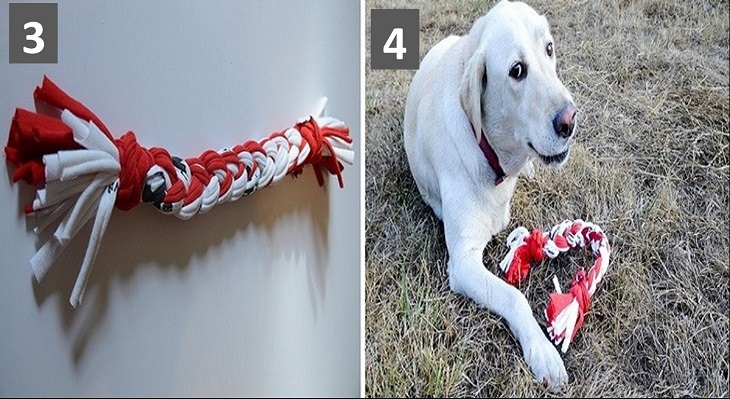 5. No-Sew Bag
If you want to make a unique bag for beach trips or for any other purpose, you can do this with an old shirt and scissors only! To make a bag like this, take an old shirt, turn it inside out, and cut off its sleeves and collar. Then cut strips at the bottom, on both sides, as shown in the picture.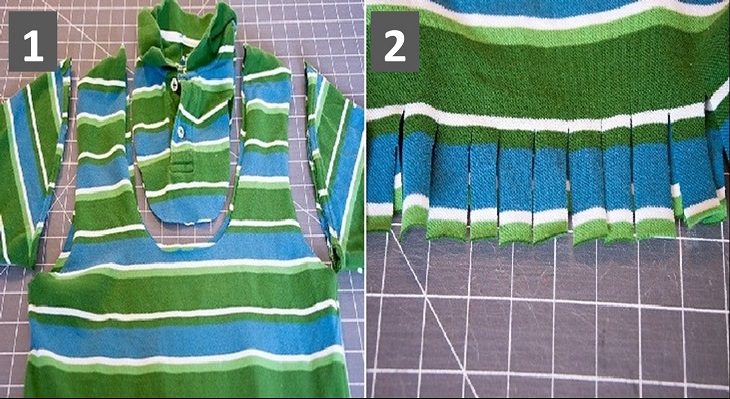 Now tie each pair of strands facing each other on either side of the shirt, and tie them to the pair beside them until they are all connected to each other. Turn the shirt right side out and now you have a bag for every need.
6. A vest out of a men's shirt
If you have a large men's shirts in the closet, you can turn it into a fashionable vest. Just cut off the shirt collar and sleeves and stretch it over a long surface.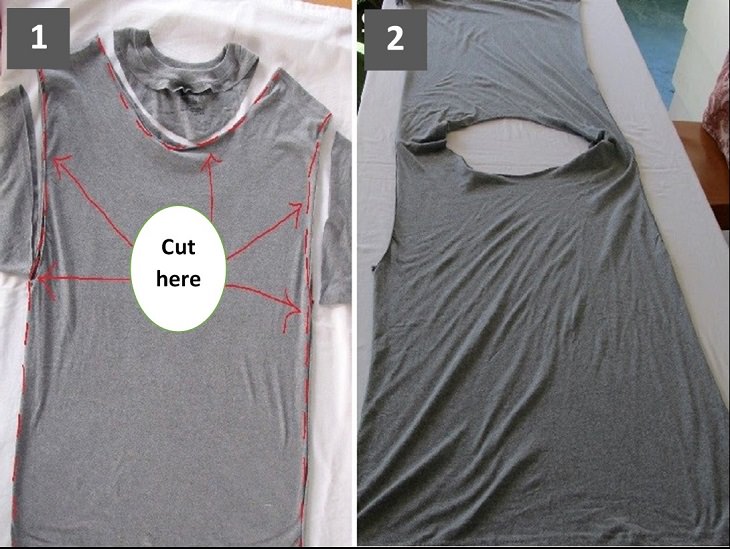 To wear the vest – put both arms through the hole where the collar used to be and let the sides hang loose. You can even belt the vest to add some flair.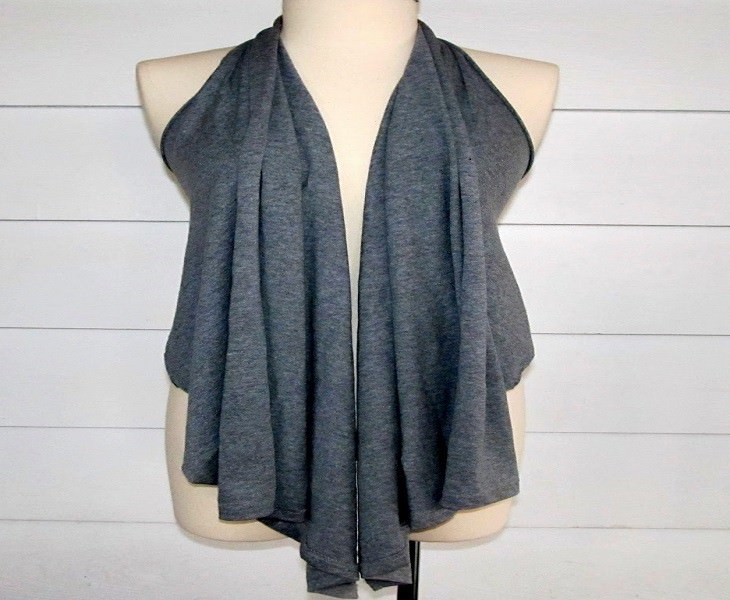 7. Bow for decorating clothes
You can add some flash to clothes by adding a hand-embroidered bow. To do this, cut the desired width band from an old shirt, fold it to 2, and fasten the center with a needle and thread or with fabric glue.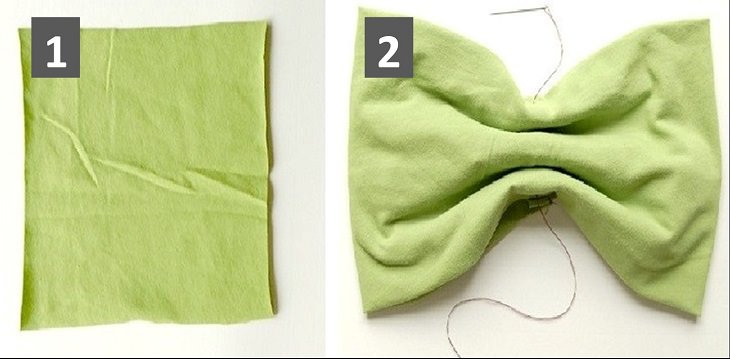 Then wrap a strip of fabric around the sewed area and glue it/sew it. Now you can add your new handmade bow to any garment or item you want.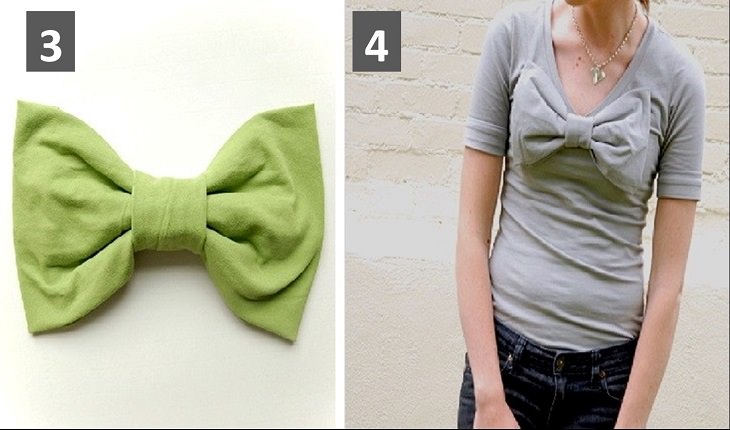 8. Gift bow
Everyone loves getting and giving gifts, and now the next time you give a gift you can add a special personal touch with this handmade gift bow. To make the bow, cut strips of fabric from a shirt, stretch them and wrap them around your palm. Attach another strap around the center of the rest of the straps.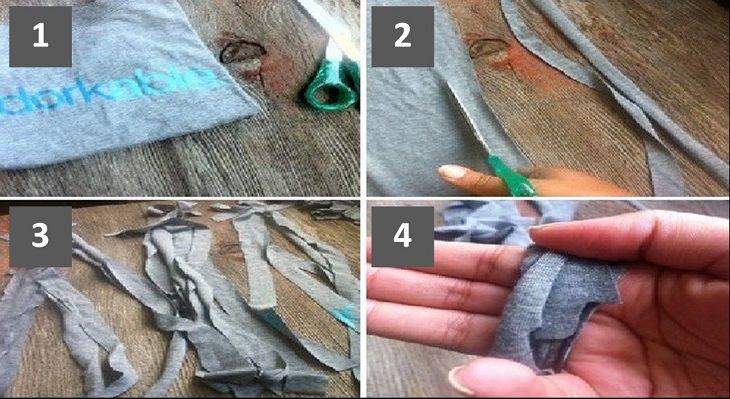 Then cut the loops at the tops and bottom of the center piece, shake it out, and use it to decorate any box you want.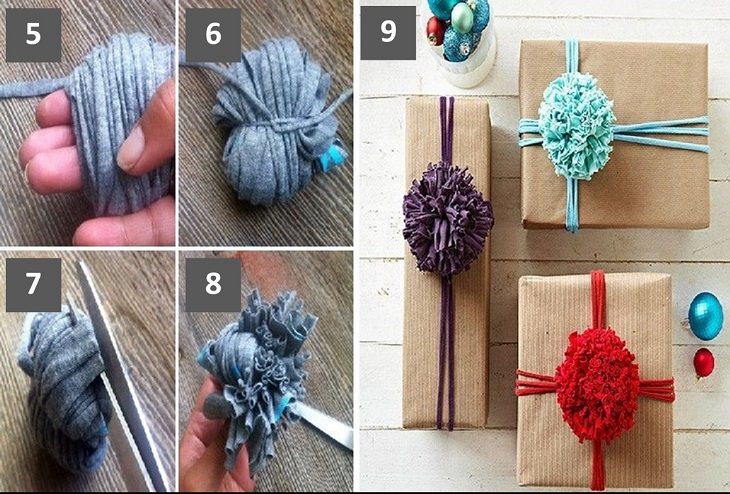 9. Shoelaces
If you have shoes you want to upgrade and add color to, you can use the next DIY. Cut off a long strip from an old shirt. Stretch your new laces, thread a plastic aglet (the plastic end of a lace) to their ends, fasten them, and thread into the desired shoes.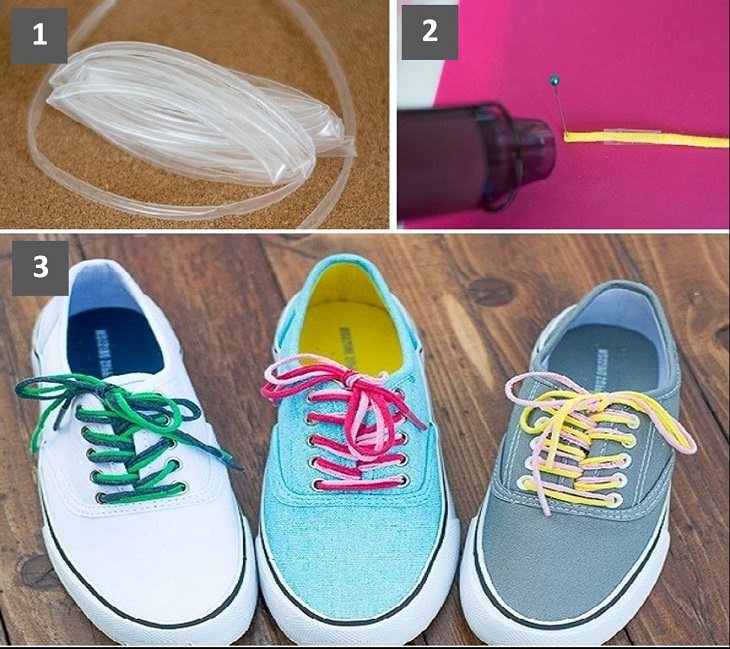 10. Knitted sweater gloves
In the winter, your hands can get especially cold, but instead of buying gloves to warm them, just make them yourself! Choose a knitted sweater that you no longer need, turn it inside out and put your hand on it. Use a chalk or marker to draw a slightly wider outline of your hand to make room for sewing. Cut the sweater according to the lines and hand or machine sew the edges. Turn over your new gloves and go out into the winter weather without fearing your hands will freeze.