1. In some cultures, black cats are believed to bring good luck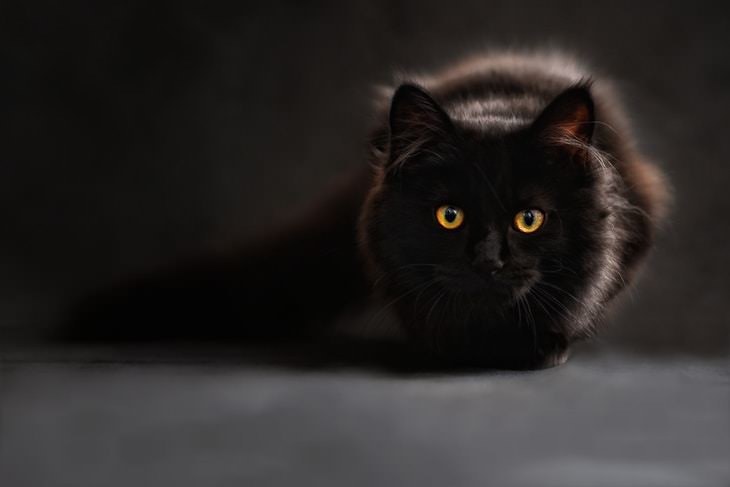 A black cat crossing your path is a sign of bad luck in many but not all countries around the world. In fact, people in Japan, England, Ireland, and Scotland would be thrilled to meet a black cat.
In Scotland, a black cat at your doorstep is believed to be a sign of prosperity, and in many parts of England and Ireland, a black cat crossing the street in front of you will bring your good luck. In Japan, black cats are beloved animals, especially by unmarried women in search of a spouse, as having a black cat is said to increase the number of suitors.
In Germany, things are a bit more complicated because a black cat crossing the street from right to left is an omen of bad luck, but when it crosses your path from left to right, it will bring you good luck.
2. Sailors love black cats. Pirates? Not so much...
Seamen have a complicated attitude towards black cats. The British navy adores black cats, and not only for their service as official rodent catchers. Black felines are lucky companions that ensure smooth sailing and safe return home, which is why the British navy traditionally "employs" black felines on their ships.
Pirates must be more vigilant with their black cat encounters. If the black cat is walking towards you, and you're a pirate, it's a sign of bad luck, but it's good if it's walking away. The worst sign, however, is when a cat walks toward your ship but then changes direction and walks away - it's a sign that the ship will sink.
Related Article: These 115 Fascinating Cat Facts Will Intrigue You
3. There are 22 different breeds of black cats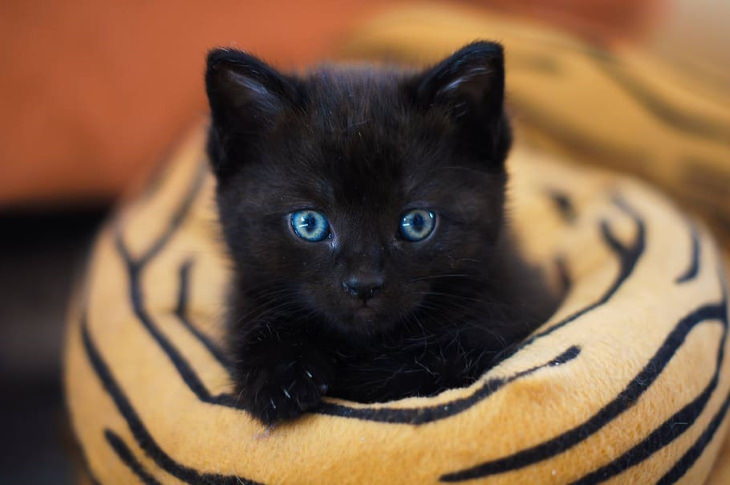 Not all cat breeds can be melanistic, which is the scientific way of saying that an animal is black. According to the Cat Fanciers' Association (CFA), 22 cat breeds can have a solid black coat. However, only one of these breeds, the Bombay cat, is exclusively black. Interestingly, Bombay cats are pitch black everywhere - they have black noses, black skin, paw pads, and whiskers. This is relatively rare in other cat breeds, as both the mother and the father must have the black fur color gene to have a kitten that's pitch black.
4. Most black cats are males
While it's true that both male and female cats can have a black coat, it just so happens that most black cats are actually male. This may be due to some genetic mutation, but scientists aren't quite sure why it happens.
5. Black cats can change the color of their coats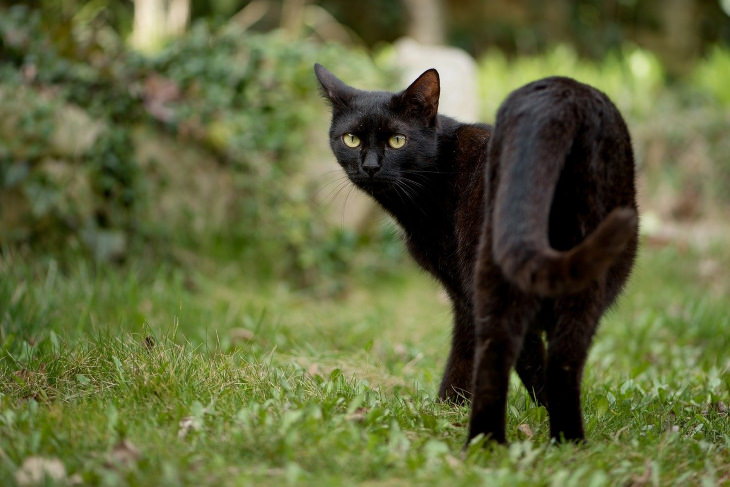 Black felines that spend a lot of their time basking in the sun can change their color to a chocolate-brown or rusty red color. This phenomenon is known as "rust," and it happens because sun exposure burns out the black pigment from the cat's fur.
6. Black cats are immune to certain cat diseases
Those cultures that deem black felines lucky may not be far off from the truth. This is because black cats may actually be healthier than their non-melanistic brethren. Scientists know that black cats have a stronger immune system and have a lower risk of contracting the feline immunodeficiency virus (FIV), which is similar to HIV.
Scientists believe that the genetic mutation that turns a cat's fur black helps them resist FIV because it is in the same genetic family as the genes that make humans resistant to HIV. Who knows? Maybe black cats will help us unlock the secret to HIV immunity one day.
7. Black cats are actually MORE likely to be adopted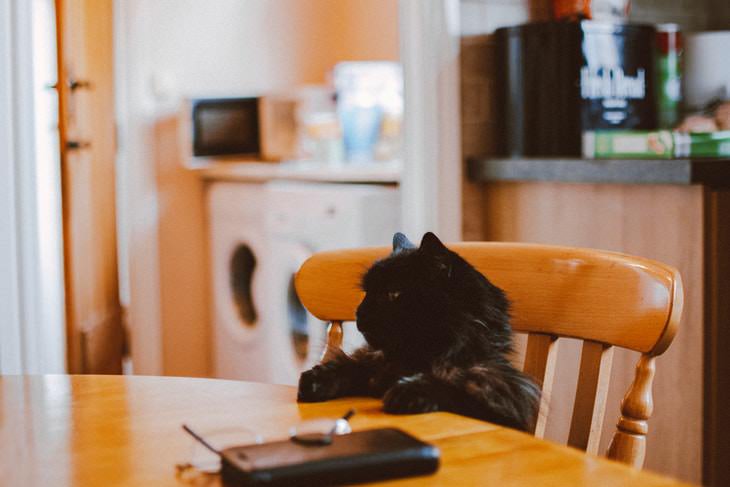 You'd think that the superstitions surrounding black cats would make them the more unpopular choice at animal shelters. The reality is literally the opposite of that. According to a survey conducted by the American Society for the Prevention of Cruelty to Animals (ASPCA), the total number of black cat adoptions is the highest of any other hue.
Call us superstitious, but the more we learn about these black felines, the more we tend to believe the superstition that black cats are actually quite lucky!
8. Black fur color is a dominant trait
Let's remember our old biology lessons. In genetics, there are two types of genes - dominant and recessive. Dominant genes are stronger and they will be the ones that get expressed rather than recessive genes. It turns out that the black color gene is the most dominant coat color gene in feline DNA, which means that two cats who carry this gene will certainly produce kittens with a solid black coat. This means black cats are the most common in the world!
9.

Black cats were revered in Ancient Egypt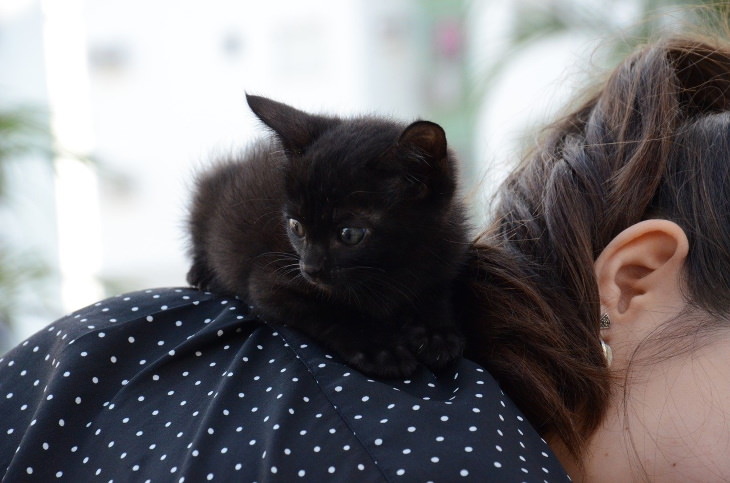 Most of us are aware that Ancient Egyptians treated cats as sacred animals. But the black cat was the most revered of them all, as it was considered the living embodiment of the goddess Bastet, the goddess of home, fertility, and women. Bastet is depicted in Ancient Egyptian mythology with a head of a black cat and a human body. For this reason, black cats were treated like royalty in Ancient Egypt and had their own temples. Black cats were adorned in jewels and even mummified, just like humans. Killing a black cat was a crime punishable by death.
10. There are two holidays celebrating black cats
Despite their bad reputation (or maybe because of it?), there are national holidays dedicated to black cats. If you're looking for an excuse to pamper and spoil your black cat, here are two options. August 17 is recognized in the US as the National Black Cat Appreciation Day, and October 27 is the National Black Cat Day.
Share these fascinating facts about black cats with family and friends!