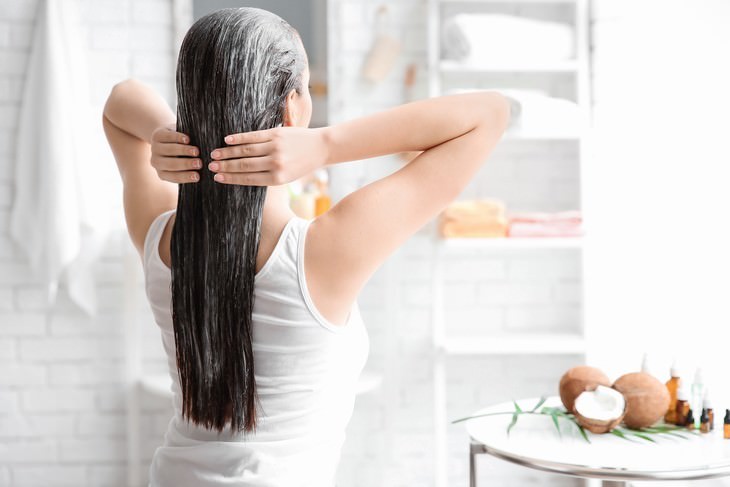 1. Castor and Tea Tree Oil Mask
This simple, two-ingredient mask is antibacterial and deeply moisturizing for the scalp. Apart from relieving a dry and itchy scalp, it's also a good one to use for hair growth. The tea tree essential oil in this mask is a potent antimicrobial and antifungal agent, so much so it's often added into dandruff treatments and shampoos. Castor oil, in turn, will nourish and moisturize your scalp, promoting hair growth and long-term hair health.
As with any of these masks, you can repeat this hair mask as often as you'd like and even use it as a preventative or complementary treatment.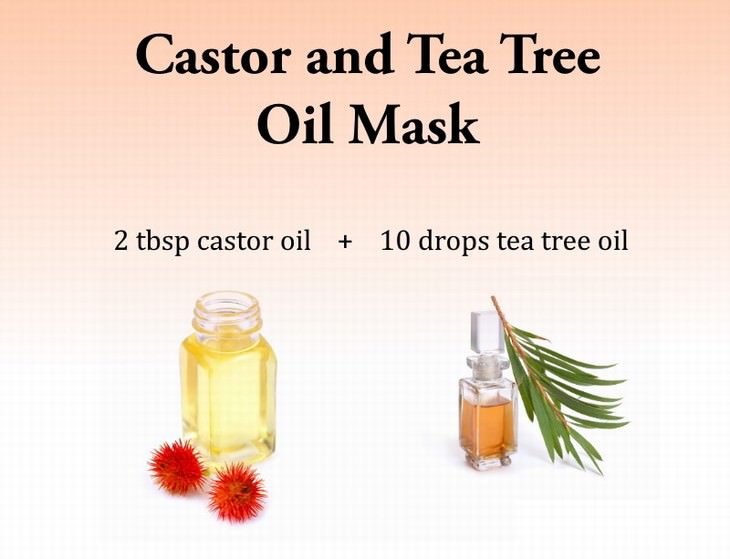 Preparation:
To prepare this mask, you will need to combine 2 tablespoons of castor oil and 10 drops of tea tree essential oil in a small bowl. You can warm the oil mix up a little bit to make the application process easier and help it penetrate the scalp better.
Application:
This hair mask, as any oil-based hair mask, really, should be applied on dry hair.
Step 1. If you have long hair, divide your hair into sections and apply the mask onto your scalp using only a dye brush or just your hands.
Step 2. Once you've coated your entire scalp with the mask, you can gently massage your scalp to help the mask penetrate the scalp more deeply.
Step 3. Wrap your hair with a warm towel and let the mask do its job for at least 30 minutes.
Step 4. Wash your hair as per usual. The castor oil is pretty thick, so you might need to shampoo twice to get all of the oil out of the hair.
2. Honey and Coconut Oil Mask and Scalp Scrub
I'm a skeptic when it comes to coconut oil and I would never use it on my skin, as it can cause acne for many people, but it's difficult to deny that coconut oil can do wonders for the hair, as it has an antimicrobial effect and helps to gently clean all the gunk and buildup from your scalp.
Even using coconut oil alone on your scalp will be beneficial, but let's amplify this mask even further with some honey, an excellent humectant and an antimicrobial agent, as well as some sugar that will help exfoliate and boost the circulation of the scalp area.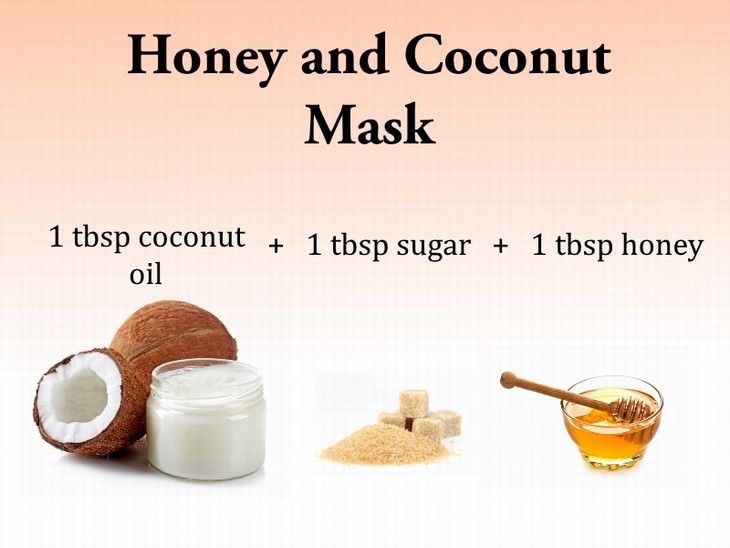 Melt 1 tablespoon of coconut oil in the microwave or on the stove and let it cool down just enough to be able to handle it, then add 1 tablespoon of honey and mix until blended. Finally, add in 1 tablespoon of sugar, which will act as a scrub for your scalp.
Application:
The mixture will be a bit sticky but don't worry, the coconut oil will make the mask easy to apply and wash off.
Step 1. As previously, section off your dry hair if it's longer and apply the mask concentrating on the scalp and not the entire hair length.
Step 2. Massage your scalp very gently for a few minutes to help the sugar remove all the dead skin cells off your scalp and make the mask sink in, and then cover with a damp warm towel. It's essential to keep this mask warm, as the coconut oil can solidify, which will make it less effective and more difficult to remove from your hair.
Step 3. Keep the mask on for at least 30 minutes, preferably an hour, then wash your hair as usual. Shampoo twice if needed and make sure you thoroughly remove all traces of the mask, as any residue will make your hair look oily and dull.
3. Shea Butter, Mint and Rosemary Mask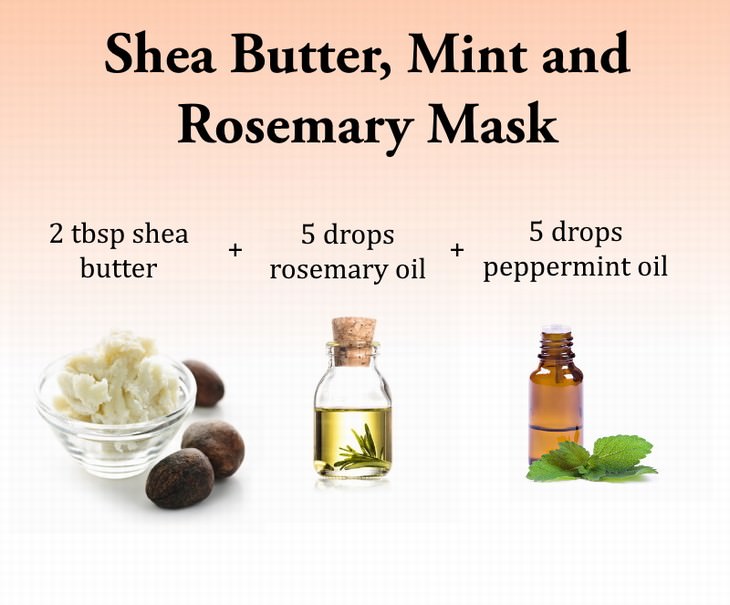 Doesn't this mask sound like a refreshing drink? Well, it basically is one, but for your scalp. The peppermint oil in this mask will provide instant cooling and relief from an itching scalp while the rosemary oil will add that antibacterial, deep-cleansing action any good scalp mask needs.
But the star ingredient of this mask is certainly the shea butter, one of the most deeply moisturizing, luxuriously smelling oils on the planet that's frequently used in creams and hair products to soothe skin inflammation.
Preparation:
Melt 2 tablespoons of raw shea butter and mix in 5 drops of rosemary essential oil and 5 drops of peppermint essential oil.
Application: The application is identical to that of the Castor Oil and Tea Tree mask above, but be careful not to let this mask drop-down or get close to your eye area, as the essential oils may make your eyes watery or irritated. Use a tissue to wipe off any excess oils from your face and keep this mask on for an hour.