Snorkeling is one of the easiest and fun ways to safely explore the oceans and the beautiful life thriving within it. It is safe for children of all ages and even for older people. Snorkeling is one super activity that I think everyone should have on their bucket list.
There's really no experience quite like it - it allows you to keep your head above the water (just barely) while still getting to discover the incredible natural underwater ecosystem. So the next time you or someone you know is traveling, take a look at this list for some of the best places in the world that you can visit to enjoy this truly magical activity.
1. The Province of Palawan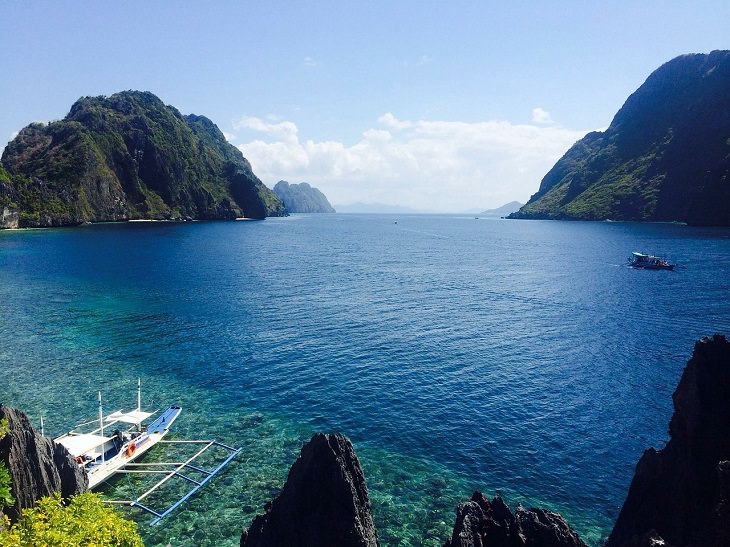 This expansive region in the Philippines consists of nearly 2000 islands, besides the main Palawan Island, surrounded by a number of different water bodies, such as the South China Sea and the Sulu Sea. However, one of the most famous snorkeling spots in this small but vast island province is the Bay of Donsol, which is well known for its population of Whale Sharks, a protected species. A few lucky travelers have gotten the chance to swim next to these massive, beautiful and harmless creatures of the sea.
If you visit the coast off Noa Noa Island, you can see the coral reefs. The Honda Bay is a great destination to try snorkeling for the first time, as it has a myriad of sea life for you to swim alongside. It is also the home of the Tubbataha Reef, which is located in a national park and can be visited on live-aboard boats.
Reef diving and scuba diving are also popular water activities on these islands. Kayaking is a specialty offered in El Nido, another municipality in the province that is known for its crystal-clear waters and snorkeling adventures. Agencies can be found spread across these islands that organize different types of tours for snorkeling.
Palawan isn't the only Southeast Asian province that has a flourishing marine ecosystem. If you're looking for more mainland destinations to snorkel in, there are options to the south and the west of the Philippines.



2. Koh Kradan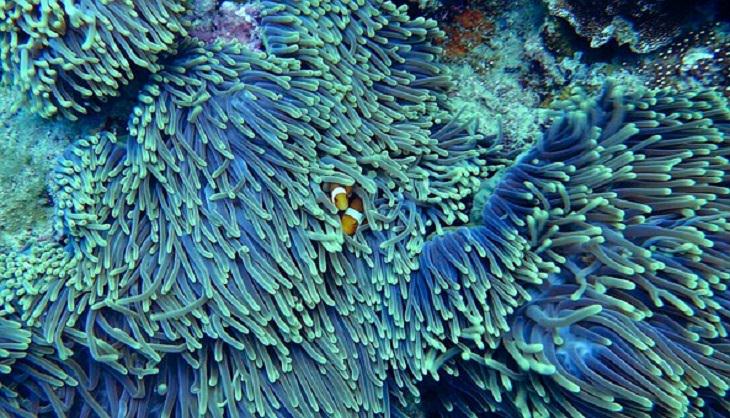 This island off the west coast of Thailand is a fantastic place to snorkel and is located in the Andaman Sea, off the shoreline of a national park. The Hat Chao Mai National Park is a great place for camping as well, with tents available for the full outdoor feel. This quiet coastland is home to schools of our familiar friend Nemo, the clownfish, and endless beds of sea anemone, the usual nesting grounds of clownfish.
The southeastern corner of this island has a drop-off zone of about 1 km that is very popular for off-the-beach snorkeling. This location gives you the best experience, with a landscape of beaches on one side and forests on the other. And the view only gets better under the moonlight. It has been observed that Koh Kradan has a wider variety of fish than most of the neighboring islands. Some travelers have reported seeing the moray eels, manta rays, and even the rare lionfish among many others.
Most of the accommodation available on this island is low to mid-range small resorts. If you're looking for a more high-class experience, you can try some of the other islands located in the Trang archipelago, like Koh Lanta and Koh Muk.
To know the full range of locations and marine life you can enjoy in Koh Kradan, take a look at this.



3. Komodo Island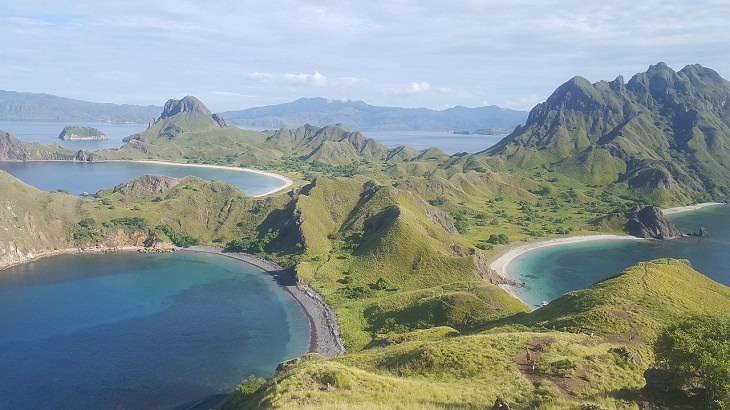 To the south of the above two islands is the country of Indonesia, below which the Island of Komodo is located. This island is not only the land of the largest lizard in the world, the Komodo dragon but also to a plethora of marine life. This makes it an ideal place for snorkeling.
One great location on this island is the Pink Beach. It is chock full of beds of soft and hard coral and schools of colorful fish. This beach, with its pristine water and pink-sanded shoreline, is home to manta rays, hawksbill turtles and even dolphins. The journey to Pink Beach can be a little tough as the roads are somewhat weak.
Another amazing destination that you should definitely visit in Komodo island is the Komodo National Park, which has over a thousand different species of fish, 14 of which are endangered, and nearly 300 species of coral. This park has numerous snorkeling spots. Some tourist agencies also organize tours for snorkeling in the islands surrounding Komodo.

If you're looking to travel more along the east end of the globe, there are many snorkeling options in the American subcontinent.



4. Key Largo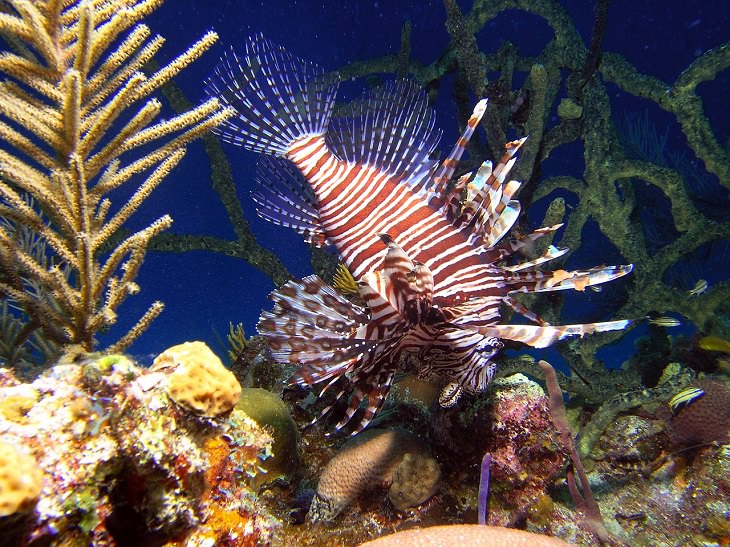 If you are a fan of turtles, this might be the place for you. While most coral reefs of Florida suffered damage as a result of Hurricane Irma in 2017, this upper area of the Florida Keys was located in the eye of the storm. Most of the reefs survived with minimal destruction.

This upper Florida Key is the home ground for loggerhead turtles, hawksbill turtles, and green turtles, protected within the territories of the Florida Keys National Marine Sanctuary. If you're snorkeling in this region, you might even be lucky enough to see southern stingrays and even the elusive nurse shark. The Molasses Reef, located within the sanctuary, is a great destination to see lots of different high-profile corals.
The John Pennekamp Coral Reef State Park was hit by Hurricane Irma but its major attraction, a famous statue entitled Christ of the Abyss, managed to avoid being harmed. The park is now fully open for visitors and while snorkeling is one of the more popular activities they offer, their boat tours are also great for families to enjoy.
5. The Big Island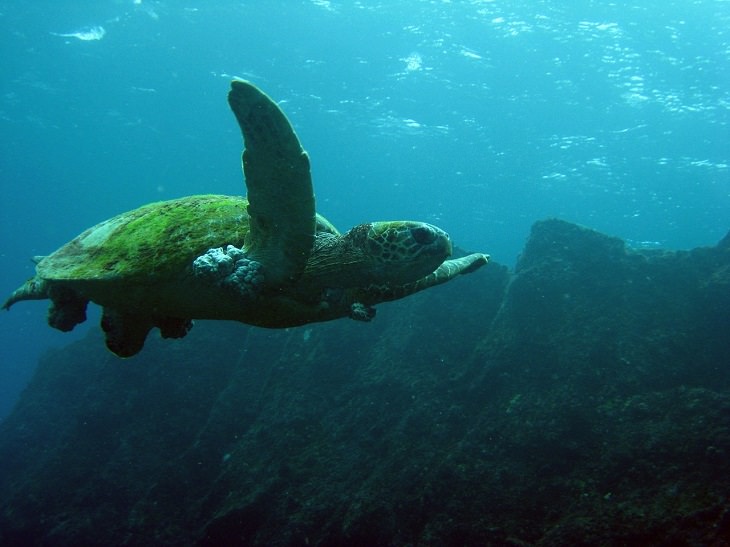 The entire archipelago of Hawaii is surrounded on all sides by many lovely snorkeling spots. The beaches of the Kailua-Kona are famous for the large populations of green sea turtles found all over.
One of the most well-known spots for snorkeling in Kona is Kahaluu Beach Park, a small bay with few waves. Other areas have populations of surgeonfish, butterfly fish, as well as dolphins and seals. However, for one of the greatest snorkeling experiences of your life, the Big Island of Hawaii is the place to go.
The underwater state park of Kealakekua Bay is a historical landmark of this American state, marking the place where Captain James Cook first came to the island with a monument. The area of water along this monument is perfect for getting an underwater view of many different kinds of tropical fish as well as turtles and dolphins. Honaunau Bay is another coastal area that is rich with sea life and beautiful coral gardens.
6. Buck Island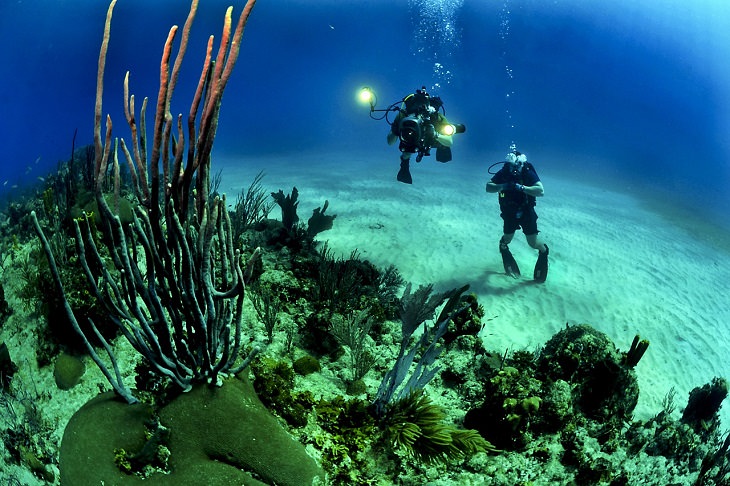 In between the American Continents is the Virgin Islands, a territory of the US consisting of a number of smaller islands. One among these lovely oceanic retreats is St. Croix, off the coast of which is Buck Island.
Many adventure tours and cruises can be arranged through the many tourist services on the coast of St. Croix. If you're new to the fun and adventure of snorkeling, this might be the perfect spot for you to try. It is home to the incredible Elkhorn coral barrier reef as well as a plethora of marine life, like sea turtles and the elusive octopus.
The entire seascape of this underwater trail has over 250 different species that you can encounter. But this it is an awesome place for above water enjoyment too. Buck Island is also a great place for sailing and hiking. While one side of this island is an incredible snorkeling destination, the other happens to be one of the best beaches in the world.
Moving further down the map, here are some great places snorkeling you can find in South America.
7. Ilha Grande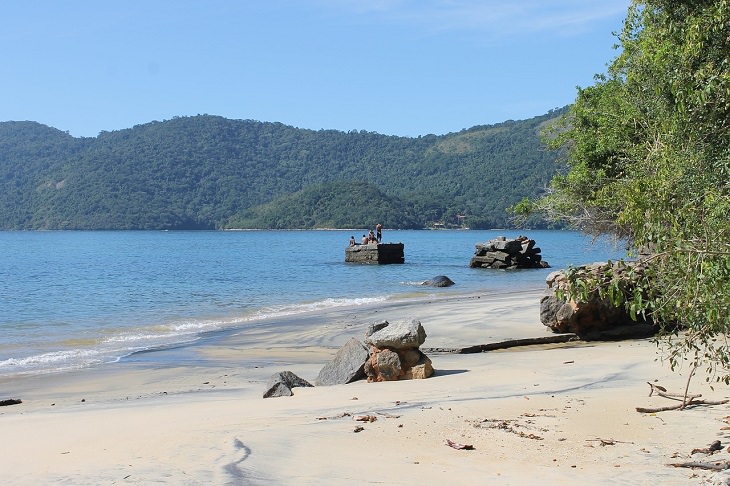 This beautiful trough of wilderness lies smack in the middle of Rio De Janeiro and Sao Paulo. This island beyond the coastline of Brazil is filled with jungles inhabited by scores of monkeys and surrounded by pure blue water.
These waters are teeming with schools of colorful tropical fish, and if you visit the Lagoa Azul, one of the many lagoons in this area, you may encounter turtles, angelfish and even swim alongside the seahorses. This island is a treasure trove of underwater caves and submerged jungles. There are even remnants from old battles between the natives and pirates, with the debris from shipwrecks scattered all over.
This island is imbibed with wilderness and it's like a taste of going back to your roots. It gives you that escape from the real world that we all crave once in a while, free of phones and honking cars. This paradise of sand, spas, and seafood is an amazing spot for snorkeling and other fun activities too, like boating and scuba diving.
8. Galapagos Island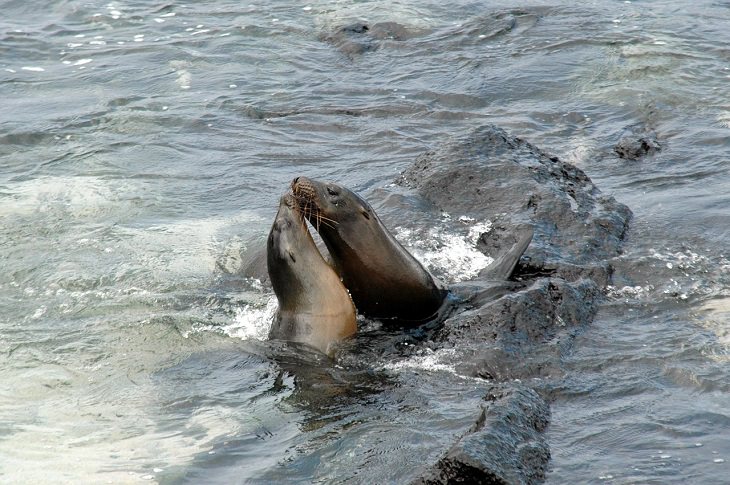 This island off the west coast of South America is made up of 13 major volcanic islands, as well as numerous smaller ones. It is the natural habitat of a number of extraordinary (and beautiful) species, that have evolved and adapted to suit the unique environment of this island.
It is, in fact, this remarkable trait that the wildlife of this island displayed that gave the Galapagos a place in history. It is the inspiration for much of naturalist Charles Darwin's studies and is known as the "Laboratory of Evolution".
The jungles of these islands are filled with lava lizards, geckos, tortoises, and many others. The Galapagos is also famous for its snakes that inhabit both the jungles and these oceans. An underwater adventure here would also give you the chance to see the brightly colored Parrotfish, the King Angelfish, a variety of sea turtles, sharks, and rays and even fiery and excitable Sea Lions. You may also come across endangered species like humpback whales and orcas.
The harsh climate of these islands can be attributed to an estimated 21 emergent volcanoes scattered across the islands. Out of these, 13 are currently active. This destination is the go-to spot for nature lovers and thrill-seekers looking for a new adventurous experience.
9. Ambergris Caye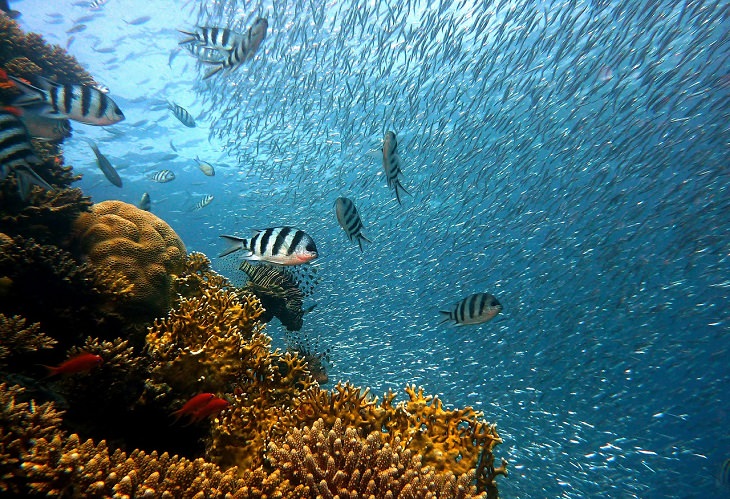 Ambergris Caye is the largest barrier reef outside of Australia and is over 185 km in size. It is found on the coastline of the Caribbean, just outside of Belize, a Central American country. Belize is also the home of the Hol Chan Marine Reserve, a protected area that is a very popular snorkeling spot.
The water of this beautiful barrier reef is an amazing crystalline turquoise sea and is inhabited by a wide variety of colorful fish. In addition to that, you will also get the chance to see a plethora of rays, eels, and sharks.
All these aquatic treasures make base in the endless underwater landscape of cayes (low islands or reefs made of sand or coral) and atolls (a chain of islands or reefs formed in coral).
There are numerous snorkeling spots off the coast of Belize and many tour agencies specifically cater to guided adventures through both the Hol Chan Marine reserve and Ambergris Caye. The city of San Pedro, however, offers the most options and variety for snorkeling in this entire area.
10. The Great Barrier Reef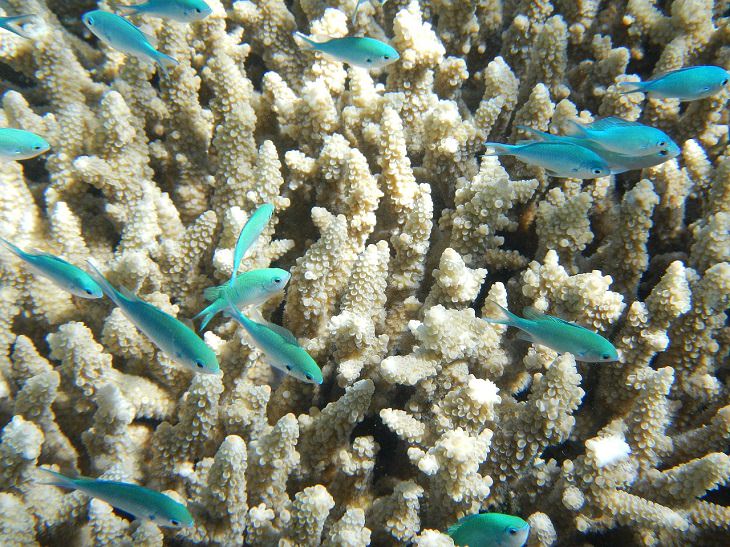 Finally moving to the other end of the globe, out to the far east, we have the 2300 km stretch of reef and coral, running along the coast of Australia. This amazing creation of nature covers about 1400 km of Australian coastline and is home to nearly 3000 independent and unique reefs. It is the largest existing ecosystem of coral reefs in the world.
This wide expanse of reef covers nearly 900 other islands, though Whitsunday island is considered to be the most famous of snorkeling spots along it. It is the breeding ground of many marine species, like manta rays, sharks, different kinds of flamboyantly colored fish and other types of corals. It is even known to have clownfish and barracudas (bringing to life a favorite childhood movie) and is scattered with the remains of shipwrecks from the past.
This myriad of bright, colorful, and just plain jaw-dropping sites make this stretch of reef absolutely fantastic for scuba diving and boating adventures. Snorkeling is one of the most fun activities to do here though, as it gives you a taste of all the beauty that lies only a few feet underneath your boat.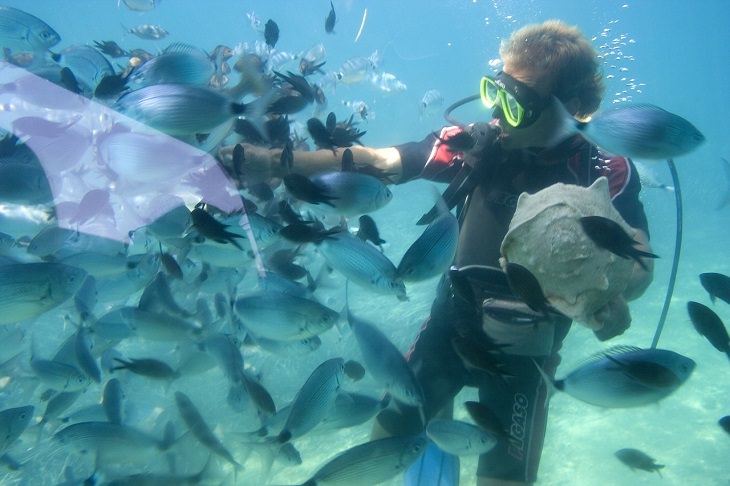 While there are so many fun activities to do at the beach, snorkeling has got to be the most entertaining. Watch as schools of fish pass you by and corals change color as the sun sets. And with a planet that is two-thirds water, you can never run out of places to try it.
Whether you're traveling North, South, East or West, there are an endless number of places where you can try out this fun activity. We've just picked out some favorites to give you a little clarity.
Share this article with friends and family who like traveling, snorkeling, scuba diving, water activities in general. With any luck, we might be able to help you or someone you know have the experience of a lifetime!