Apple and Google are set to go head-to-head following the recent launches of their respective flagship phones, namely the iPhone X and the Pixel 2. Neither of them come cheap, but if you're in the market for a new smartphone, take a look at this head-to-head comparison to help you make up your mind:
Launches
The Pixel 2 was announced on October 4th, 2017, and will ship on October 19th, 2017. The iPhone X was first announced on September 12th, 2017, and will ship on November 3rd, 2017. Both Apple and Google are taking pre-orders for their respective flagship models.

Overall appearances and displays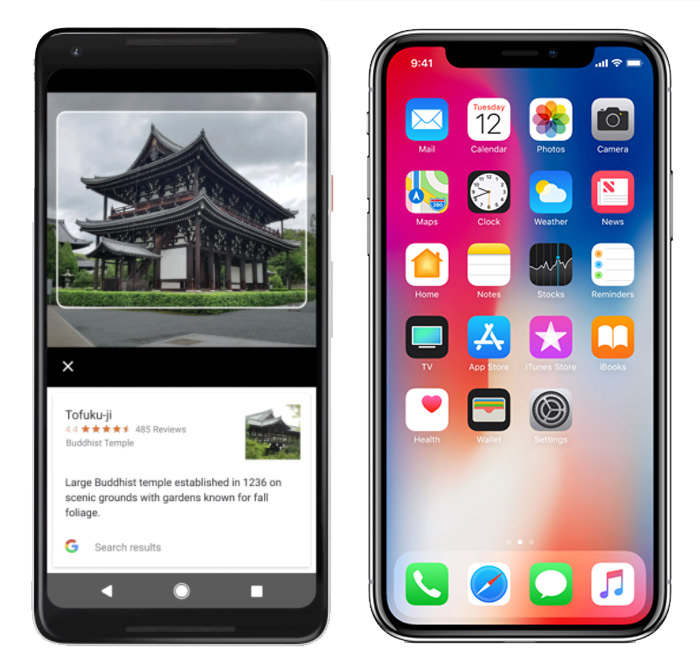 The Google Pixel 2 is on the left-hand side. The iPhone X is on the right-hand side. The image is to scale.
The Pixel 2 comes in three colors, which are Clearly White, Just Black and Kinda Blue. It's a cleaner and slimmer design in comparison to the original Pixel that launched last year. It has a small camera hump at the back and a slightly concave fingerprint reader. In terms of the display that you get for your hard-earned cash, it measures 5 inches, and it's an Organic LED display, meaning that the colors are bright and sharp. The resolution measures 1920 x 1010 pixels.
In contrast, the iPhone X is available in a light Silver Color, or Space Grey. There are no protruding Home or other buttons to speak of, and Apple is claiming that it's the first smartphone ever to feature a display that goes all the way to its edges. The company calls it the Super Retina Display, and just like the Pixel 2, it is an OLED display that displays over 2436 x 1125 pixels.

Processing power, memory and storage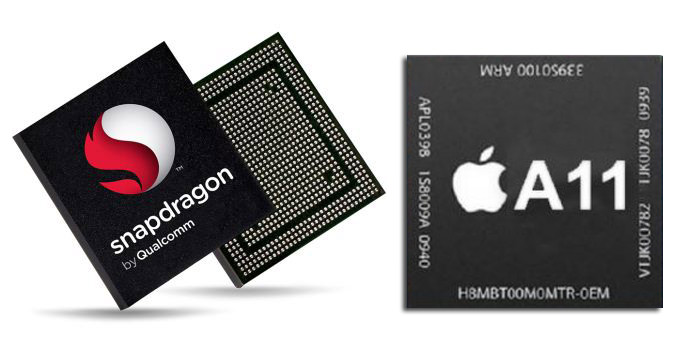 Both of these smartphones are processing heavyweights. The Pixel 2 features the latest version of Qualcomm's Snapdragon processor – the 835. It's a 64-bit, octa-core processor that is capable of speeds up to 2350MHz. It also has 4 gigabytes of system memory, and either 64 or 128 gigabytes of storage space for your photos, apps and videos, depending on whether you go for the cheaper or more expensive version of the smartphone.
Apple hasn't actually said how fast its new A11 Bionic processor II is going to be, but it has six cores versus the Snapdragon 835's eight. It's also a 64-bit processor. In addition, the iPhone X has 3 gigabytes of system memory, and is available with 64 or 256 gigabytes of storage, with the latter coming at a premium over the base model iPhone X.
Camera, battery life and water resistance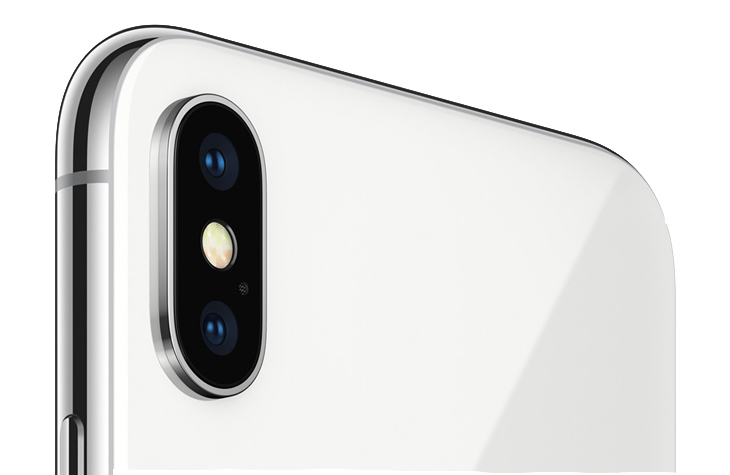 As is to be expected, both the Pixel 2 and iPhone X feature fantastic cameras, both front and back. Google has incorporated its new 12 megapixel rear camera in the Pixel 2, complete with an f/1.8 aperture and optical image stabilization. The most significant new update to the camera technology on offer is undoubtedly the software, which features better facial recognition and is capable of adding more depth to your photos. Further features include Motion Photos, which captures a few seconds before and after you take a photo so that you can also see an animation of it, and Face Retouching for perfect photos of friends and family. The front-facing camera in the pixel 2 has 8 megapixels.
Apple's new image signal processor provides advanced pixel processing and a new color filter, and both cameras use the new Natural Lighting effect introduced on the iPhone 8 and ARKit augmented reality features. Finally, video has also been improved with 4K resolution movies at 60fps and slow-motion video at 240fps. Live Photos, which allows for animation to be added to your images, is also present.
The iPhone X's camera has a dual-lens 12-megapixel rear camera with dual optical image stabilization, consisting of a wide-angle f/1.8 aperture lens and a telephoto f/2.4 aperture lens. The 7-megapixel front camera supports Portrait mode and has auto image stabilization and exposure control.
In terms of staying power, the Pixel 2 is powered by a 2700mAh battery, which means that you'll be able to use it all day long without having to recharge. Charging times are also much improved over previous-generation smartphones.
Although there were concerns about the iPhone X's battery life when it was announced due to it being a smaller capacity than some previous generation iPhones (the battery has a 2716mAh capacity), Apple has stated that the new smartphone will be capable of an impressive 21 hours of talk time before having to recharge. It's also capable of charging wirelessly.
Both of these smartphones feature IP67 technology, which means that they are both dust and water-resistant. With regard to the water resistance, this means that, theoretically, both the Pixel 2 and iPhone X can be submerged in a meter of water for up to 30 minutes without sustaining any permanent damage.

Weight and dimensions
The Pixel 2 and iPhone X are very similar in size. The Pixel 2 is 5.7 inches tall, 2.7 inches wide, and 0.3 inches thick, whereas the iPhone X is 5.65 inches tall, 2.79 inches wide, and 0.3 inches thick.
In terms of weight, there's no significant difference either, with the Pixel 2 coming in at 0.32lbs, and the iPhone X weighing 0.38lbs.

Crowning features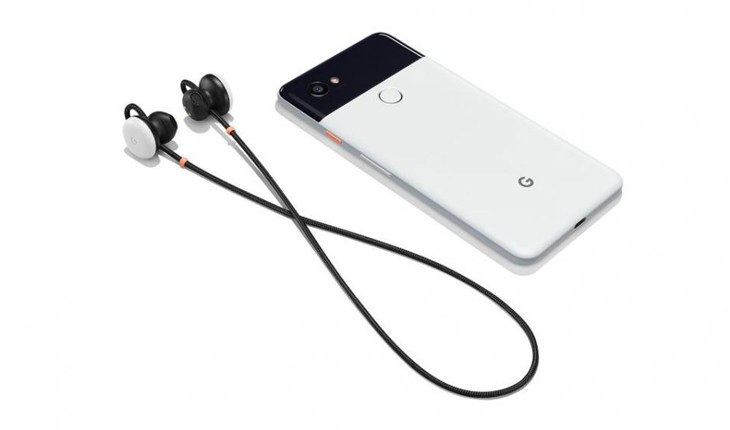 Google Assistant, which will do things for you when you give voice commands, features heavily in the Pixel 2, and all it takes is a little squeeze of the smartphone's side to wake it up. Doing this will also allow you to add special shortcuts to the assistant for added convenience.
On the other hand, the iPhone X's security will be second-to-none, because the smartphone unlocks with facial recognition. All you need to do is look at it for it to unlock. Furthering the new facial recognition technology are Animojis, which allow you to create short video clips… as a cartoon animal!

So, how much do they cost?
The base Pixel 2 will cost $649 at launch, whereas the iPhone X will cost $999. If purchasing either of the smartphones with upgraded internal memory, expect to pay a premium of $100 to $200 over the base models.

Pixel 2 vs. iPhoneX: Head-to-head comparison
Check out the detailed table below, which will show you both smartphones' specifications side by side: