The Great Depression started with the Wall Street crash in 1929, and lasted well into the following decades. At the time, unemployment in the USA had increased to 25% and many more people decided to resort to crime. Historians have declared the 1930s as the "Public Enemy" era; a time when a small minority of criminals stood out as being particularly notorious and were hunted by the FBI and police.
These criminals weren't like the bank robbers we hear of today; handing a note to a teller and escaping with a paltry sum of money. No, these ruthless thieves would burst in and ransack the bank, forcing a manager to open the vault. They would often participate in gun battles with the law, in which innocent bystanders were often killed. Below are 6 famous depression-era bank robbers.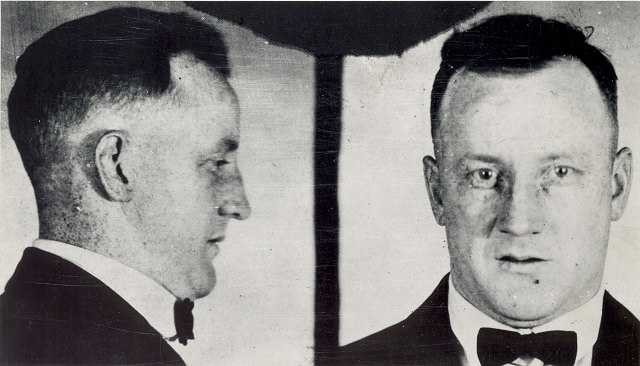 Hamilton started his criminal career by robbing a gas station in Indiana, and being sentenced to 25 years in jail. While he was incarcerated, he got acquainted with prominent bank robbers such as Harry Pierpoint, Homer Van Meter, and John Dillinger. On September 26th 1933, a total of ten men, including Hamilton, escaped using smuggled guns from the recently paroled Dillinger.
Hamilton and his gang learned that Dillinger was back in jail on robbery charges. They were determined to free him, but first they needed some cash to fund the break out. Therefore, they robbed the First Nation Bank in St. Mary's Ohio, escaping with $14,000. Hamilton attended Dillinger's liberation from Lima Jail, but did not enter the building.
Hamilton went on to commit a spree of chaotic, yet very lucrative bank robberies with the Dillinger gang. In January of 1934, the gang robbed a Chicago bank, escaping with over $20,000. During this heist, a police officer was gunned and Dillinger was charged with murder, even though many witnesses said Hamilton was the shooter.
While Dillinger and associate Harry Pierpoint were imprisoned, Hamilton was at the top of the public enemy list. Dillinger broke out once again, and Hamilton joined him to commit more robberies. On April 23rd, 1934, the gang were confronted by police and during the getaway, Hamilton was wounded and died shortly after.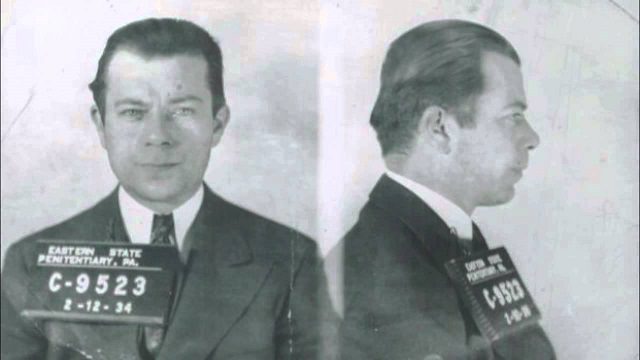 Sutton was an accomplished bank robber, although he didn't carry a loaded gun and never killed anyone throughout his criminal career. He got the nickname "Slick" as he enjoyed wearing many disguises when on the job. For instance, he robbed banks dressed as a postman, a police officer, and a maintenance man.
He also managed to escape from prison on multiple occasions. The first time was when he was serving a 30-year sentence for robbery – he used a smuggled gun to hold the prison guard hostage, before using ladders to scale the prison wall. He was quickly caught and was sentenced to 50 years imprisonment. This time, he and some other convicts, escaped through a tunnel. He was recaptured later the same day. For his third escape, he dressed as a prison guard and carried a ladder to the prison wall during the night; when the searchlight hit him, he shouted: "it's okay!" and nobody stopped him.
Sutton carried on breaking the law while on the run, but he eventually ended up spending more than half his adult life in prison. When asked why he robbed banks, Sutton replied, "why did I rob banks? Because I enjoyed it. I loved it. I was more alive when I was inside a bank, robbing it, than at any other time in my life. I enjoyed everything about it so much that one or two weeks later I'd be out looking for the next job. But to me, the money was the chips, that's all."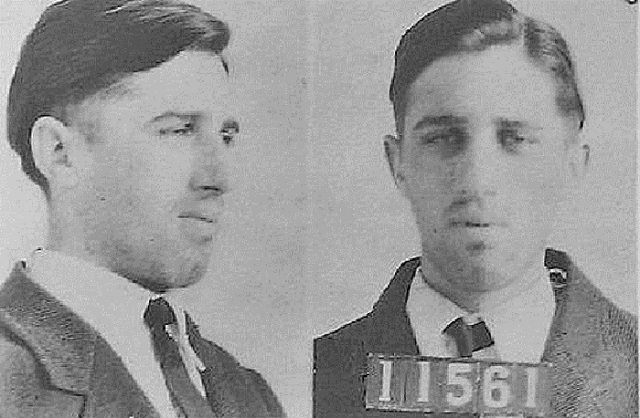 Van Meter, a member of John Dillinger's gang, had a reputation for being particularly bloodthirsty. He took part in the Dillinger gang's last bank raid, in which four innocent bystanders were killed. During his first brief stint in prison, the director of research wrote:
"This fellow is a criminal of the most dangerous type. Moral sense is perverted and he has no intention of following anything but a life of crime. He is a murderer at heart, and if society is to be safeguarded, his type must be convincted throughout their natural lives."
As a young man, he became involved in crime after working as a waiter for a brief period. He ended up being sentenced to a long prison term after carrying out a train robbery. Whilst incarcerated, he tried to escape with another prisoner – they beat a guard unconscious but were soon apprehended. As punishment, Van Meter spent two months in solitary confinement where he was regularly beaten by guards.
After serving seven years in prison, Van Meter was paroled. He joined up with Baby Face Nelson and Tommy Carroll to rob a Michigan bank, escaping with $30,000. They then went on to rob a bank in Minnesota, stealing $32,000. These crimes got Van Meter on the public enemies list.
After linking up with the Dillinger gang, he participated in a number of other high-profile bank robberies. In Indiana, Van Meter robbed a police station with Dillinger. They stole firearms and bulletproof vests. On the August 23rd, 1934, Van Meter was ambushed by four police officers and brutally gunned down. He was shot over a dozen times – he was just 27 years old.
4. Pretty-Boy Floyd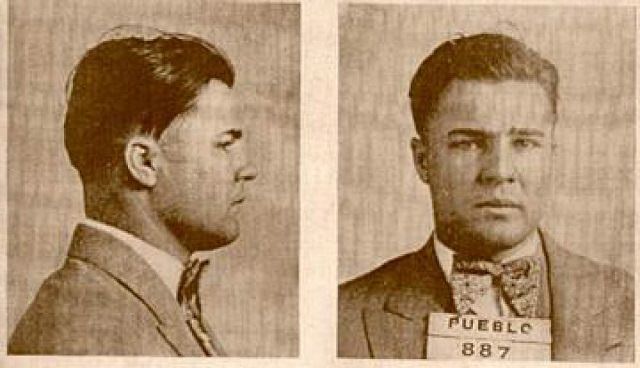 Floyd grew up in Oklahoma, and was first arrested at the age of 18, when he stole $3.50 from a post office. After taking part in numerous small-time robberies, he was jailed for a period of 5 years. When he was paroled, he vowed never to get arrested again.
He began to associate with big time Kansas City mobsters, and over the next few years he participated in several bank robberies, and it was during this period that he got his nickname. A payroll master who was targeted in a robbery described Floyd as: "A mere boy – a pretty boy with apple cheeks."
The law eventually caught up with Floyd, and in 1930, he was arrested and charged with the robbery of the Sylvania Ohio bank. He escaped from prison, but was sentenced, in absentia, to 12-15 years behind bars. He remained on the run for over three years, but then, one day, he was engaged in a chase with police. He fled into an apple orchard where he was shot and killed.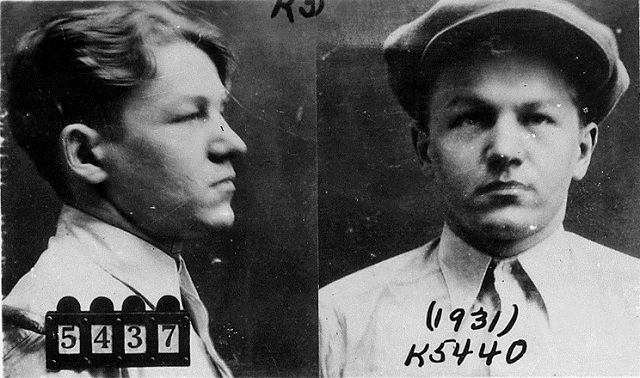 Baby Face Nelson was a prominent member of Dillinger's gang who, along with Van Meter, had a particular reputation for violence. In fact, he has killed more FBI agents than any other American citizen.
Nelson was arrested for theft and joyriding when he was just 13, and he was sent to a penal school for 18 months. Later in life, he got involved with some local gangsters, driving bootleg alcohol for them through the Chicago suburbs. These gangsters became armed robbers and became known as the Tape Bandits, of which Nelson was a respected member. They would routinely rob rich houses and steal jewelry. In 1930, Nelson robbed his first bank and got away with $4,000.
He earned his nickname after robbing the Chicago mayor's wife. She said: "He was good looking, hardly more than a boy. He had black hair and a baby face." He killed his first man when the Tape Bandits robbed a stockbroker. Eventually, most of the gang were rounded up, including Nelson. He received a life sentence, but he escaped during a prison transfer.
After being on the run for two years, Nelson robbed his first major bank. It was a disaster though and Nelson barely made a clean getaway. After this, he began to rob banks with Van Meter and Eddie Green. During one robbery, Nelson was reported to have sprayed innocent bystanders with machine gun bullets.
For a while, Nelson was number one on the FBI list of public enemies. He was gunned down in the Battle of Barrignton, but not before he took a couple of FBI agents with him. He was 25 years old.
6. John Dillinger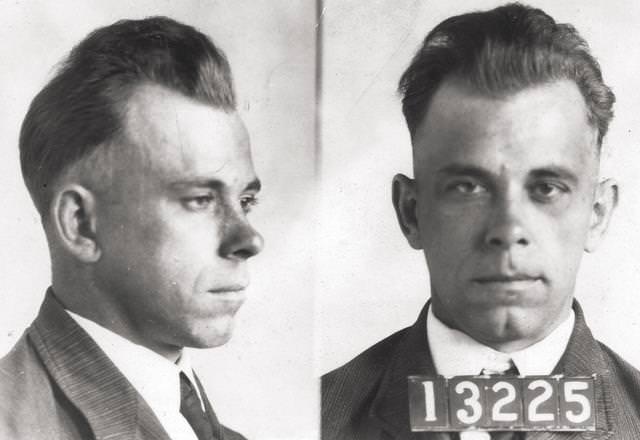 Dillinger was by far the most notorious criminal of his time. He was born in Indiana and originally had no ties to crime. As a young man, he enlisted in the US Navy, but he was dishonorably discharged after he deserted. In 1924, he married Beryl Hovious, but it didn't last very long. After this, he struggled to hold down a job and began to plan a robbery with a friend. He was arrested soon after they carried out the robbery, and was sentenced to 10-20 years in jail, which was a harsh sentence for a first-time offender.
While in prison, Dillinger became embittered against society, and began to mix with notorious criminals such as Harry Pierpoint and James Clark. He spent his time planning heists that they would carry out when they were released. Dillinger was paroled in 1933, at the height of the great depression, when a convicted criminal had no chance of employment. Therefore, he robbed a bank in Ohio, but he was captured soon after.
Four days after his arrest, Dillinger oversaw the smuggling of weapons into his friend's prison cells, and they escaped after killing two guards. This newly formed group of escapees became the first Dillinger gang.
Dillinger and his gang began a spree of bank robberies across Indiana, amassing $300,000 in total. During their spree, they killed around 13 lawmen, although Dillinger was never proven to have killed anyone. As the gang became more notorious, Dillinger rose to the top of Public Enemies list, with other members of his gang filling out most of the top ten.
His demise finally came when he attended the Biograph Theater, in Chicago. After leaving, the FBI were waiting for him and he was shot down as he tried to escape down a nearby alley. He was 31 at the time of his death.
Source: listverse