25. He Earned the Name He's Known By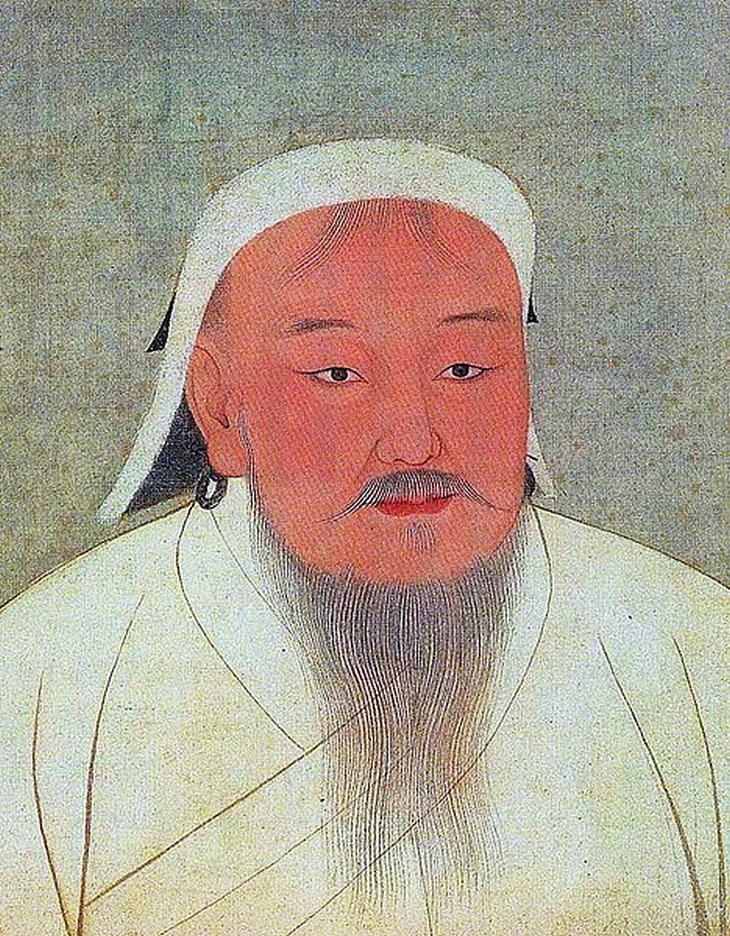 Genghis Khan was called Temujin at birth. He earned the title of Khan, or ruler, thanks to his conquests. Genghis is derived from the Mongol word, Tenggis, which means "wide-spreading".
24. Blood foretold the future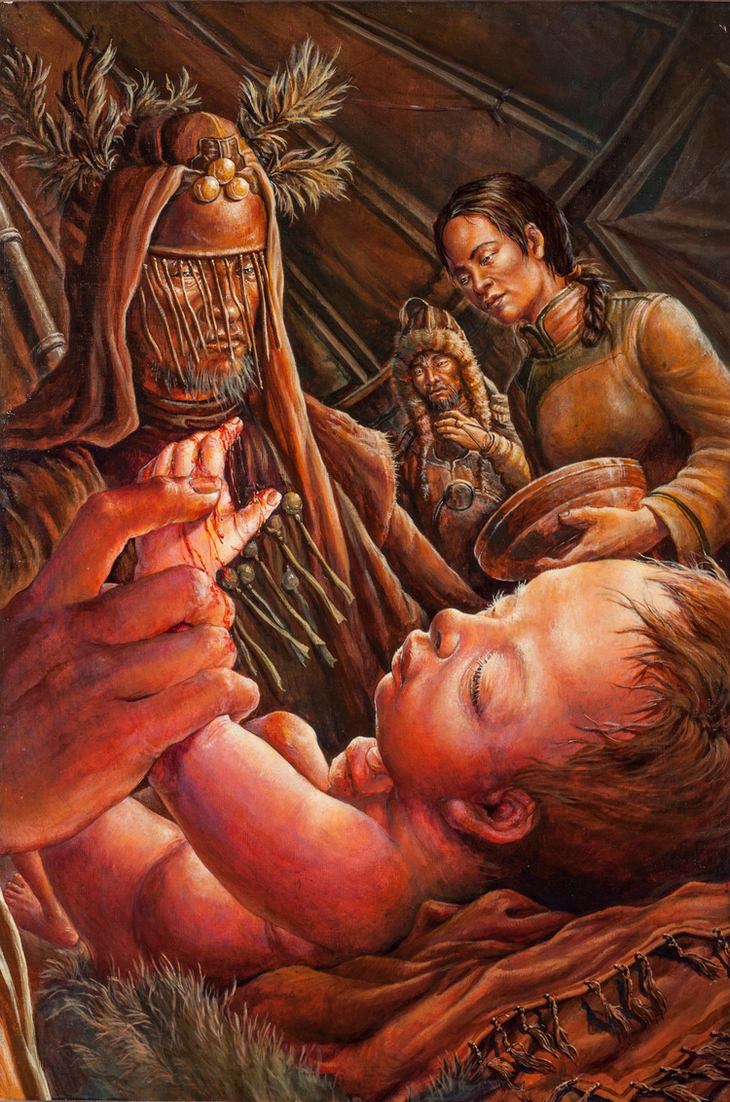 Genghis Khan is said to have been born with a blood clot clenched in his fist, foretelling what was to come in his life.
23. For all we know, this Simpsons rendition of the Khan could be accurate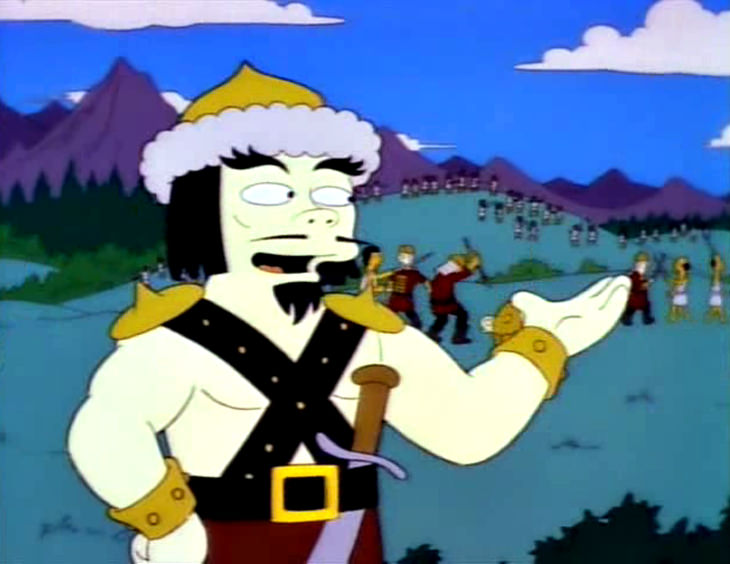 No-one knows what the Khan really looked like, and that's because images of him only began to appear after his death.
22. He's buried all by himself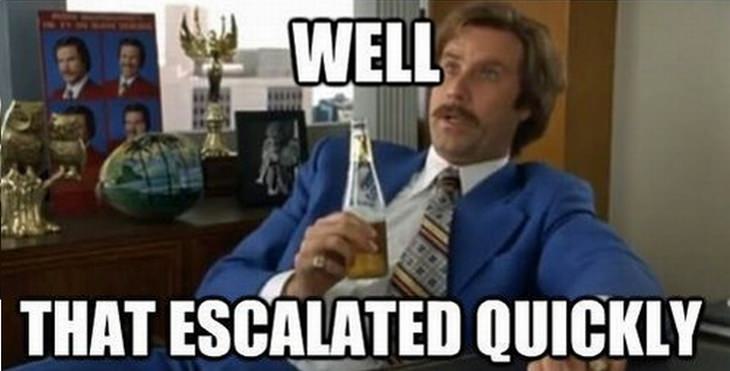 It's not known where Genghis Khan was buried, and this was done so that his grave remained undisturbed forever. He ensured that the location remained a secret by having his entire funeral procession killed by his soldiers.
21. He united many warring tribes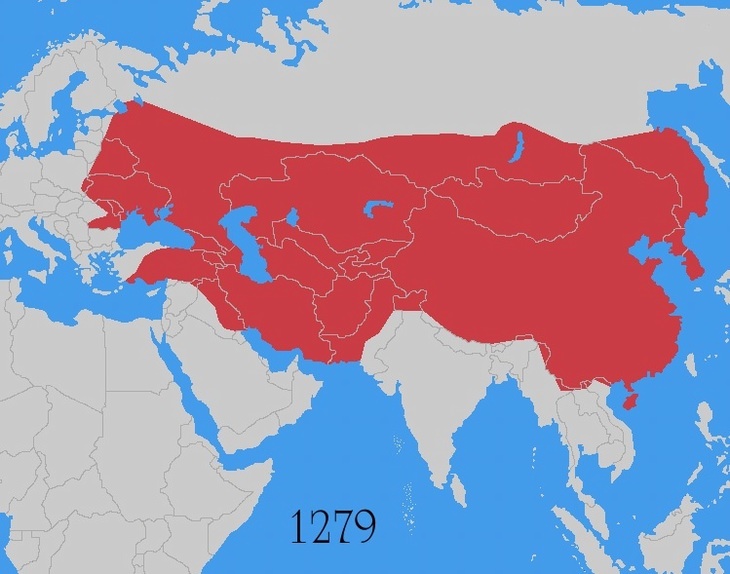 Before Genghis Khan united Mongolia under a single banner, it was nothing more than warring, nomadic tribes.
20. He employed a written script in his empire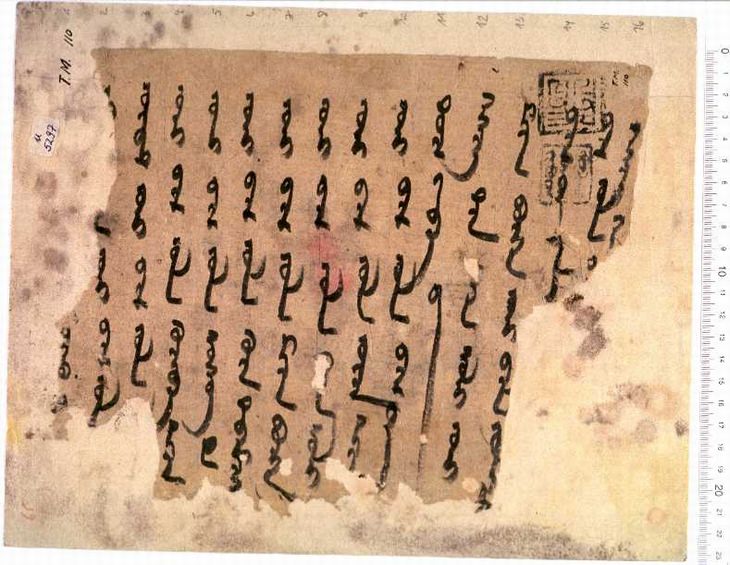 Uyghur script was adopted as the official language of Mongolia by Genghis Khan.
19. He declared a huge area to be sacred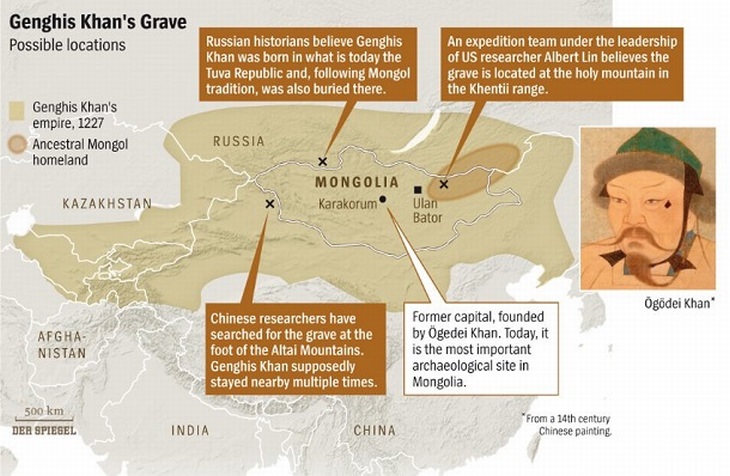 During his life, the Khan declared a 90-square-mile area to be holy. Only the Darkhad, an elite group of warriors, could enter Ikh Khorig. Anyone else caught doing so was immediately put to death.
18. He invented the postal service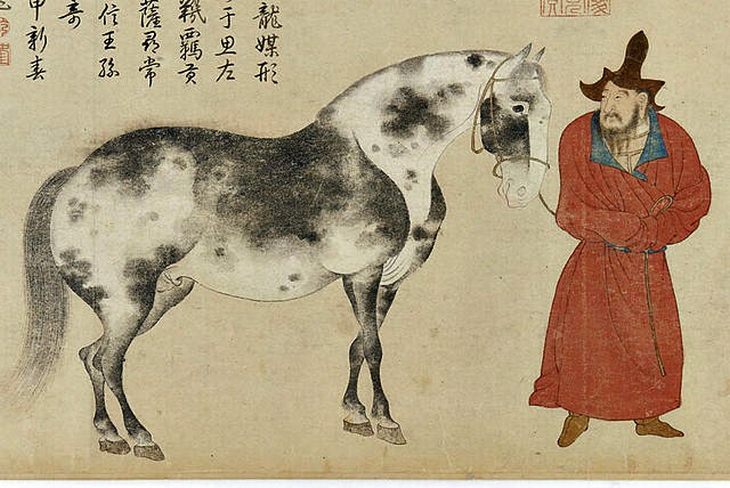 The world's first international postal service was created by Genghis Khan. It used more than 50,000 horses, and allowed people to send packages or letters to friends and family across vast distances.
17. His subjects could practice any religion they wished to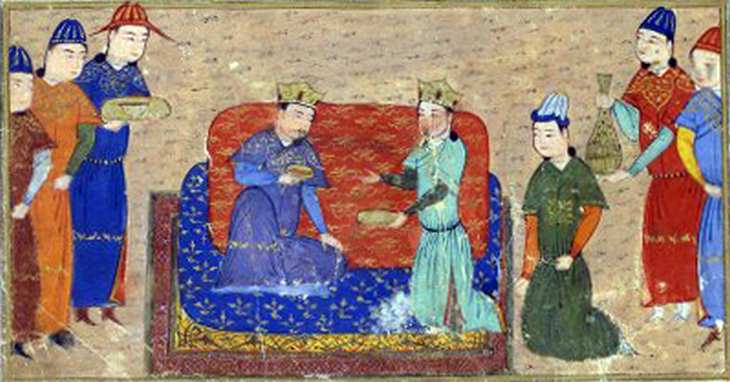 Although he was a feared and ruthless leader, Genghis Khan tolerated religious freedom within the confines of his empire.
16. "Death and taxes" were guarantees in Mongol life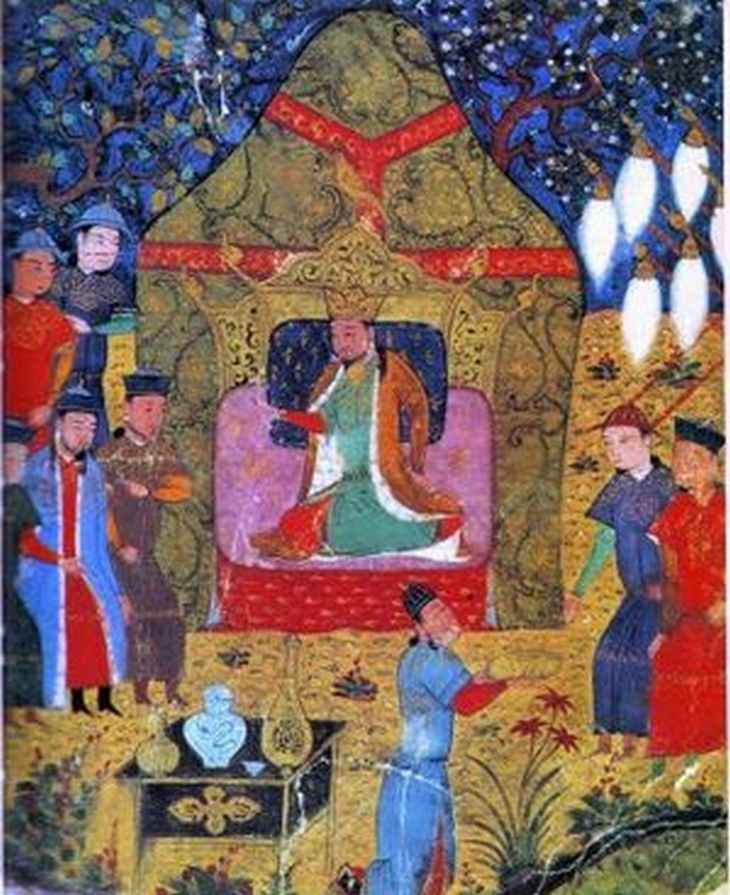 One of the Khan's most trusted advisors saw an opportunity for the Khan and his empire – he suggested that conquered peoples should be taxed rather than just slaughtered. In fact, death and taxes became cornerstones of his conquests.
15. The brutal ruler had a soft side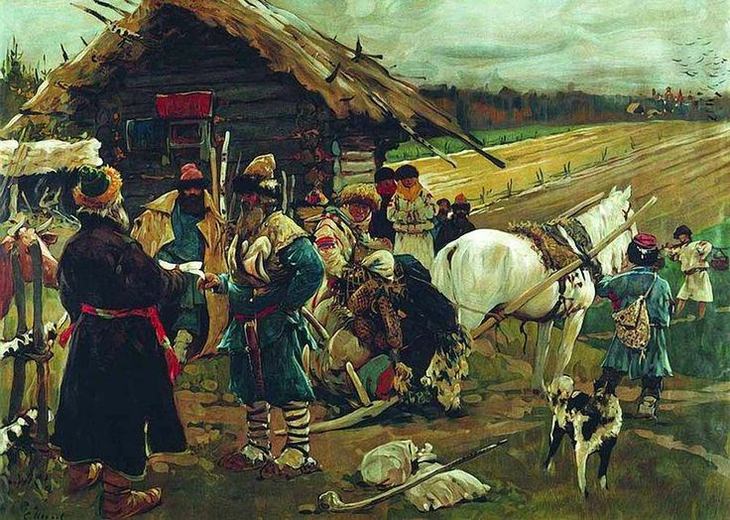 In spite of his reputation for brutality, Genghis Khan was among the first world rulers to exempt the clergy and the poor from paying taxes.
14. His face is on Mongol currency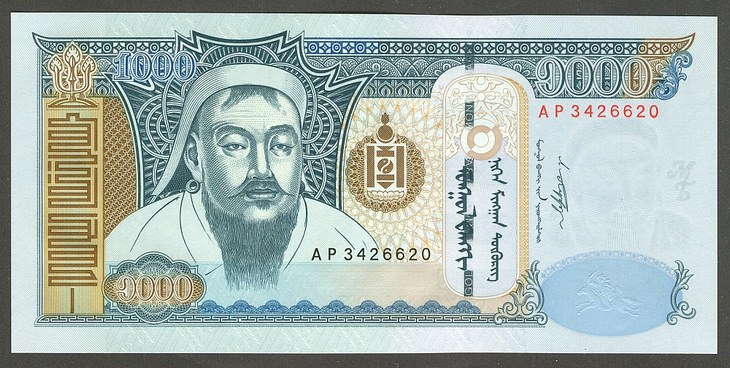 Genghis Khan's face appears on Mongolia's modern-day currency.
13. Millions of people alive today are descended from him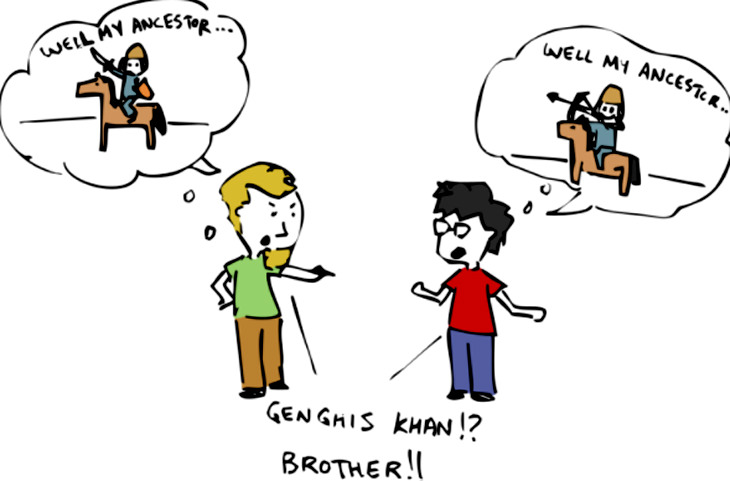 More than 16 million people alive in the world today are descended from Genghis Khan himself.
12. A famous Indian Shah was descended from him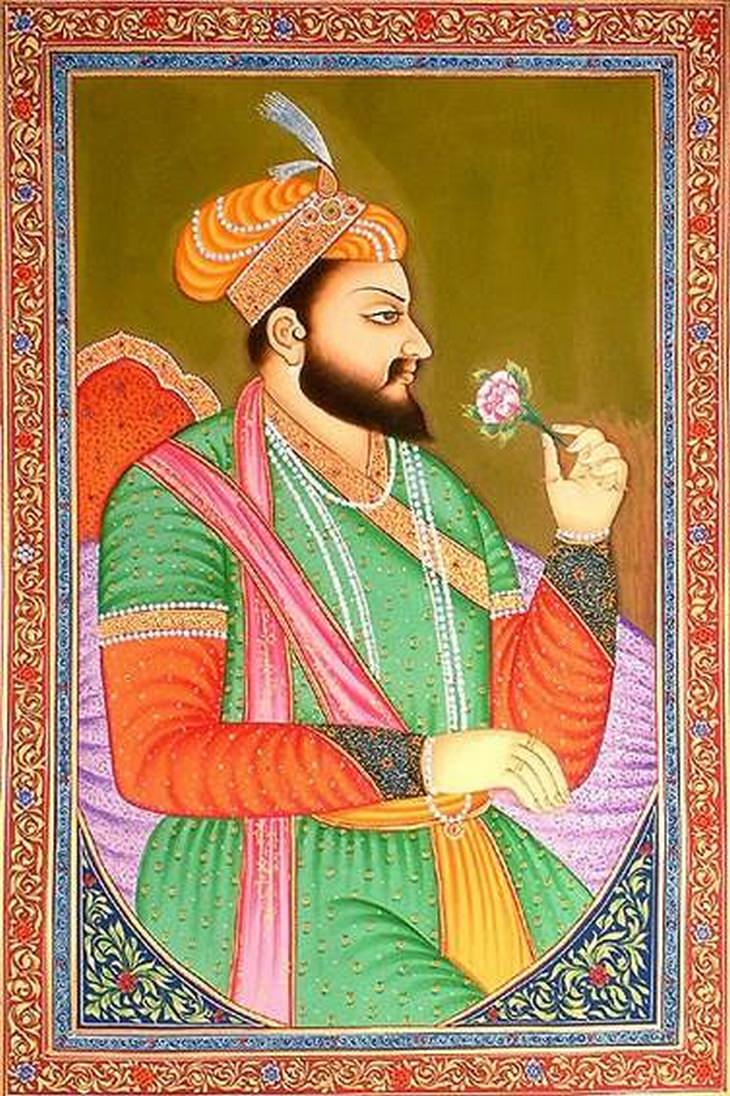 Shah Jahan, the Indian Shah responsible for building the Taj Mahal, was a descendant of Genghis Khan.
11. He had four legitimate sons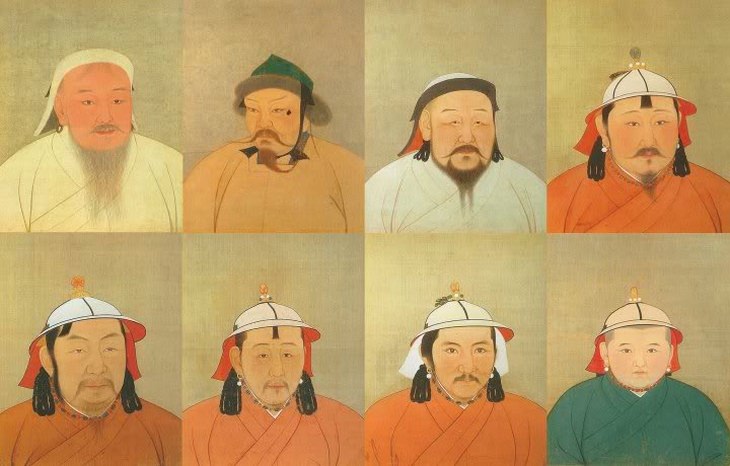 Genghis Khan's four legitimate sons greatly helped with the Mongol conquests. It was his third son, Ogedei, who took over the empire following his death.
10. Daughters were married off to local rulers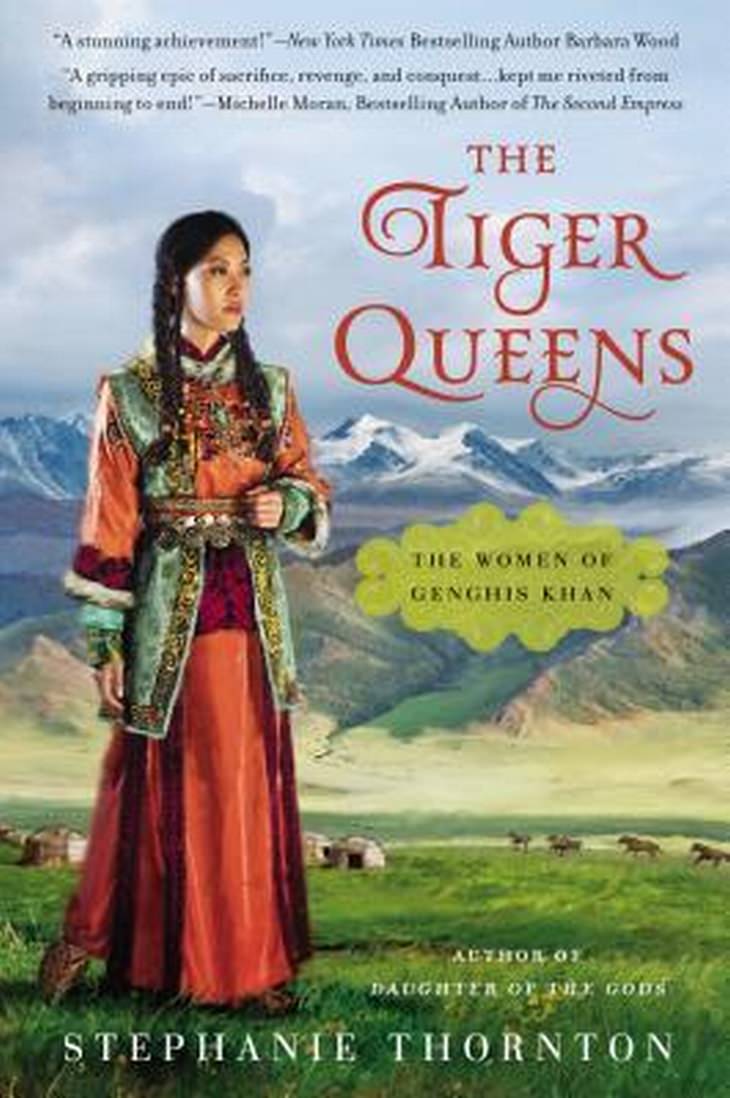 Genghis Khan would often marry his daughters off to local rulers, and use his daughters to rule in his stead.
9. There was only one Mongol empress during his rule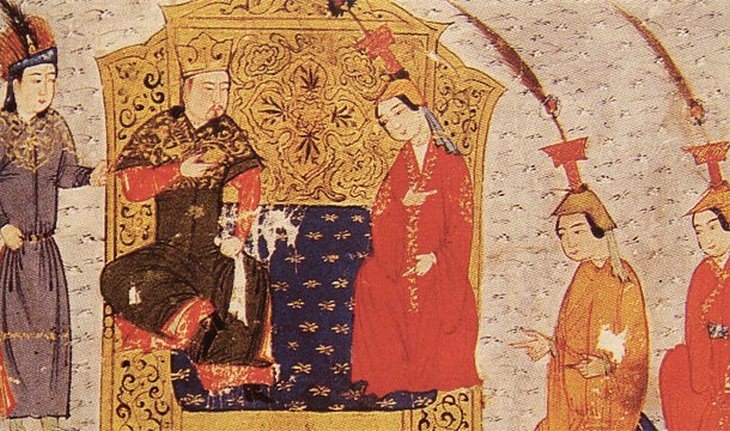 Though Genghis Khan took many wives throughout his life, his only Empress was his first wife, Börte.
8. The Mongol Empire was the second largest in human history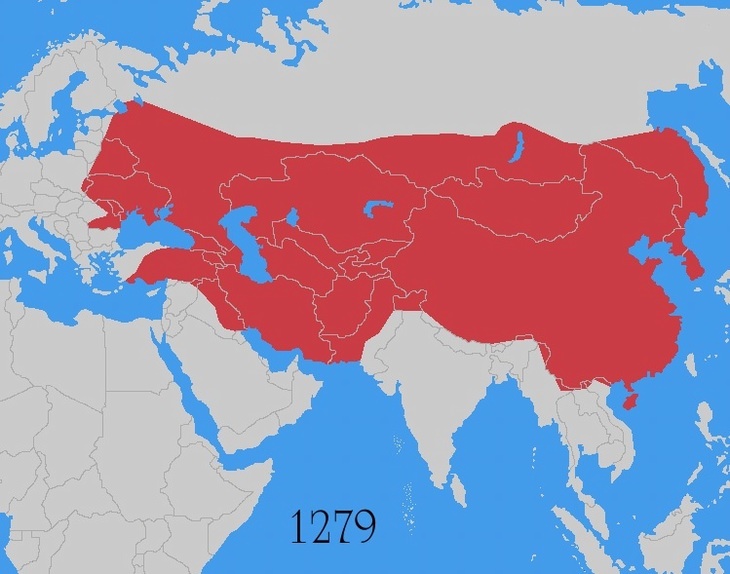 Genghis Khan's empire stretched from Eastern Asia to Eastern Europe, and was the second-largest empire ever to exist. In fact, it covered some 16.11% of Earth's entire land area.
7. His tactics were second to none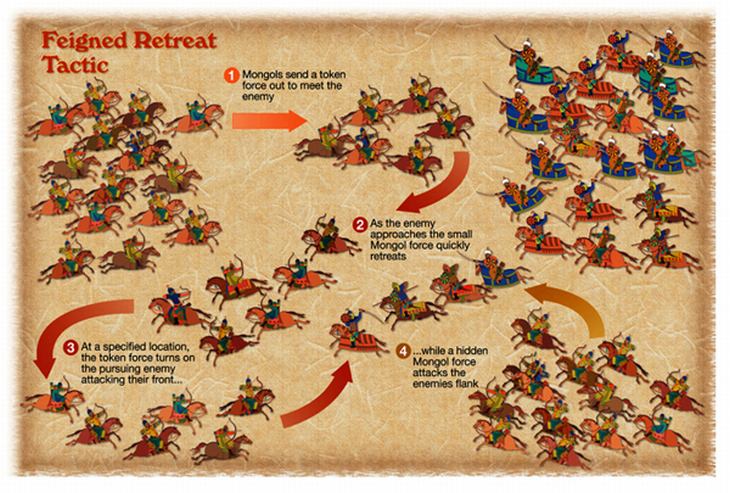 A master tactician, Genghis Khan used to employ genius military tactics, such as faking retreats in order to trick the opposition into an ambush.
6. He defeated an army of 1 million with 90,000 men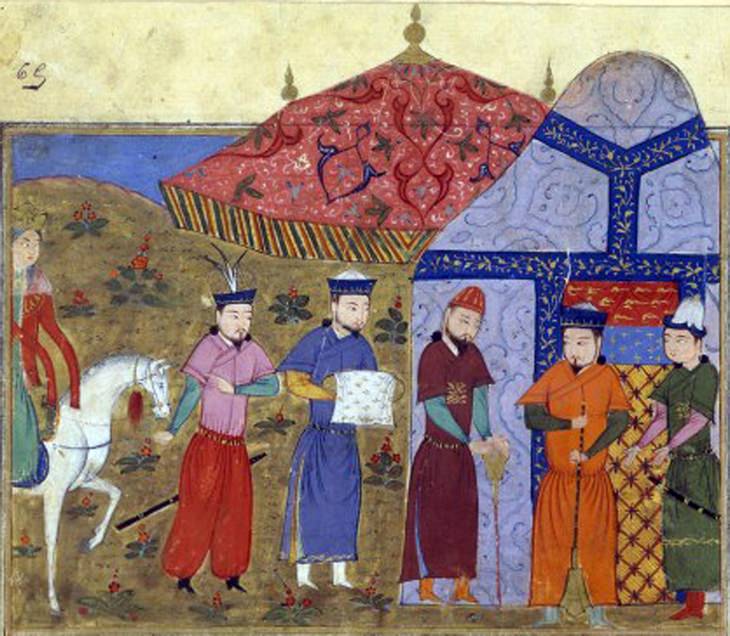 During his invasion of China, Genghis Khan had a mere 90,000 troops under his command. He managed to defeat an army of over 1 million soldiers, killing half of them in the process.
5. He believed in meritocracy rather than nepotism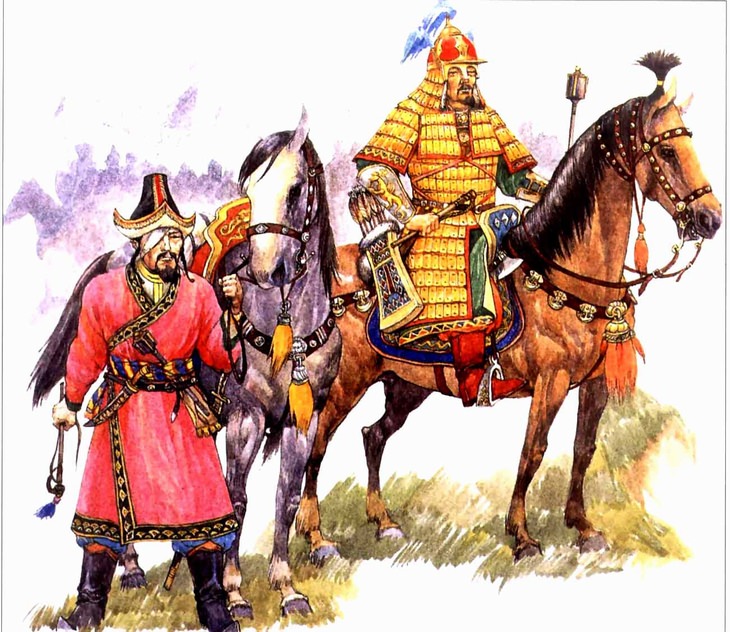 Meritocratic values were very much a part of the Mongol empire under Genghis Khan. Many high-ranking military generals and officials got to their positions due to their hard work rather than the family they were born into.
4. The amount of people Hitler killed is dwarfed by Genghis Khan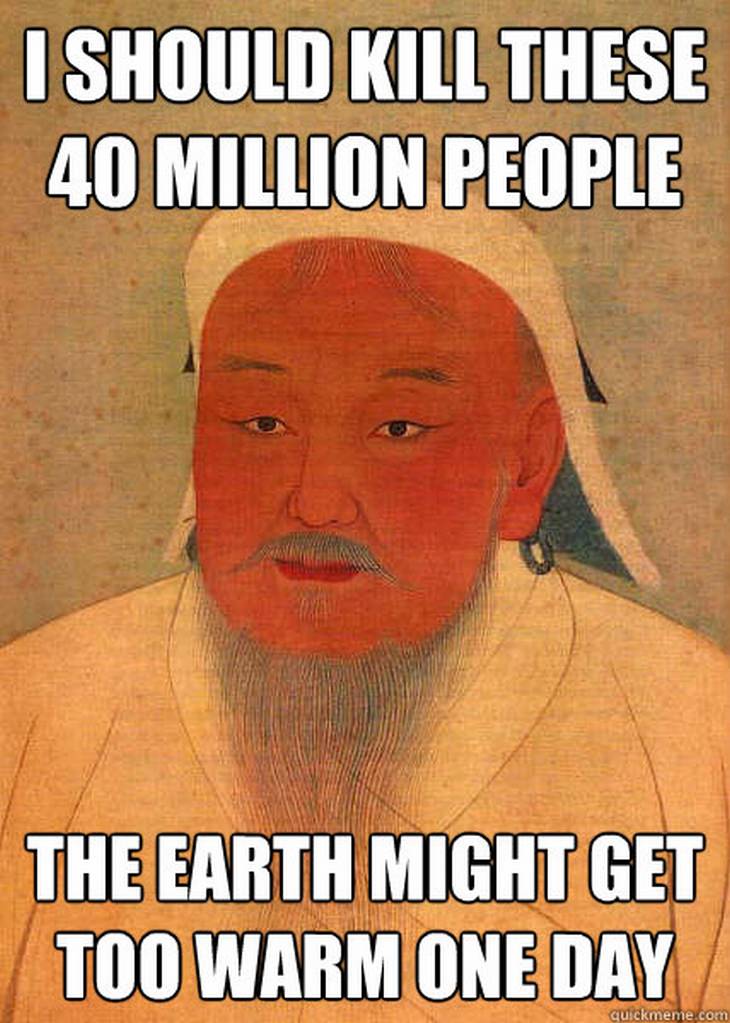 Genghis Khan's armies killed an estimated 40 million people, actually reducing the carbon footprint of humans.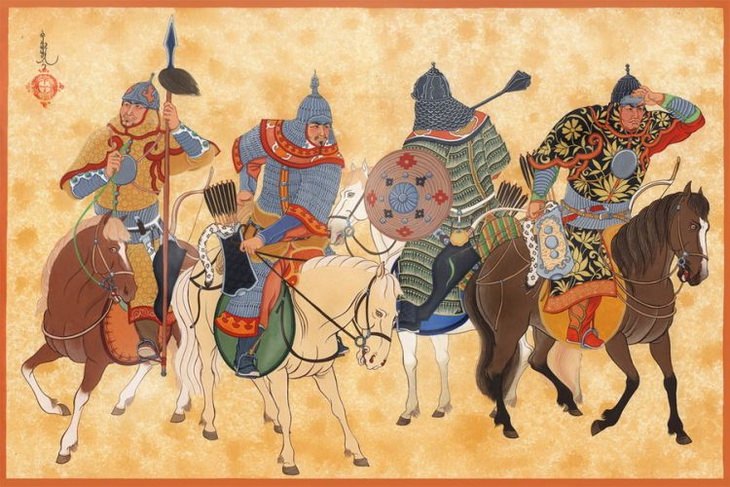 Khan often used spies to incite civil wars and revolutions within opposing empires to weaken them for his invasions.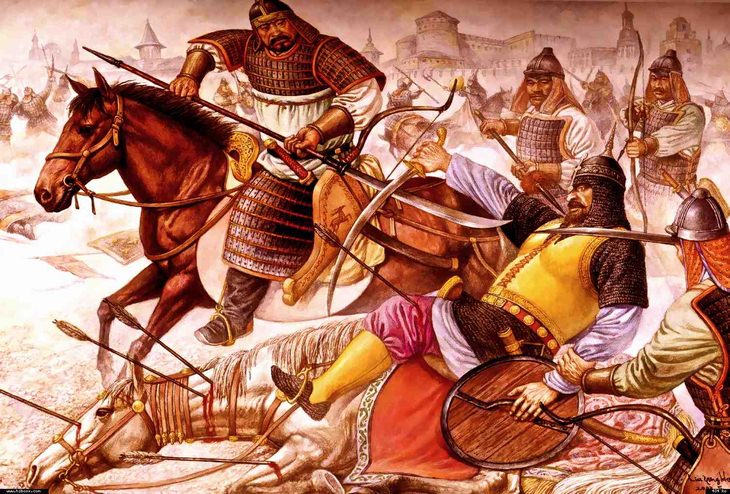 When Genghis Khan sent messengers to the Khwarezmids to open up trade routes with them, the Khwarezmids killed them all. He retaliated by killing 90% of the Khwarezmid population.
1. Iran Away
So many Persians were killed under Genghis Khan that the population of Persia only reached pre-Mongol levels after the year 1900 – some 700 years later.
Content and image source: Factinate