Across countries, oceans, and continents, our planet has quite literally shown its true colors through nature, which comes with its own impeccable uniqueness and vibrance. But at the same time, the human hand has created plenty of flamboyance too, especially for the traveler's eye. It has brought great art to the world, the expression of which can be found in the slightest detail of any town, village or city, through a wonderful palette of colors - and any budding travel photographer out there is likely to agree with me on this.
Whether it's in the streets, buildings, market places, clothes, or nature itself; every corner of the world is bursting with color, and here are some "wow" photos to proof this.
1. Leather tanneries in Fez, Morocco - Africa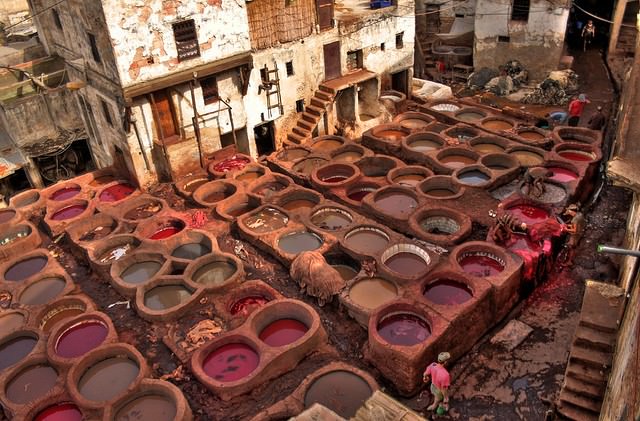 The distinct colors you see in this unique view are actually liquids used to dye leather. These liquids normally consist of cow urine, quicklime, water, salt and dyes; and are used with animal hides to make wallets, handbags and similar. Although the smell here is rather unpleasant, the place resembles an artist's colorful palette when viewed from above.
Source: Andrew E. Larsen / Flickr
2. Beach huts at St. James, Cape Town - Africa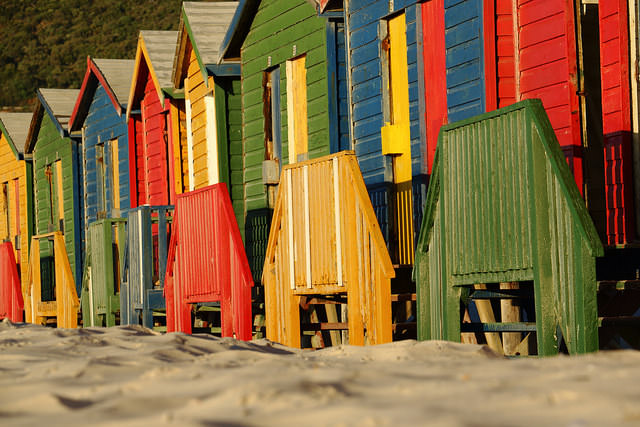 A place you cannot miss if you're ever in Cape Town. Although this might not be the most iconic photo of Africa, these cute beach huts will surely capture your heart.
Source: Clint Mason / Flickr
3. Spice booth at a market in Luxor, Egypt - Africa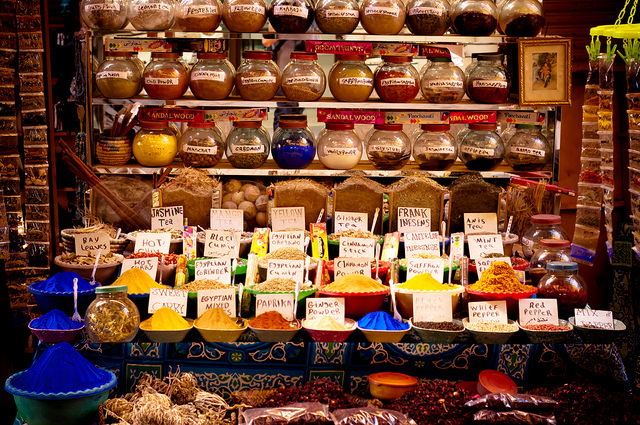 These spices are natural, but they blend in so well with the rest of the colors at an African market place. They come in conspicuous bucket loads, spreading their unmistakable aromas around the place to make sure you won't miss them.
Source: John.bell / Flickr
4. Unique houses in Bo-Kaap, Cape Town - Africa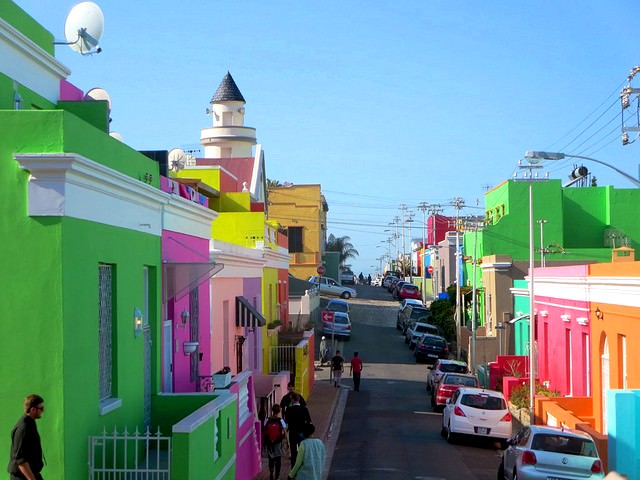 A neighborhood can't possibly look any better than this. Can you picture how dull this street would look without those pretty, bright wall colors?
Source: David Stanley / Flickr
5. Colorful clothing in Harar, Ethiopia - Africa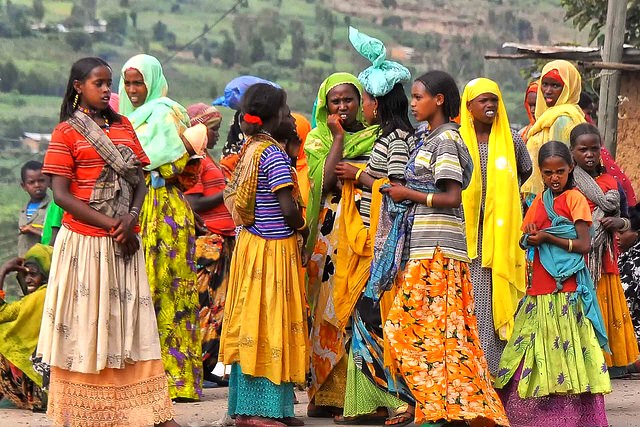 The bright clothes worn by African women and girls exemplify their magnificent culture, filling the place with vibrance and spirit. It's a sight that immediately tells you that you have arrived in Africa
Source: Rod Waddington / Flickr
6. Buildings in Pelourinho, Salvador City, Brazil - South America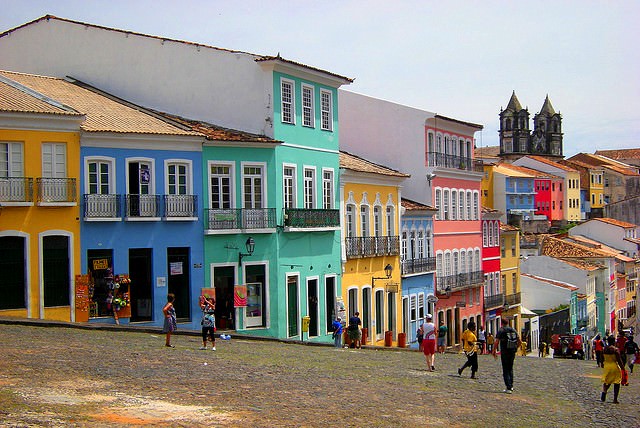 The beautifully-colored walls along this attractive street gives this city a distinctive identity, as well as a lively feeling. However, it's a typical sight to see all over Brazil, a country which celebrates color in every way.
Source: Leandro Neumann Cluffo / Flickr
7. Locals on the plains of Cañon del Colca, Peru - South America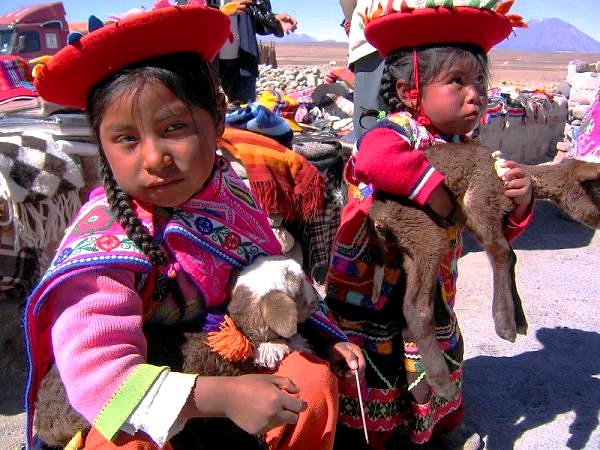 These kids are wearing a colorful costume that is typical of one of the Incas, one of largest civilizations ever to settle in Peru. Although they were driven out of the country in 1572, many Incan traditions are still very well-known to this day. Clothes of the time were made from llama wool and had distinctive colors that make them truly one-of-a-kind.
Source: Phil Whitehouse / Flickr
8. Convention centre in Montreal, Canada - North America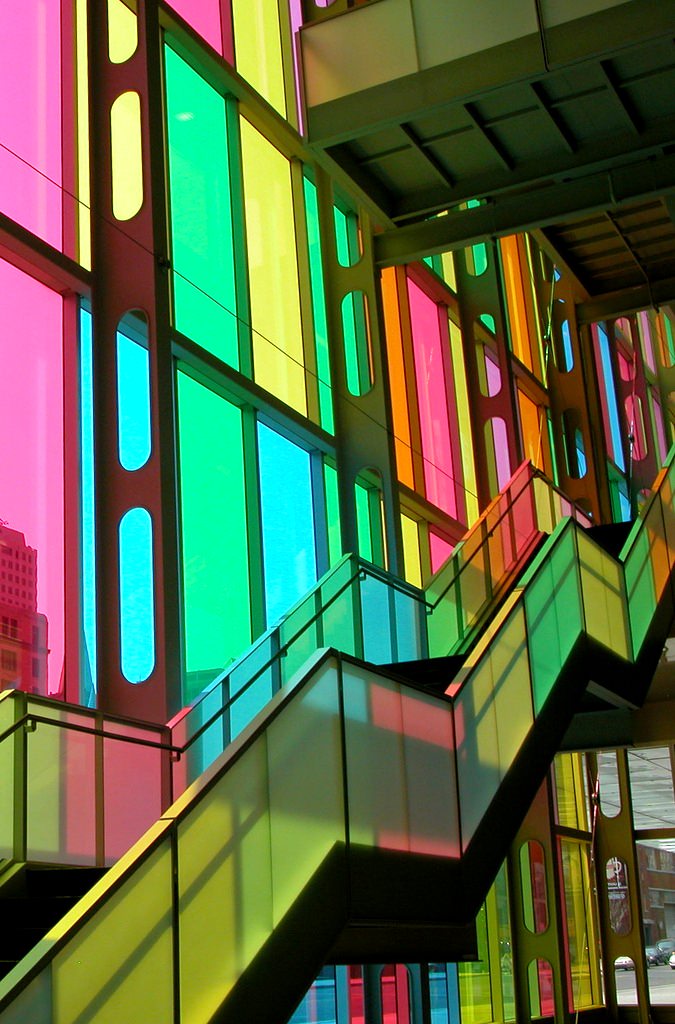 With a genius artistic touch in the architecture, it's no surprise that this convention centre has become one of the most photographed buildings in the city. The exterior is made of colorful squares of glass, flooding the interior with dream-like hues and a magical glow.
Source: Allen / Flickr
9. Glass sculptures by US designer - World wide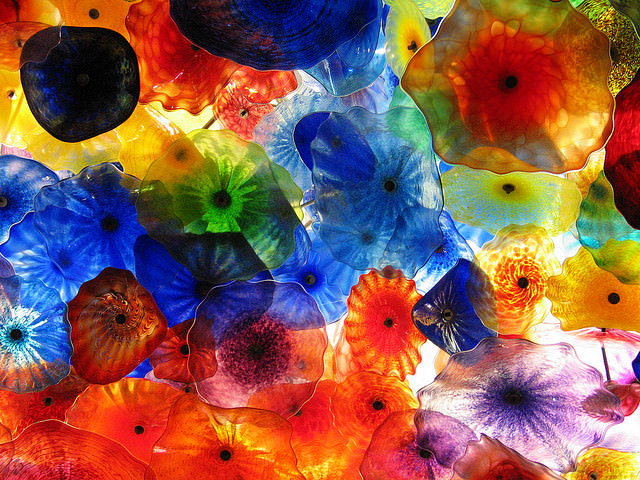 Leading US designer Dale Chihuly is a glass sculptor who is known for creating glass structures that are normally inspired by the natural world. This particular structure is reminiscent of a bunch of flowers of different colors and sizes, and with light penetrating through, it creates a great blended effect that strikes the eye.
Source: N i c o l a / Flickr
10. Houses in Valparaiso, Chile - South America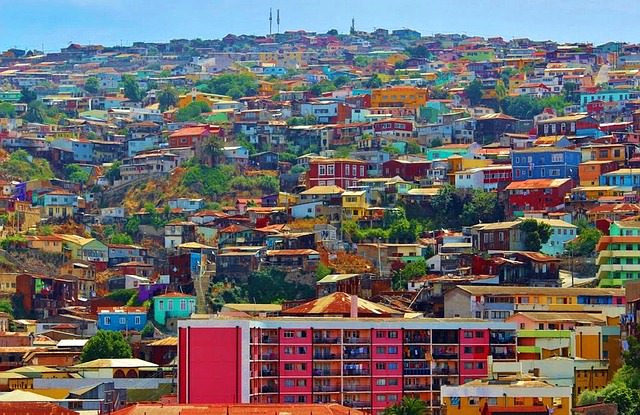 This port city in Chile is like no other. It boasts plenty of colorful homes located on steep clifftops, which you can visit easily via the funicular railway that connects upper and lower areas of town. Although it's one remarkable ride, nothing beats the colorful view seen from the top.
11. Japanese Gardens, Portland - North America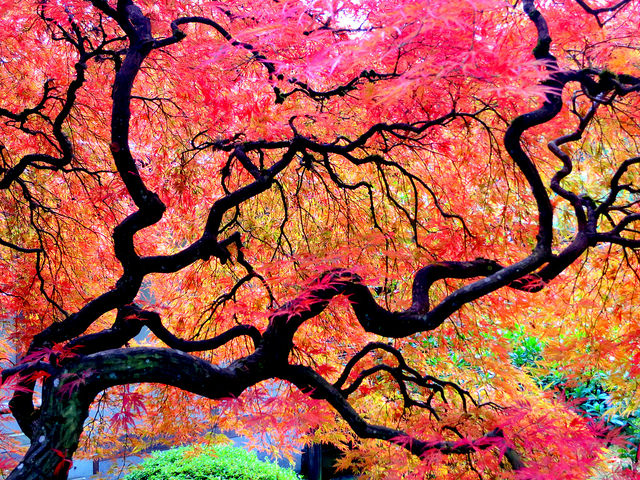 The beautiful colors in this magical garden draw many visitors. The maple trees here have been widely photographed because of their uniqueness in color, but this also comes with a price. Anyone who enters with a tripod in this garden is required to pay $2!
Source: Sasquatch I / Flickr
12. Festival of Color, India - Asia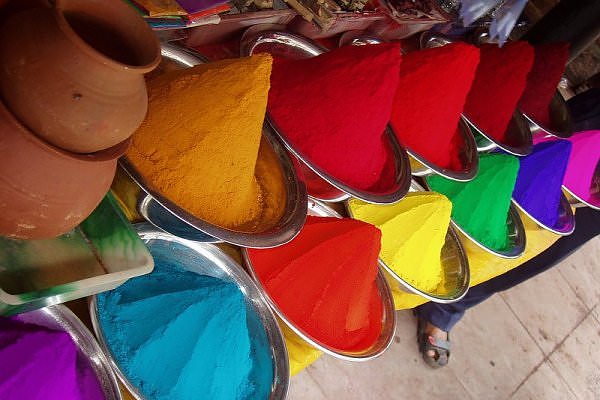 India is known to be exploding with color, and quite literally, it is. Every year around the 21st of March, the popular Festival of Color, also known as Holi, takes place. This involves people throwing colored powder at each other, which explains why these heaps of powder come in so many bright shades.
Source: Marco Bellucci / Flickr
13. Colored lanterns, China - Asia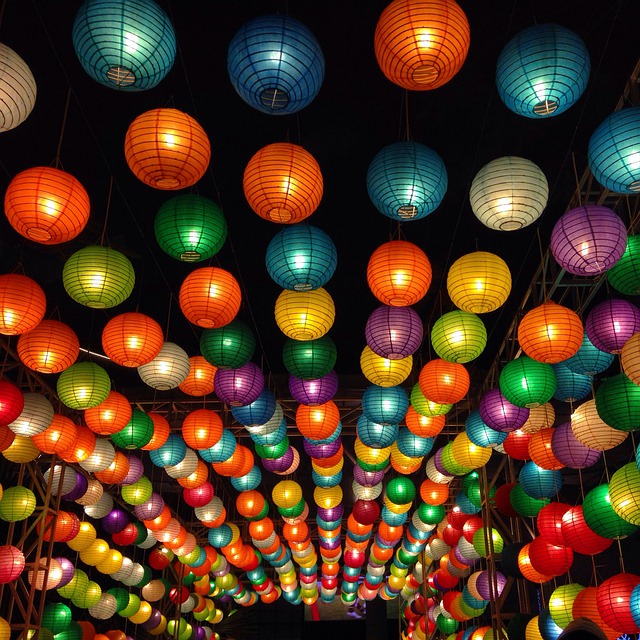 Chinese lanterns come in all shapes and colors, but their effect is always the same phenomenal one. The fact that they're lit up makes them seem as though they're special stars radiating a colorful glow all over the place.
14. Colorful visitors at Taj Mahal, India - Asia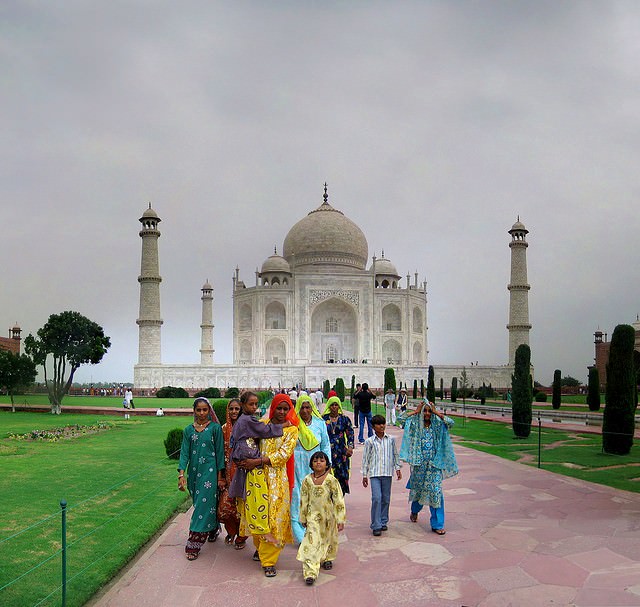 The majestic Taj Mahal is the most iconic building in India, and is extensively photographed because of its prestige and splendor. But the group of worshippers captured in this photograph makes it an even more intriguing image, with a striking touch of color.
Source: Panoramas / Flickr
15. High-rise buildings in China - Asia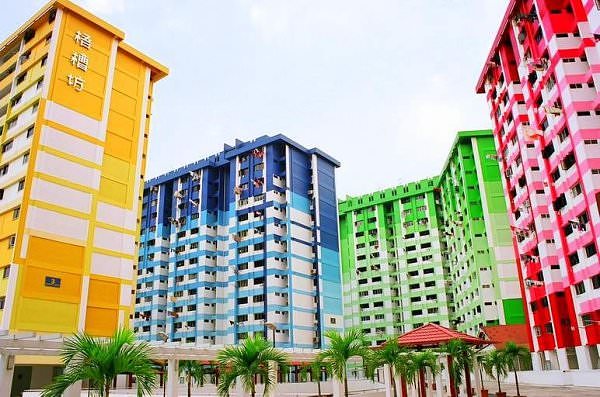 It's commonplace for China to have high-rise buildings, but the ones in this photo deviate from the norm. With such vivid colors, people living here will certainly find it easy to find their way back home should they ever get lost!
Source: colin quek / Flickr
16. Beach huts on Brighton beach, Melbourne - Australia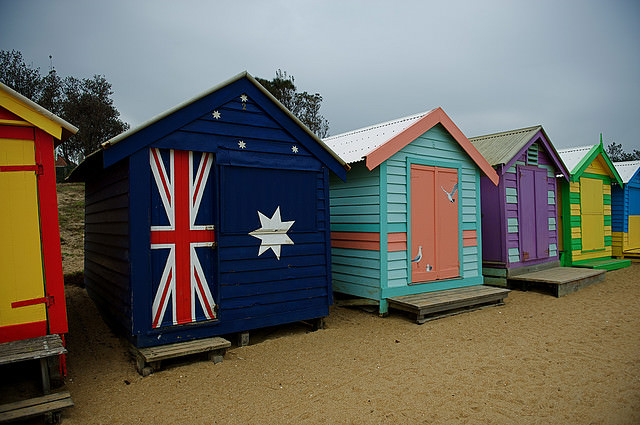 These beach huts brighten up this charming beach in Melbourne, especially the one that has the country's flag painted over it. While it stands out from all the rest, it definitely gives a patriotic touch, reminding you of where you are.
Source: Geoff Penaluna / Flickr
17. 'Greetings to the sun' in Zadar, Croatia - Europe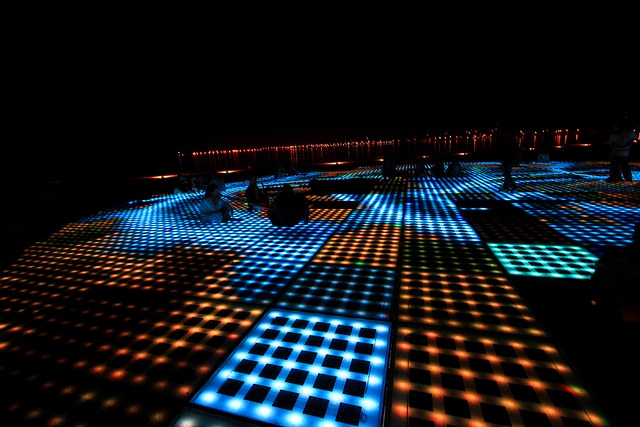 You can only see this fantastical sight after the sun descends behind the backdrop of this sensational place called 'Greetings to the sun'. The huge circle situated right by the shore line in Zadar lights up in vibrant colors as soon as night falls, creating one magical experience.
Source: Patty Ho / Flickr
18. Tulips of Amsterdam, Holland - Europe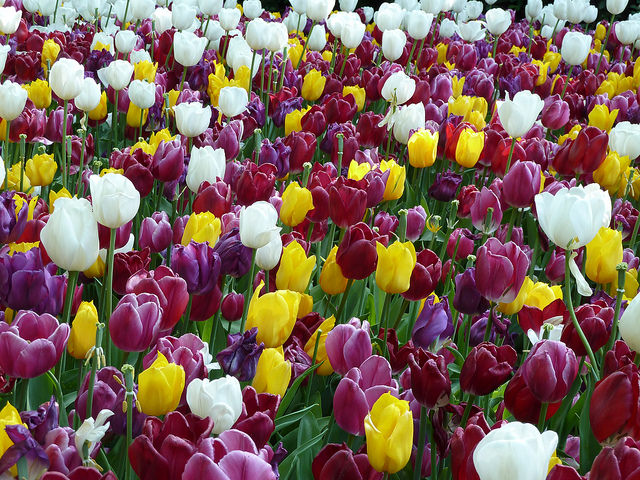 Of course, you can't speak of colors around the world without mentioning the famous tulips of Amsterdam. If you come here in spring, you'd be lucky to see fields of colorful, blooming tulips, as well as market places teemed with their vibrant reds, yellows, purples, blues - practically any color of the rainbow.
Source: Rob Young / Flickr
19. Hotel in Bilbao, Spain - Europe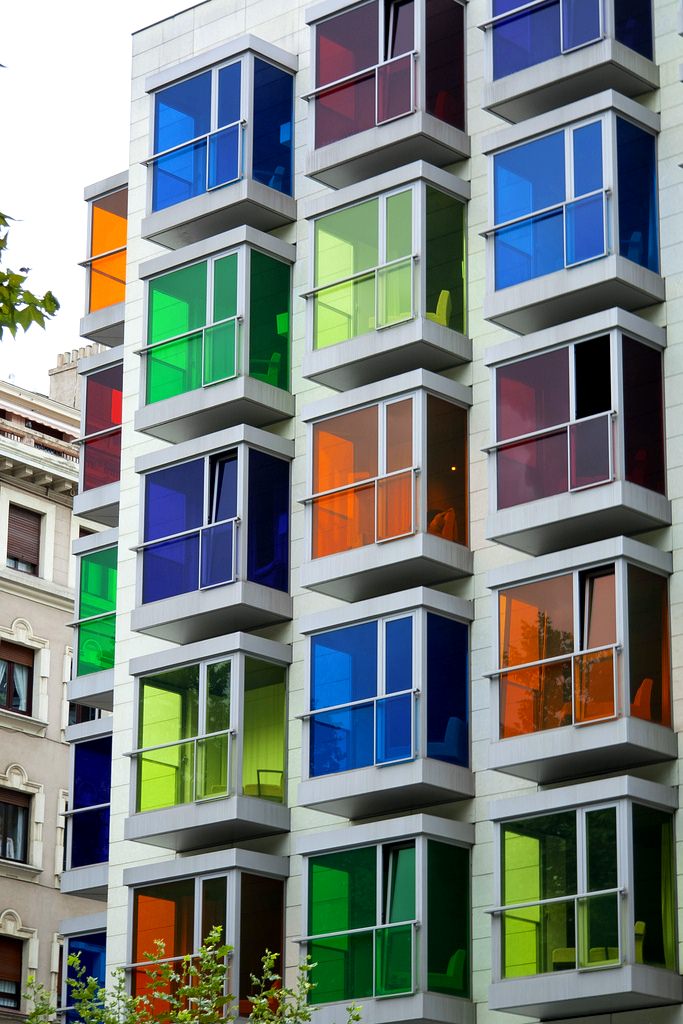 Hesperia Hotel in Bilbao is quite a special place for a stay - guests staying here get to choose which color they want their room to be. The color of its windows reflect on the interior, literally filling it with color.
Source: Jordi Payà / Flickr
20. Painted houses in Burano, Italy - Europe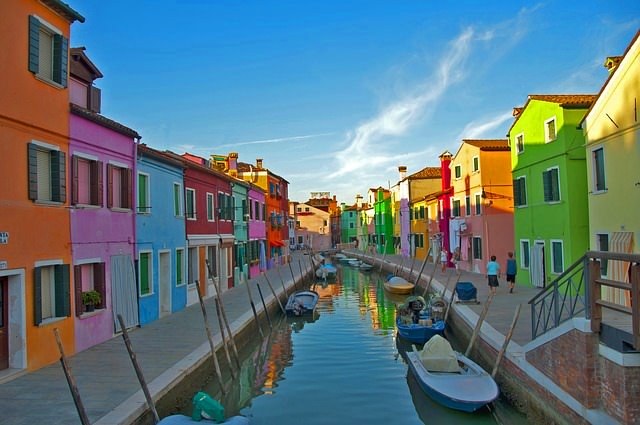 Burano is an island located in Venice, known for its romantic canals lined with eye-catching colored houses, which lend the place the spirit of radiance - in turn attracting various artists who find this to be their heaven. There are only certain colors permitted for each lot, so if the residents here want their house painted, they have to a make a request to the government.