Considered to be the best European sculptor of the 18th century, Antonio Canova's work represents the Neoclassical style in art that was inspired by antiquity. He is known for his soft-looking shapes and expressive, lifelike works that heavily relied on antique themes and ideals.
Many will recognize some of Canova's sculptures featured in this article, such as Psyche Revived by Cupid's Kiss (1787), but what about the artist behind them? Don't worry if your mind is drawing a blank; we delve into the life and art of this outstanding Venetian sculptor right here.
What is Neoclassicism?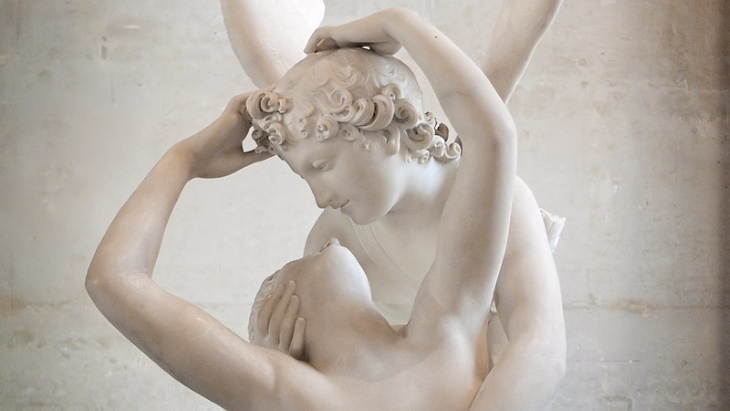 Psyche Revived by Cupid's Kiss (1787)
We all know that Renaissance artists drew inspiration from antiquity. But this was not the only time in European art history that Ancient Rome and Greece came to the forefront. In fact, the main artistic style of the 18th century - Neoclassicism - literally has the idea of reviving Classical antique art in the name.
Eighteenth-century artists were living and breathing mythology and antiquity, and Antonio Canova was no different. And this increased interest in everything related to Ancient Greece and Rome was no coincidence. It was triggered by the discovery of the ruins of Pompeii in 1738 and Herculaneum in 1748 - two Roman cities destroyed by a volcano yet miraculously preserved for centuries under volcanic ash and lava.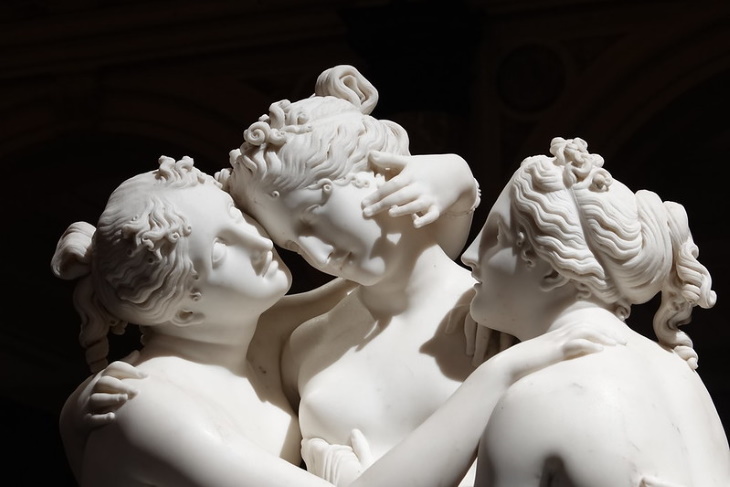 The Three Graces (1814-1817)
Image source: Flickr
Of course, Neoclassical artists would focus on mythological figures and scenes, similar to the classical sculptures of Ancient Greek and Roman gods. In fact, contemporary figures like Napoleon (below) and his sister, Italian princess Pauline Borghese, would appear in Canova's works as these ancient deities.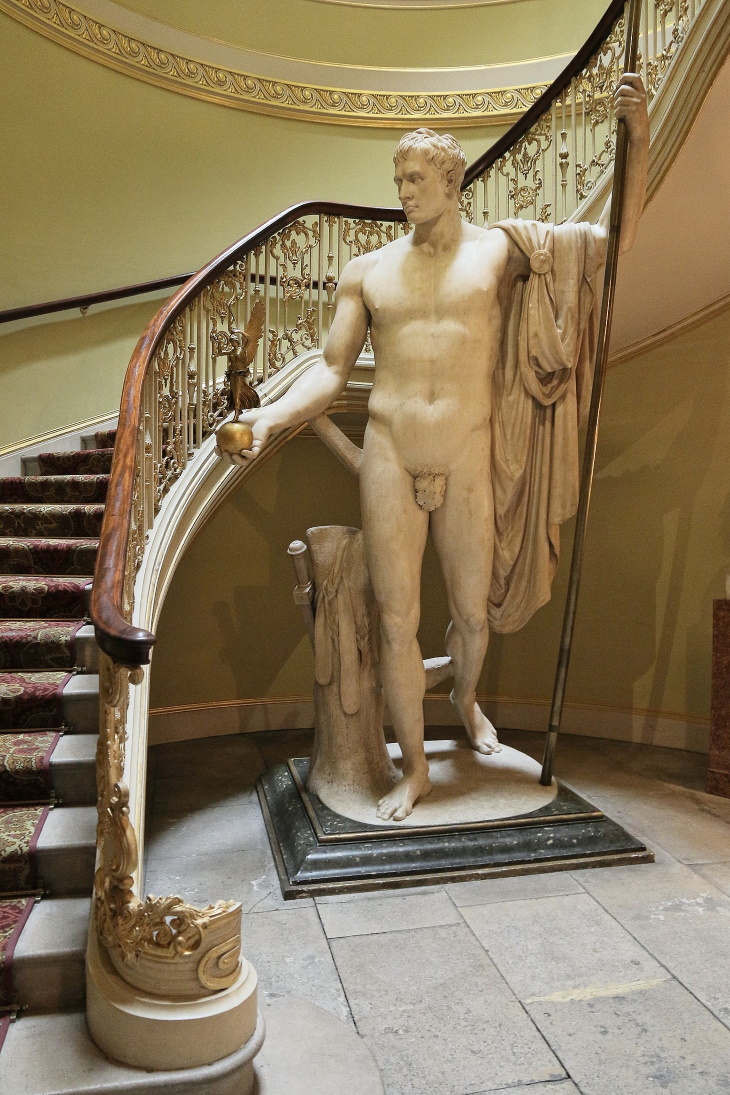 Napoleon as Mars the Peacemaker (1806) Image source: Wikimedia Commons
Neoclassical sculptures did not simply replicate statues they saw in Rome and Athens. They were especially interested in translating a sense of balance, simplicity, and proportion in their works, often depicting figures on a life-size scale. Hence, the simple, smoothly-buffed but lifelike and fluid marble sculptures of Canova are a perfect example of Neoclassical sculpture.
Who was Antonio Canova?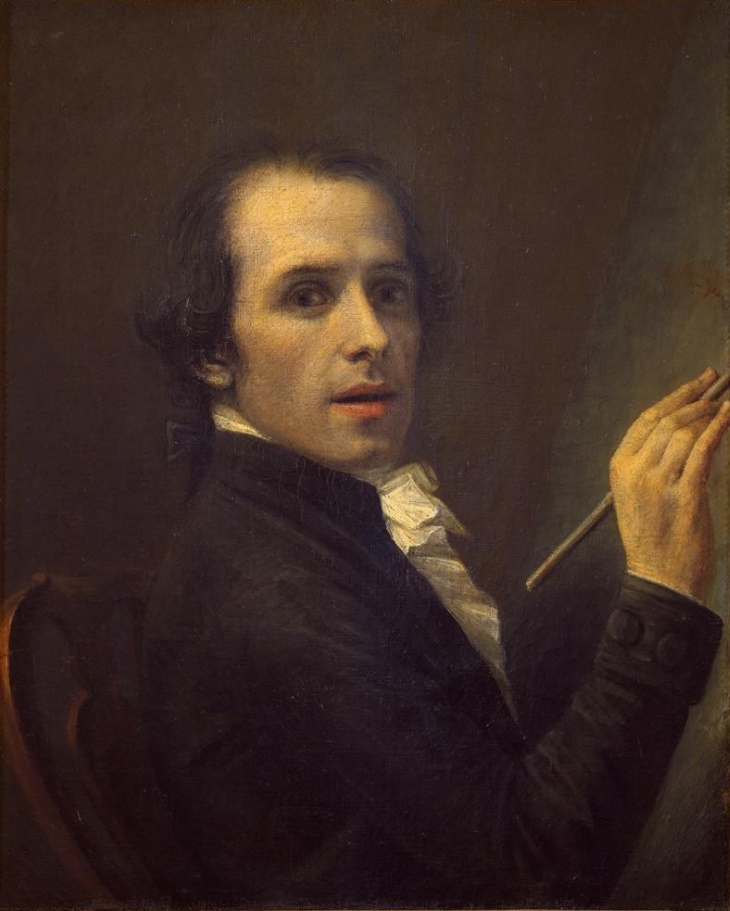 Antonio Canova Self-portrait (1792)
Born in 1757 in the family of a stonecutter in the Venice Republic, you could say that both art and sculpture were in Antonio Canova's blood. Young Antonio created marble altar shrines when he was only nine years old, and from age 13, he would take several apprenticeships until starting his studies at the Accademia di Belle Arti di Venezia.
Long story short, the young man was destined to become the greatest sculptor of his time, so he did.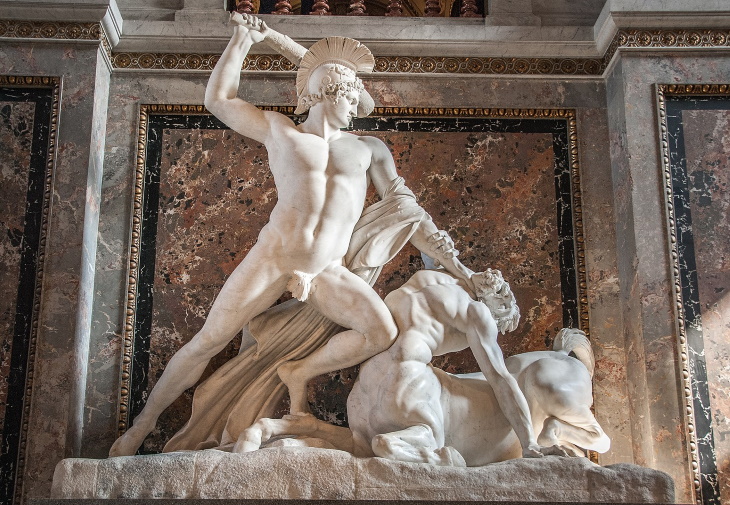 Over the years, Canova would develop his signature style. He created several marble sculptures depicting mythological figures in expressive compositions.
The idealized figures all had a perfectly polished finish - Canova's signature. This made the sculptures glisten in the light, and gave the surface of the figures a silky, skin-like appearance. Historical records suggest he would spend several weeks and often months buffing and perfecting each detail using a pumice stone.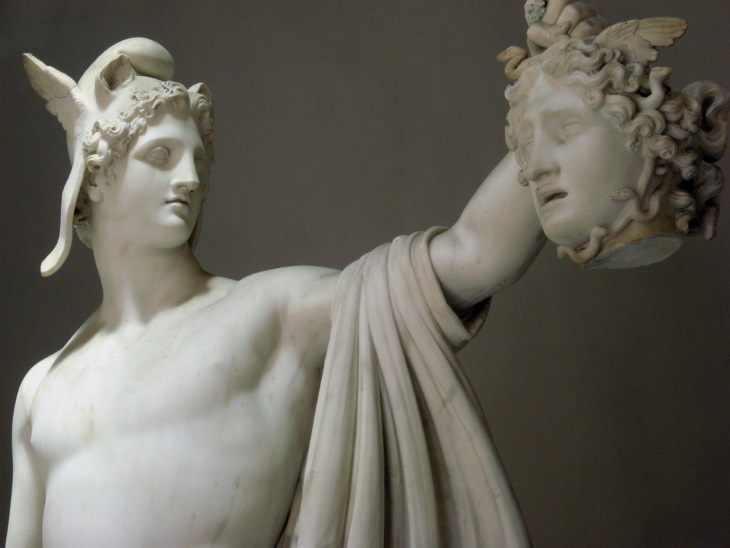 By 1800, Canova become the most celebrated artist in Europe. At the height of his career, the sculptor had a long list of famous patrons, including Napoleon Bonaparte. Canova also designed Pope Clement XIV's tomb, and he was even commissioned to create a sculpture of George Washington at one point in his career.
Left: Venus Italica (1822),
Right: Mars and Venus (1815-19)
Throughout his life, Canova held several important official posts, including Inspector-General of Antiquities and Fine Art of the Papal State, which was once held by Raphael. The artist would travel all across Europe, and his name became synonymous with fine art and taste.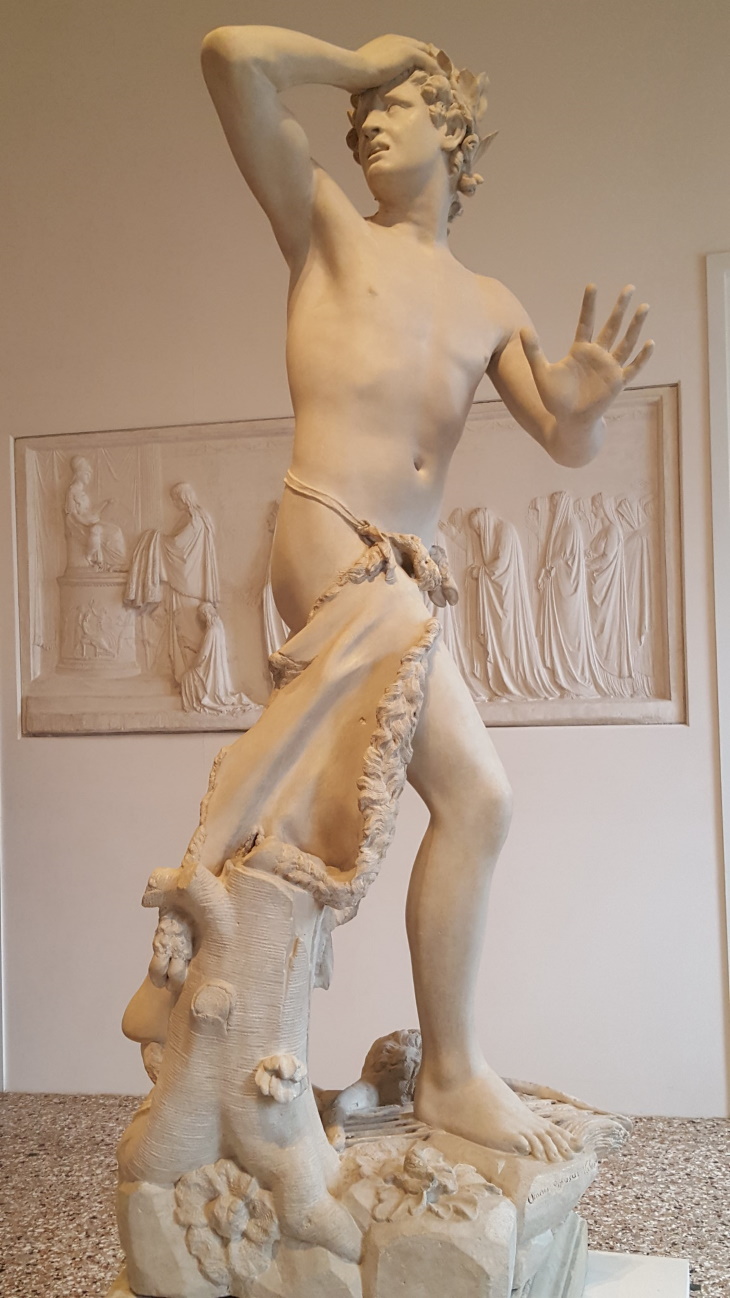 Orpheus (1777)
Image source:
Flickr
In 1822, Canova fell ill and passed away at age 64. Since he was never married, his name sadly became extinct, but the service held in his memory was reportedly so grand that it could only compare to the one the city of Florence had for Michelangelo in 1564.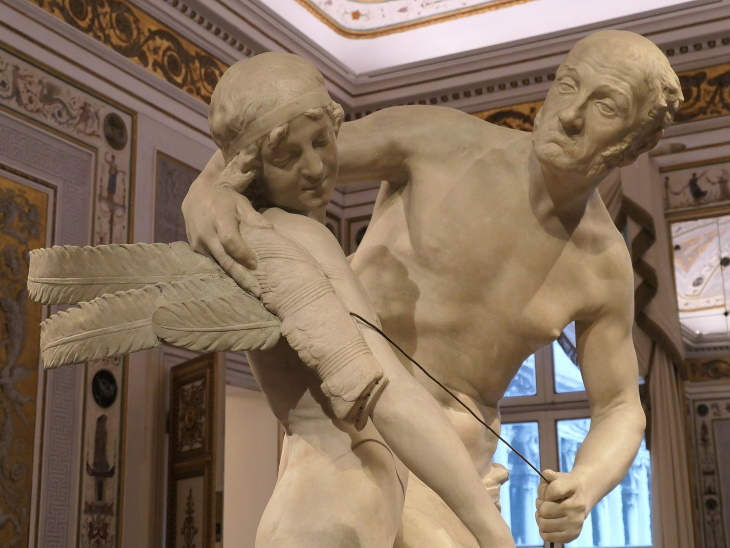 Three Famous Works of Antonio Canova
Certainly, the most recognizable and famous of Canova's works is Psyche Revived by Cupid's Kiss (1787, below). The masterpiece depicts the muse Psyche awakening in the tender embrace of Cupid, the Roman god of love, and her husband. The figures are positioned to look directly at each other, creating a feeling of intimacy. It's easy to see why this sculpture is often referred to as "the most romantic Neoclassical sculpture."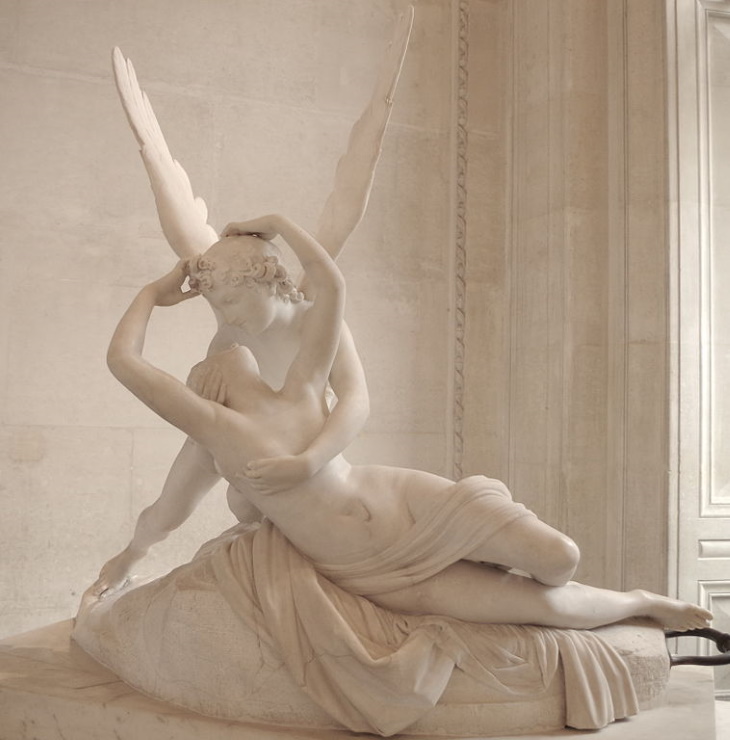 But not all of Canova's sculptures are famous for their mastery. For example, you may recognize this sculpture below. It's titled Venus Victrix (1808) depicting Napoleon Bonaparte's sister Pauline. In 2020, the piece was ruined as an unnamed Austrian tourist tried to lounge on the sculpture when trying to take a selfie. Read more about the unfortunate story here -
6 Priceless Art Pieces Were Ruined by Reckless People.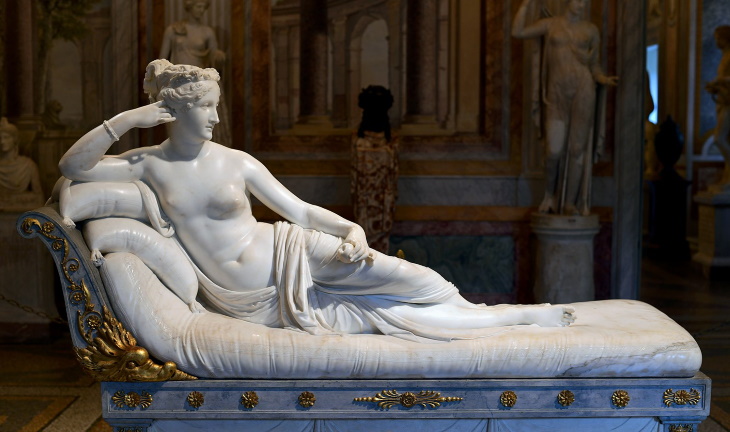 The last of Canova's famous works we will discuss here is The Three Graces (1814-1817) - a sculpture that truly embodies all the ideals of Neoclassicism. The piece depicts three beautiful female figures hugging with their arms around each other.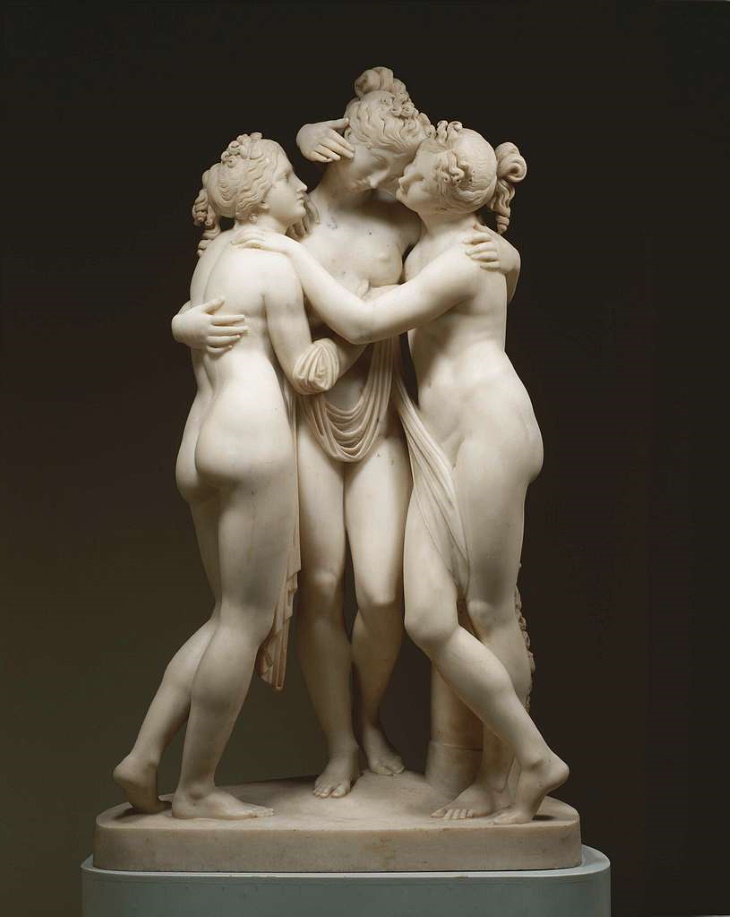 The Three Graces (1814-1817)
The female figures are idealized and youthful, with their skin glowing in the light of the day. The absence of excessive adornment and details allows the viewer to focus on the lifelike shapes of the figures and the craftsmanship of the artist, which is why it's often considered one of Canova's best works.
The family line of Antonio Canova may have ended with him, but the name of his genius sculptor will live forever through his works and fans.