Epoxy resin has become a tremendously helpful polymer since its invention in 1956, and its use has led to the production of amazing items like jewelry, Judaica, and kitchen surfaces, as well as industrial and domestic flooring. The polymerization process of epoxy resin produces a three-dimensional structure that is incredibly durable and has a limited rate of shrinkage - around 2% on average. It's truly incredible! Epoxy resin is remarkable for its capacity to bind and stick (it's one of the most powerful adhesives and can be used on an extensive variety of materials, from metal to concrete). It also offers uniform polymerization (crystallization and hardening) making it possible for the average home user to craft a consistent and secure material with basic home items.
Epoxy resins generally contain four components: the monomer resin, the hardener, the accelerator and the plasticizer. (Those who remember the intricate blending of the accelerator before the hardener from the polyester days will find this quite exciting).
When shopping for an epoxy resin kit, we'll find two components in the package - a base and a hardening catalyst. This catalyst is what kickstarts the chemical process of polymerization, although it does not allow epoxy to reach its full potential. As such, its shelf life is relatively short, usually two years. To get the best results, it's essential to measure the ingredients precisely, either by volume or weight, and to mix them thoroughly. Hobbyists should be aware that if they mix too quickly or inaccurately measure one of the layers, they may end up with an unfinished product. In this case, the un-hardened epoxy should be cleaned and the casting should be left to rest for a few weeks before pouring in the newly-mixed epoxy.
Epoxy resin can be stirred or mixed by hand or with the help of special tools like a mixer or a drill-mounted stirring rod. Be sure to mix at a low speed and carefully to avoid creating bubbles. If too many bubbles form, they can make the epoxy cloudy, making it important to let it rest before pouring, preferably in slightly warm water. Heat is really helpful when working with epoxy as it makes it more liquid and helps the bubbles escape. (That's why we often use a burner or a heat gun to get rid of the bubbles on the epoxy surface.)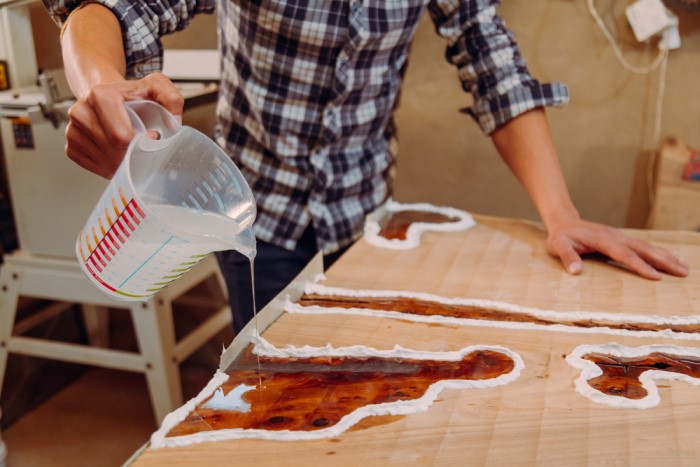 Heat causes the epoxy resin to harden faster. Therefore, if we are not careful when heating the surface on our epoxy table with a burner, we will create a rough and wrinkled crust on the table, like the crust that forms on milk when it is heated. Epoxy can be as clear as water or glass ("crystal clear epoxy"). In fact, it is sometimes marketed as a "liquid glass" solution (another common name for epoxy is "cold enamel"). Epoxy can create some seriously incredible color effects, either transparent or opaque. You can use any type of paint you want - watercolors, oil paints, acrylics, food colors, or even colored sand!
The only thing you have to watch out for is using too much paint, as that can prevent the epoxy from hardening. Additionally, some colors don't mix evenly, such as oil and acrylic, and can remain as lumps in the resin, creating defects- especially on the surface. The only solution for this is to pour a thin transparent layer over them. It's also quite fun to mix opaque colors with transparent ones, or colors with different bases, such as watercolors and acetone/alcohol-based paints, as it results in some really interesting effects!
There are tons of amazing and eye-catching colors and pigments out there! Acetone-based glass colors, alcohol inks, pearl powders, metallic pigments, and fluorescent pigments - they all have something special to offer. Even liquid pigments for epoxy are an option, though they're not necessarily better than the others. But, hey, who knows - the possibilities with epoxy for art and design are seemingly endless! It's an exciting opportunity to explore!