As the years go by, our bodies undergo many changes, both external and internal. One of the most prominent is the formation of a hunchback or kyphosis, which results from low physical activity, improper posture, and osteoporosis. The weakening of the muscles over the years leads to a worsening of the phenomenon that leads to pain and to a non-aesthetic hump that can often undermine our self-confidence and interfere with our normal functioning.
The following exercises will help you improve your worsening posture by strengthening the chest muscles, shoulders and back - all of which are important to support our upper body, and treatment and prevention of kyphosis caused by an inactive lifestyle.
1. Shoulder stretch
When we lean forward for long hours, our shoulders bend in the same direction because of the weakening of the chest muscles. The next exercise will help you release these clenched muscles and keep your shoulders in place. The instructions demonstrate the performance in a standing position, but you can also do it while sitting.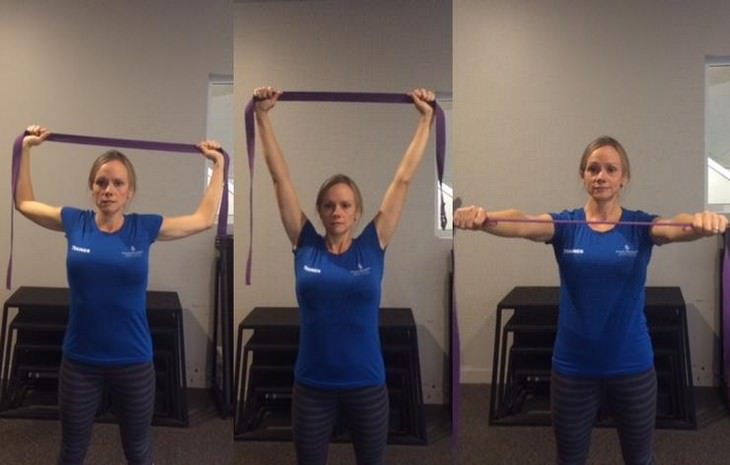 How to do the exercise:
Stand with your feet slightly apart at shoulder width, holding both sides of a yoga strap, jump rope or belt.

Raise your hands and stretch them forward with your palms facing down.

Make sure your arms are spread a little wider than your shoulders, exhale and lift them up, palms facing forward.

When inhaling, lower your hands to shoulder height behind your head.

Repeat the exercise 3-5 times.
2. Shoulder blade stretch
When we spend most of our day with our shoulders slumped forward, this movement can become a habit and cause us to slump forward regularly. The purpose of the next exercise is to correct this problem by moving in a way that counteracts shoulder slumping. The instructions demonstrate the exercise in a standing position but it can be done while sitting as well.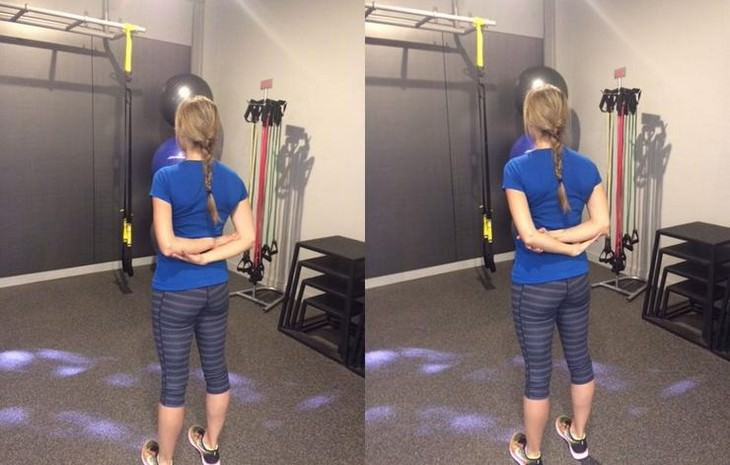 How to do the exercise:
Stand with your feet slightly apart at shoulder width. Pull your shoulder blades back and down toward your spine.

Bring your hands behind your back, then hold your right elbow with your left hand and your left elbow with your right hand (so your right hand is over your left hand). If you find it difficult to do this, hold your wrists or forearms instead of your elbows.

Lift your chest and push your shoulder blades back and down toward your spine.

Take 3-5 deep breaths and then alternate between the hands (so that the left hand is on top).

Raise your chest again and pull the shoulder blades back and down toward your spine. Take 3-5 deep breaths and finish the exercise.
3. Shoulder blade squeeze
"This simple exercise will strengthen the scapular and shoulder blade muscles, preventing your shoulders from slumping forward and make you aware of your posture," said Jesse Lewis, a physiotherapist from the United States.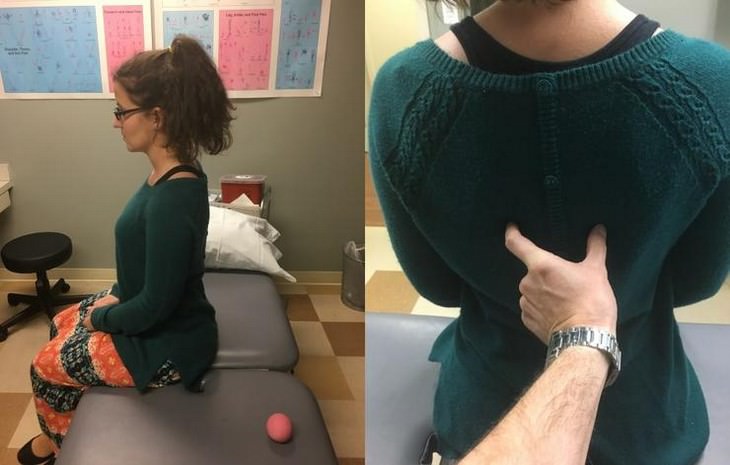 How to do the exercise:
Sit with your back straight and press your shoulder blades together as much as possible, as if you were holding a pencil between them.

When the shoulder blades are together, pull them back and down and press firmly. Stay in this position for 10 seconds and repeat 10 times.

It is recommended to do the exercise 3-4 times throughout the day to see results quickly.
4. Soft tissue chest massage
Lewis says that the next move releases the chest muscles that are strained because of the body's tendency to lean forward, what characterizes the hunchback state. Its performance is essential because when the chest muscles are stretched and tight, they pull the shoulders forward creating an unnatural and harmful body position. Their release will help both your posture and your hunchback, allowing you to look and feel better.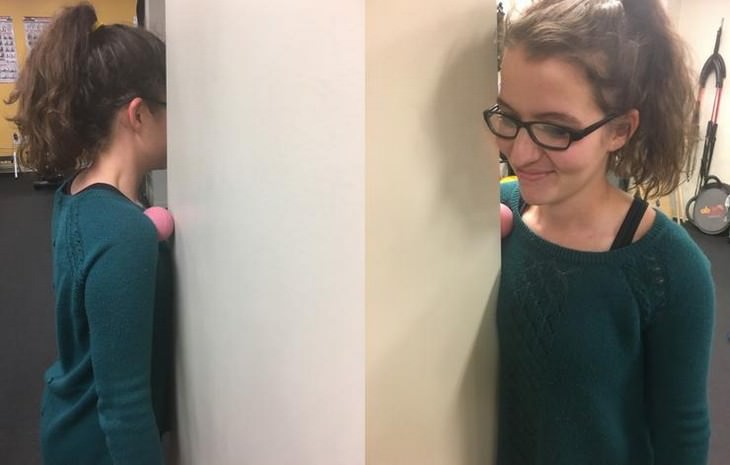 How to do the exercise:
Use a tennis ball and place it next to your chest muscles, inside the shoulder bone and under the collarbone.

Gently lean against a corner of a wall with your chest resting on the ball and your face facing forward.

Press the ball lightly against the wall and massage the area

If you feel a sensitive spot, focus on it with the ball and massage it until you feel a release.
5. Laying down shoulder stretch
It's recommended to do this exercise in the morning or before bed. The move opens up the chest and releases and straightens the shoulders.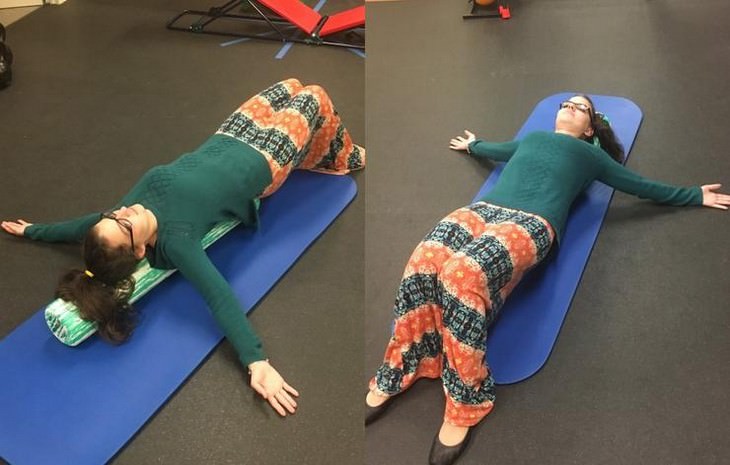 How to do the exercise:
6. Resistance "rowing"
This is an excellent exercise for strengthening the upper back muscles, which helps straighten the shoulders back to their natural position and helps improve posture and prevents a hunchback from forming.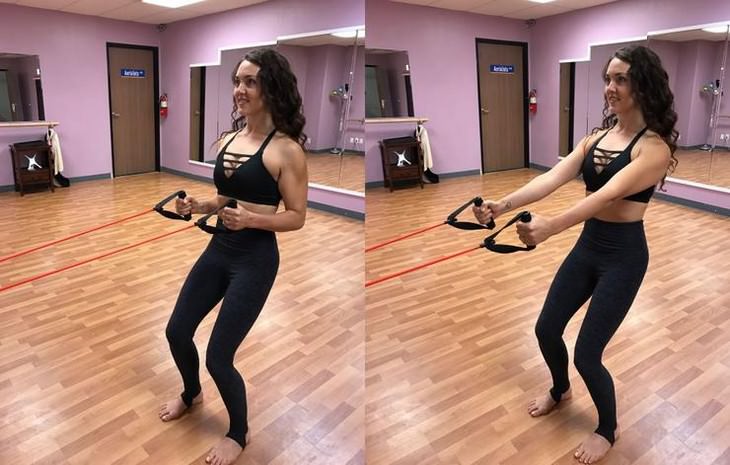 How to do the exercise:
Attach a resistance strap to a sturdy door handle or a heavy piece of furniture at the height of your waist. Grab the ends of the strap and step back with your feet parallel and hip distance apart.

Bend your knees slightly while keeping your torso straight.

Start the exercise by bending the elbows behind your waist, pressing the shoulder blades together.

Slowly return to your starting position and repeat the entire exercise 10 more times.

When the exercise becomes too easy, perform 2-3 sets with 10 repetitions each, and to increase resistance, move away from the handle or the furniture to which the strap is attached.
Remember, a hunched backs can cause pain and problems in our daily functioning, but with a few simple exercises, it can be prevented and even improved in a short time!
image source:
prevention