The Virgin with the Laughing Child is a 20 inch-tall (50 cm) sculpture made of red clay. The sculpture was dated around 1472, and the curators suggest that da Vinci created it when he was a student of the Florentine master Andrea del Verrocchio. You can see a photo of the sculpture below.
Can you recognize the enigmatic smile of the Virgin Mary, looking down affectionately at a happy and also smiling baby Jesus? Curators noticed it, too, linking the sculpture to 2 masterpieces by da Vinci: The Mona Lisa and The Virgin and Child with Saint Anne.
Here is a reminder of how both of these charming women look like (see picture below). Speaking of which, if you'd like to learn more about Leonardo da Vinci's paintings, we have an in-depth article about his best works that can be accessed via the link here.
Scholars also pointed out the obsessive precision, with which the sculptor depicted the complex and voluminous draperies around the Virgin Mary, a signature feature of da Vinci's style in paintings.
Another clue lies in the baby Christ's smile. You see, in the 15th century, it was nearly blasphemous and outright forbidden to portray Christ, the baby, laughing. At the time, the Catholic Church propagated the idea that Christ was born with the intelligence and wisdom of an adult.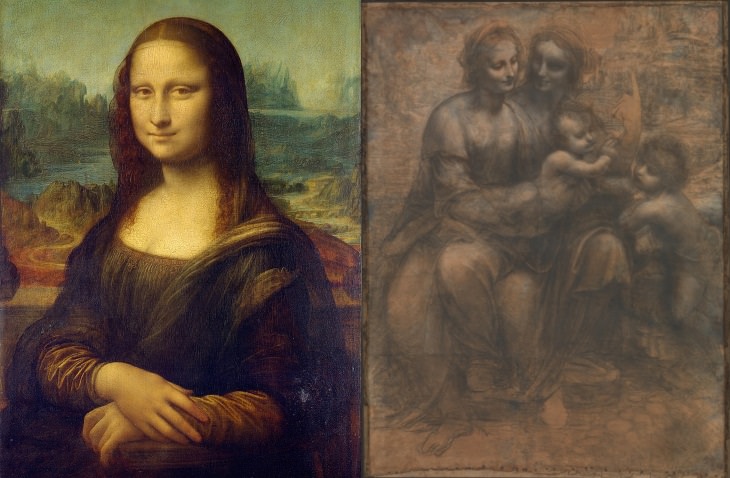 The Mona Lisa (left) and The Virgin and Child with Saint Anne (right)
To communicate this Biblical fact, they insisted on portraying baby Jesus with a serious or even adult-looking face. Now, the infant in this sculpture is definitely smiling, and we know from da Vinci's journals that he once got in trouble when he was young for misrepresenting Jesus, the baby.
Could this be the very artwork that he wrote about? Only time will show.
The Virgin with the Laughing Child isn't the only artwork recently attributed to Leonardo. Less than a week ago, art critics concluded that a famous charcoal drawing nicknamed "The Nude Mona Lisa", which was previously believed to belong to da Vinci's students, is most likely the great master's work as well.
Extensive testing and investigators concluded that Monna Vanna, pictured in comparison to The Mona Lisa below is, in fact, da Vinci's own work. The analysis of the charcoal drawing also confirmed an interesting fact about Leonardo himself: from the left-handed charcoal marks on the painting experts were able to tell that he was most certainly a lefty.
If you're curious to learn more about Leonardo da Vinci, particularly about his career as a master inventor, take a look at our article about da Vinci's inventions that were ahead of their time.