Turmeric is a powerful natural root commonly used as a spice in a variety of foods. This sunset-yellow ayurvedic ingredient has been used in food and beauty applications for centuries. Scientifically known as Curcuma longa, turmeric is renowned for its anti-inflammatory, antimicrobial, and antioxidant properties.
Turmeric has many health benefits - it can improve heart health, help with symptoms of depression, and can even prevent Alzheimer's disease and cancer. Read our article on the innumerable Health Benefits of Turmeric to know more.
Today, however, we wanted to show you how this wonderful herb can do wonders for your skin. Read on.
The Benefits of Turmeric for the Skin
Turmeric contains a chemical called curcumin which accounts for its incredible health benefits. Curcumin has anti-inflammatory and antioxidant properties – these characteristics can be helpful to our skin. Let's now find out how.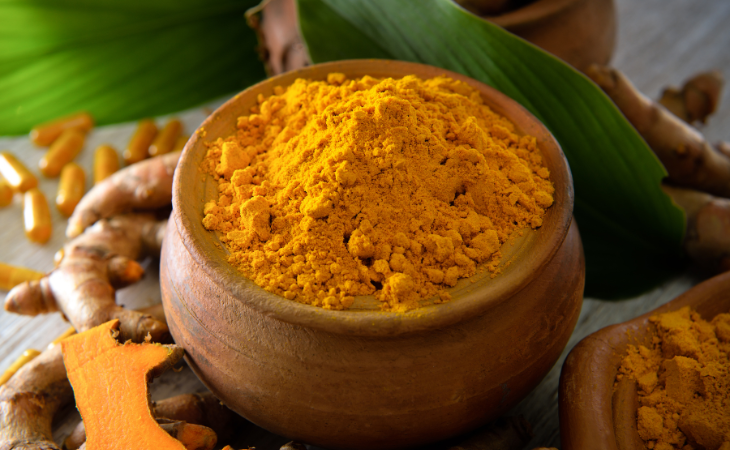 Helps heal wounds:
The curcumin found in turmeric can be useful in healing wounds. It decreases inflammation and oxidation and lowers our body's response to cutaneous wounds. According to a study published in the journal Life Sciences, turmeric can positively affect tissue formation and collagen deposition. The researchers of the study recommend applying curcumin to skin wounds.
Beneficial for treating acne:
Turmeric's anti-inflammatory properties also make it useful for treating acne. A study analyzing the use of turmeric to treat skin conditions found that the herb can be quite beneficial for treating acne and other skin conditions such as dermatitis, eczema, and psoriasis.
Turmeric is also known to reduce scarring. Chronic acne can cause skin scarring, and using turmeric might help clear those scars from acne breakouts.
Related: Turmeric is as Effective as 14 Other Drugs Combined
Adds glow to the skin:
Apart from its antioxidant and anti-inflammatory properties, turmeric also contains vitamins A, E, and C, as well as omega-3 fatty acids. All of these combined can provide glow and nourishment to the skin. Its antioxidant properties may also rejuvenate your skin by bringing out its natural shine.
DIY Uses of Turmeric for the Skin
To get the best out of turmeric for your skin, it's recommended that you get either turmeric powder or pre-made turmeric essential oil at your nearest store. Here, we will show you some amazing ways to use turmeric as a topical ingredient.
1. Turmeric Face Mask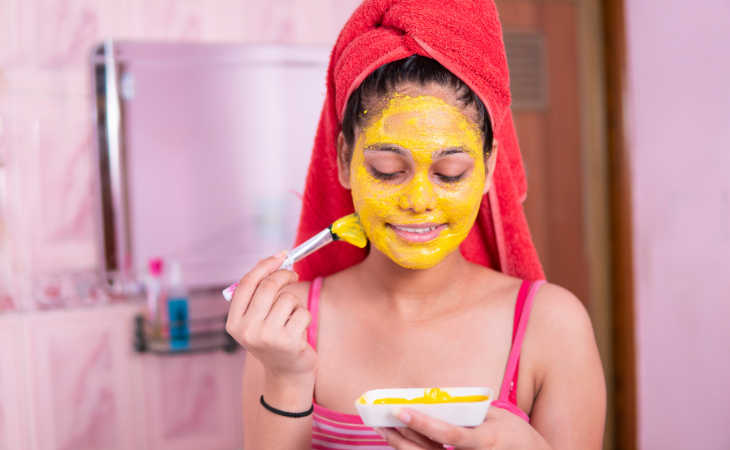 Turmeric powder can be used to create a simple DIY face mask that can add glow to your face and even clear it from acne breakouts. This face mask is easy to whip together.
1. Mix 1 tablespoon of raw honey and 1 tablespoon of Greek yogurt with 1 teaspoon of turmeric powder.
2. Add 2-3 drops of lemon juice.
3. Mix into a thick paste and apply to the skin.
4. Keep the mask on for 15 minutes and then wash it off with water.
Mixing turmeric with yogurt gives this paste a nice texture and allows it to spread smoothly on your skin. Moreover, yogurt contains lactic acid that dissolves dead skin cells.
Related: 5 Turmeric-Based Facial Masks For Removing Hair
2. Turmeric and Aloe Body Mask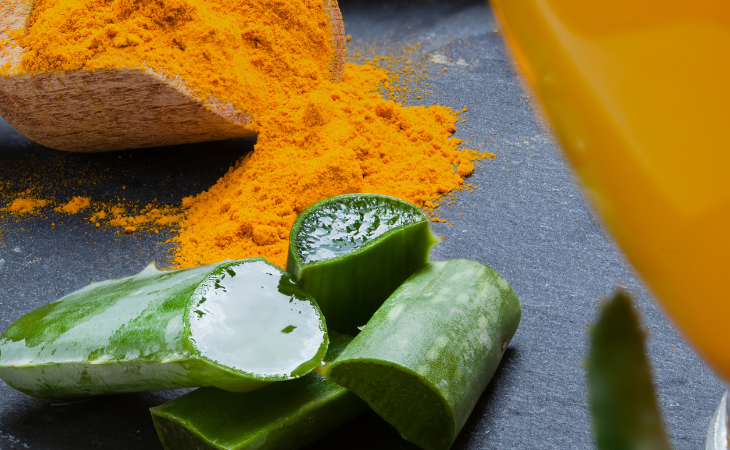 This cooling and calming body mask will be great for treating irritated skin. This recipe contains aloe vera, which acts as a natural moisturizer and can help treat various skin conditions, including acne and sunburn.
1. Mix a tablespoon of turmeric powder with 2 tablespoons of aloe vera.
2. Spread gently on the affected area and let it sit for 15 minutes.
3. Rinse off under cool water.
3. Turmeric Night Serum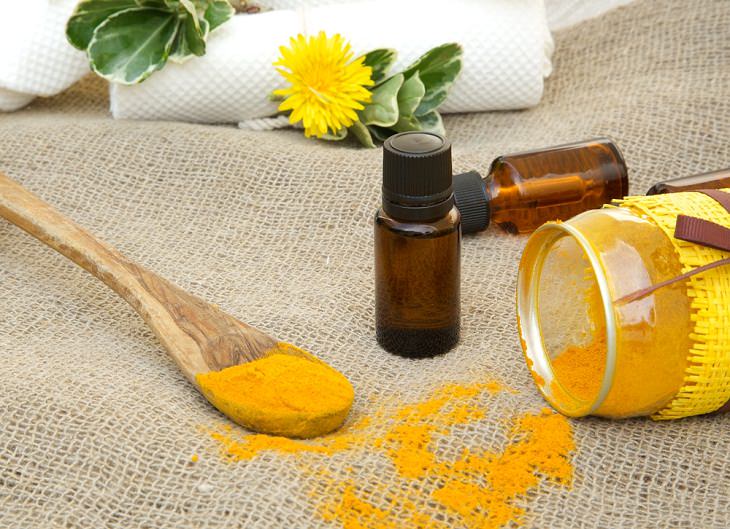 This turmeric face serum can give luster to your face and remove dullness from the skin if used three times a week.
1. Mix 10 drops of turmeric essential oil with 4 tablespoons of aloe vera gel and 1 teaspoon of argan oil.
2. Apply to the face before bedtime.
3. Wash properly in the morning.
Do note that if you have a light skin tone, this serum may leave a temporary yellow tint on your face. In that case, you can wash your face with milk and then rinse it thoroughly with warm water to get rid of the stain.
Related: Turmeric Stains Are Such a Nuisance! Learn to Remove Them
4. Turmeric Muscle Rub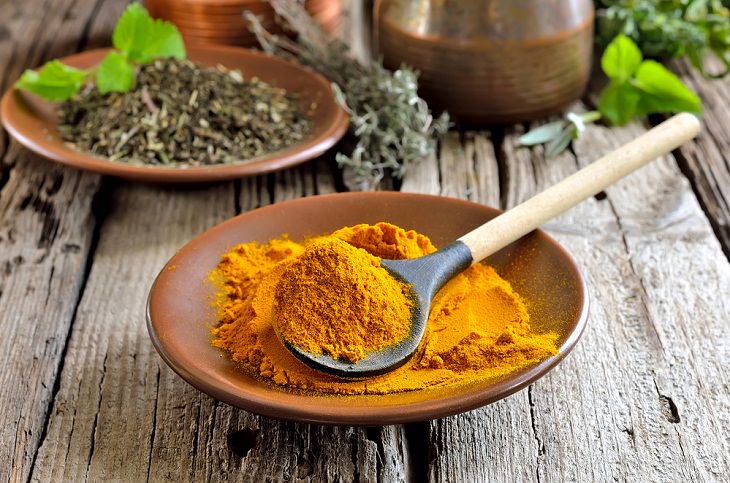 This relaxing muscle rub includes many essential oils and can make your skin supple and healthy. It will also relax your muscles and make you feel calm.
1. Mix 7 drops of turmeric essential oil, with 5 drops of peppermint essential oil, 5 drops of orange essential oil, and 4 drops of black pepper essential oil.
2. Add 3 tablespoons of avocado or grapeseed oil to the mix.
3. Mix well and pour it into a bottle. Shake well to combine.
4. Apply the liquid onto the shoulders, knees, calves, and hands.
5. Let it sit for 15-20 minutes, then wash thoroughly.
If you like this recipe, you can double the amount, and it will last you for a few months. Just make sure you shake it well before every use.
Related: 5 Wonderful Facial Scrubs You Can Easily Make at Home
5. Turmeric Body Scrub
This turmeric body scrub will exfoliate your skin and leave it super smooth and soft. It can also prevent acne and blemishes and remove scars and dark spots from the face.
1. Mix 2 tablespoons of turmeric powder along with 1/2 cup of granulated sugar, 1/2 cup of brown sugar, 1/4 cup of almond oil, 10-12 drops of cinnamon bark essential oil, and 3-4 drops of Vitamin E oil in a bowl.
2. Pour into an airtight container and shake well.
3. Apply the turmeric body scrub in the shower. Pay special attention to rough spots such as the feet, elbows, knees, and shoulders. Leave the scrub on for about 10 minutes, and then rinse it off with water.
This turmeric body scrub will last you for at least a month!
Share this post with your loved ones!