We've been told to only shop for essentials and abide by strict rules of social distancing when we go shopping for months now, but the pandemic seems to have gotten only worse and worse, especially in the past month. So, is there really any point in giving up in-store holiday shopping this year? How likely is a person to contract Covid-19 while shopping at grocery stores, big-box stores, and shopping malls? Until not so long ago, medical experts really weren't sure just how risky indoor shopping was, but it seems like the risks are even higher than they previously thought.
How risky is in-store shopping?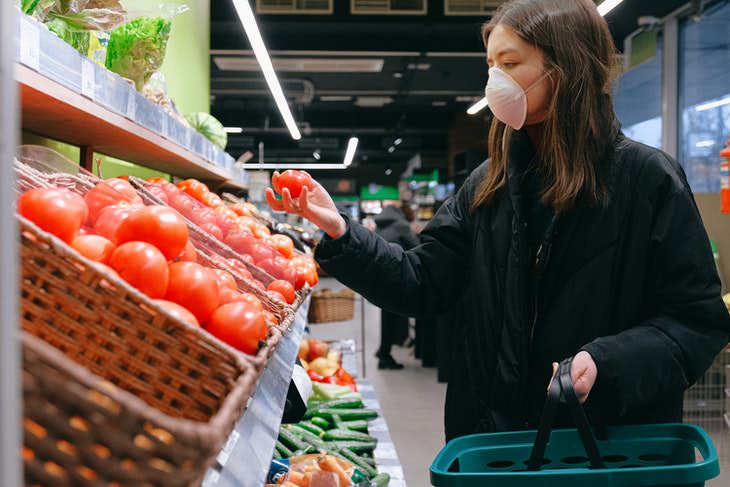 One American city that has experienced a rapid surge in new Covid-19 cases recently was El Paso, Texas. According to the city mayor Dee Margo, a summary of contact tracing found that "55 percent of the positives were coming from shopping at large retailers, what we'd term as the big-box stores."
These alarming rates are unfortunately realistic, and medical experts agree that rates of new infections contracted in-store similar to those seen in El Paso could occur in other places as well. As David Hirschwerk, an infectious diseases physician in Manhasset, New York, told Healthline, "since most communities in the country are experiencing surging rates, the risk of indoor shopping is concerning and real."
Hirschwerk further explained that many different factors influence the risk of in-store shopping, such as the number of people shopping at a store, how long it takes for you to shop, and whether you're shopping indoors or outdoors. The infectious disease expert pointed out that it's preferable that you shop outdoors if the climate allows it, and also favor places with fewer shoppers to make social distancing easier.
You should also come to the store equipped with personal protection equipment, as well as a precise shopping list in order to spend as little time in the actual store as you can.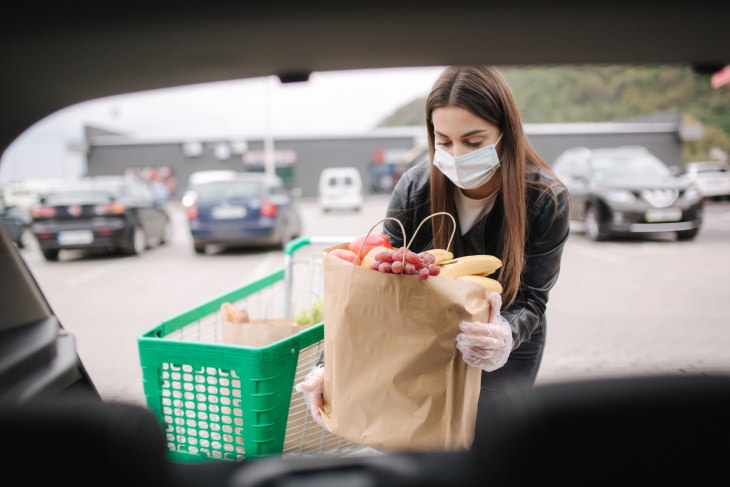 A recent study also pointed out that low-income areas are at a much greater risk of contracting the virus in stores - almost twice the risk compared to high-income areas. Stanford researchers tried to locate the most high-risk places in 10 big cities across the US, analyzing cellphone data from nearly 100 million people, and they found that busy stores in low-income areas were the riskiest of all public spaces.
This is most likely because these businesses are typically much smaller and more crowded than businesses in high-income areas and other public spaces, hence the risk to breathe the same air as a Covid-19 patient is much higher.
If the circumstances don't allow you to shop online, outdoors, or in spacious and uncrowded spaces, take extra good care at maintaining social distancing rules and follow the tips we suggested in our Covid-19 shopping guide:
5 Rules For Safe Food Shopping During the Coronavirus Pandemic.
Even though these precautions won't be able to eliminate the risk of contracting the coronavirus completely, things like mask-wearing and social distancing have been found to greatly reduce those risks.
Covid Fatigue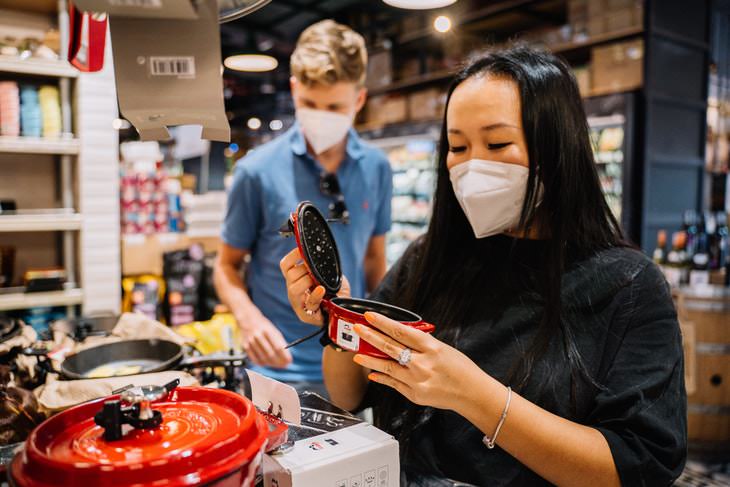 Another important risk factor responsible for an increase in Covid-19 cases is a phenomenon dubbed "COVID fatigue". The new term basically refers to the feeling many people get that they're so tired, discouraged, and have been isolated for so long that they've given up on social distancing and self-protection. This type of risky behavior and disregard of the social distancing rules is an unhealthy way people try to cope with the stress piling up on their shoulders.
Though this kind of behavior may provide you with short-term relief, it's actually not beneficial to you in any way and may lead to disastrous results. If you're feeling like giving up on Christmas shopping is just too much or you feel overwhelmed by everything that's going on right now, try practicing stress relief tips, such as those we've mentioned in a previous article titled 7 Healthy Ways to Cope with Coronavirus Anxiety.
Also, try being more self-aware and ask yourself, "Are my actions beneficial to me, or are they the result of stress?" Even if it's hard, being honest with yourself and aware of your own reactions is extremely important. Instead of shopping, try to focus on other activities that make you happy and more relaxed, and whenever you can, opt for online shopping and delivery. We hope you found this information helpful.
Share this information with family and friends!