1. Doi Inthanon National Park, Chiang Mai, North Thailand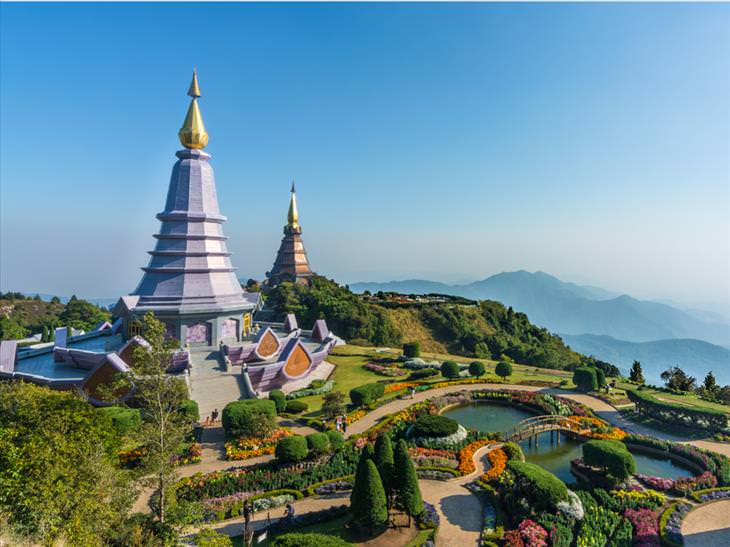 This nature reserve in northern Thailand includes the country's tallest mountain, which stands 8,415 feet at its peak. In addition, the area includes a gorgeous cloud forest, waterfalls, and exotic plant life. The park is spread over 186 square miles, and features two pagodas built on the mountain in honor of the Thai king and queen. The rich, green foliage and exotic, colorful flowers are a great testament to the beauty of Thailand.
2. White Temple, South of Chiang Rai, North Thailand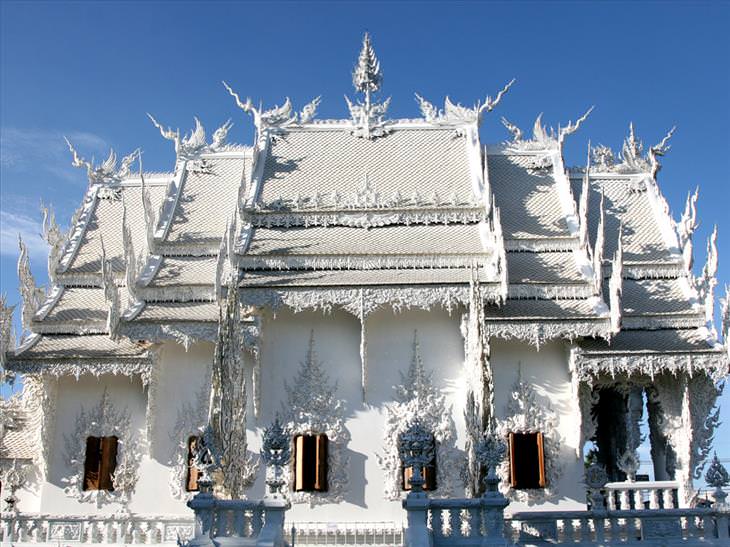 This one-of-a-kind temple was erected in honor of the previous king of Thailand. Though at first glance it looks traditional, right next to the images and statues of the Buddha and the complex artwork, there are murals depicting images from popular culture. Some of these sculptures can be downright bizarre and disturbing! Nevertheless, be sure not to miss this surreal place - you won't regret it.
3. Wat Phra That Doi Suthep Temple and Bell Temple, North Thailand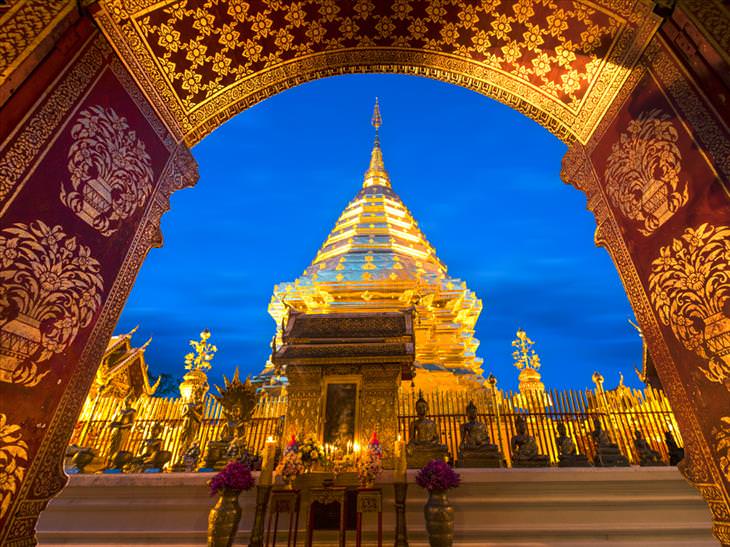 This temple is located on the slopes Doi Suthep Mountain next to the city of Chiang Mai in northern Thailand, and boasts an incredible view from its 3,280-foot-high location. After you reach it by cable-car, make sure you see the beautiful and famous dragon staircase. This temple is the second most important in the country (after the Emerald Buddha temple).
4. Royal Palace, Bangkok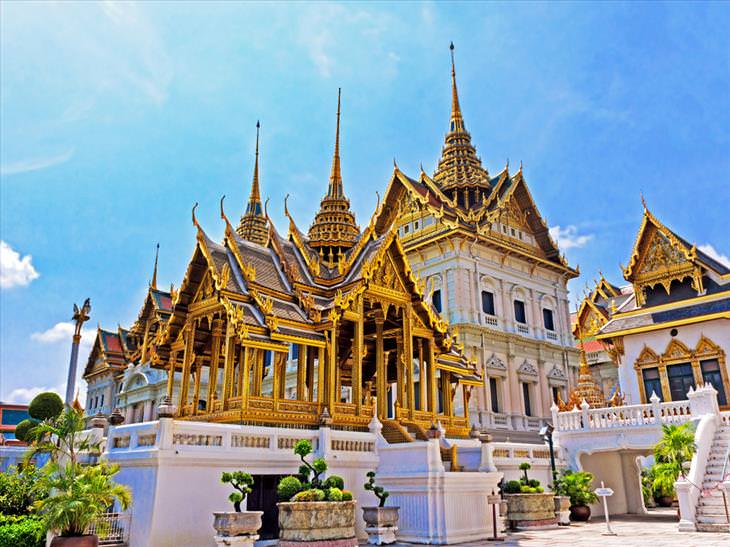 This palace has been the residence of the kings of Siam (Thailand's previous name) since 1782. Today, it is mostly used for the Thai monarchy's official ceremonies. It's also home to the Emerald Buddha temple, the most important in the country. Its exterior is a combination of traditional Thai and classic European architectural styles, while the beautiful interiors are loaded with ancient artifacts and marvelous decorations, making this a must-see attraction.
5. Wat Pho Temple, Bangkok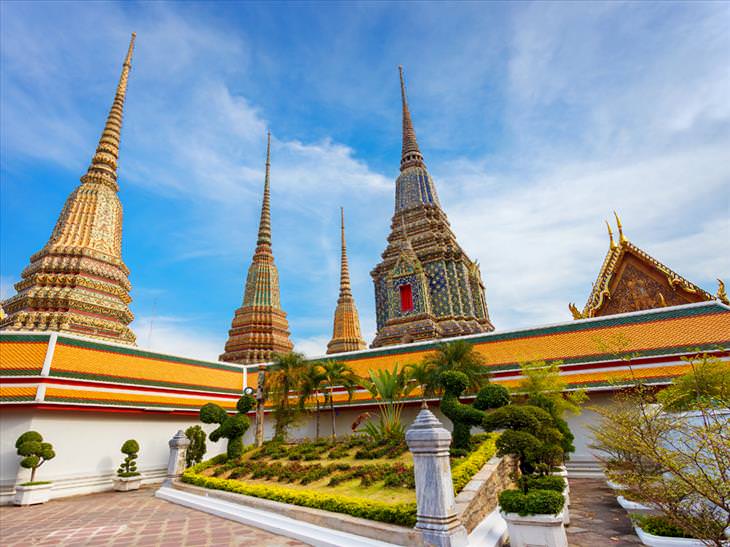 Also known as the Temple of the Reclining Buddha, Wat Pho is one of the oldest temples in Thailand. The Reclining Buddha is 43 meters (141 feet) long and stands 15 meters (50 feet) tall. In addition, the compound houses over 1,000 Buddha statues, as well as special structures that are said to contain the ashes of Buddha himself. It's customary for visitors to place coins in a few of the 108 bowls representing the qualities of Buddha, believing it brings good luck.
6. Khao San Road, Bangkok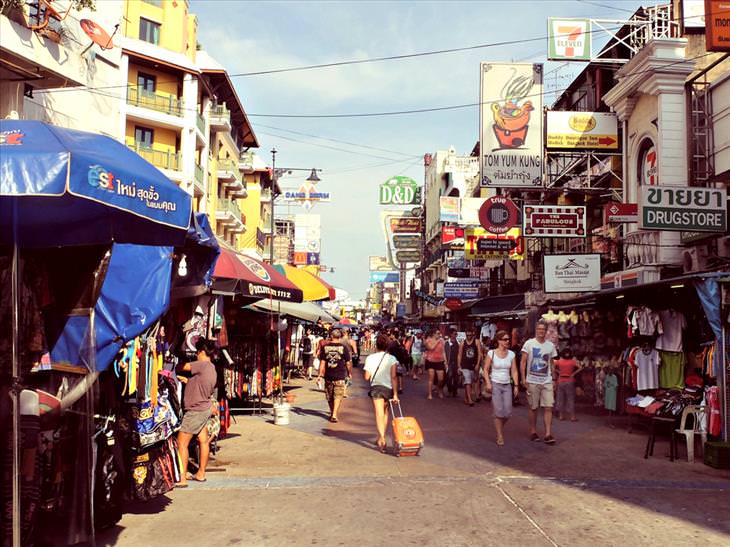 This bustling road offers a highly sensory experience and is truly representative of Bangkok's limitless energy. Here you'll find endless rows of stalls offering food, memorabilia, fabrics, or pretty much anything you can imagine. Bars and restaurants also abound, acting as gateways to Thai culture. Be warned though, it's a great place to immerse yourself, but it's not a place for fine dining.
7. Sam Roi Yot National Park, Central Thailand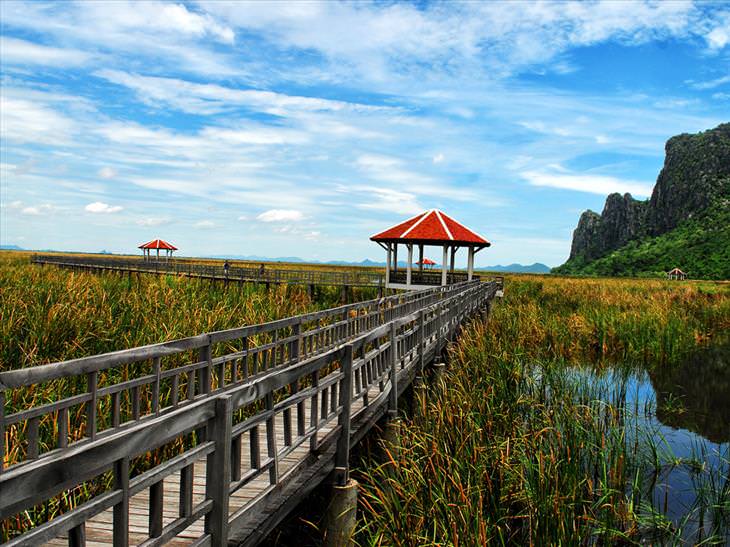 Dramatic peaks, virgin beaches, picturesque fishing villages, huge caves, and even a jungle can all be seen here. This national park, also known as the Mountains with 300 Peaks, is breathtakingly beautiful. Its best known location is the Phraya Nakhon cave, which contains a Buddhist shrine and is open at the top, allowing the sun's rays to shine in. The best time to see the cave's illuminated throne is between 10.30 and 11 am.
8. Erawan Falls, Central Thailand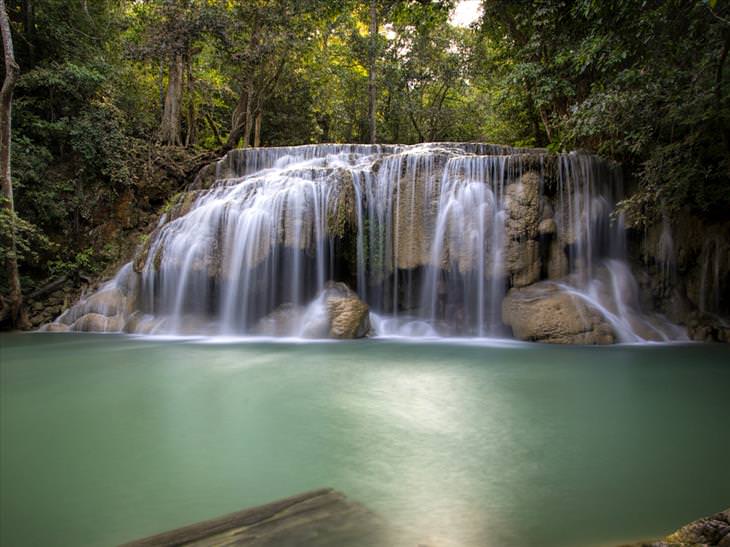 Erawan Park is a three-hour drive from Bangkok. Its signature feature is its breath-taking waterfalls, among the most beautiful in Thailand. The Erawan Falls drop down seven "stairs" that create beautiful pools beckoning visitors to come in and enjoy the water. The surrounding green jungle adds an atmosphere of seclusion and privacy. Don't forget your swimsuit!
9. Kaeng Krachan Reserve, Central Thailand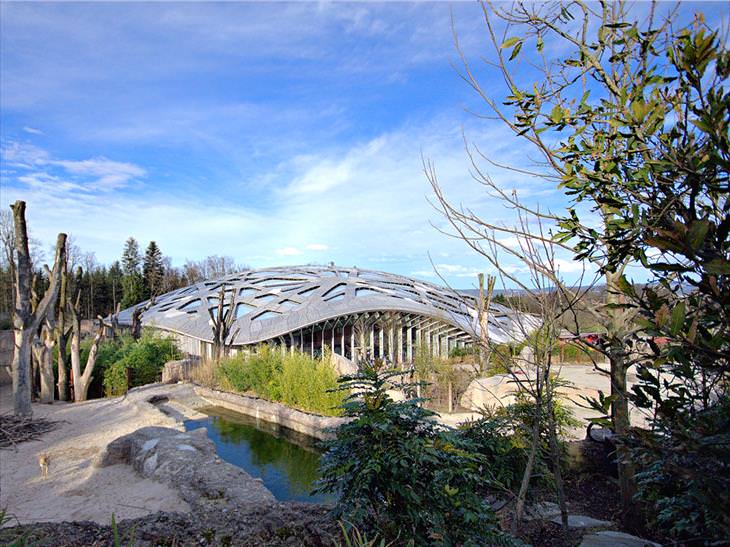 The biggest nature reserve in Thailand is a two-hour drive from Bangkok. Spread over an area of 1,865 square miles, it's full of waterfalls, rivers, caves, a plethora of wild animals, and rich plant life. It has something for everyone, from trekking lovers to families with small children. If you happen to love nature and enjoy walking, swimming, and amazing views, then you should definitely check out this place.
10. Holy City Hill (Phra Nakhon Khiri), Central Thailand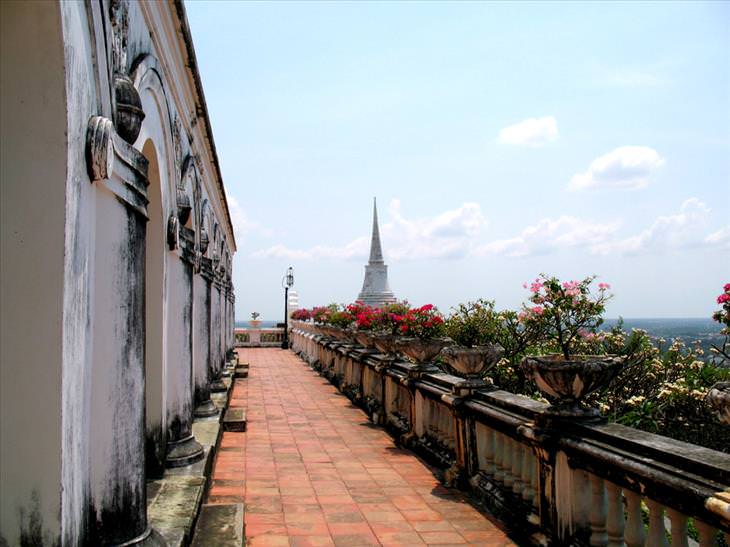 The holy city is Phetchaburi, one of the most ancient in Thailand. It's most interesting location is Holy City Hill, a complex of temples found on three hills above the city. There are also palaces and even an observatory. If that's not enough for you, you can enjoy the stunning gardens between the temples. You'll probably spot a few of the monkeys allowed to run freely in the area.
11. Khao Lak, South Thailand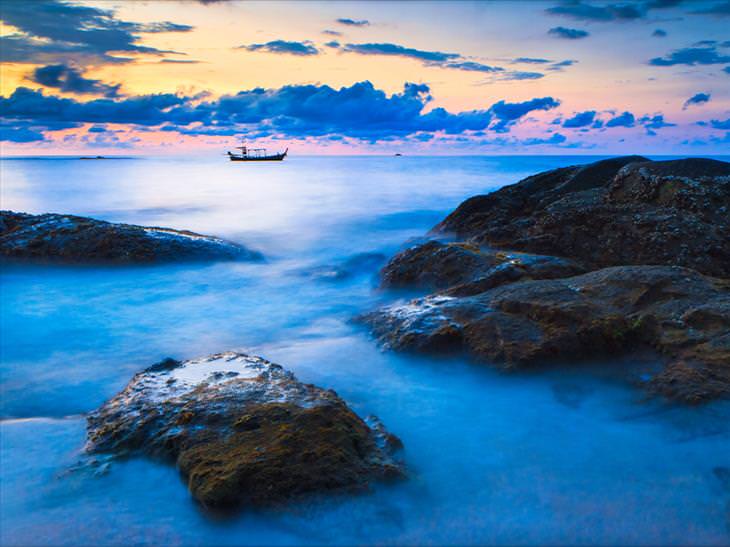 This is the name of an area containing several beautiful villages. There are plenty of wonderful beaches with crystal-clear water, white sand, and mountain views for you to enjoy. Because this is a vacation area with a superb reputation, you'll find great hotels and plenty of places to dine, with many of these being located right on the beach.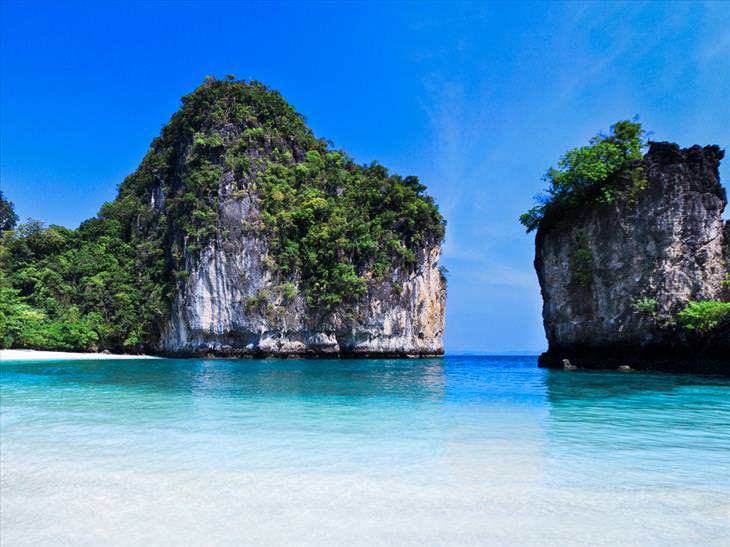 Thailand has been blessed with several incredible islands, and it's very hard to choose between them. So, rather than tell you about the famous ones you already know about, here's one you may not have heard of. Koh Hong Island in southern Thailand is know for its sapphire-blue waters, white sandy beaches, stunning lagoons in which you can enjoy a kayak tour, and many other adventures. This little gem can fulfill your tropical island fantasy.