10 warning sign symptoms
Unfortunately, the early stages of cervical cancer lack both visual and physical symptoms. In the onset stages these are the typical symptoms:
1. Leg pain - Some women experience swelling and pain in their legs. This can even be in the early stages. What happens is that the cervix swells, leading to an obstructed blood flow, causing the leg to swell and a feel a painful sensation.
2. Vaginal discharge – Normally women will have small amounts of clear, odorless discharge. If the amount increases accompanied by an unpleasant smell and an irregular occurrence, this could signify the onset of cervical cancer.
3. Unexplained vaginal bleeding – This is the most common of all the symptoms. If a woman has vaginal bleeding outside of her period or if she is postmenopausal, this can indicate cervical cancer. If one experiences ongoing bleeding in between menstrual periods or after sexual intercourse, contact your physician.
4. Discomfort during urination – This more obvious symptom is described as a tight and concentrating stinging sensation when urinating, although it can feature other discomforting sensations. It's important to keep track of your urinal patterns. If there are urinary symptoms, it can mean the cancer has spread to nearby tissue and you should consult with a physician for immediate attention.
5. Irregular urination – Changes in your urinary frequency and appearance can indicate cervical cancer. If you notice more frequent urination, your urine is discolored or with blood, or there are noticeable changes to your regular routine and the development of incontinence (loss of bladder control) you should seek medical input from a professional.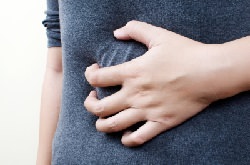 6. Pelvic pain – Although a fairly routine burden of being a women, if pains and cramps last for long bouts frequently, with pain more intense than regular and outside your menstrual period, this should be looked at by your doctor.
7. Back pain – This is a common symptom that can happen for a number of reasons, however if this is experienced along with a number of the other symptoms on this list, you should go for a medical check-up.