You know what goes together like onions and peanut butter? Car seats and puffy coats. Fall is well and truly here, and winter is just around the corner, so let's discuss why this combo isn't great for riding in the cold.
We're used to bundling up for cold weather, but car seat safety experts are warning parents to do otherwise. While some of you may have already experienced difficulty when buckling the children up in bulky outwear, there's also a safety concern.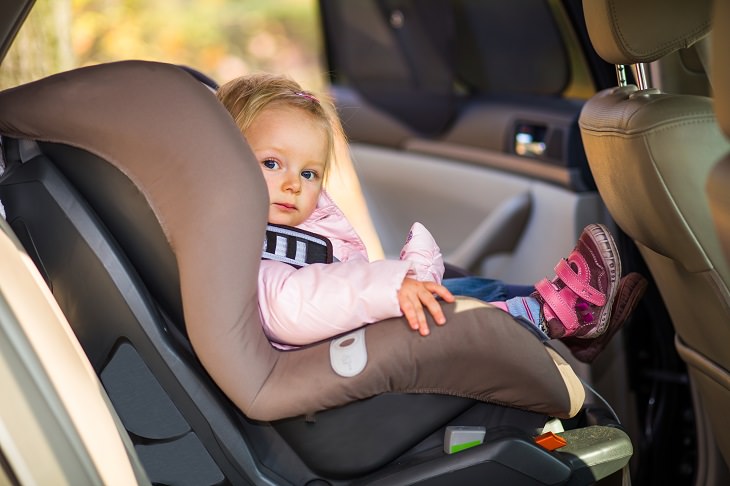 The American Academy of Pediatrics state that winter coats create too much slack under the car seat's harness. It may feel snug when you strap them in, but there's actually a gap between your child's body and the harness that's buffered by the coat. The puffier the coat, the greater the risk.
Therefore, if you get into an accident, the coat compresses, leaving your child vulnerable to loose safety restraints and thus injury. The video below demonstrates how to tell if the straps are secure enough on your child:
Normally, when you carry out the pinch test, you shouldn't be able to grab hold of the strap's webbing. No pinch would indicate that your child is strapped in securely, but as is shown in the video above, this is extremely deceptive, and there's a lot of slack between the baby and the harness. This means your child could slide out during impact or suffer from strap-related injuries.
If you're worried about putting a coatless child into your car, the American Academy of Pediatrics has a few different suggestions for you:
• Warm up the car and dress your child in thin layers for riding.
• Buy a coat-friendly car seat.
• Place the coat over your child like a blanket once they're properly strapped in.
• Snap your kid into the seat and then put the coat on backward, over the safety harness, and slip their hands through the armholes.
• Keep an emergency kit in your car which contains blankets, snacks, winter clothing, and water.
It's up to you to choose what works best for your commutes. We know it seems like something else you need to worry about when you hit the road, but safety comes first. If in doubt, you can always visit your local fire department or other professionals for a car seat inspection.

Source: tiphero
Images: depositphotos