The heart is one of the body's most vital organs and is also central to life as it pumps blood throughout the body via the circulatory system. Therefore, it's crucial to keep your heart in good health. Unfortunately, the human heart can experience a range of issues that can affect its ability to function properly. Coronary artery disease, caused by plaque buildup in the wall of the arteries that supply blood to the heart, is one such common heart problem. The CDC estimates that 20.1 million adults age 20 and older have coronary artery disease in the USA, and it was responsible for the deaths of 382,820 people in 2020.
Related: The BEST Walking Routine For Seniors
Experts have been constantly trying to find ways to improve the health of people with coronary artery disease, and one new development has given hope in that regard. A recent study published in the Canadian Journal of Cardiology found that Nordic walking is better than other workouts for heart health.
The researchers investigated the impact of different types of exercise on people with coronary artery disease. Their results revealed that Nordic walking – brisk walking with poles – improved the mental and physical health of the participants more than other types of exercises.
Nordic walking to improve heart health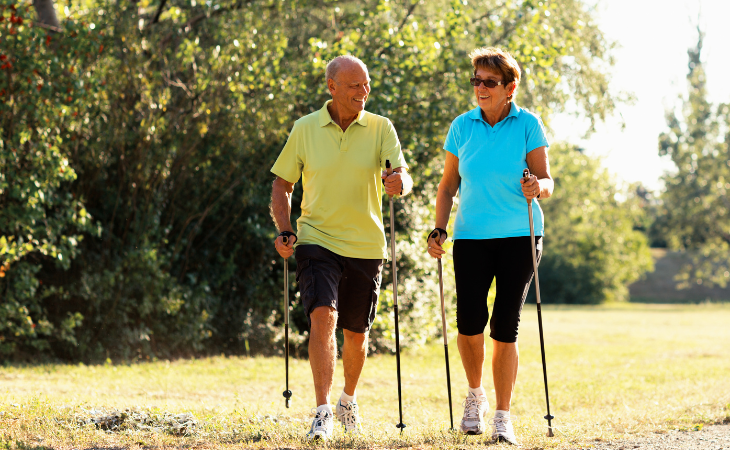 The study involved 130 participants with coronary artery disease. The researchers asked them to complete a 12-week workout program, which involved one of three different types of exercises:
* High-intensity interval training (HIIT)
* Moderate-to-vigorous intensity continuous training (MICT)
* Nordic walking.
The team used a 6-minute walk test to evaluate the participants' "functional capacity," which looks at a person's ability to complete activities of daily living. The researchers went one step further and even studied how these exercises impacted their quality of life and symptoms of depression.
They found that those doing Nordic walking scored better on the test than those doing high-intensity interval training and moderate- to vigorous-intensity continuous training. The study also revealed that while all the exercises positively impacted the participants' functional capacity, quality of life, and symptoms of depression, those in the Nordic walking group experienced the greatest benefit. The researchers noted that this is because Nordic walking increased functional capacity the most. The team measured all three parameters at the start of the trial, then at 12 and 26 weeks.
"If someone is looking for an alternative type of exercise, I think Nordic walking can easily be adapted for people who need Nordic walking poles, and it changes Nordic walking into a whole-body exercise," says Ph.D., of the University of Ottawa Heart Institute in Ontario, Canada. "In addition to using your legs to walk, Nordic walking also adds exercise for your upper body as well. You use your arms to move forward, and that can lead to greater energy expenditure."
Related: Want to Start a Walking Exercise? Here's How to Pick One
Other findings from the study indicated that from the beginning to the end of the course, the participants' physical activity went up significantly. Moreover, this improvement remained up through the 14-week observation period.
The study authors do note that, while their trial had a long follow-up time, future research should examine the prolonged benefits of different types of exercise, including Nordic walking. They also say that Nordic walking gives another option for exercise that could be beneficial for everyone's health.
The basics of Nordic walking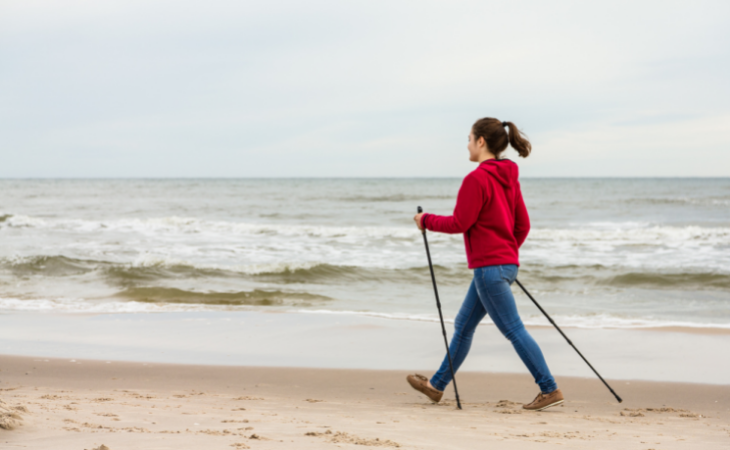 Experts say that patients with heart disease should increase exercise and physical activity. Since this new study shows that Nordic walking can be helpful for heart patients, let's explore the basics of this workout.
As we mentioned earlier, Nordic walking is a walking style that uses poles to help you move forward. As the name suggests, the activity came from Finland and has become popular all over the world. The activity requires specially-designed walking poles, which are attached to the hands through a strap. This walking style demands more effort than traditional walking, as you will be applying pressure to the poles as you walk with each step. During this workout, both your upper and lower body muscles will be stimulated more than they are during normal waking, which may lead to a considerable increase in heart rate at a given speed.
Related: 10 Common Walking Mistakes You MUST Avoid
According to the Journal of Physical Therapy Science, the primary purpose of using a pole in Nordic walking is to engage the upper limb muscles, which are not normally used in walking, and to "facilitate high-intensity exercise with the minimum effort by adjusting the energy consumption of the body."
Nordic walking is guaranteed to give you a highly effective all-over workout. In addition to improving your heart health, pole walking has other benefits too.
* It can improve your upper-body strength, cardiovascular endurance, and even flexibility.
* It uses a lot more muscles than regular walking and burns up to 46% more calories.
* It boosts your exercise capacity. This is because the activity will keep the weight off the lower body joints as the poles are supporting you and providing propulsion. But, at the same time, you will be working harder as you are bringing in your other body muscles.
* It increases oxygen uptake by around 11%-23%.
* It increases muscle strength as it helps people use all the muscles of the upper body and not just the lower body.
* It improves balance and posture by improving upper and lower body strength and steadiness.
* It can help lift your mood if you're doing the workout outdoors and somewhere scenic.
Let's now learn the basics of this technique: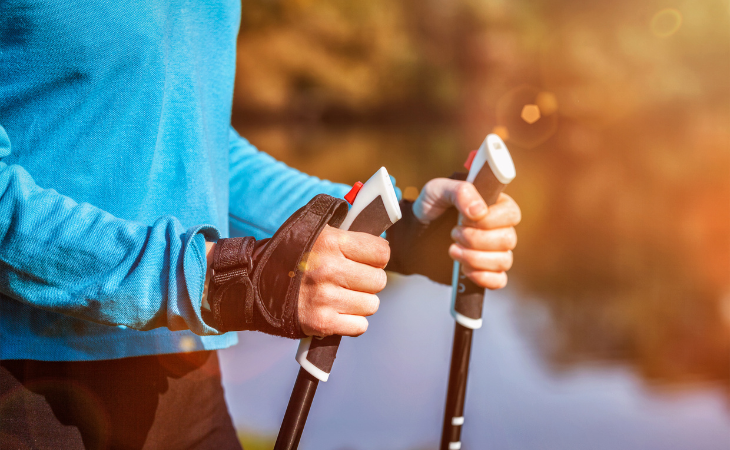 Purchase a set of Nordic walking poles.

Attach the poles to your wrist via pole straps.

Start walking naturally. Keep shoulders relaxed and down. Lean upper body slightly forwards.

As you get used to the poles, start taking longer strides than usual. Make sure you don't change the way you typically move your arms.

With each step, roll the foot from the heel to the ball of your foot.

Swing your arm from your shoulder and plant your poles at an angle to get forward propulsion.

Let your torso move naturally as you push off with the poles.

Start by covering short distances for about 15-20 minutes. You can increase the time and distance as you get used to the new exercise.
Watch this video to learn how to do Nordic walking correctly.