Just as summer brings a vibrant range of colorful, juicy fruits and vegetables, fall offers nothing less. In fact, fall is known for seasonal vegetables such as pumpkin, and fruits such as apples, both of which can be bought easily and abundantly when it's the right time. Apart from being easier on your wallet, fruits and vegetables that are in season "have their full, whole flavors intact, which they release to us when we eat them" (according to Susan Herrmann Loomis, owner of On Rue Tatin Cooking School in France), thus, they are more healthy. This contrasts with imported harvested foods, which tend to lose their moisture.
So, this fall, stock up your kitchen with some locally harvested goods and get inspired with our ideas on what you can do with them!
1. Blueberries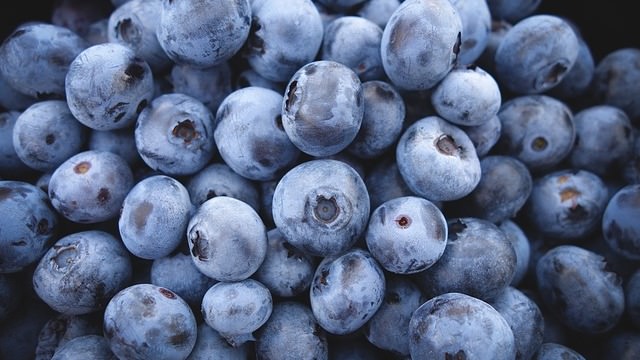 Although berries give the impression of being summer fruits, many varieties can be largely found throughout fall, including blueberries. Dietitian and blueberry farmer Kathy Cooley points out that her biggest crops of blueberries are in fact achieved during fall. Because of this rich produce, a good idea would be to freeze the berries to make use of them all year round.
Inspiration: Blueberries do not necessarily have to be used for desserts and sweet treats. Use them to create a blueberry sauce for your chicken or turkey to liven up your savory dish with that fruity tang.
2. Apples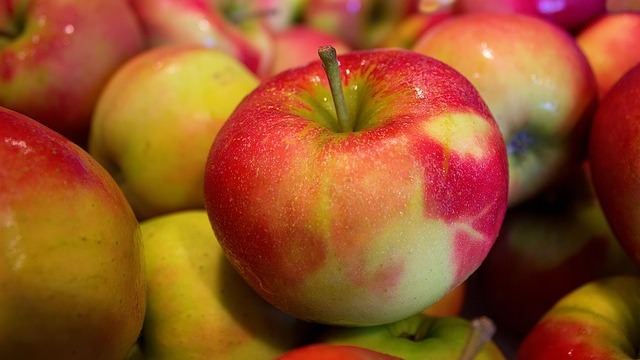 This light healthy snack is a fruit that everyone likes to take to work or to school. But, while they may be good fresh, there's more to apples than simply munching on their crispy texture. They're also good boiled and baked. Apart from that, apples come in different flavors, textures, colors and qualities. Some apples are grown purposely to be able to keep for several months, making them ideal for storing at home.
Inspiration: For breakfast, try adding some apple bits to your oatmeal or cereal snack. You could even add some cinnamon and brown sugar to enhance the flavor, both of which go amazingly well with this seasonal fruit.
See the health benefits of apples here.
3. Pears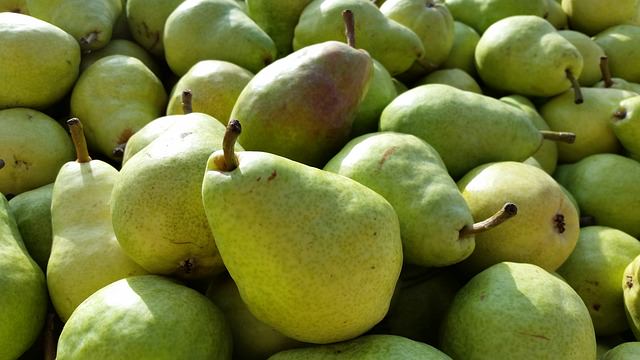 Pears, like apples, are bursting with fiber and are low in calories. They are easy to serve and are slightly sweet in taste, which also makes them very versatile. A good suggestion for buying pears is to buy them when they're still quite hard, because they tend to soften rather quickly. They can be ideal for cooking as a healthy and delicious ingredient too.
Inspiration: When you're preparing a salad, you may want to keep a pear at hand. There's more than one way to add pears to your greens - you can add them sliced, or even in the form of a dressing. You may even want to use pears with your breakfast cereal, oatmeal or scones.
See the health benefits of pears here.
4. Cranberries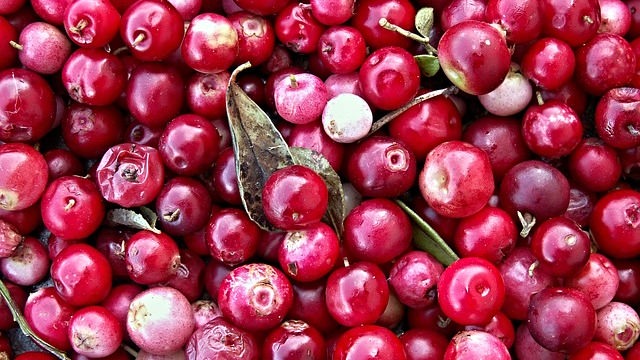 If there's one irresistible fruit that's available in the fall, it is definitely cranberries. Cranberries make for a delicious flavor to add to desserts, pancakes, and anything that needs some livening. They also go great with grain-based dishes, like quinoa and brown rice, which can easily be given some extra taste, without using sugars.
Inspiration: Cranberry is also a great ingredient to use in savory dishes, including meat or salads. Make some cranberry sauce to complement these dishes with a luscious taste. You can also make cranberry pancakes, smoothies, cookies, scones, oatmeal, or some cranberry maple syrup.
See the health benefits of cranberries here.
5. Pumpkin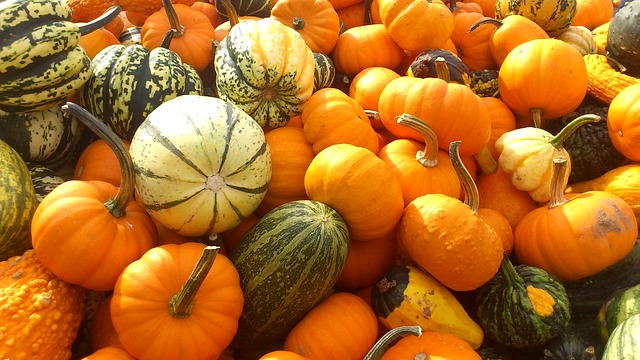 Of course, the most notable fall vegetable is the pumpkin, also famous for Halloween, both for its taste and its shape. If you want pumpkins with more flavor for your cooking, make sure you pick the smaller pumpkins over the bigger ones, since the bigger ones are stringy and lack flavor.
Inspiration: Pumpkins are great for making a puree. For preparation, it is recommended that you slice your pumpkins in half and remove the seeds before you place it in the oven on a cookie sheet for roasting. When soft enough, scoop the inside of the pumpkin and mash it up into a sensational puree, which can be used to make pancakes, burgers, soups and even pizza. It's also easy to freeze for later use.
6. Leeks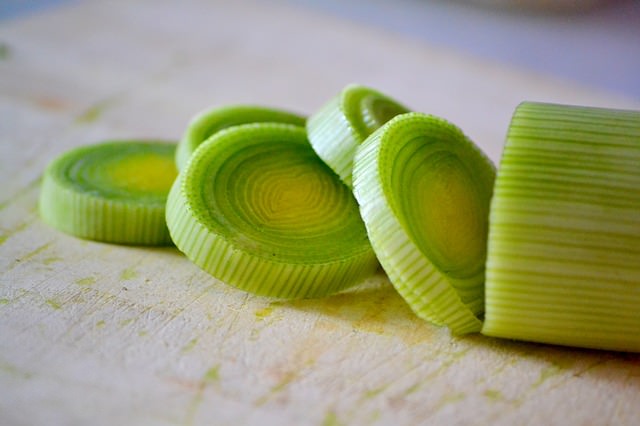 Leeks can be a perfect alternative to onions in the fall season, since they have a similar spicy taste. This taste is milder than that of onions, but leeks are richer in certain vitamins and minerals. Choose your leeks wisely when doing your grocery shopping - opt for ones which have firm, straight, dark green leaves and white necks, rather than those that have yellowish or wilting qualities. Store them in your refrigerator unwashed and untrimmed, but make sure you wash them well upon use.
Inspiration: Use leeks as an alternative to onions when cooking. You can make a scrumptious omelet, breakfast casserole, lasagna, or anything that needs more flavor, in the same way that you use onions. Alternatively, you may prepare leeks separately from other foods by poaching them (to add them in a soup), frying them (to serve as a side), or boiling them (as an alternative to frying). In all cases, you may choose not to chop the leeks but use them as wholes.
7. Brussel sprouts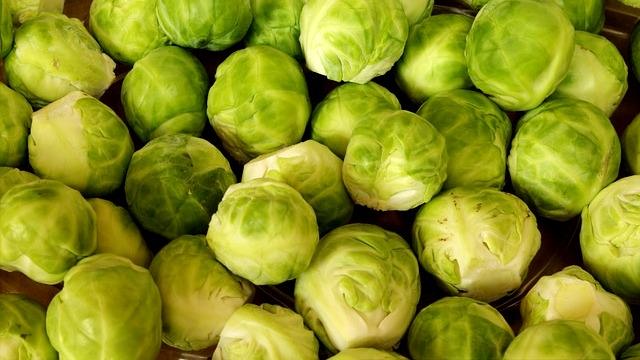 According to dietitian Katy Cooley, "Brussel sprouts are one of the best things about fall". They are sweet vegetables that are also packed with loads of valuable nutrients, lending them their terrific benefits. When shopping, pick Brussel sprouts that are firm, compact and bright green, and avoid those that have yellow leaves. Also, choosing a bunch of Brussel sprouts of equal size - this will make it easier for you to cook them evenly at the same time.
Inspiration: The healthiest way of cooking Brussel sprouts is to boil them, then eat them as a fulfilling snack. Add some flavor to them by adding honey, mustard sauce, salt and pepper, red onions, walnuts, vinegar, oil, or some cheese (such as feta or goat cheese). You may also want to roast your Brussel sprouts to use them as a side dish, or even add them to a pizza as an interesting topping.
8. Potatoes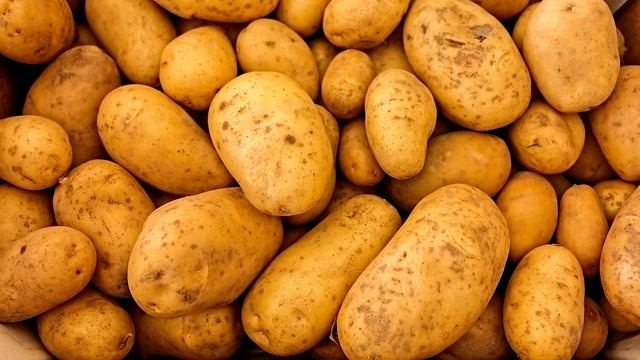 Potatoes are generally available all year round, but they are often preferred during fall, when many people tend to crave starchy, comfort food. They come in various varieties, such as red, white and sweet potatoes, which are also great together. If you want potatoes that are good for mashing, look for Russet potatoes, which contain more starch and hence become fluffier once cooked, compared to other potatoes.
Inspiration: We all know that potatoes are very versatile when it comes to cooking them. Bake, mash, boil, roast or fry potatoes to obtain amazingly varied results. You may also make a soup out of potatoes, create salads, or give them a sweet twist by making potato biscuits.
9. Parsnips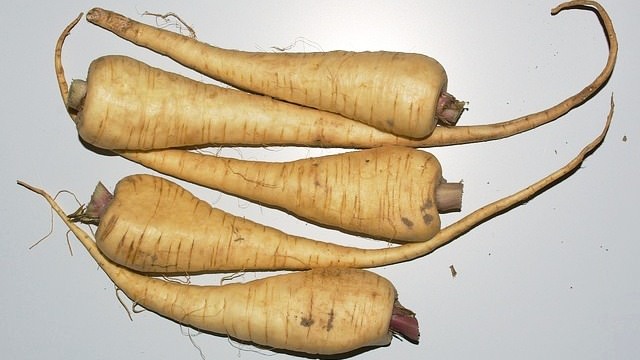 Parsnips' texture is similar to that of carrots, but their properties vary. Parsnips are a richer source of vitamin C, and they've got more of a spiced flavor (similar to nutmeg and cinnamon) when compared to the sweeter taste of carrots. Because of this, parsnips make for an interesting ingredient to experiment with in the kitchen.
Inspiration: You may slice your parsnips raw to add a spicy crunch to your salads. Surprisingly enough, some people even use them as an alternative to French fries. They are also perfect to use for soups and stews, and stir-frying them with other vegetables may create one yummy side dish.
10. Broccoli and Cauliflower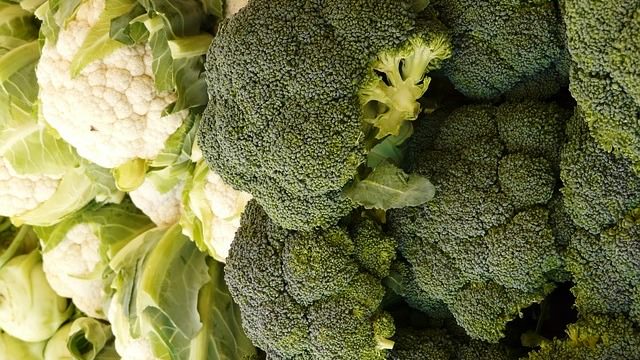 The nutrient content of broccoli and cauliflower, two different vegetables that come from the same family, makes them two of the most recommended vegetables to add to your dishes. And they're found in abundant amounts in the fall season. There are so many different ways to incorporate these two great low-calorie vegetables to your cooking.
Inspiration: Stir up broccoli to make the perfect base for a soup, with which you can also add other interesting vegetables. You may add both broccoli and cauliflower to your stir-fry vegetables, or boil them, for a delectable side dish. Another idea is to use these vegetables, cooked, for blending together with some creamy pasta sauce. Furthermore, you may combine cheese and cauliflower in the oven to create one devouring dish with irresistible, melted cheese, which is also super simple to prepare. For a raw way of using these two vegetables, you could even use them to dip into hummus or any other dip of your choice.
See the health benefits of broccoli here.