Presenting, one of the latest recipe sensations on the internet and the newest favorite craving for those lucky enough to have tried it. In case you haven't heard about it yet, I'm referring to none other than the Mississippi Pot Roast recipe, which has been recently described by The New York Times as "the roast that owns the internet". This recipe, as you will see, contains just 5 ingredients, which honestly, are nothing out of this world - but take my word for this - their combination is!
Apart from requiring zero effort and giving irresistible results, this recipe is not only perfect for your special Sunday lunch. It also makes an excellent leftover stuffing for your weekday sandwiches - meaning you can even take this delight with you to work (expect lots of envious looks if you take our suggestion).
All you need to enjoy this succulent meaty dish are the following ingredients:
13-pound chuck roast

11-ounce packet of dry ranch seasoning mix

11-ounce packet of dry au jus gravy mix

6 tbsp. unsalted butter

¼ cup water

5-6 pepperoncini
This recipe serves 8-10 people.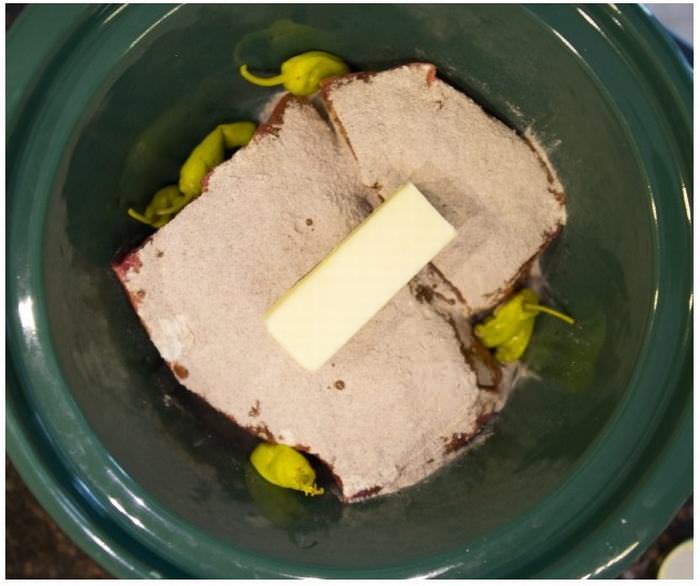 Image source: tablefortwoblog.com
The preparation time is only 5 minutes, but for the best results, it requires a cooking time of 8 hours in a slow cooker.
Directions:
1. Pour water into the insert of your slow cooker and place the chuck roast in it.
2. Add the dry ranch seasoning mix over the chuck roast, followed by the dry au jus mix. Place the butter on top and the pepperoncini around the roast.
3. Cook on low for 8 hours.
May also interest you:
Ideas on how to serve:
If you want to include vegetables, such as carrots, potatoes and celery, you may add them to your slow cooker to cook along with the roast. Do this 2-3 hours before finishing time. Serve all together.




You may serve the meat mixture with a side of mashed potatoes and vegetables, or perhaps on a bed of white or brown rice.




Don't forget to add gravy for the ultimate flavor (if you're doing this, make sure you don't include too much salt with the sides, since gravy tends to be very salty itself).




For a more casual serving, use the mixture as

stuffing

for baguettes, ciabattas, sandwiches or wraps, and serve them alongside some salad.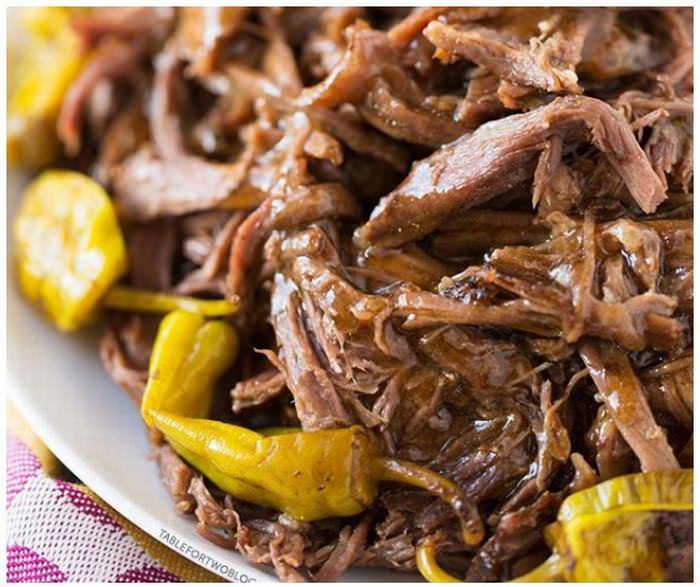 Image source: tablefortwoblog.com
Finally, enjoy!
Recipe from Table For Two, Adapted from Fake Ginger