Most of us use Microsoft Windows on our computer - It's quite simple and user-friendly (for the most part), and have made computers more accessible in the last 2 decades. We all know you can use it to write basic text documents or use the built-in calculator, play music and movies with the media player, play some fun games like Solitaire or MineSweeper, and surf the web with Internet Explorer (or at least use it to download a better web-browser). But Windows also has some great programs that are pre-installed, and can be amazingly helpful!
(This guide refers to Windows 7 & 8 – if you have Windows XP, some of these programs do not exist for it, so I added a few links to free, alternative versions)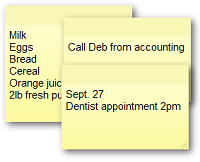 1. Sticky Notes (

/

)
"Sticky Notes" is a great program that works like PostIts™ for your computer and is accessible directly from the

menu.
If you need to add a note, hover with the mouse along the top of an existing note and click the + sign on the top leftmost part of the note.
If you want to delete an existing note, click the x sign on the top rightmost part of the note.
*Windows XP doesn't have this feature, but a similar software is available HERE.
2. Snipping Tool (
/
)
The Snipping tool is great if you need to take a screenshot of a part of your screen - whether it's for technical support, or just to show something to a friend. To launch it, click on the
button and select Snipping Tool. (If it's not available in the main start menu, go to: All Programs > Accessories)
*Windows XP doesn't have this feature, but a similar software is available HERE.
3. Remote Assistance Tool (
/
/
)
One of the most useful tools built into windows is the remote assistance tool. If you're having computer problems and need someone's help, but the only person available is somewhere else, you can invite them to remotely connect to your computer and help you out. Alternatively, you can use it to access your home computer from work, and visa-versa. This tool is secure, giving you control over who's allowed to use the remote access, as well as for the duration of the session.
To locate this tool, us the start menu search-bar and type "windows remote assistance".
4. Problem Steps Recorder (
/
)
If you choose not allow another person to remotely access your computer for help, but still need to show them a problem you're encountering, the problem steps recorder is the next best thing! To find it, use the
menu's search bar and type psr. Click Start record, reproduce the problem, and then click Stop record. Save the recording and send the .Zip file to the person that is helping you.
*Windows XP doesn't have this feature, but a similar software is available HERE.
5. Math Input Panel (
/
)
A great utility if you're planning on copying mathematical formulas and equations, but having a hard time finding the right mathematical signs. To launch it, click on
, go to All Programs, then Accessories and choose the Math Input Tool. Use the mouse (or if you have a touch-screen – your finger/stylus) to write down the formula. If something comes out incorrectly, use the Select and Correct button to correct it, or the Undo button to go back and start again.
*Windows XP doesn't have this feature
6. Windows Firewall (
/
/
)
A "Firewall" is a program that helps limit external access to a computer from a network (whether it's the internet, or a local network like many companies have) – basically, it's like locking the front door to your house. It's a great security software and luckily – Windows comes with one built-in! To activate and fine-tune it, click on the
menu, select Control Panel > System and Security > Windows Firewall.
*For an in-depth explanation of the firewall's settings, go HERE.
7. Defrag & Analyze Hard-Drive (
/
/
)
These 2 tools are available in the same place, and when you choose to defrag your hard-drive, it will be analyzed first. The defrag tool has been around since Windows 95, and it is still useful today. During the day-to-day use of a computer, files are written, deleted, rewritten and moved around all the time. This causes a fragmentation in the order of the data on your hard-drive, which in turn, slows down your computer. The reason is that classic hard-drives are magnetic discs which use a reading needle (not unlike the old record players), and the more spread out the data is, the longer it takes the needle to find and read it. The defrag tool analyzes the hard-drive and reorders data into clusters, making it easier to access. It's important to note, however that, if you have an SSD hard-drive (a new generation of hard-drives), it doesn't require defragmentation since it's not mechanical. To access the defrag tool, click the
button, go to All Programs >Accessories > System Tools > Defrag.
8. Task Scheduler (
/
/
)
The final piece of software you might need but didn't know you have – is the Task Scheduler. This program allows you to add and edit scheduled tasks for your computer.
To activate the scheduler, launch the
menu, click Control Panel > System and Security > Administrative Tools > Task Scheduler.‌
Whether it's launching a program or displaying a message when you turn on the computer, the scheduler has many uses! You can even turn it into an alarm-clock by using the media player: