This beautiful pie is not only a creative delight; it's also unusually delicious and will get everyone's attention at any meal. This is one recipe you have to try.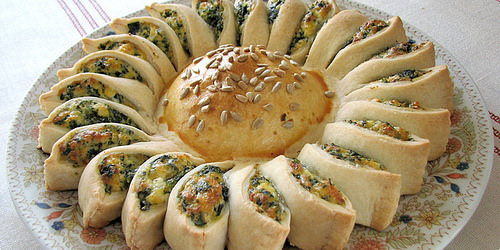 Ingredients – Dough:
1lb (500g) all-purpose flour

1/3 cup olive oil

3/4 cup dry white wine

1 tsp. salt

A dash of sesame seeds (optional)
Ingredients – Filling:
12oz (350g) poached spinach leaves

12oz (350g) ricotta cheese

1 egg

3oz (80g) parmesan cheese (grated)

A dash of breadcrumbs

Salt and pepper (to taste)
Preparation:
Combine the ingredients for the dough in a mixer and blend. Once the dough is consistent, form 2 equal-sized balls and place in shrink-wrap, and then set aside.

In a bowl, combine the ricotta and spinach. Add the egg, parmesan, salt and pepper.

Using a rolling pin, create 2 flat circles of dough, roughly 12" (30cm) in diameter.

Before adding the filling, use the breadcrumbs to create a "barrier" between it and the dough. Create a barrier ring adjacent to the rim and another circle in the center.

Apply the filling on top of the breadcrumb barrier. It should look like this: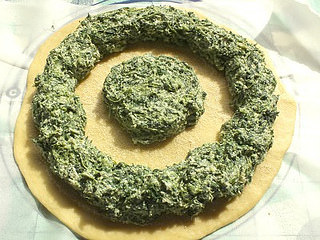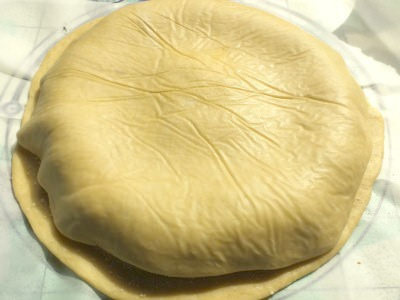 Preheat the oven to 350°f (180°c).

Seal the edges by using a fork for a more aesthetic look.

Place a bowl in the center of the dough, lightly pressing it down to create an indentation in the area between the internal and external filling.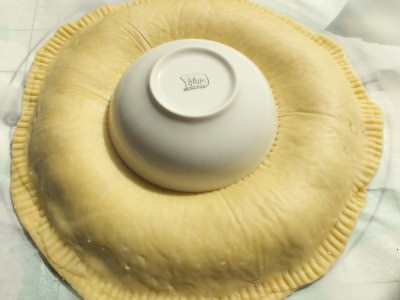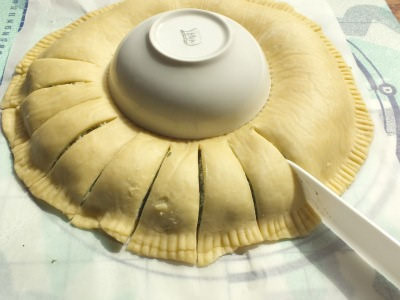 (Optional: brush the center with egg and sprinkle sesame seeds over it.)

Bake the pie for 30 minutes, or until the dough turns a light brown.
Now you can impress your dinner guests with your amazing sun-pie!