This recipe is loosely based on my beloved grandmother's favorite dish - tofu spinach pie. The main difference is that I have adapted it slightly to incorporate the sweet flavors of kabocha and the fragrance of rosemary. If you don't have kabocha, then butternut or buttercup squash are equally delicious substitutes. The presence of tofu helps to make the filling hearty without being too heavy, and it's especially wholesome when it is baked in a whole wheat olive oil crust.
Savory Kabocha Tofu Pie (Makes One 9" Pie)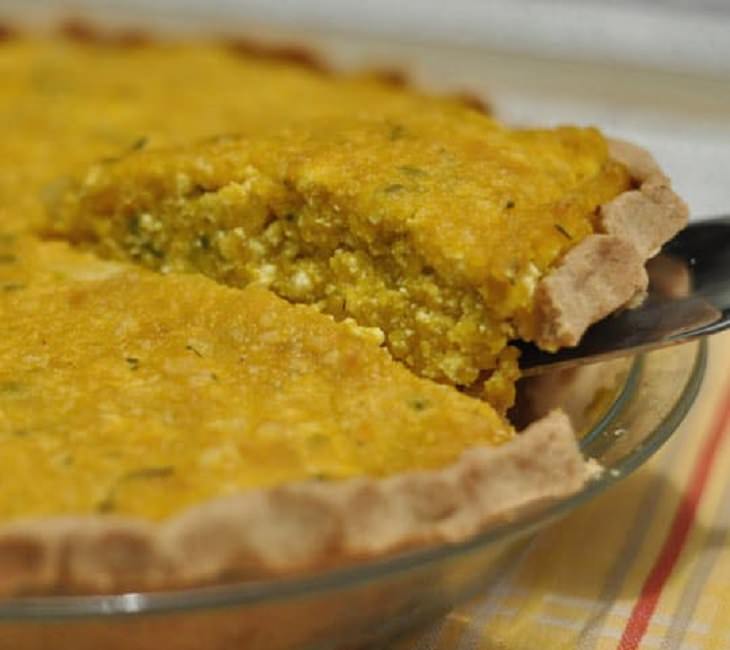 Ingredients
Crust

• 1 cup whole wheat pastry flour
• 1/2 cup unbleached flour
• 1/8 cup olive oil
• Small pinch of salt (about 1/8 teaspoon)
• 1/4 cup ice water
Filling
• 2 pounds kabocha, peeled, seeded, and cubed (about 4 cups)
• 1 tablespoon olive oil
• 1 small onion, diced (about 1 cup)
• 2 cloves garlic, minced
• 12 ounces firm tofu, mashed (about 1 1/2 cups)
• 1 tablespoon fresh rosemary leaves, finely chopped
• 1 1/2 teaspoons salt and freshly ground pepper, to taste
• 2 tablespoons arrowroot powder dissolved in 1 tablespoon water
• 2 tablespoons agave nectar mixed with 1 tablespoon water (optional)
Method
For the Crust
1. Mix the flours in a small bowl and freeze. Freeze the olive oil in a separate container. Both should be left in the freezer for one hour.
2. Mix the oil into the flour until a crumbly meal is formed. Stir the salt into the ice water and add to the flour mixture. Mix until the dough is bound.
3. Roll the dough out on a floured surface so that it is 1/16" thick. Transfer to a 9" pie dish, trim and crimp the edges and then set aside for the time being.
For the Filling
1. Preheat your oven to 350F.
2. Steam the kabocha until soft and mash with a fork.
3. Heat the olive oil in a large saucepan. Sauté the onions and garlic until the onion becomes translucent. Add the tofu, rosemary, salt, and pepper and cook until it is heated through. Stir in the dissolved arrowroot -this will help to thicken the filling.
4. Pour the filling into the pie shell and bake for 30 minutes.
Optional
After 15 minutes, brush the agave nectar and water mixture over the top of the pie to glaze.
Source: thekitchn
Photo: Emily Han