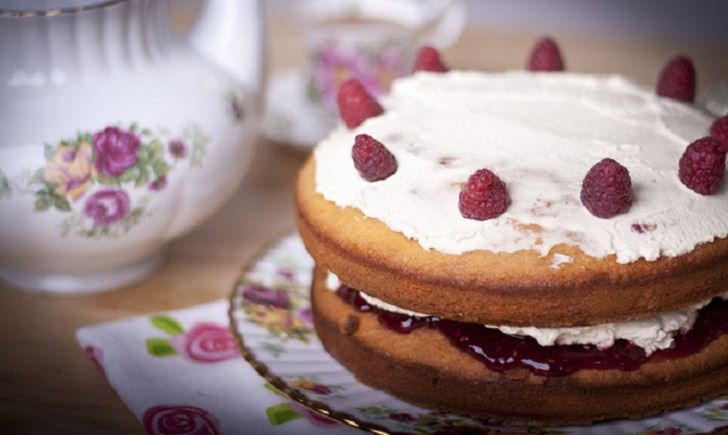 Source: Flickr.com, Carwyn Lloyd Jones
1. Getting started
Always heat the oven first, with a shelf ready-placed in the middle, and before you start mixing your ingredients together, line or prepare the tins. Having all you need prepared and at hand, will guarantee a fluffier sponge - whereas leaving a cake sitting on the side for too long can result in big holes and a poor rise.
2. Before you mix it up
You're also going to want to have your ingredients out a while before you prep - eggs should be at room temperature, allowing yolks and whites to combine more easily, and the butter should be soft, but not greasy. This will ensure an even bake.
3. Ingredients at the ready
Having to stop half way through your mixing process to fetch or weigh ingredients, will not only waste time, but can result in over mixing. So just before you start mixing it up, be sure to have all of your ingredients weighed and at hand.
4. Beat it
The best sponge cakes have a 'creamy' texture. Creaming simply means beating butter with sugar until light and fluffy, trapping tiny air bubbles. The air bubbles you are adding, plus the CO2 released by raising agents, will expand as they heat up, causing the cake to rise. Though a wooden spoon and elbow grease will get the job done, an electric mixer is your best bet. Using a mixer to cream the butter and sugar is the quickest and most effective way to get the creamy consistency.
5. Gently does it
Go slowly with the eggs. Beating eggs into the butter and sugar mix will trap even more air. Take your time to prevent a split (and less fluffy mix) by pouring 1-2 tbsp of beaten egg on to the creamed mix, beating the ingredients together with the electric mixer until completely incorporated, then repeat. Once all the egg has been added, you should end up with a light and fluffy mix. If it looks slimy, beat 1 tbsp of the weighed flour and it will recover.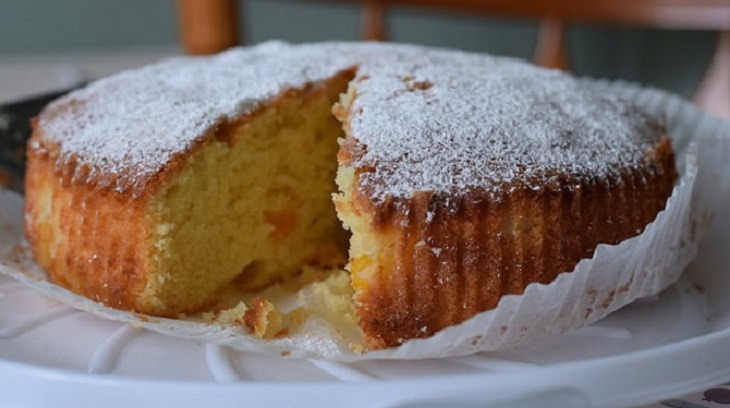 Source: Flickr.com, Fenwench
​
6. Fold it in
Combine the flour with any salt and raising agents in a bowl, sifting it over the batter. Use a large metal spoon and a thin rubber spatula (a wooden spoon will crush your carefully crafted bubbles) for this next step. Using a figure-eight motion, cut and turn the flour through the batter until even. Be sure not to stir or overwork it, as this will cause your cake to become tough, affecting the overall baking of the sponge.
7. If the mixture looks too thick
Dry cakes often contain too little liquid. Check your cake consistency using the 'soft dropping' method. A spoonful of batter should drop easily into the bowl when given a shake. If the mixture looks too thick, add milk. Just a drop ought to do it, as this will help keep your mixture and the consistency of the cake smooth.
8. Flavor it up
When adding flavor, keep it real, using real ingredients such as vanilla pods and lemon or orange zest.
9. Practice patience
Once your cake has been put into the oven, do not check on it, no matter how eager you are, because the air release will cause the cake to drop. If you need to move a cake to get an even color, wait until it has risen and set all over (about 2/3 through the cooking time). Be sure to work fast to conserve the heat.
10. Enjoy the process!
Relax, enjoy the baking process... it always comes across in the end result!
Of course, no article about cakes is complete without a recipe. This is one of my favorites and will give you the chance to put our helpful tips into practice.
This scrumptious Orange with Ginger Cream Sponge Cake makes one three-layered, 27cm cake
Serves 10-12 portions
Image and recipe source: theguardian.com
Ingredients:
375g soft butter, plus extra to grease the tin
375g caster sugar
6 eggs, beaten in a jug
375g self-raising flour, plus a little extra for the tin
3 tsp baking powder
The juice of 1 orange, and zest of 3
75ml milk
3 tsp vanilla extract
For the icing
500g cream cheese at room temperature
200g icing sugar
1 tsp ground ginger
Candied orange slices, to decorate (optional)
Instructions:
1. Start with the cake: Heat the oven to 180°C/350°F/gas mark 4. Grease three tins and add a little flour. Shake flour around the tins to cover the butter in an even layer. Tap out the excess.
2. Cream the butter and sugar together for a few minutes. The mixture should be light and fluffy. Scrape down the sides of the bowl regularly if you are using a mixer. Gradually add the eggs to the mix little by little, beating well after each addition. Ingredients should be well incorporated and color of mixture should be pale and cloud-like.
3. In a separate bowl, sift the flour and baking powder together, then fold into the butter-mixture with a large metal spoon.
4. Mix the orange juice and zest into the milk with 2 tsp vanilla extract, then gently incorporate into the mix a little at a time. Test your mixture using the 'soft-dropping' method. It should fall easily from the spoon.
5. Divide the batter evenly between the tins and smooth the tops. Bake for 20 minutes on the middle shelf, then remove and allow to cool before turning each out and cooling fully on a wire rack.
6. Beat the cream cheese, icing sugar and ground ginger together until light and fluffy, then use the resulting mixture to sandwich the three cakes together. Top with candied orange slices, if desired.
Enjoy!