Thinking up creative ideas for delicious appetizers or yummy dessert treats can be quite a hassle, especially when you're lacking inspiration. But with our list of 14 things you can make on a stick, I'm sure it'll liven up again. There's a multitude of things one can think of making on a stick, when it comes to both sweet and savory snacks, and apart from looking totally adorable, they can turn out to be pretty tasty too! Check out our ultimate list and let the fun cooking begin!
---
SAVORY BITES ON A STICK
---
1. Goat Cheese Pops with Herbs, Pecans and Bacon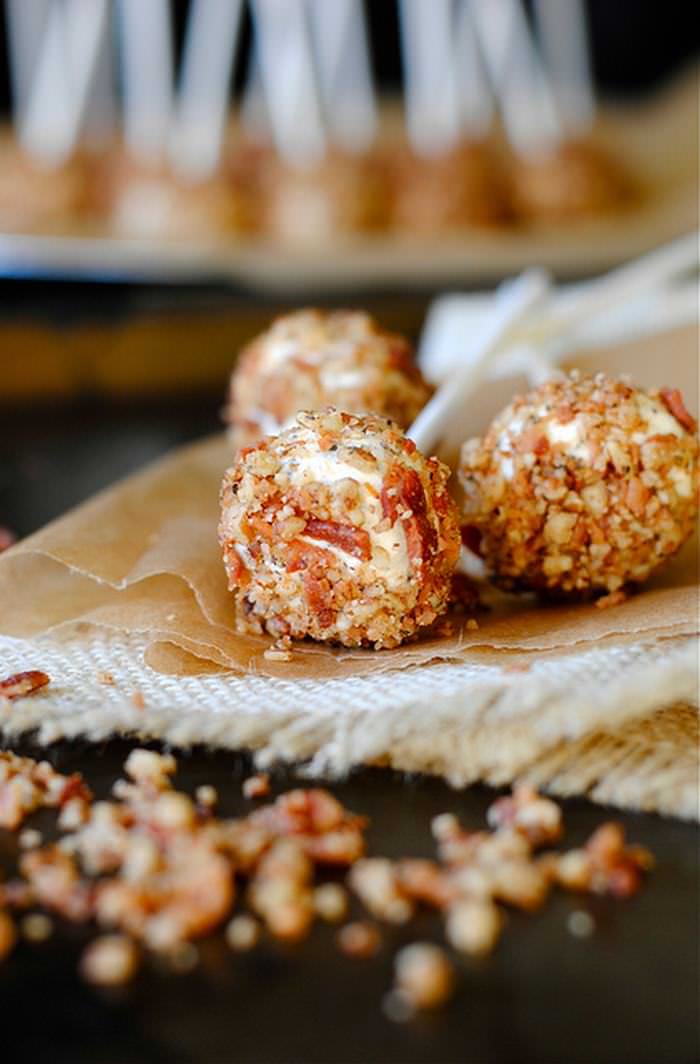 Image source: howto-simplify | Recipe source: thekitchn
Every great meal should start off with this mouth-watering savory pop that serves for the perfect appetizer.
---
---
2. Crunchy Chicken Stuffed Waffle Pops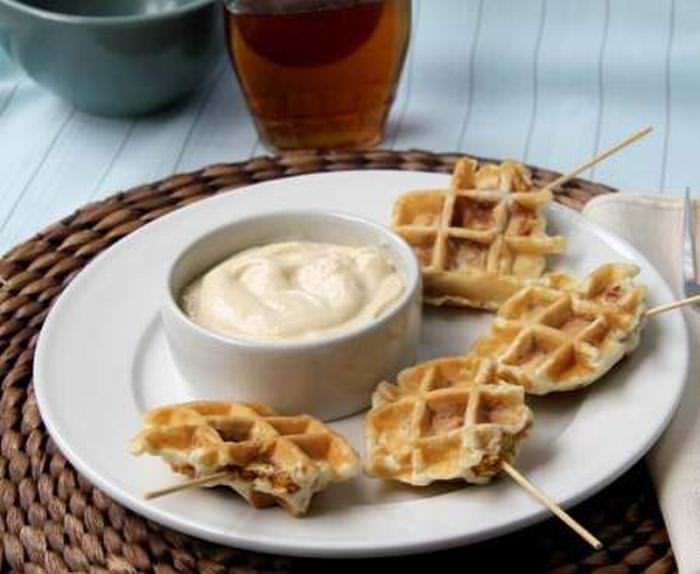 Image & recipe source: snappygourmet
Ever tried combining waffles and chicken in one bite? Check out the awesome recipe below, or you'll be missing out.
---
---
3. Mini Bacon Burger Bites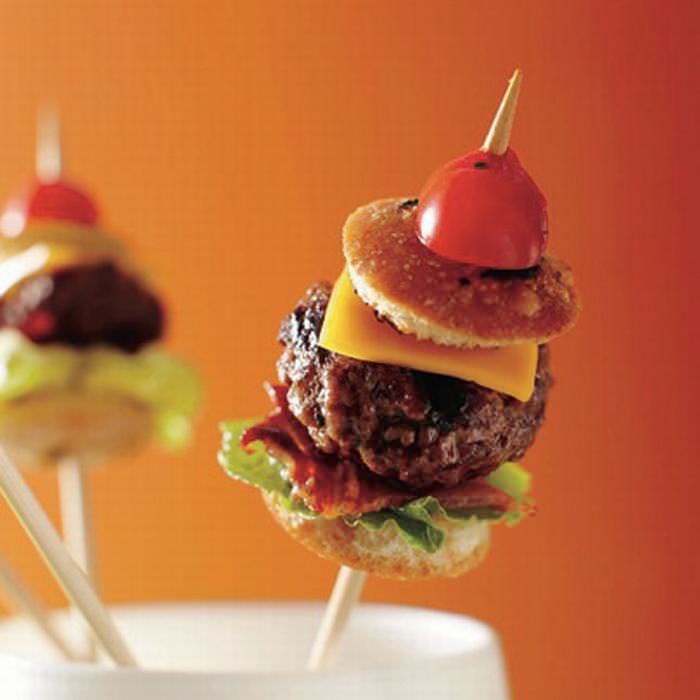 Image source: brides.com | Recipe source: picturetherecipe.com
This neater and more elegant version of a burger proves that size doesn't matter at all when it comes to whoppers.
---
---
4. Pizza Pops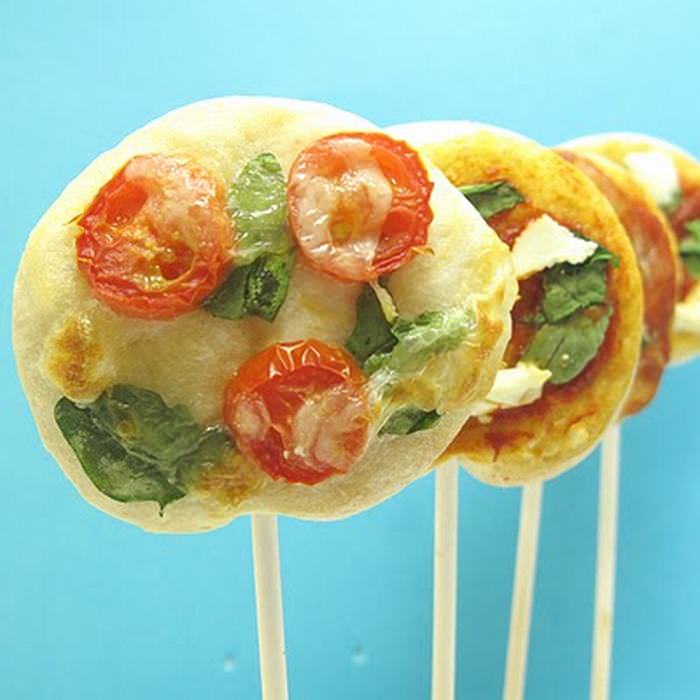 Image & recipe source: thedecoratedcookie
What an awesome and creative way to serve your pizzas! These delights will not only look gorgeous on your dinner table, but will also feel good in your tummy.
---
---
5. Chinese Meatballs on a Stick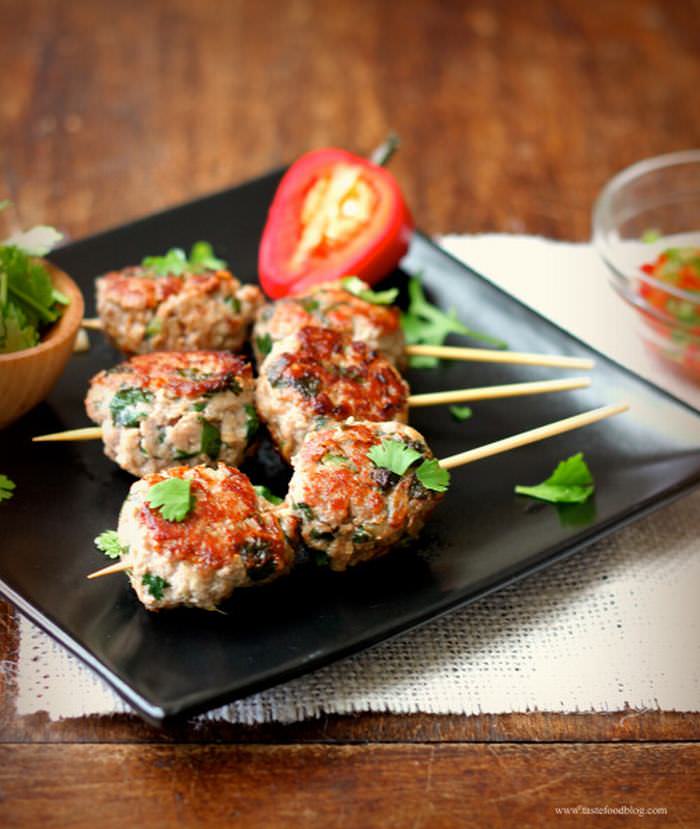 Image source: Matt Armendariz | Recipe source: On a Stick! (published by Quirk Books)
Forget about spaghetti and meatballs - these juicy meatballs are the newest sensation. And you won't be able to resist them!
---
---
6. Sandwich on a Stick
Image source: onecharmingparty
This idea comes with a plus: no recipe needed! Just simply transfer your favorite sandwich ingredients on to a stick, include some cucumber, cherry tomatoes, olives, the cheese of your choice, lettuce, any of your favorite hams, and literally - any other goodies you may find in your fridge. Get creative and impress your guests or family members with this healthy bread-free sandwich alternative.
7. Mozzarella and Jalapeño Stackers
Image source: peasandcrayons | Recipe source: howsweeteats
No recipe that includes mozzarella, pesto and jalapeños is ever a bad idea. Spoil your guests with these finger-licking bites, which are crispy on the outside and irresistibly cheesy on the inside.
---
---
8. Melon and Prosciutto Skewers
Image & recipe source: simply-delicious-food
A popular fresh fusion of sweet and salty flavors on a stick. All you need to prepare these bites are just 2 ingredients!
---
---
9. Bite-sized Baked Brie with Jam Filling
Image & recipe source: joythebaker
Brie is wonderful when it's baked, but nothing is comparable to this heavenly brie-and-jam combination on a stick. Trust me - looks won't deceive you this time.
---
---
May also interest you:
---
DESSERTS ON A STICK
---
10. Strawberry Shortcake Skewers
Image & recipe source: kareninthekitchen
These easy and light sweet treats stacked with strawberries, cream, and biscuits will easily be the highlight of your next tea party.
---
---
11. Chocolate Kiwi Popsicles
Image & recipe source: showfoodchef.com
The easiest dessert you could ever prepare uses only some kiwi fruits and melted chocolate - the results are both attractive and divine!
---
---
12. Banana Pops
Image & recipe source: bakersroyale
It's so easy to make these banana pops, you won't even require a recipe. Just picture this: chopped bananas, dipped in melted chocolate, covered in colorful sprinkles or shredded almonds, secured with two little marshmallows, on a skewer. Now we're talking!
13. No-Bake Holiday Oreo Pops
Image & recipe source: brit.co
Oreos. On a stick. Coated with dripping melted white chocolate. No chance of refusing!
---
---
14. Scotcharoo Dessert Pops
Image & recipe source: busy-mommy
The kind of fancy treat that will have people asking you how you managed to put it together. It's no secret - try it and enjoy it!
---
---