What's the secret to making a delicious pound-cake? According to this recipe, it all comes down to one ingredient, which you are likely to already have stocked in your kitchen. This secret ingredient will add flavor to what is normally seen as a plain cake and gives it moistness. It is used in the glaze to give it an extra kick. Check it out:
Ingredients:
1 cup unsalted butter, softened

½ cup butter-flavored shortening

3 cups granulated sugar

5 large eggs, room temperature

1 teaspoon vanilla extract

1 teaspoon lemon extract

Zest of 1 lemon

Zest of 1 lime

3 cups all-purpose flour, sifted

½ teaspoon salt

¼ cup heavy whipping cream

1 cup 7-Up soda

7-up glaze (1 cup of powdered sugar mixed with 2 tablespoons of 7- up)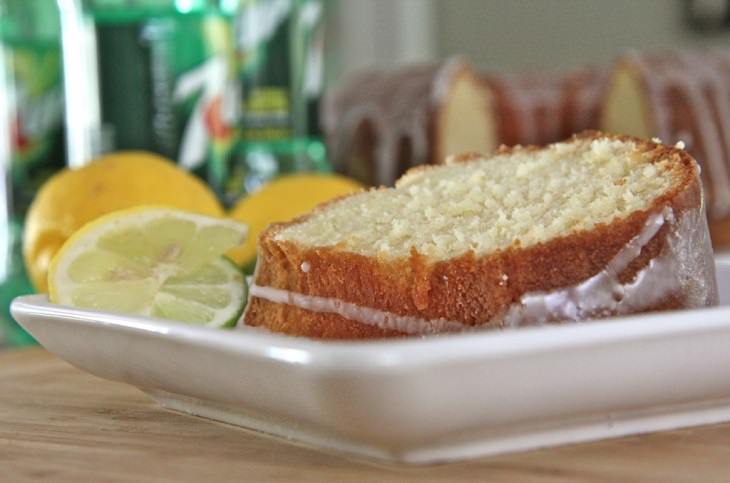 Directions:
1. Preheat the oven to 325F. Then generously grease and lightly flour a bundt pan and set aside.
2. In a large bowl, combine the butter, shortening and sugar until creamy. Then mix in the eggs, one at a time.
3. Fold in the vanilla and lemon extract, then fold in the lemon zest and the lime zest.
4. Gradually add the flour and the salt and mix until combined.
5. Mix in heavy whipping cream and 7-up until well combined and the batter appears fluffy.
6. Spoon the batter into a bundt pan and bake for 1 hour and 10 to 15 minutes. Be sure to check on the cake after the 1 hour mark, by inserting a knife into the middle. If ready, it should come out clean.
7. Let the cake sit in a pan until the pan is warm to the touch. Then remove and place on a cooling rack.
8. Drizzle with 7-up glaze if desired.
Source: livingino