You may use canned fruit (well drained), frozen or fresh fruit to make your leathers. For best results use the highest quality fresh, organic fruit. Plump for either ripe or slightly overripe fruits. Wash them thoroughly, and remove the stem and seeds. Any fruit will do. Popular examples include: strawberry, peach, apricot, blueberry, apple, raspberry, mango, pineapple and others.
WATCH: Fruit Leathers Tutorial
Instructions
(for roughly 20 1" strips)
1. Place racks in the lowest and highest thirds of your oven. Heat to 170°F (76.6°C). Using silicone baking mats (or parchment paper), line two big sheet pans.

2. Use a food processor to puree 1½ lbs. fruit (if using berries, hull and stem; stone fruit should be pitted) and ½ cup of unsweetened applesauce. Taste. If you require, add some honey for extra sweetness.

3. Pour out the puree into the middle of both sheet pans. With a spatula, spread the puree evenly to make a 1" border. Make sure that the edges are a little thicker than the rest (edges dry quickest, so this will prevent them from cracking).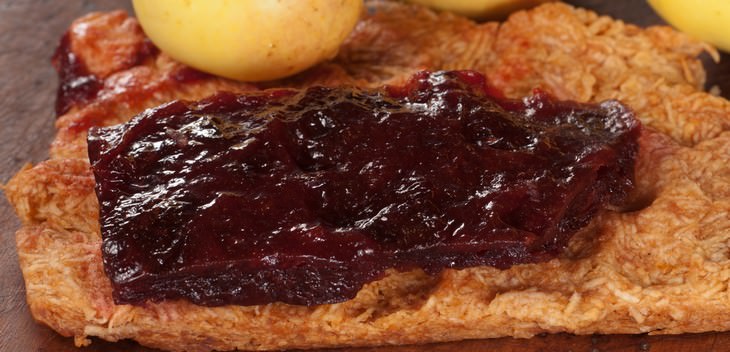 4. Place the trays into the oven. Cook/dry out for between 4 and 6 hours, until the puree looks like leather. It should be firm but a little tacky (though this depends on how watery the fruit was). Now turn off the heat and let it sit in the oven until room temperature is reached.

5. Top with a sheet of wax/parchment paper and turn over onto a counter. Carefully remove baking mat; roll up wax paper and fruit leather together.

6. Using kitchen shears, cut the rolls into 1" segments. Now keep in an airtight container for 2 weeks at room temperature.