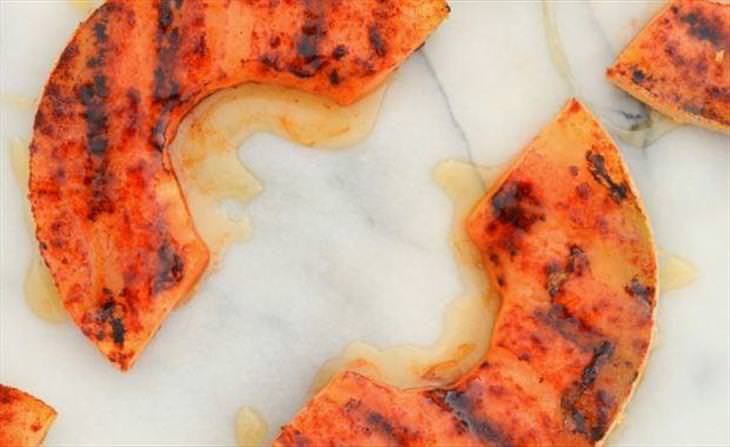 Most people would never even consider putting sliced cantaloupe on the grill, but this super-simple recipe will make you want to cook it again and again. All you need is to slice a cantaloupe into half-inch-thick pieces, some smoked paprika and honey. Sprinkle the smoked paprika liberally on the slices, and then grill on medium-high heat for 5 to 7 minutes on each side. Drizzle with honey and serve.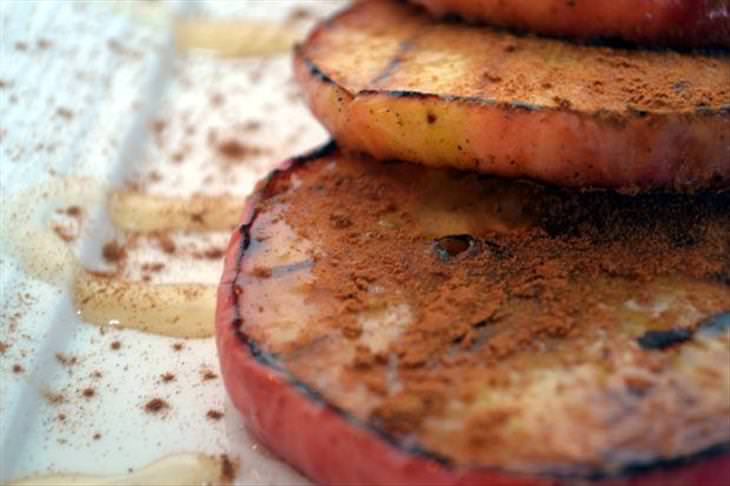 Another gorgeous sweet grill treat is cinnamon apple slices. You'll need three honeycrisp apples cut into ¾-inch thick circular slices, three tablespoons of melted butter, three teaspoons of cinnamon and two tablespoons of honey.
Brush the slices on both sides with the melted butter, then grill them indirectly for about 6 minutes on each side, or until grill marks appear. As soon as you take them off, sprinkle them with cinnamon and liberally drizzle them in honey to serve.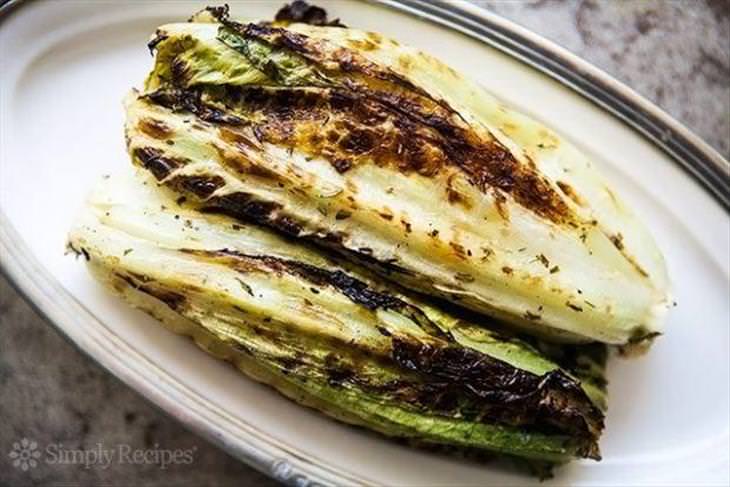 Try this tantalizing grilled romaine heart recipe and make your cookout one to remember. You'll need three or four romaine hearts, three tablespoons of olive oil, one tablespoon of red wine vinegar, two teaspoons of chopped fresh herbs, a quarter-teaspoon of salt, and a pinch of freshly-ground black pepper.
Prepare the romaine hearts by pulling off any old leaves, chopping off the tops and root ends (leave the roots themselves intact). Put your grill on high heat and combine all the aforementioned ingredients in a bowl to make a vinaigrette. Cover the romaine hearts with the vinaigrette, grill them until they are lightly-browned on each side and serve.
You can also try cutting the leaves into a salad, or eating the romaine hearts as wedges.
4. Brussels Sprouts Skewers with Balsamic Reduction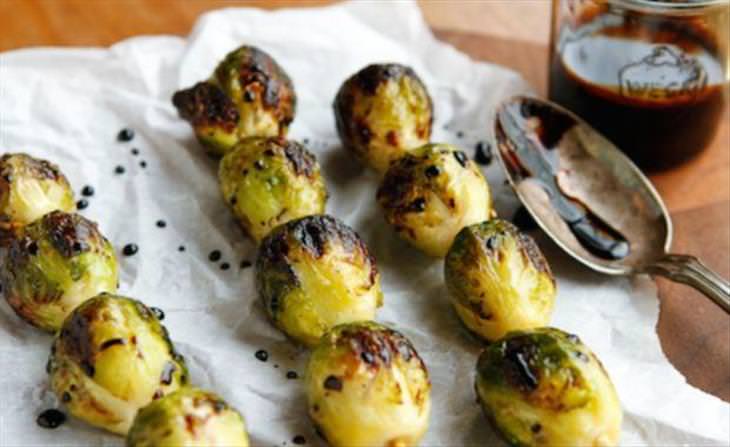 Brussels sprouts and balsamic reduction is a match made in heaven. Start by blanching the sprouts in boiling water for 3 to 4 minutes, then rinse them with cold water when you take them out. Trim the bottoms off the stems and remove any loose leaves (do the latter if you haven't bought Brussels sprouts that are pre-washed and pre-trimmed).
Toss the sprouts in some olive oil, salt and pepper and place three to four of them on each barbecue skewer. Grill the skewered Brussels sprouts for 4 to 5 minutes on each side until cooked through and slightly charred. Drizzle in balsamic reduction and serve.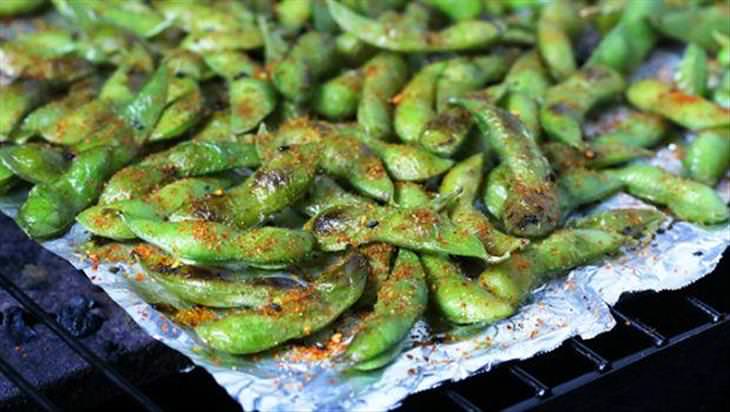 Bring a taste of the orient to your grill with this simple edamame recipe. Start by spreading out the edamame on aluminum foil, then drizzle in olive and sesame oil. Also sprinkle some salt on them, then toss to coat.
Put your grill on medium-high heat and transfer the foil with the edamame still on top to the grill rack, making sure they're spread out in a single layer. Grill on one side for 5 minutes, then turn over and grill on the other side for a further 5 minutes. Sprinkle with nanami togarashi seasoning (if available) and serve.
6. Strawberry Shortcake Skewers
For this one, you'll need a shortcake loaf cut into two-inch cubes, strawberries, and eight wooden skewers. Put your grill on medium-high heat, and then thread strawberries and shortcake pieces on the skewers, alternating as you go. Grill the skewers for 30 to 60 seconds on each side until lightly grill-marked. Serve with vanilla yogurt.
If you'd like to make an optional orange marinade, you'll need half a teaspoon of orange zest, half a cup of freshly-squeezed orange juice, two tablespoons of brown sugar, one tablespoon of water, half a teaspoon of vanilla and a little sea salt. Combine all the ingredients in a mixing bowl and apply to the strawberry shortcake skewers both before and during grilling.
7. BONUS: If you really MUST grill meat, try this…
This amazing Jack Daniels BBQ glaze will add some tangy flavor to any meat you happen to be grilling. Place one diced onion and two tablespoons of minced garlic in a saucepan, then put the saucepan on a preheated grill:
Stir continuously and leave to cook for about 10 minutes. Next, add one cup of water to the onion and garlic, followed by one-and-a-half cups of brown sugar. Stir the mixture until it takes on an even consistency. Then, add one cup of pineapple juice, ¼ cup of teriyaki sauce, one tablespoon of lemon juice, two tablespoons of soy sauce and a teaspoon of cayenne pepper.
Leave the mixture to simmer on the grill on high heat for an hour until it reaches half its initial volume. Next, add an airline-sized bottle of Jack Daniels (equivalent to a couple of tablespoons if you're using a regular-sized bottle) to it and stir.
Reduce the mixture to medium heat and leave on the grill in the saucepan to simmer. Begin grilling your meat. When it's about halfway to being cooked, coat it liberally in the glaze on each side using a brush. Continue cooking the meat to your liking and serve.
Content and Image Source: Prevention