One of the best things about seaside villages is being able to visit their piers. They give you the ability to walk out over the ocean, which is pleasing, but these fascinating structures also evoke feelings of fun, romance and childhood nostalgia. Some of them are even dedicated entirely to entertainment purposes, with their very own amusement parks!
Let's view the world's most beautiful and popular piers in 15 sensational photographs.
Click on the photos to view an enlarged version.
1. Atlantic City Steel Pier - New Jersey, U.S.A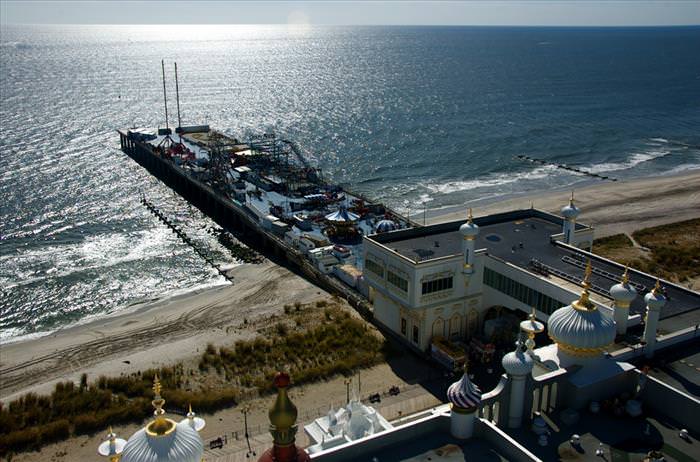 source
This 1,000-foot-long pier is found across the Boardwalk from the Trump Taj Mahal, in Atlantic City, New Jersey. Since its construction in 1898, it has served as one of the most popular entertainment venues in the U.S., with enjoyable amusements and casinos, making it also a gamer's paradise.
2. Southend Pier - Essex, England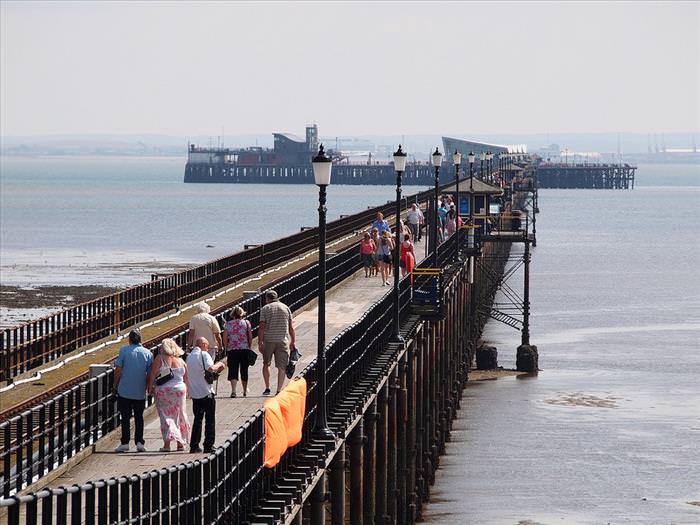 source
This is the longest pier in Europe, and the longest pleasure pier in the world, extending 1.3 miles into the Thames Estuary (where the River Thames meets the North Sea). This means it would take you more than 20 minutes to get to the end of the pier, but just in case you don't feel like taking the walk, there's also a train (note the tracks on the left-hand side of the pier).
3. Blankenberge Pier - Belgium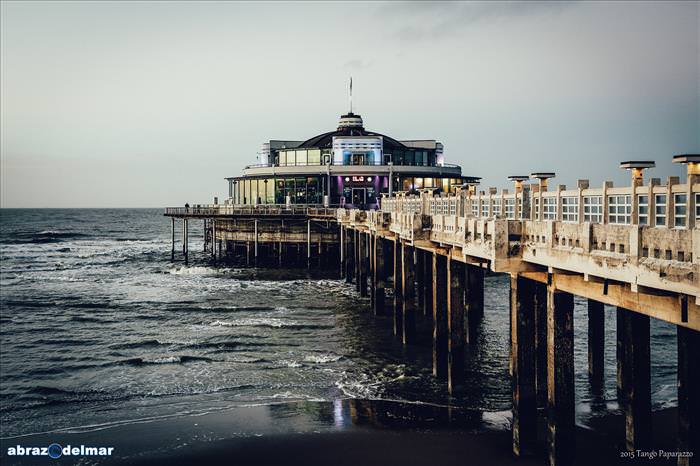 source
This pier is the first ever to be built on Europe's Atlantic coast. It is made of concrete and measures over 1,100 feet long. Its original structure was destroyed by the Germans after World War I broke out in 1914 - just 20 years after it was built. It was rebuilt in 1930, at which time it housed its own amusement park, which later turned into the leisure complex it is today.
4. Santa Monica Pier - California, U.S.A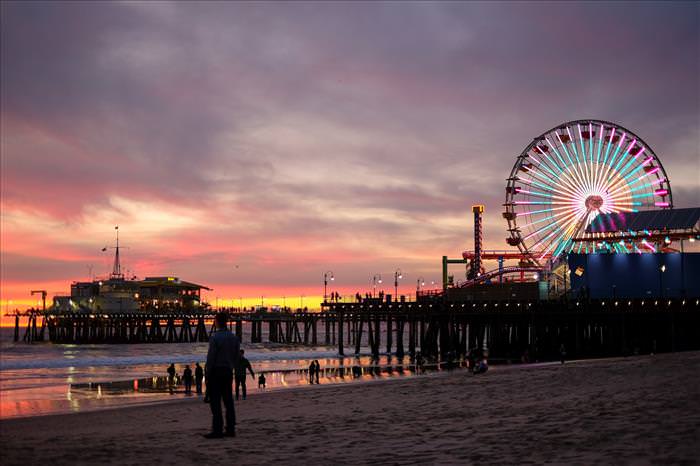 source
This is one of the most iconic piers in America. On it, you can find an attractive amusement park that offers fun for the whole family, including a huge Ferris wheel, which can be seen lit up in various bright colors after dusk. With its charm, it's no wonder this pier was featured in various movies and television shows.
5. Birnbeck Pier - Bristol, England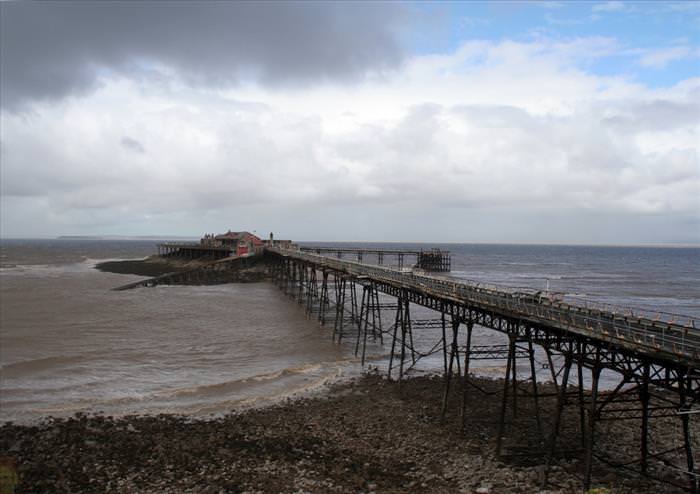 source
This pier connects to an island, called Birnbeck Island, and it's the only pier of its kind in Britain. It stretches out approximately 18 miles southwest of Bristol. From its opening in 1867 until 1994, it was very popular with locals and tourists, but sadly, it is now closed for safety reasons.
6. Progreso Pier - Yucatán, Mexico
source
With a length of a whopping 4 miles, this pier is the longest one in the world today. It's that long because this isn't possible for ships to dock further inland due to shallow coastal waters. Passengers of the ships take a taxi cab or a free shuttle service to get from one end to the other.
7. Kastrup Sea Bath - Copenhagen, Denmark
source
Instead of housing an amusement park, this pier offers an outdoor swimming pool that extends over the Baltic Sea. It actually forms part of the Kastrup Strandpark waterfront park and even includes its own little beach and service building, complete with lavatories and changing rooms.
8. Umhlanga Pier - Durban, South Africa
source
This pier has an unusual design that resembles an animal's rib cage, making it an interesting walk to take, although it's a short one. There are benches to sit on along its entire length, so the stunning views of the African waters can be enjoyed.
9. Busselton Jetty - Busselton, Western Australia
source
This charming pier is 1.2 miles long, making it the longest wooden pier in the world's southern hemisphere. The reason for its length is to reach into deeper water, where ships can dock and deliver their cargo of cut timber.
10. Clevedon Pier - Somerset, England
source
This 1,023-foot long pier is considered "the most beautiful pier in England", according to English poet Sir John Betjeman. It was built in the 1860s as a tourist attraction and ferry port for rail passengers to South Wales. Paddle steamer passengers also embarked from the pier.
11. Rotonda a Mare - Senigallia, Italy
source
This pier overlooks the sea of Senigallia and was built in 1933. Initially, it was used as a military warehouse during WWII, however it's a popular social spot in the present day. The massive structure at the end of it serves as a venue for exhibitions and conferences during the summer.
12. Los Muertos Pier - Puerto Vallarta, Mexico
source
This modern Mexican pier extends over 320 feet out from Los Muertos (The Deadman's) Beach, which is a popular spot for romantic rendezvous. It was inaugurated in 2013, after which it became a tranquil place of interest for visitors. It is most well-known for its tall structure built at the end of it, which lights up in radiant colors after the sun goes down.
13. Sellin Pier - Rügen Island, Germany
source
This beautiful pier forms part of the Sellin resort located on the German island, Rügen. It supports an awe-inspiring structure above the Baltic Sea, which features a restaurant, as well as a diving gondola. The building was rebuilt twice, the first time after a fire accident that happened in 1920, and the second in 1991, due to weather damage.
14. Galveston Island's Historic Pleasure Pier - Texas, U.S.A
source
The present version of this 1,140-foot long Texan pier was opened in 2012. The original version of it was built in 1943, but it only stood for 18 years - it was destroyed by Hurricane Carla. It housed rides, concessions, an arcade, an aquarium, a ballroom and a fishing spot. The pier that stands today definitely isn't any less fun - it includes a range of fun rides, a roller coaster, carnival games, and souvenir shops.
15. Scheveningen Pier - Scheveningen, The Netherlands
source
This one has to be one of the most extravagant piers on the list. Spread over two stories, this pier is instantly recognizable due to its striking architectural design. The current pier measures in at 1,253-feet long and opened in 1959, replacing what was destroyed in World War II, The lower level is a closed-in section, whereas the upper level is open to the elements and the views. The pier consists of four terminal sections called 'islands', each having their own separate focus, including a restaurant, a casino, and a Bungee jumping facility, which is almost 200 feet above sea level.