2. Furniture polish and water stains remover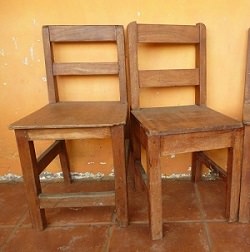 If your patio furniture is looking worse for wear or wooden furniture is covered in water rings, mayonnaise can help. For water rings, let the mayonnaise sit for 10 minutes and then buff the stain. It's a wise idea to try this on a small area first before you apply the mayonnaise everywhere.
For whole pieces of furniture, you can use a soft cloth to rub mayonnaise into the stained areas. The active ingredient in most furniture polishes is oil, and mayonnaise can replenish the moisture in the finish of wooden furniture.
3. Remove stuck rings
Mayonnaise can also help you remove a stuck ring from a finger if it just refuses to come off. The oily texture of mayonnaise acts as a lubricant. Rub mayonnaise underneath and around the ring and twist. The ring should slide off. Stop if you feel numbness or severe pain.
4. Lice killer
Anyone can get lice, no matter how clean you are. There are lots of special shampoos for the condition, but did you know you can use mayonnaise instead? It's a cheaper alternative lice fighter and has the added benefit of being non-toxic. Using room temperature mayonnaise, liberally apply the condiment all over your dry hair. Cover your head with a shower cap or wrap it in plastic wrap. Go to sleep with this mixture in your hair and wash it out the next morning. Afterwards, use a fine comb to comb out any dead eggs or lice.
5. Conditioner for shiny hair
Mayonnaise can make your hair soft and smooth-looking. It also contains nutritious ingredients - the egg yolk will encourage hair growth, the oil will condition and the vinegar will exfoliate the scalp.
After shampooing and towel drying your hair, comb in a tablespoon of room temperature mayonnaise. Start at the top of your head, and work it down to the tips. Coat each strand and leave it in for an hour. Wash your hair again with baby shampoo, or a small amount of regular shampoo. This will remove the greasy kitchen scent from your scalp. You can now dry your hair. The end result should be luscious locks.