10. Brittle nails
Characterized by thin, frail, crumbling nails this common nail problem often indicates a deficiency in vitamins, with vitamin B7 being the usual culprit. This can be easily reversed with an over-the-counter multivitamin supplement. Frail nails are also often associated with nail psoriasis, thyroid disorders, or fungal nail infections.
11. White stripes
While dark striped nails usually indicate cancerous growth, white stripes are more commonly seen as indicative of a disorder. It usually indicates an imbalanced or innutritious diet, lacking in proteins. This problem can easily be resolved with an increase in proteins rich foods such as fish, quinoa, nuts, seeds and lean meats.
12. Curved nails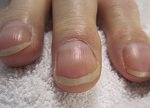 This condition is sometimes called nail clubbing and involves an unnaturally large nail bed, curving around the tips of the fingers. It is not an overnight condition, and can take several years to form. The cause is often hypoxia, a lack of oxygen. It is not a symptom to ignore as it can be associated with serious diseases like irritable bowel syndrome, liver disease, lung problems, AIDS and cardiovascular concerns.
13. Loose nails
Loose nails not caused by injury can signify fungal nail infection, nail psoriasis, amyloidosis (excess protein in the blood), hyperthyroidism, sarcoidosis or Raynaud's disease a.k.a. poor blood circulation. In rarer cases, severe allergies to some antibiotics are known to loosen nails from nail beds.
14. Blue nail base
If you find your nails are a white shade on a blue nail base, this might be a sign of a nutrient deficiency such as a lack of iron. When the nails are extremely white and the base blue or purple, this could denote a problem with the liver or pancreas. It is also a common symptom in the initial stages of diabetes when your body is not able to process and metabolize sugars correctly.
15. Yellow nails
Usually yellow nails are a sign of an unpleasant fungal infection and it's advisable to purchase anti-fungal tablets or a topical cream to treat this. You can also treat it with a more natural solution such as applying essential oils. Yellow nails can also be indicative of more serious illnesses namely a lung problem, such as fluid accumulation around the pleurae (a lung membrane) or emphysema.