Nothing pulls a room together more than some greenery. Many people often forgo this elegant house decoration because they don't know much about gardening. You don't have to have a green thumb to have a plant. Here are some tips about which plants work best for your home.
African Violets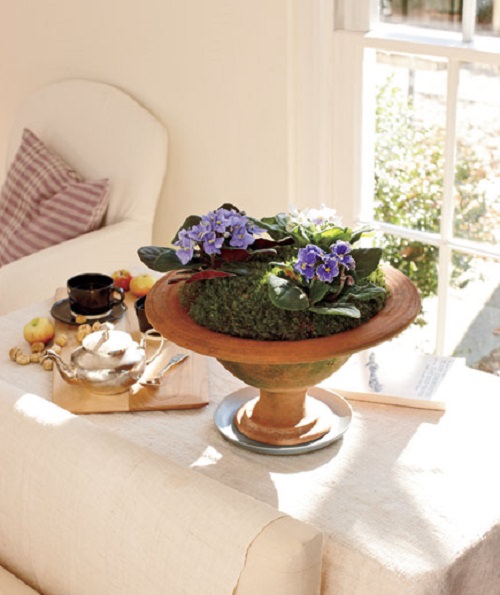 These darling plants are inexpensive and sold everywhere, even supermarkets. Dress them up by putting several different colored flowered varieties in a curvy urn with sheet moss, which can help keep moisture in the soil.
Care: African Violets need direct morning light and dislike bright afternoon sun. They grow nicely in bathrooms. Lift the moss when watering to soak the soil with water. Make sure not to wet the leaves as they get damaged from direct contact with water.
Bedroom ferns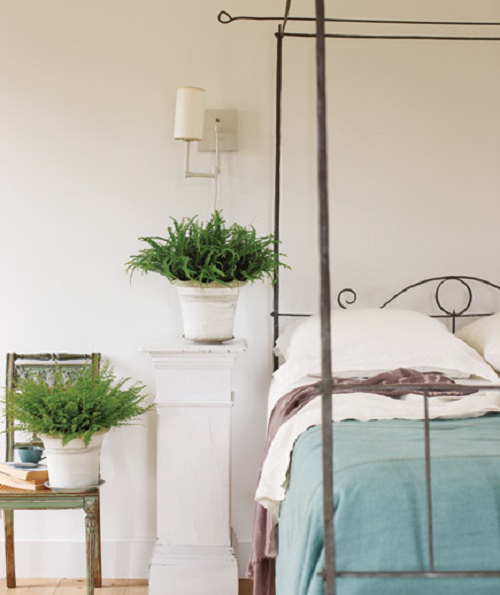 Ferns have a regal quality that can liven up a neutral colored or minimalist room. The leafy fern offers a bit of nature and looks best in matte pots. They do require some grooming to look lush. When shopping for a fern look up at the hanging ferns: the healthiest plants are often above you and can be relocated to a standing pot.
Care: Like with topiaries, they don't need direct light. Water them when the soil surface feels dry to the touch.
Succulent still life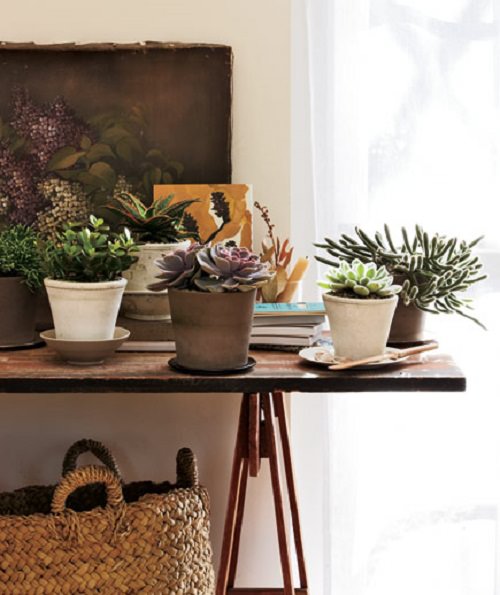 Collect succulents and mini cacti to stage a still life. Include a mixture of shiny and matte plants, with both round and pointy leaves. You can unify the looks with neutral pots. Suggested plants: Mistletoe Cactus, Jade, Aloe, Echeveria and Rattail Cactus.
Care: Position in direct sunlight. Water only when the soil is completely dry.
Grandeur Topiaries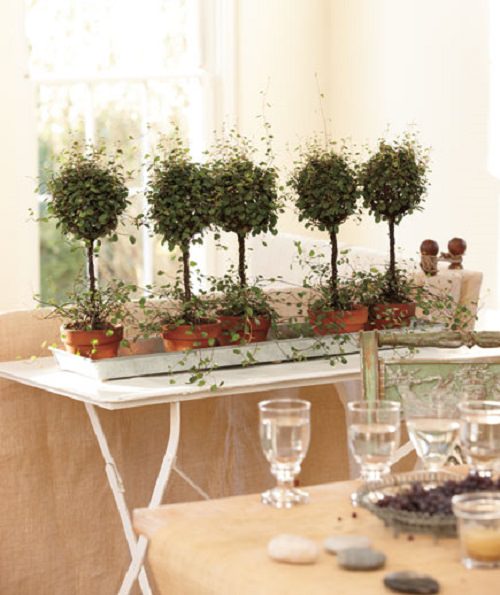 For a classical yet relaxed style consider topiaries. They don't need direct sunlight and can be placed in any part of the room, giving a room a conservatory-like feel. They also elegantly divide up open plan rooms. Nine inch tall lollipop shaped Muehlenbeckia, Ivy or Myrtle are wise choices. To finish the look off and protect your furniture place the topiaries on a galvanized tray.
Care: Indirect light. They need watering whenever the surface of the soil feels dry to the touch.
Tall tree on wheels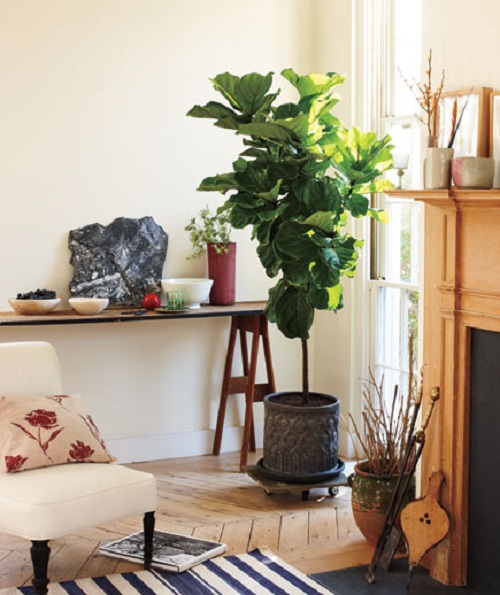 A tall plant can transform a room and fill an empty corner beautifully. For a modern yet manageable look place, the tall plant on a wheeled caddie so that you can clean around the plant easily and move it if it gets too much direct sun. I placed a piece of precut bluestone on the caddie for a more pulled together look.
Care: Fora fiddle-leaf fig, allow moderate light. It dislikes bright afternoon sun. Water thoroughly once the top layer of soil has dried out.
Humidity-loving orchid
Orchids bloom several times a year and love light and humidity. They are successful in sunny bathrooms. Since orchids are potted in a mix of peat, charcoal, and bark, their water drains fast. A good way to ensure hydration is to place the orchid in a low glass cylinder, resting the pot on gravel. The evaporated water will get caught by the glass and reabsorbed by the orchid.
Care: Orchids prefer direct morning light and should be protected from the bright afternoon sun. Water when the potting mix is dry and the pot should generally feel lighter.
Multiple plants into one container
Here's an insider's trick for an instantly lush pot plant: stuff several plants into one planter. I repotted five dracaena into a cone-shaped planter. Any dense plant with glossy leaves works. The plants bulge over the edge, offering a clean look. The dracaena's striped leaves feel dramatic and modern against the matte black planter. For added elegance, a marble stone base does the trick.
Care: Indirect sunlight. Water thoroughly, once the top layer of the soil has dried out.
H/T: www.realsimple.com