2013 was sure an eventful year full of lots of surprises. Here are some of the photos that prove 2013 was a year full of the unexpected!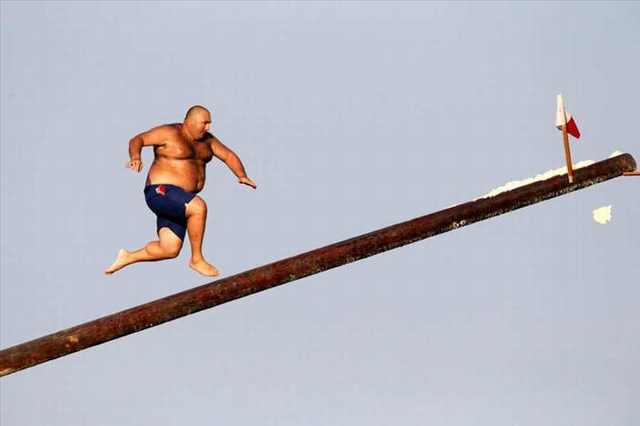 A brave man runs up a greasy pole known as the 'gostra' during the Feast of St. Julian in Valletta, Malta.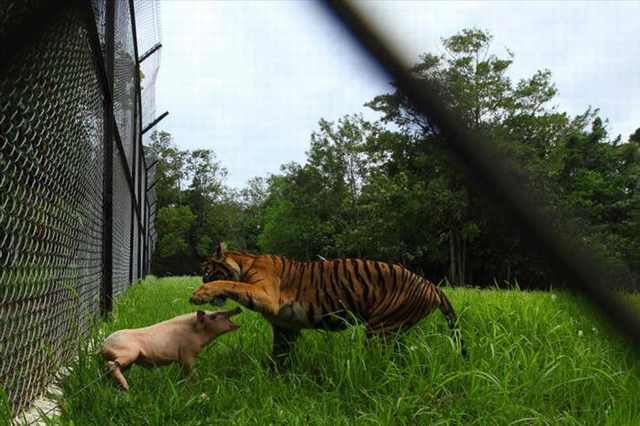 Taken just moments before the Sumatran tiger kills the swine.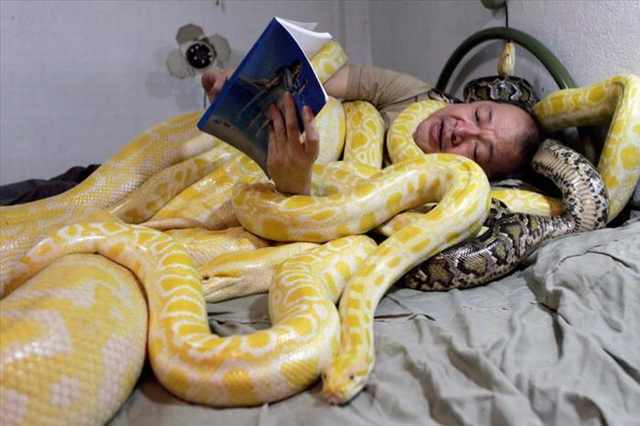 A Filipino zoo owner reads a bedtime story to his pet snake in Manila.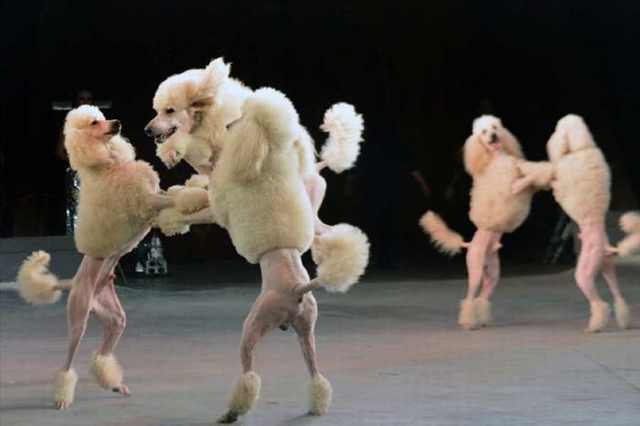 Poodles dancing at the Ukrainian National Circus.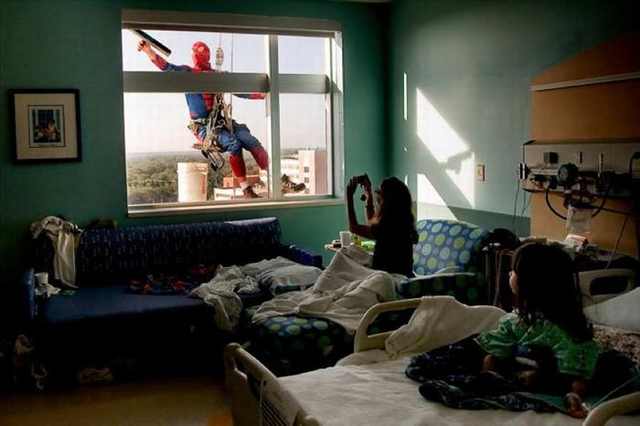 Sao Doan, a patient at a children's hospital, watches as Spider Man washes her window in Florida.

A lost dog wandering the polluted waters of Ahmedabad on World Earth Day.

An employee at China's Harbin International Ice and Snow World Festival wears a panda costume and enjoys his time on the ice slide.

A perfectly timed photo. A fly lands in between President Barak Obama's eyes as he gives a speech at the White House.

A pig uses a dead sow to find its footing during floods in Chongquig, China.

A penguin at the Prague Zoo observes the city's flooding commerical areas this past summer.

Russia women catching a tan by the St. Petersburg Peter and Paul Fortress.

A deceased leopard in a Czech taxadermy shop receives acupuncture to keep it's skin tight.

A monkey surrounded by carp in Hefei, China Wildlife Park.

Horses being transported from a cargo ship in East Java, Indonesia.

A demonstrator locks lips with a riot officer during protests against the construction of a high-speed train between Lyon and Turin, France.

Three Brazilians donning masks during the Cavalhadas festival, a tradition that re-enacts the Christian knights' defeat of the Moors in medieval times.

A young Indian boy hangs on for dear life over an overflowing Ganges River.

A troop of kangaroos takes over the fairway during the Handa Australian Open in Canberra, Australia.

Mandira Budhatoki poses for a photo in Nepal. He is just 7 years old and suffers from Congenital Hypertrichosis Lanuginosa, also known as 'werewolf syndrome'.

A horse blessing ceremony in the church of Saint Rocco before the famous Palio horse races in Italy.

A gorilla hand with a chipped manicure confiscated by US Fish and Wildlife Services in Baltimore, Maryland.

A group of friends contront themselves into a wall as part of Porto, Portugal's "Bodies in Urban Spaces" project.

A child plays in the green algae blanketing Qingdao Beach, China.

A dinosaur representing Los Angeles's National History Museum takes the green during halftime at an LA Galaxy and Seattle Sounders soccer (football) game.

Pope Francis poses with youth for a 'selfie' at Saint Peter's Basilica in Rome.

An elk stranded on a roof in Verneuil-sur-Indre, France.

During the past summer, the Elbe River in Germany flooded over. This scene was photographed in the town of Magdeburg.
A chihuahua lounges on a pet tiger in Maringa, Brazil.

Children beat up gay-rights activists in Russia following the proposal of a law that would prohibit gay rights rallies.

Young Palestinian boys run from an explosion carrying AK47s.

Former President George W. Bush locks eyes with US Army 1st Lieutenant Melissa Stockwell, the first female American soldier to lose a limb in the war in Iraq.

Clutching a doll of deceased president Hugo Chavez, a girl mourns his death during his funeral in Caracas.

A swarm of red locusts takes over Madagascar.

A group of baby pandas beings treated at the Chengdu Research Base of Giant Panda Breeding.

A man holding two burnt birds after fire tore through a homeless compound in Benghazi, Libya.

South African Matt Silver-Vallance makes a 7 kilometer flight in helium-filled balloons to raise money and awareness for the Nelson Mandela Children's Hospital.

The 11-year-old bear Masha practices her tightrope routine at the St. Petersburg circus.

An alligator traverses the course at the PGA Tour Zurich Classic in Lou

At the Malabon Zoo in the Philippines, a python plays with an orangutan.

At Germany's Wilhelma Zoological Botanical Gardens, two pygmy chimps indulge in sports.

7-year-old Ahmed stands in front of a Free Syrian Army stronghold in Aleppo.
A Chinese Jui Tui Shrine believer takes part of Thailand's annual vegetarian festival, with two guns piercing through his cheeks.

The ensemble worn by two-year-old Princess Anne during Queen Elizabeth II's coronation in Buckingham Palace.

Aggravated lions after having snowballs thrown at them in the Hangzhou Zoo, China.

A child draws a nude model in a workshop on Valentine's Day in Mexico City.

The Sister of Consolation cheer on cyclists during the Tour de France.

During heavy rainfall and landslides in Yingxiu, China, over 300 people were evacuated.

The release of pelicans into an outdoor enclosure in Marlow, Germany.

People throwing turnips during the Jarramplas Festival in Piornal, Spain.

Riot officers in Sao Paulo, Brazil try to restore order after a protest against a raise in bus fares.

The two most recent popes meet in Italy's Castel Gandolfo.

The world's first bionic man, Rex, was featured at the London Science Museum. He is equipped with a functioning artificial circulatory system and blood. You can buy this humanoid for $1 million.

Children in Russia pour cold water on themselves even when the temperature is -9.4 degrees Fahrenheit.

A woman in Cambodia has her head shaved to mark the passing of King Sihanouk.

The food chain in a picture. Students from the University of Delaware reeled in a female sand shark and found a dogfish inside of her.

Possibly the world's largest wave in Nazare, Portugal, American surfer Garrett McNamara takes the plunge.

Over 15,000 campers participated in the 2013 International I Camping Festival in Pingxiang, China.

House Majority Leader John Boehner shows uncharacteristic warmth as he tickles John Griffin III, the son of US Representative Tim Griffin.

Abayed the dog was unfortunately shot last year and immediately became paralyzed. Now the dog has a wheel walking aid so that he can still play outside.

A tree grows in Brooklyn, or rather in a pile of used tires at a French recycling center.