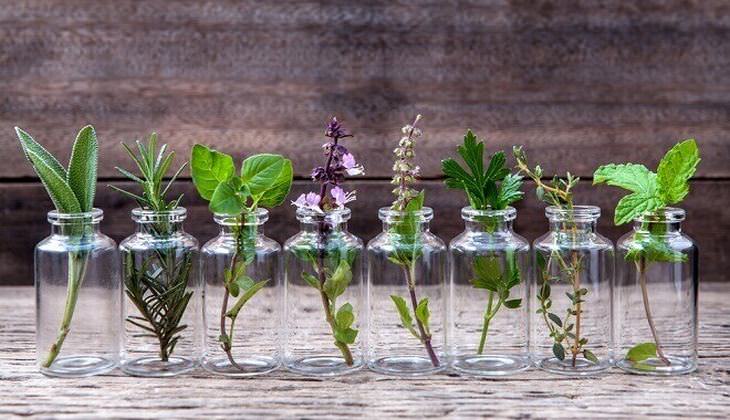 Here's How:
1. To take a cutting from your herb growing in the garden, snip off 6-inch sections from the growing tips and put the cutting in the water-filled bottle. If you do not have a herb garden, you may use the herbs you get from the supermarket. Just wash them in plain water and cut off the lower part.
2. Place the herb cuttings in a glass bottle (more on this below) with water - best use spring water as it is high in minerals. Do not use chlorinated water as this can damage the plant tissues.
3. If using a glass bottle, opt for a colored bottle or wrap it with paper ensuring that the roots are not exposed to light. A bottle is ideal as its narrow end will support the herbs, keeping them upright. Bear in mind that there should still be some room at the neck of the bottle, enabling a transition of air for the roots to be able to breathe.
4. Be sure to remove the lower leaves from the water as they can rot and spoil the herb.
5. As the roots grows during the first 2 to 6 weeks, you need not change the water. To keep the roots and herbs healthy as they grow, you can add some rooting hormone powder.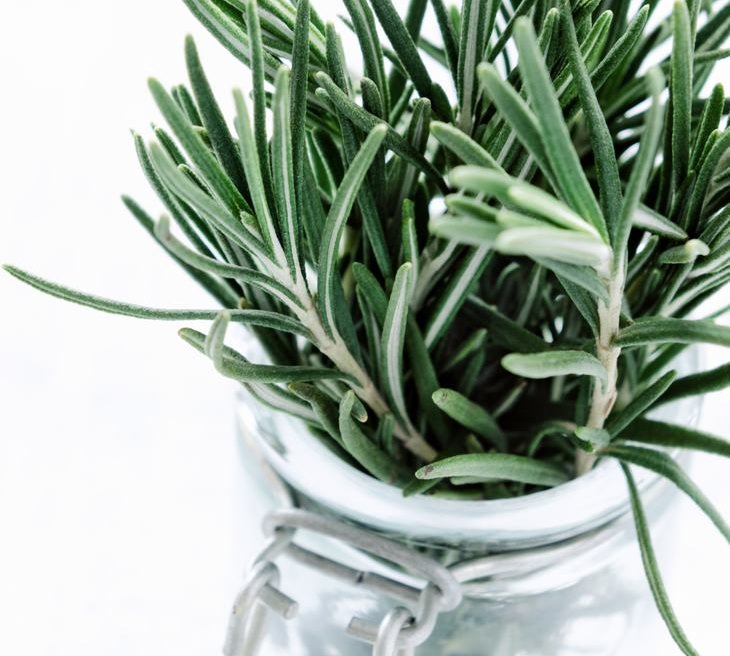 With these basic tips in mind, these are the 10 herbs you can grow in water:
1. Rosemary: The roots of this herb may take a while to grow, so be patient. But if grown in spring, they will grow a lot faster. For better results, keep the plant in a sunny spot.
2. Sage: Take some sage cuttings in the spring and place them in water. This herb should be placed in a bright spot in a well-aired environment as it is prone to mildew.
3. Peppermint: Peppermint is an easy herb to grow. Just place a few, fresh cuttings in some water. It will grow in no time at all.
4. Tarragon: To grow this herb in water, take a few cuttings in spring, after new growth appears. You may take a few cuttings in the fall too, but they will take longer to grow in water. Keep the herb in a warm and bright spot. Opt for French tarragon if you plan to use it in your cooking. Russian tarragon is best used in salads.
5. Basil: Few herbs are easier to grow in water than basil. Take the cuttings any time before the herb starts to flower and keep the bottle in a sunny spot.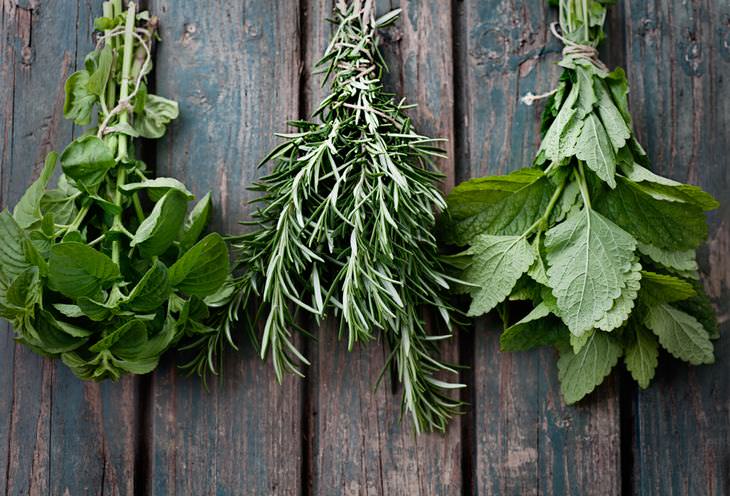 6. Spearmint: Just like peppermint, spearmint is just as easy to grow. Refer to the third point for growing tips.
7. Thyme: For best results, you need to take cuttings of new growth that is green in color. Old growth will be stiff and brown and may not sprout roots as easily. The best time to take the cuttings is in mid-spring to early summer, just before the plants start flowering. Be sure to put the thyme in water as soon as you take them as the stems of thyme tend to dry out fast. Once the herb starts growing, cut the stems to promote branching.
8. Oregano: This is a great herb to grow indoors. It's versatile and can be used in all sorts of dishes. Place the cuttings in water then pinch the growing tips as soon as the plant starts to grow.
9. Lemon Balm: Pick several cuttings in the spring, or come fall, then place them in water in a bright spot. After 3 or 4 weeks the cuttings will have developed roots. Be sure to change the water often and if the weather is warm, you can keep it outdoors.
10. Stevia: This fantastic herb can be added to some beverages or tea. Place the stevia cuttings from actively growing branches in a container full of water, and keep it in a sunny and warm place.