This celebrated dessert was created in Britain in the 1970s, and its fresh bananas, toffee filling, cream, and crumbly biscuit base combination has been thrilling pudding fans ever since. Not only is banoffee pie very popular, it's also pretty simple to put together. Delicious and easy to make - what's not to like?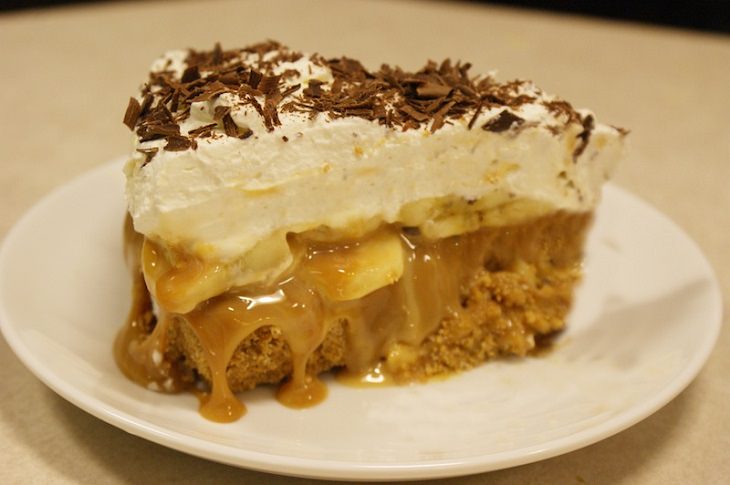 Ingredients
For the Caramel:
• 100g/3½oz unsalted butter
• 100g/3½oz caster sugar
• 400g/14fl oz can condensed milk
For the Banoffee Pie:
• 150g/5 oz digestive biscuits, crushed
• 75g/3oz butter, melted
• 3 large bananas, chopped
• 250ml/10½oz double cream, whipped until soft peaks form when the whisk is removed
• Cocoa powder, for dusting
For the Caramel Sauce:
• 125g/4oz unsalted butter
• 125g/4oz soft light brown sugar
• 125ml/4fl oz coconut milk
Method
1. For the caramel, place the butter and sugar into a non-stick pan over a low heat, stirring until the butter melts and the sugar dissolves.
2. Add the condensed milk and slowly bring to the boil, stirring continuously, to make the caramel. As soon as the mixture has thickened and begins to smell like caramel, remove from the heat and allow to cool.
3. Meanwhile, for the banoffee pie, place the crushed biscuits into a bowl. Add the butter and mix well.
4. Transfer the mixture into a 10-inch cake tin. Press in so that the mixture is evenly packed into the base.
5. Add the chopped bananas to the caramel mixture and mix well, then spread over the biscuit base.
6. Place in the refrigerator for 30 minutes.
7. Remove from the fridge and spread the whipped cream evenly over the top of the banoffee layer. Dust with cocoa powder.
8. For the caramel sauce, place the butter, sugar, and coconut milk into a heavy-based pan over a medium heat. Bring to the boil and cook for 3-4 minutes, until it forms a thick, light golden-brown sauce.
9. To serve, cut out slices of the banoffee pie, place onto plates and pour some caramel sauce on.

Source: bbc