It goes without saying that a lot of trees will likely outlive most of us, but even they eventually succumb to old age, disease or a sudden, destructive storm. When a tree dies in an urban space, it usually gets removed by local authorities in order to ensure the safety of the public. However, as you're about to see from this wonderful post, there are some dead trees that meet an altogether different (and much more visually pleasing) fate. Take a look at these beautiful tree carvings created by talented wood carvers, which give their neighborhoods a touch of surprising beauty:
1. Orr Park Tree Carvings, Montevallo, Alabama, USA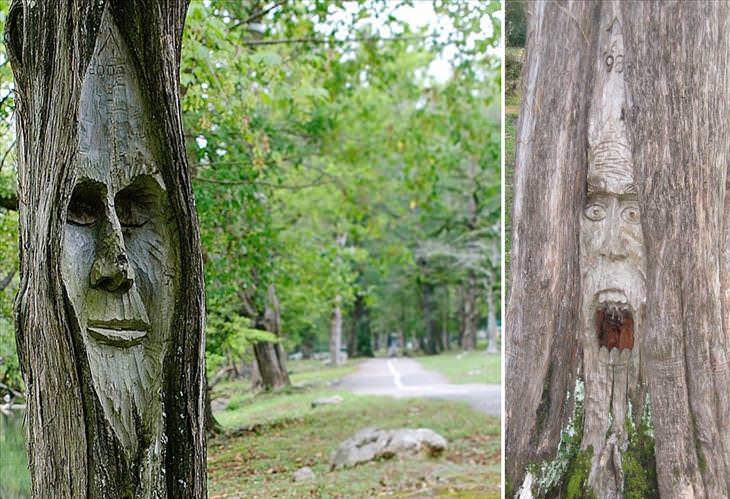 Source 1
Source 2
Montevallo's (Alabama) Orr Park is home to over 30 carved trees, which can be found by a trail along the park's Shoal Creek. The trees were carved by local artist Tim Tingle.
The project began after a massive storm hit Montevallo back in 1983, resulting in extensive damage to the wooded area within Orr Park. Despite calls from the city to remove all the damaged trees for safety reasons, Tim stepped in and offered his services to turn them into something beautiful. Some 10 years after the storm, he set to work. Over the course of several years, he carved figures, faces and storybook characters into the tree trunks. The carved trees are now known collectively as Tinglewood.
2. Hurricane Katrina Tree Sculptures, Biloxi, Mississippi, USA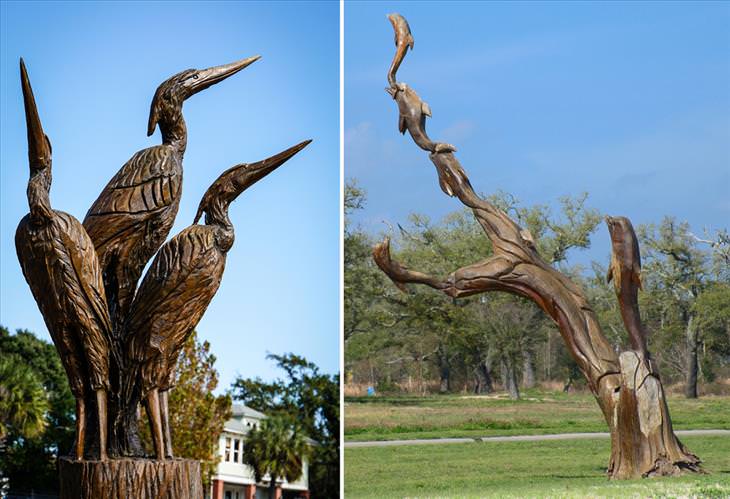 Source 1
Source 2
The aftermath of the devastation caused by Hurricane Katrina can still be seen in Biloxi, Mississippi. However, if you drive along Highway 90, you'll be able to see one of the city's most popular attractions. Wood sculptor Marlin Miller, of Florida, turned a series of dead trees lining the highway into a work of art. He was joined in the endeavor by Dayle Lewis, of Indiana. Together, they carved approximately 50 dead trees, one of which is a 17-foot-tall eagle sculpture located in the War Memorial Park on Mississippi's Gulf Coast.
3. Galveston Tree Sculptures, Texas, USA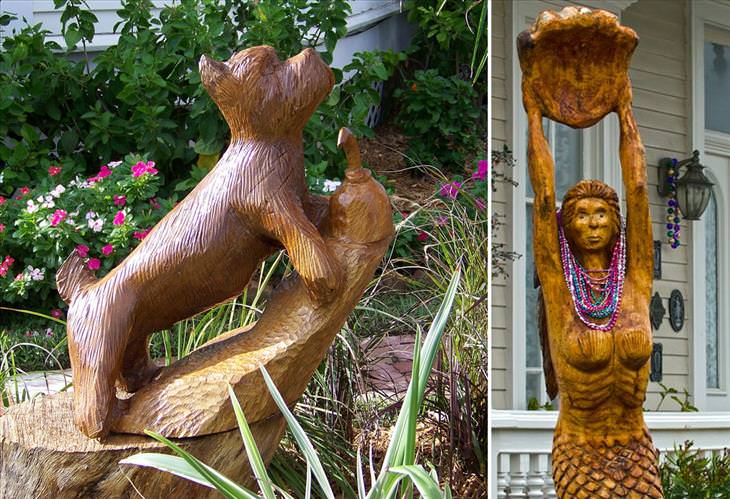 Source 1
Source 2
Back in 2008, the town of Galveston, Texas bore the brunt of Hurricane Ike, which led to the city being submerged under 6 to 15 feet of water. The incoming saltwater resulted in the loss of many trees that were at least 100 years old. In addition to the terrible loss of life as a result of the hurricane, some 35,000 of the town's trees had to be felled. Luckily, a few of the trees were saved and turned into works of art by local sculptors. Today over 35 tree sculptures can be found throughout the town.
4. Art Walk of Tree Sculptures, Orangeville, Ontario, Canada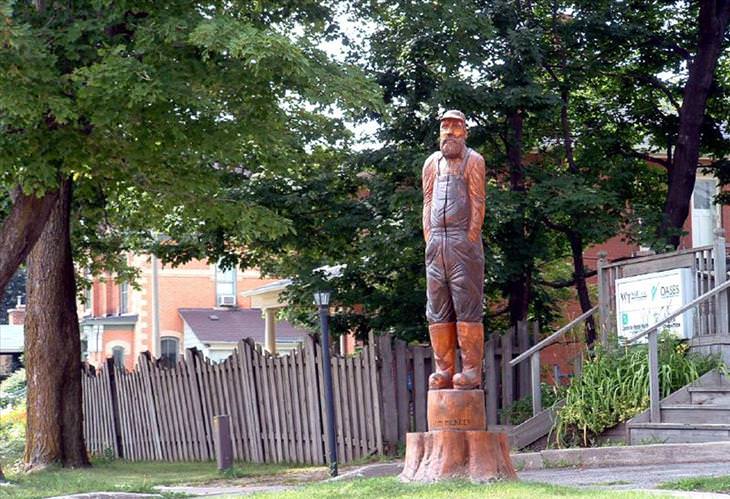 Source
Wood carvers in Orangeville, Ontario, Canada play an active role in what happens to trees that come to the end of their life cycle. They have transformed the town's streets into a public art gallery, with 58 carvings created by 19 different local artists visible among them. The intricacy and detail of the carvings serves as a testament to the talents of members of the large artistic community that resides in the region.
5. Truto Tree Sculpture Project, Truro, Nova Scotia, Canada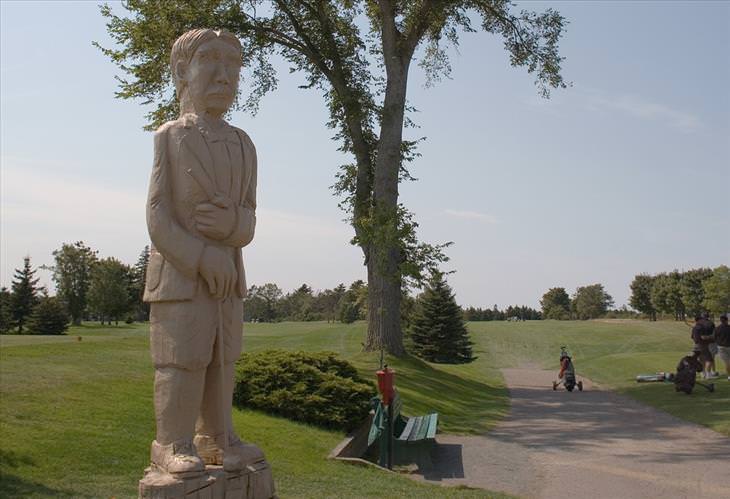 Source
The town of Truro in Nova Scotia, Canada, was once home to many a beautiful, large elm tree. However the majority of them have died following an outbreak of Dutch elm disease. To make the best of this unfortunate loss, the town's authorities initiated a sculpture project. Despite their best efforts, the 43 sculptures that were initially created have now been reduced to just 15, and this is because of pre-existing internal decay within the trees.
6. Tree Carvings, London, Ontario, Canada
Source 1
Source 2
Similar to what occurred in Truro, the city of London in Ontario, Canada also experienced mass tree deaths due to a range of diseases. The dead and decaying trees were given new life following the suggestion of a local to turn them into tree sculptures. Thanks to this fleeting suggestion, the city now boasts dozens upon dozens of beautiful sculptures in different sizes. They employ many different themes, and wear different expressions to one another.
7. The Tree Spirits of St. Simon's Island, Georgia, USA
Source
The carvings sculpted into the old oak trees of St. Simon's Island, Georgia, are actually a commemoration of the countless sailors who perished at sea while aboard sailing ships fashioned out of the famous St. Simon's Island oak. All of them were created by local artist, Keith Jennings, and about 15 of them can be found throughout the small coastal town.
May also interest you:
8. Legerwood Carved Memorial Trees, Tasmania, Australia
Source 1
Source 2
During World War I, residents of the tiny hamlet of Legerwood, Tasmania, Australia left to fight in the war. Seven of these men never returned home, so a tree to commemorate each of them was planted, together with a further two trees to commemorate the ANZACs (Australian and New Zealand Army Corps​) and the loss of life during the Battle of Gallipoli. Sadly, in the ensuing years, the trees began to decay with the passage of time and were eventually declared a safety risk and cut down. Luckily, however, the stumps were preserved and carved into the likeness of each fallen man. They are now a popular Tasmanian tourist attraction.
9. Avenue of Honor Tree Carvings, Dartmoor, Victoria, Australia
Source 1
Source 2
Another series of Australian tree carvings dedicated to the fallen of World War I can be found in Dartmoor, Victoria. The Avenue of Honor initially consisted of trees planted to commemorate the men and women's lives, however when rot and decay set in, chainsaw artist Kevin Gilders stepped in and carved them into something beautiful. The carvings depict Australian servicemen and women in the army, navy and air force.