For nearly a century, this settlement was Guyana's mining hub, with many prospectors and miners seeking their fortunes here. They came to mine bauxite, which is one of the substances used to produce aluminum. Following the early days as a tented outpost, Linden became increasingly mechanized. Nowadays, many of the shaft mines are no longer operational. Be sure to take a trip to Gluck Island on the Essequibo River, where you'll be able to see red howler monkeys and plenty of tropical birds.
3. Kanuku Mountains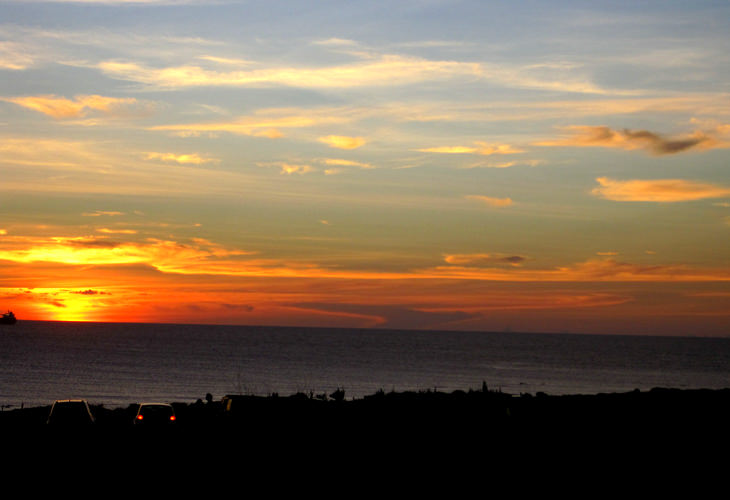 This mountain range is home to numerous great peaks, which are divided down the middle by the long and winding water channels of the Rupununi River. Either side of the river's banks are diamond-shaped highland regions that are home to a whole myriad of mammalian species and old growth forests. If you fancy traveling to this part of Guyana, be warned that it's rather remote – you have to traverse great stretches of savannah before getting here. Expect to see harpy eagles and giant otters in the area.
2. Georgetown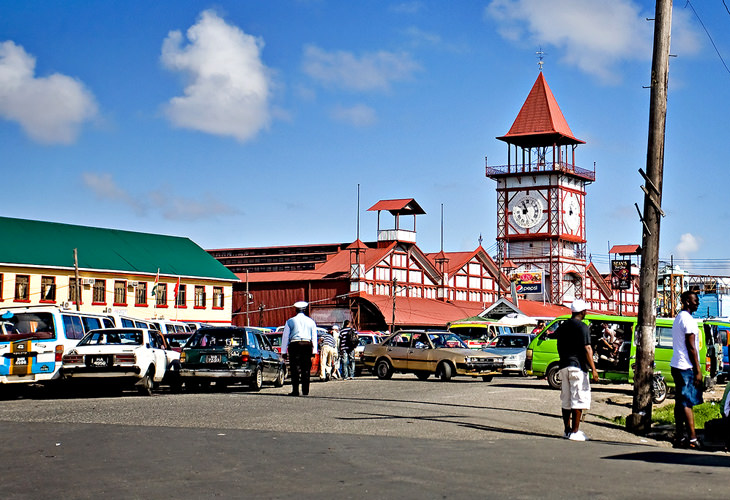 It's sad to think that the Guyanese capital's glory days are long gone, but there's still much to see in this old colonial city. During the colonial era, Georgetown actually went from Dutch, to French, then British rule. Each of the great powers left a piece of themselves within the city, from Stabroek market, to the whitewashed St. George's Cathedral. Should you want to familiarize yourself with the local history, a visit to the national museum wouldn't go amiss. You can also sample the delights of the nearby Demerara Rum Distillery if you fancy a drink!
1. Kaieteur Falls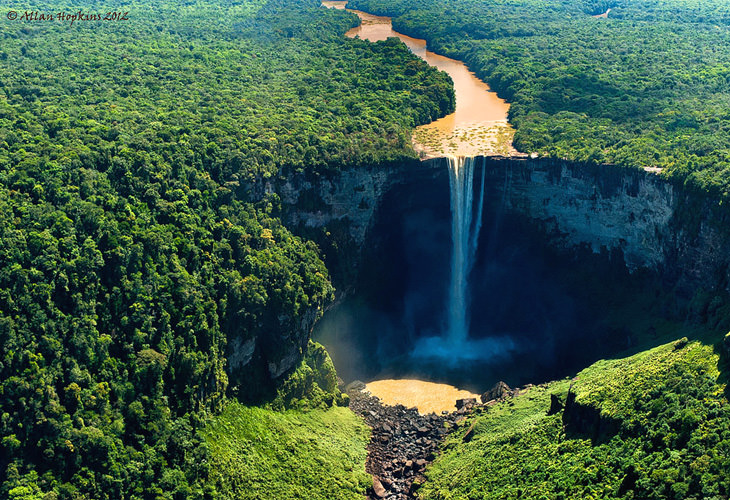 This is the largest single drop waterfall in the world by volume of water. It's also four times as high as Niagara Falls. The waterfall is located in Kaieteur National Park in the middle of Guyana's rainforest, so you'll need to catch a plane from Georgetown if you really must see it. However, a huge added bonus is that you're likely to have the entire place almost to yourself, which is a rarity when you consider the popularity of the world's other major waterfalls.
Suriname
4. Nieuwe Nickerie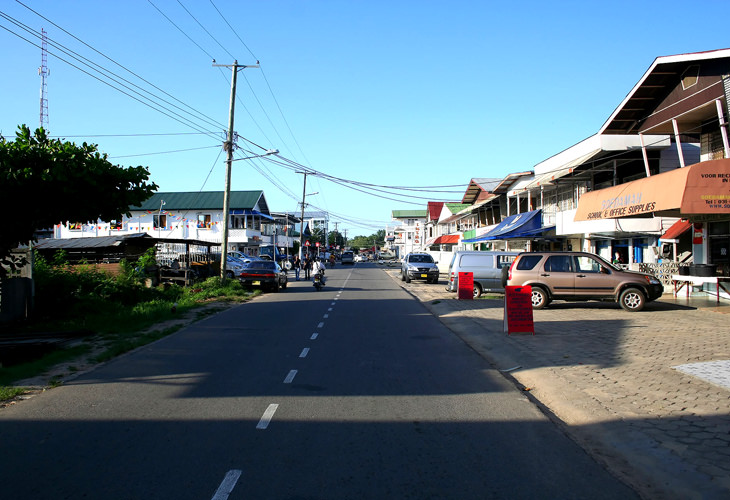 Although only just over 12,000 people call this town home, it's actually the third-largest settlement in Suriname. It was once the main center for the collection of gutta-balata, which is latex that's extracted in a similar way to how rubber is extracted from rubber trees. Nowadays, the local economy is served by nearby rice and banana plantations. The Bigi Pan, a swamp and reservoir that's home to over 100 bird varieties, is worth visiting when you're in the town, as are the plantations and the port.
3. Central Suriname Nature Reserve
Some 12% of Suriname's entire land area is protected by this nature reserve, which is home to many plants and animals that can only be found in the Guianas. Raleigh Falls is one of the main attractions in the reserve – it's a long and low staircase of water that cascades down from the Coppename River. Spider monkeys, electric eels and a breath-taking array of exotic birds can be seen in the area. If you're a keen hiker, you can make your way up Voltzberg, a 240-meter-high granite dome that offers spectacular 360-degree views of the surrounding jungle.
2. Galibi Coppename Nature Reserve
This beautiful nature reserve was first established back in 1969, and is situated at the mouth of the Coppename River. Birdwatchers love coming here, because they can see plenty of different and exotic species. In addition, nature lovers can also spot endangered manitees, as well as the largest extant species of turtle in the world – the leatherback. The Foundation for Nature Conservation in Suriname organizes several tours at the reserve to promote conservation, research and responsible tourism. Laying season (April to August) for leatherback turtles is a great time to visit.
1. Paramaribo
Many people say that this is by far the most interesting capital city in the Guianas, and I happen to agree. It's a high-energy city that's got plenty of things to see and do. The Dutch colonial inner city is a UNESCO World Heritage Site, and the colonial architecture that abounds throughout is really pretty. For lunch, be sure to stop at one of the many Indian roti shops found throughout the city. What's particularly interesting about this city is that it's highly multi-ethnic, which isn't something you really expect to find in a former Dutch colony on the shores of the Atlantic Ocean.
French Guiana
4. Cayenne
Lying on the banks of the Cayenne River estuary that empties into the Atlantic, Cayenne was founded by the French in 1643, with the first permanent settlement being established in 1664. The next 100 years saw Cayenne change hands between the French, Dutch and English, and the mid-19th Century saw it turned into a French penal colony. In the modern-day city, be sure to go people-watching along the palm-tree-lined Place des Palmistes, visit the central market to find yourself a piece of fine Amerindian basketry, and be a culture vulture at the Museum of Guianan Culture.
Who would have thought that a little tropical country such as French Guiana would be home to a space center? The one in question was established back in 1964, when the French government decided that the location it selected would be perfect due to the region's low population density and distance from storm tracks and earthquake zones. The European Space Agency, the French Space Agency and Arianespace all operate here. If you happen to be in the country at the right time, you might even get to witness a space launch from the jungle! Up to nine launches take place at the Guiana Space Center every year.
2. Hattes Beach
This beach is the single most important nesting site for leatherback turtles in the entire world, with up to 80 of them hauling themselves up it to lay their eggs every single night during nesting season. These gentle creatures are 6 ½ feet long on average and weigh around 900lbs. Many Amerindian settlements also lie in the vicinity of this most ecologically-important of beaches, which offer you a great opportunity to take in what life was like before European settlers established their various colonies in the region.
1. Salvation Islands
These devastatingly beautiful islands belie their dark history – they were once home to the infamous Devil's Island, a French penal colony. France's worst criminals (together with the wrongfully-convicted) were sent here to endure hard labor and horrific conditions with almost no chance of ever making it out alive. The seven-mile stretch to the Guianan mainland is infested with sharks, but that didn't deter the likes of Papillon from attempting to escape. On your visit, you'll likely arrive at Isle Royale, which is the largest of the three islands. Nowadays, you can enjoy the old buildings that have been converted into hotels, together with an abundant array of wildlife.