Ravioli is pasta that has been cut into squares and sandwiched together to enclose a tasty filling - which can be fish, meat, vegetables, or cheese. Making ravioli at home using a pasta machine can be pretty time consuming, but it is incredibly rewarding, especially when you choose a filing that you love.
Goat's Cheese Ravioli (Serves 4)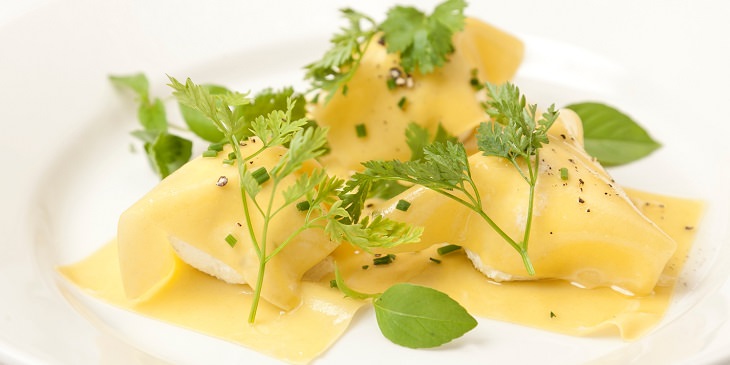 Ingredients
Goat's cheese filling
• 500g of goat's cheese
• 100g of cream cheese
• 1 tbsp of coriander, chopped
• 1 tbsp of flat-leaf parsley, chopped
• 1 tbsp of chives, chopped
Pasta dough
• 500g of plain flour
• 300ml of warm water
• 1 pinch of salt
• 1 pinch of sugar
• 1 egg, beaten
Garnish
• 1/4 bunch of fresh chervil, picked
• 1 tsp chives, finely chopped
• 1 1/3 handfuls of basil cress
• Extra virgin olive oil
• Cracked black pepper
• Salt
Method
1. Mix the goat's cheese, cream cheese and herbs together in a bowl until well combined. Divide the mixture in four balls and place in the fridge.
2. Mix the plain flour, sugar, salt, and water together to create a dough mixture.
3. Roll out the pasta dough (using a pasta machine or rolling pin) to the thinnest setting possible. Put the dough through the machine twice on the thinnest setting to ensure consistency in thickness.
4. Divide the pasta sheet into 2 rectangles and leave one covered with a clean tea towel or plastic wrap while you work on the other.
5. Cut 24 x 10cm squares of pasta and set aside in plastic wrap until required.
6. Remove the goat's cheese mixture from the fridge and leave in a lukewarm place.
7. Once ready, add a dash of olive oil and salt to a small bowl. Bring a large pot of salted water to the boil and drop in the 24 squares. It's important that your stir vigorously to prevent them from sticking together.
8. Strain the pasta after 45 seconds and toss through the olive oil and salt. Place 3 squares on each plate, followed by a teaspoon of the warm goat's cheese.
9. Top each ball with another sheet of pasta, chervil, chives, basil cress, and cracked black pepper. Finish with a drizzle of top quality olive oil before serving.

Source: greatbritishchefs