Few pleasures are greater than traveling the world by sea, especially when you do so on a mega yacht. Think comfortable, beautiful and luxurious! Take a look at these gorgeous yachts: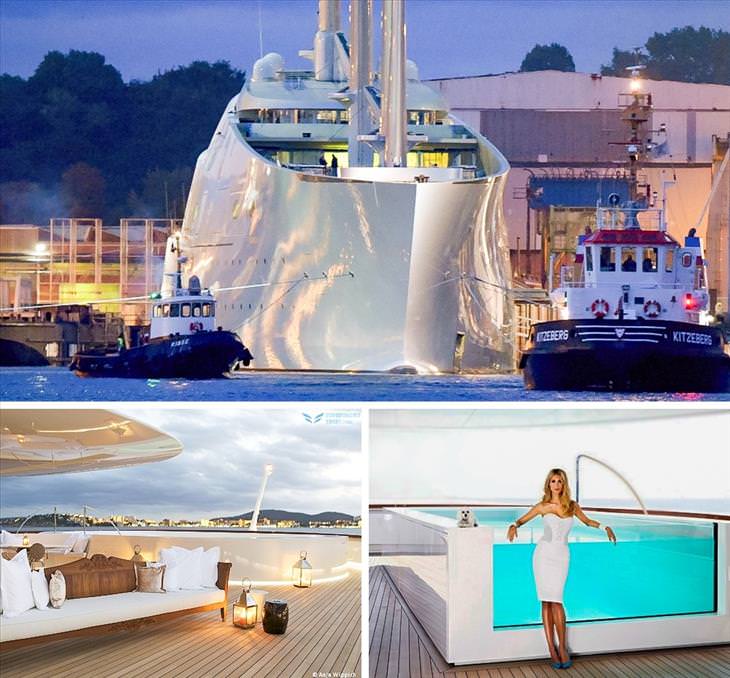 Deemed as the world's largest sailing boat, Yacht 'A' belongs to Russian billionaire Andrey Melnichenko. The name was inspired from Melnichenko's wife, Alexandra (pictured in the photo by the pool). The 'A' cost more than $300 million and was designed by the renowned Philippe Starck. The boat's length is a staggering 120 meters (almost the entire size of a football field and basketball court combined). The boat also features three swimming pools.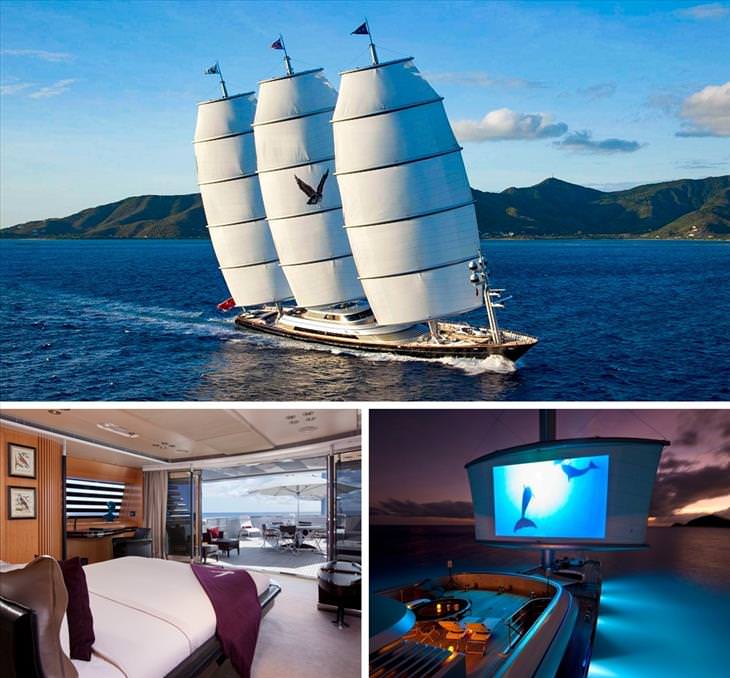 This yacht is similar to a pirate ship from the XVII century. It travels at fast speeds and is filled with 'smart' equipment, allowing the yacht to be sailed by one person only. The yacht also features various forms of entertainment that guests may enjoy. From water skiing, to riding boats and scooters. Guests can also enjoy watching movies on the deck. Expect to pay $400,000 per week to rent out this beauty.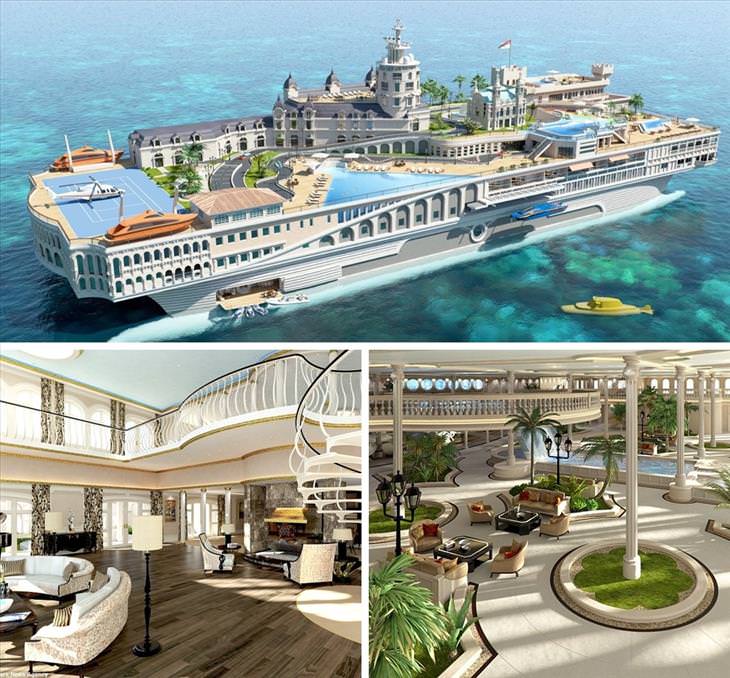 Currently, this yacht is just a project. Nevertheless, if a rich man does buy into the idea, it will undoubtedly be the most extravagant boat that anyone has ever seen - all for $1.1 billion. The mega yacht features well-known attractions of Monaco, including the famous Monte Carlo casino and the Formula 1 race track.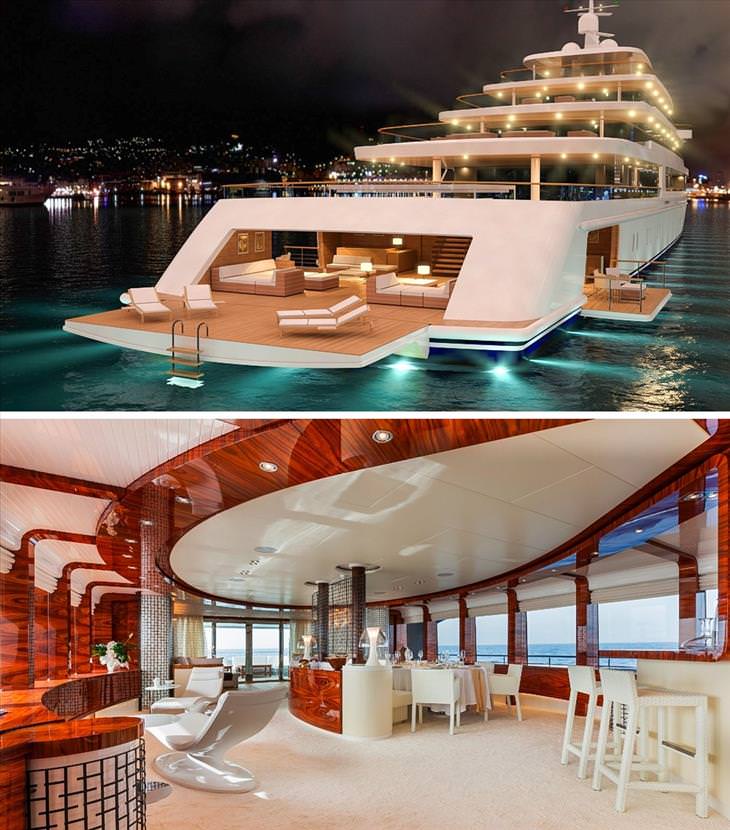 Azzam was labeled the world's largest yacht in 2013, having a length of 180m. Rumor has it that the luxurious yacht's owner is Khalifa bin Zayed Al Nahyen, the President of the United Arab Emirates. The boat features a helicopter and submarines and is served by 500 people. It also has a fuel tank big enough to take you a round-the-world without having to enter a port. While the President does live a luxurious life, he is famous for his big gestures. When he was elected, he raised salaries of all citizens by 100%.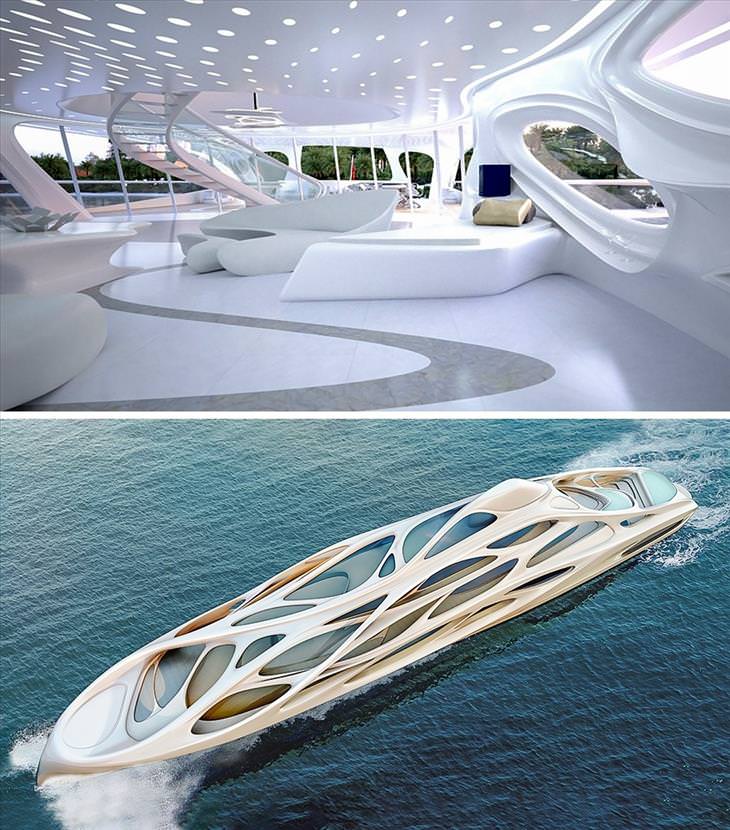 Designed by Zaha Hadid, this beautiful yacht has got a futuristic flair to it. This avant-garde vessel will surely make all billionaires and movie stars who own classic yachts green with envy.
While not the most expensive yacht on the list, Dubai's price tag is pretty steep - it is estimated to be worth $350 million. The yacht is adorned with mosaics, luxurious furniture and interiors and breathtaking works of art. The yacht belongs to Sheikh Mohammed bun Rashid Al Maktoum, the Emir of Dubai and the UAE Prime Minister.
In comparison to the other aforementioned yachts, Skyback is pretty small - it's length is only 80 meters. Nevertheless, the cabins are incredibly luxurious, and the boat also features a cinema, a gym, a spa and a pool on its deck. In the colder months, the deck can be covered with a transparent dome, making it an enjoyable yacht to be on even when temperatures drop.
Eclipse is one of the most luxurious and most expensive yachts in the world, costing $1.2 billion. It belongs to Russian billionaire Roman Abramovich. It features a concert hall, a cinema, a wine cellar and two swimming pools, one of which turns into a dance floor. The yacht also has two helicopters, four boats, 20 scooters and even a submarine that can fit 12 people.
9. Tropical Island Paradise"
If you're looking to own a small island in the tropics that will float around at sea, your search ends here. This island features a mini tropical village complete with houses and palm trees. The owner's cabin is located in the volcano which erupts into a waterfall into the pool. Currently it's in its project stage and is awaiting a billionaire to invest in its construction.
This futuristic mega yacht is owned by billionaire Mikhai Prokhorodov. Its finishing is luxurious and features an incredibly beautiful amber sink. In 2010 it won the award for best design among yachts.