1. Sweet Potato Black Bean Burger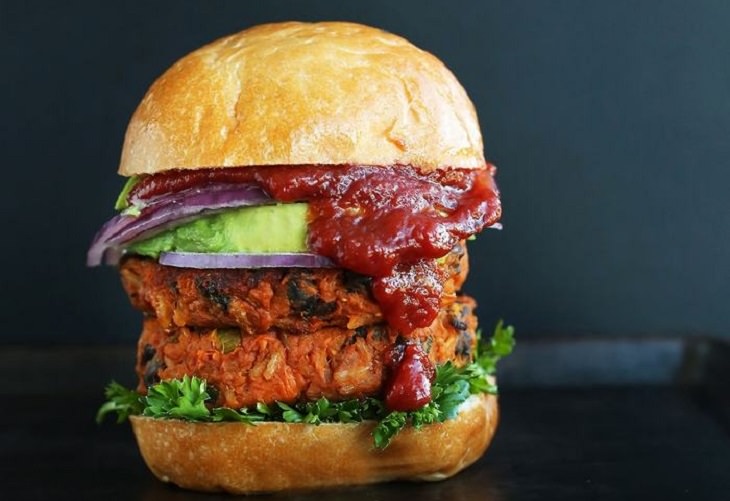 Source
These sweet potato burgers are bulked up with black beans, brown rice and seasoned with smoky cumin and paprika. They are sweet, tender, packed with flavor and are incredibly healthy and delicious.
Ingredients (Serves 12)
• 2 large sweet potatoes, mashed
• 1 cup cooked salted black beans, rinsed and well drained
• 1 - 1 ½ cups cooked brown rice
• ½ cup finely chopped walnuts
• ½ cup finely diced green onion
• 2 ½ tsp. ground cumin
• 1 tsp.smoked paprika
• ¼ tsp. each salt and pepper
• ¼ tsp. chipotle powder (optional)
• 1 tbsp. brown sugar (optional)
Directions:
1. Preheat the oven to 400°F. Meanwhile, cut the sweet potatoes in half, rub with olive oil and place face down on a baking sheet, lined with foil. Bake the sweet potatoes until they are soft and tender (this should take about 30 minutes) then set aside, reducing the heat to 375°F.
2. While the potatoes are in the oven, cook the rice. In the meantime, add the black beans to a mixing bowl, mashing half of them. Add the cooked sweet potatoes to the bowl, mashing lightly. Add one cup rice, green onion, finely chopped walnuts and spice. Combine well and taste, adjusting the seasoning accordingly. If the mixture feels too wet, add more rice or walnuts, keeping a moist but moldable texture.
3. Mold your sweet potato mix into patties - bear in mind that the thinner they are, the faster they'll cook. Once all the burgers have been molded, bake for 30 to 45 minutes, flipping them 20 minutes in to cooking time carefully.
4. Serve on buns (serve two for more bulk) and top each bun with slices of avocado, red onion, some greens and ketchup or salsa.
5. Freeze for long term storage or store in the fridge for a few days.
2. Sweet Potato Kale Frittata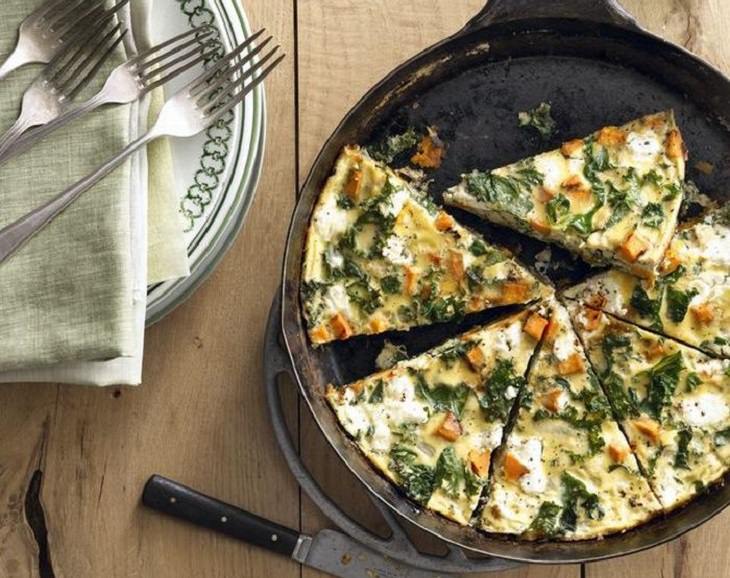 This delicious and easy frittata is a perfect meal for breakfast, lunch or dinner.
Ingredients (serves 4)
• 6 large eggs
• 1 cup half-and-half
• 1 teaspoon Kosher salt
• ½ teaspoon freshly ground pepper
• 2 cups sweet potatoes
• 2 tablespoon olive oil
• 2 cups firmly packed chopped kale
• ½ small red onion
• 2 clove garlic
• 3 ounces goat cheese
Directions:
1. Preheat the oven to 350°F. Meanwhile, whisk the eggs together, along with the half and half, salt and pepper. Set aside.
2. In an ovenproof nonstick skillet, sauté the sweet potatoes in hot oil over medium heat for about 8 to 10 minutes or until the potatoes are tender and golden. Set the potatoes aside.
3. In the same pan, add one tablespoon oil and sauté the kale, onion and garlic, until the kale has wilted - about 3 to 4 minutes. Stir in the potatoes and pour the egg mixture evenly over the vegetables, cooking for 3 minutes. Sprinkle with goat cheese. Bake at 350°F for 10 to 14 minutes or until the eggs have cooked through.
3. Extra Crispy Sweet Potato Wedges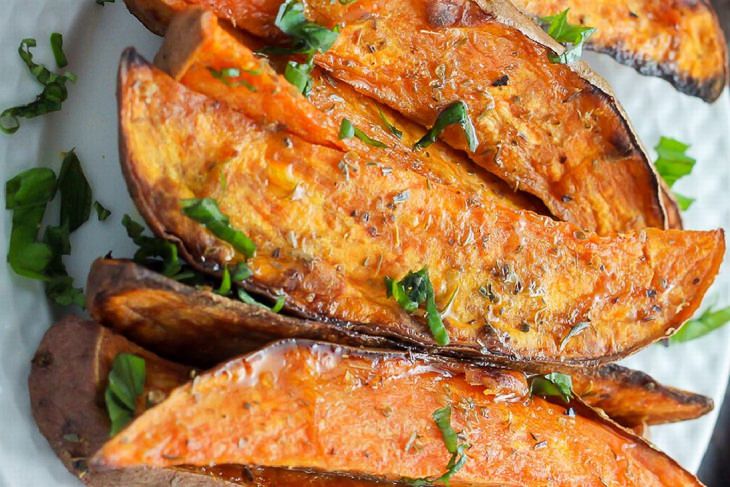 This delicious recipe is a tastier alternative to the usual French fries.
Ingredients (serves 4):
• 2 large sweet potatoes (unpeeled, if you like skin) cut into wedges
• 2 ½ tablespoons olive oil
• 1 ½ teaspoons salt
• 1 teaspoon sugar
• 1 tablespoon Italian seasoning
• ½ teaspoon black pepper
Directions:
1. Preheat the oven to 450°F. Line a baking sheet with foil. Cut the ends of the sweet potato and cut them in half (lengthwise), then cut each piece into wedges.
2. Add the wedges to a large bowl and combine with olive oil, salt, sugar, seasoning and black pepper. Mix well, coating each wedge with oil and spices.
3. Place the sweet potatoes on the baking sheet, spacing them apart and bake for 30 minutes. Then, turn on the broiler and bake for another 3 to 5 minutes. The potatoes should be brown and crispy. Be sure that they do not burn! Cool for 5 minutes and serve.
4. Double-Stuffed Potatoes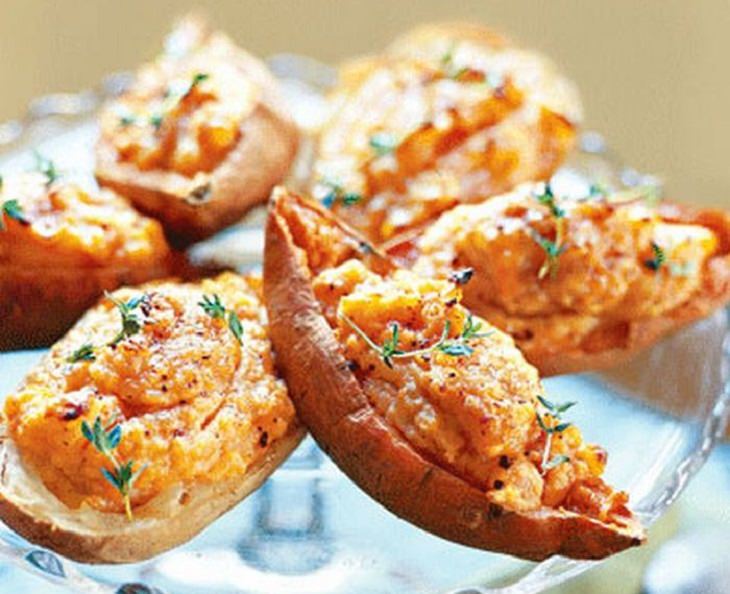 For a unique twist on the classic baked potatoes, try this innovative recipe.
Ingredients (serves 12):
• 2 pears
• 1 lemon
• 3 medium sweet potatoes, baked whole
• ½ cup milk
• 5 tablespoons unsalted butter
• 1 large egg
• ¾ teaspoon salt
• ¼ teaspoon, fresh-ground pepper
• Pinch ground cloves
• ¼ teaspoon freshly grated nutmeg
• ½ cup light brown sugar
• 3 sprigs fresh thyme
Directions:
1. Bring a medium saucepan of water to a boil. Meanwhile, peel, core and chop the pears, placing them in the water. Squeeze the lemon juice and add the lemon. Reduce the heat and cook until the pears can easily be pierced with a fork. Remove the pears and set aside.
2. Then, heat the oven to 425°F. Line a baking sheet with foil. Cut the potatoes in half (lengthwise), scooping the cooked flesh into a large bowl. Add the milk, butter and pears to the potato flesh, mashing until smooth. Then add the egg, salt, pepper, cloves and 1/8 teaspoon nutmeg - fill the potato skins with the mixture.
3. In a small bowl, combine the remaining ingredients together, sprinkle over the potato tops, bake until browned. Serve immediately.
5. Sweet Potato-and-Ginger Soup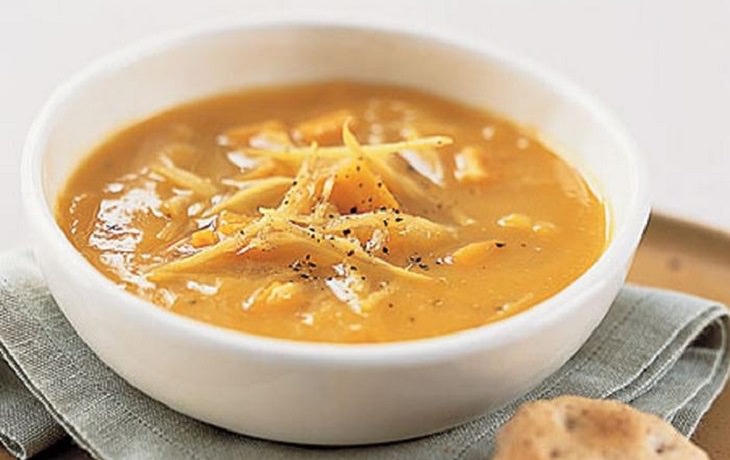 This soup is pretty easy to make. The fresh ginger not only gives it a flavorful kick - it provides the soup with healthy goodness too. This soup is fat-free, cholesterol-free and is low in calories.
Ingredients (serves 6):
• 3 cups water
• 3 cups peeled, diced sweet potato
• ¼ cup julienne-cut* peeled fresh ginger (*long, thin sticks)
• 2 tablespoons sugar
• ¾ teaspoon salt
Directions:
1. In a large saucepan, bring a pot of water to a boil. Add all the ingredients, cover, reduce the heat and simmer for 30 minutes.
2. Place half of the sweet potato mixture in a blender and process until smooth. Return the pureed mixture to the pot and cook over medium to high heat until thoroughly cooked through.
Creamy Sweet Potato Dip
The perfect snack to nibble on between meals, or whip this dip up for guests as a healthy appetizer. The combination of sweet and spicy will tantalize your taste buds!
Ingredients:
• 1/2 whole wheat pita, split and cut into 8 pieces
• 1/3 cup roasted mashed sweet potato
• 1 tablespoon plain Greek-style low-fat yogurt
• 1/4 teaspoon honey
• 1/8 teaspoon dried chipotle chili powder
• 1/8 teaspoon salt
Directions:
1. Preheat oven to 350°F. Place the pita bread on a baking sheet and bake for 10 minutes, until crisp.
2. Meanwhile, in a separate bowl, combine the sweet potato, yogurt, honey, chili powder and salt, stirring with a fork until smooth. Serve alongside the pita bread.