Flying, depending on where you are going, can consist of tediously long hours, but that doesn't mean that your long flight has to be a miserable and arduous experience. As passengers' needs have changed over time so too have the onboard offerings of different airlines. To put this into some perspective, there used to be just the option of traveling first class, but nowadays we have airlines which offer up to four classes of travel (first class, business class, premium economy and long haul economy class) on a single aircraft. However, many airlines are now getting rid of first class due to the fact that their business class is so good.
Airlineratings rate airlines on a wide range of aspects which include how comfortable the planes are, how safe they are, the quality of the customer service, in-flight entertainment and catering. Their editors, some of the most experienced in the industry, have even ranked the top ten airlines which are equipped with the best first class cabins.
With luxurious amenities, which include double beds, comfy bedding, multi-room apartments, widescreen televisions and plenty of storage space, passengers can now sit back and relax on their long-haul flights.

We've gone through their top ten and chosen the five which most appeal to us. Here they are:
1. Emirates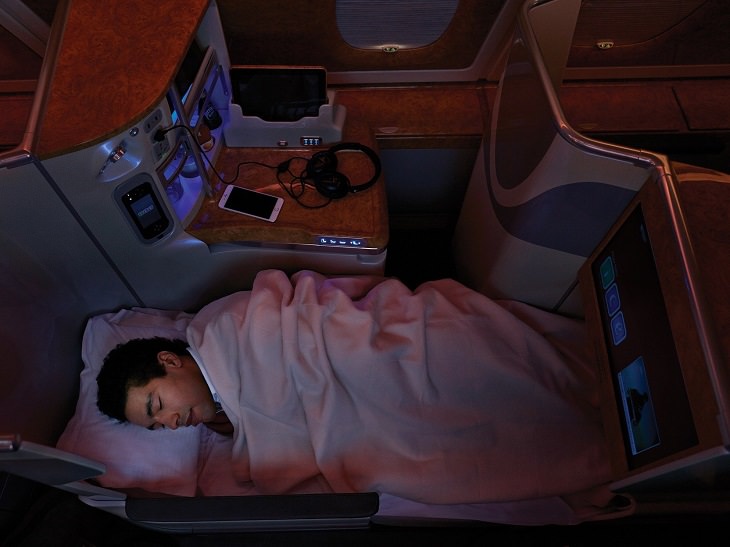 Emirates' first class/business class cabins are equipped with a seat, which converts into a fully flat bed with a mattress, and shutters to allow more privacy. To add to this, passengers get a personal mini bar with a wide range of champagne, cocktails and wines.

Passengers can take advantage of the onboard shower spa (equipped with Bulgari toiletries) and they can take a trip to the onboard lounge where they can meet their fellow travelers. As if this wasn't enough, getting in and out of the airport is easy as each passenger gets a complimentary chauffeur.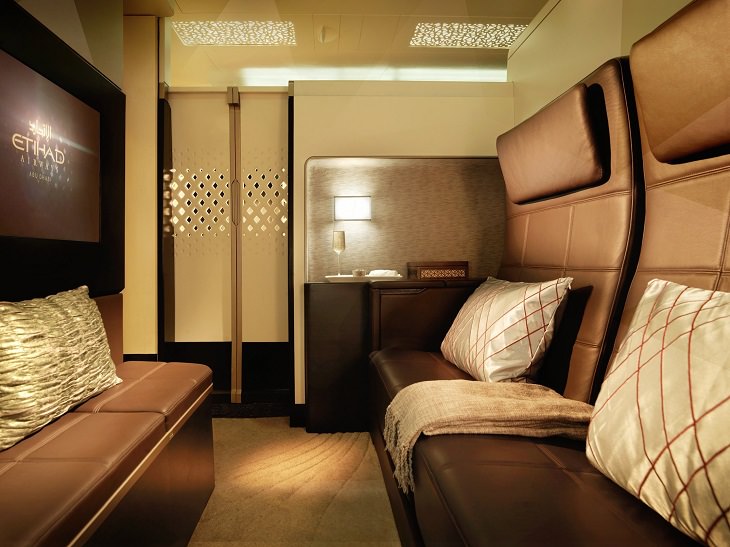 Etihad guests are greeted outside the airport by a porter and a concierge. They are then taken to a special check-in reception. After they have checked in, they can relax in the first Class Lounge or have a massage at the Six Senses spa.

The cabins themselves come equipped with leather seats, wardrobes and a chilled drinks cabinet. Those guests who are looking for the ultimate luxurious experience can book to stay in The Residence – an upper-deck cabin which has a living room, double bedroom, ensuite bathroom, butler and chef.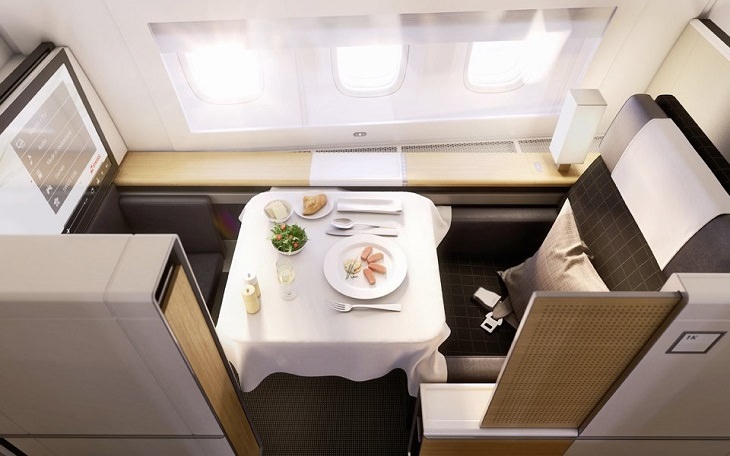 Swiss International Airlines' first class armchairs can be changed into a 6.5 foot long bed with a mattress and privacy shutters, a lounge armchair and even a table for two.

Passengers are also given lavish Zimmerli pajamas and a toilet bag containing ear plugs, eye masks, socks, toothbrushes, and toothpaste as well as quality products by La Prarie (a luxury Swiss brand). For entertainment each passenger has the use of a big wide screen television.
4. Korean Air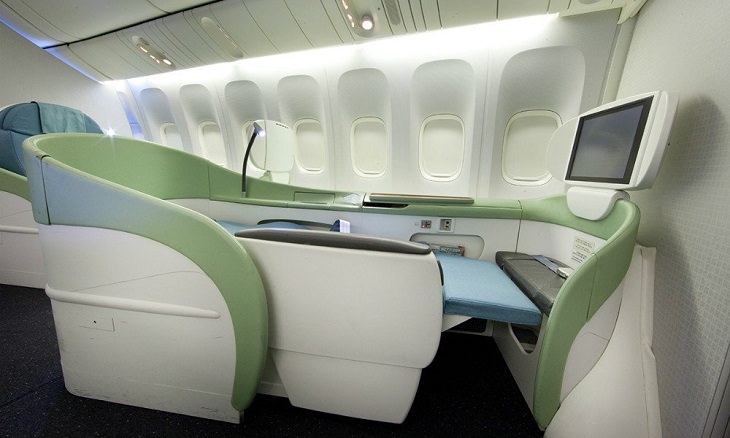 Korean Air's first class cabins have a variety of suite options. The Kosmo Suites 2.0 have a sliding door which is see-through from the inside and a 79 inch seat. These suites are 26.5 inches wide and the seats come equipped with adjustable back support, a footrest and controls to change positions. There is also the Sleeper Ottoman and the Kosmo Sleeper.

All suites have personal LCD televisions, reading lamps and noise-cancelling headphones.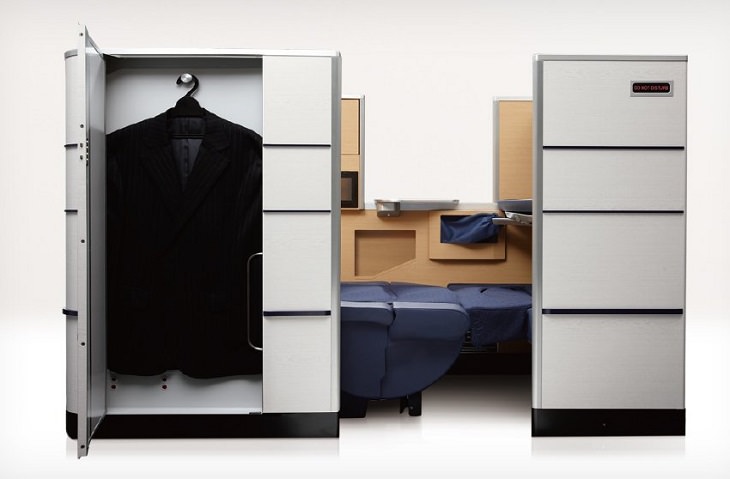 All Nippon Airways provide their first class passengers with a cabin which is just like a private room. They come equipped with comfortable seats, an adjustable dining table, a cocktail table and plenty of storage space.

The seats have LED personal lights, international telephones with personal satellites so that calls can be made in complete privacy, a do not disturb button for when you want some rest, a USB port and a wide-screen television.
Source and images: businessinsider.com